Elf on the Shelf: Ice Climbing.
Our elves Pepper and Winter, love outdoor sports—especially ones associated with snow and ice.
The thick bathroom glass has ripples and looks very much like a thick wall of ice.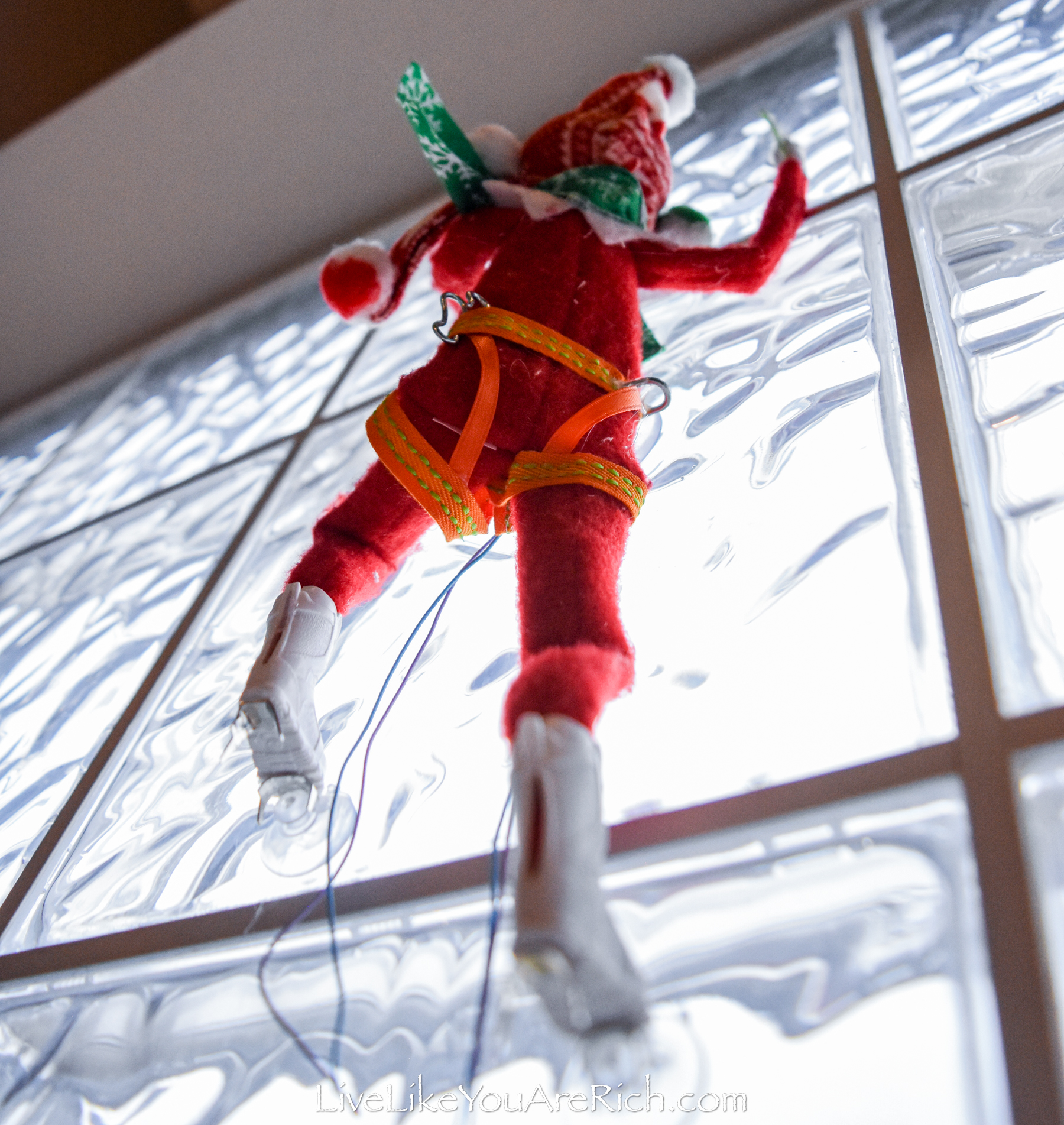 I bet they took one look at the window in our master bathroom and decided that it would be perfect to practice their ice climbing skills.
So, Pepper got out his ice axes,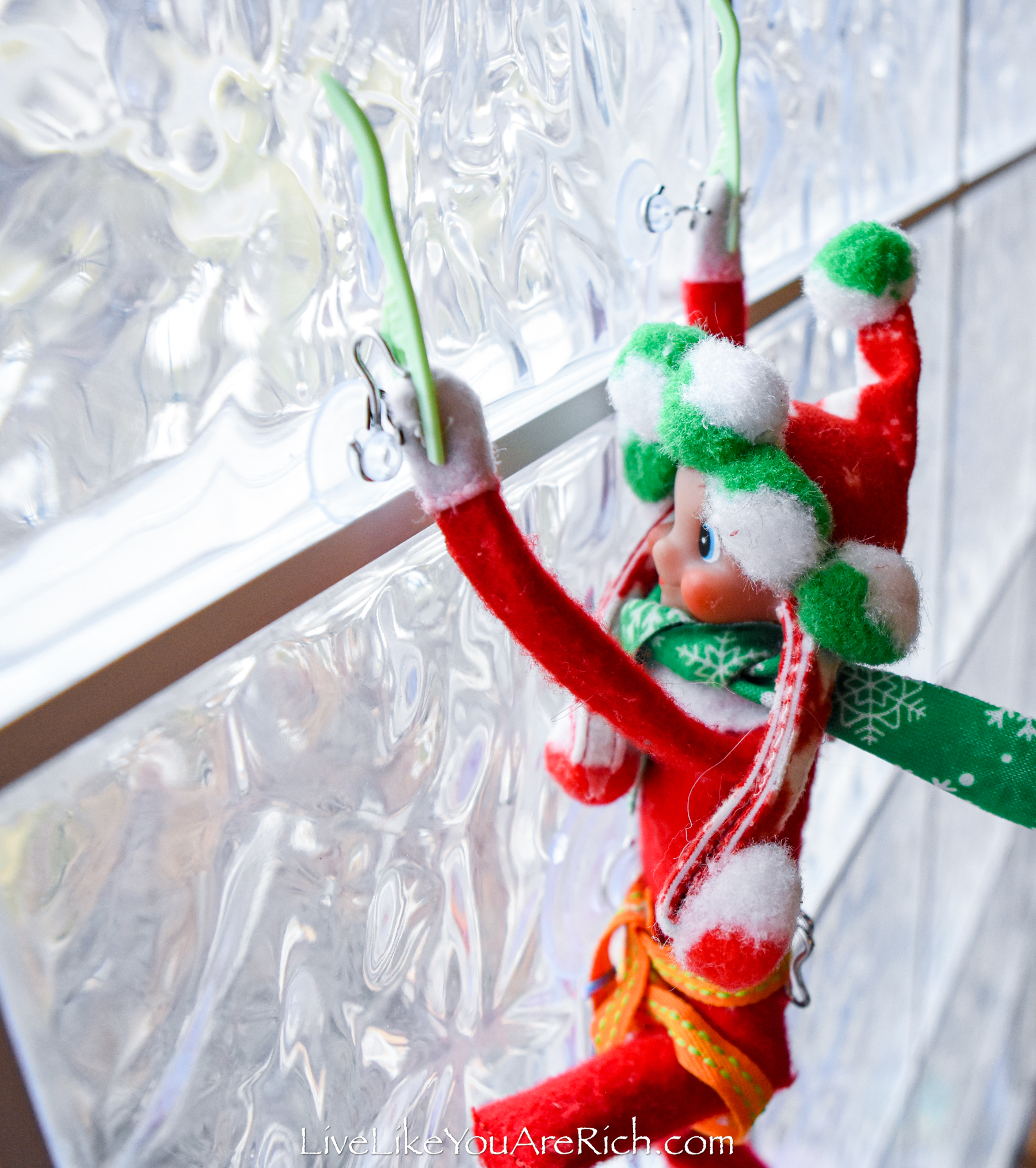 climbing harness,
ice boots,
his crampons,
climbing ropes
and his carabiners and went ice climbing.
It's always safest to have a partner to go ice climbing with.
Winter, Pepper's sister, came to belay him.
She donned her harness
put on some winter goggles,
and yelled, "Belay On!".
They had a great climbing experience and my kids and I really loved looking at this scene.
Supply List for this Elf on the Shelf: Ice Climbing scene.
Barbie jacket and scarf (snowboard Barbie)
dental flossers aka dental picks (Plackers)
suction cups (clear variety of sizes) If your elf doesn't have a hand clasp sewn on, use clear or white wire to wire the hands to the suction cups.
Ribbon various textures and sizes (orange)
jewelry elastic (purple and blue for the rope)
White boots (snowboard Barbie)
Pepper was wearing the beanie he made last year for Christmas Pajama day. The no-sew video tutorial on how to make an Elf on the Shelf pom pom beanie can be found on that link.
He has his scarf on that came in the Elf on the Shelf Freeze stand hipster
Little pieces of metal I cut out formed the spikes on the crampons.
How Pepper and Winter put this Elf on the Shelf: Ice Climbing scene together.
It looks as though the harnesses were made using ribbons and hot glue.
The rope is just tied to the harness and hanging down and across Winter's hands.
Pepper is attached to the wall using suction cups.
Carebiners were twisted metal hanging onto Pepper's harness just for detail.
Pepper's boots and Winter's scarf, jacket and googles all came from the Barbie snowboarding doll set.
Hot glue attached the crampons (cut metal to resemble spikes) to the boots.
Wire cutters and scissors were probably used to make the ice axes.
Pepper's pom pom hat tutorial can be found here. He also was wearing a green scarf from the freezer hipster Elf on the Shelf kit.
I noticed that Winter's goggles were tilted upwards so it looked like she was watching Pepper climb. I also noticed a large suction cup that her stand was balanced on so that it gave even more of an illusion that she was looking up.
That's it. It probably took them about an hour or so to set this scene up but it was a fun one!
The kids and I LOVED this Elf on the Shelf scene.
To see more Elf on the Shelf ideas check out this post here. I'll be adding more this December as well.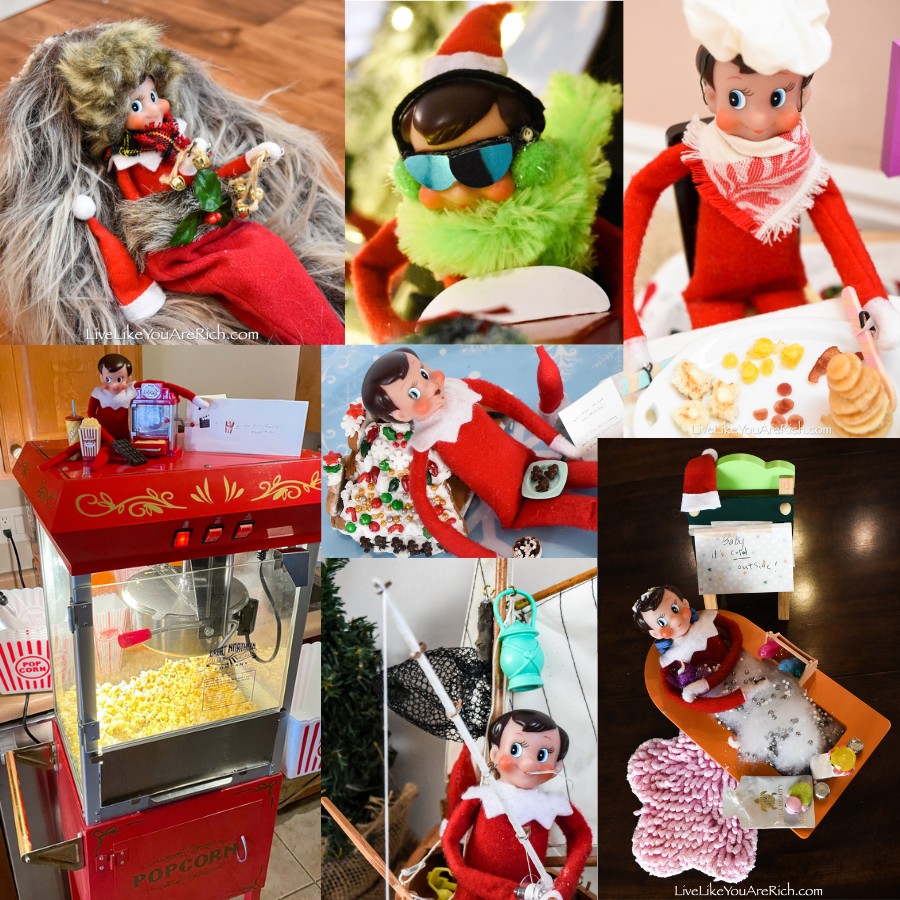 For other 'rich living' and D.I.Y. decor tips please subscribe, like me on Facebook, and follow me on Pinterest and Instagram.