This is our Elf on the Shelf: snowmobiling scene.
Our elf, Pepper, is very creative. He also loves the great outdoors.
He went snowmobiling, "sledding" the other day. He wrote a little sign with the hashtag #ShredtheSled.
My kids asked me, "What does 'Shred the Sled' mean?" I said, "I think it means that he is enjoying shredding up the powdered snow with his snowmobile."
I got the snowmobile at Target last year as part of their Wondershop red truck line.
I place it in my Red Truck Christmas Mantel decor.
I posted about this decor on my blog last year; if you'd like, you can see the decor in detail. Check it out by clicking the image below.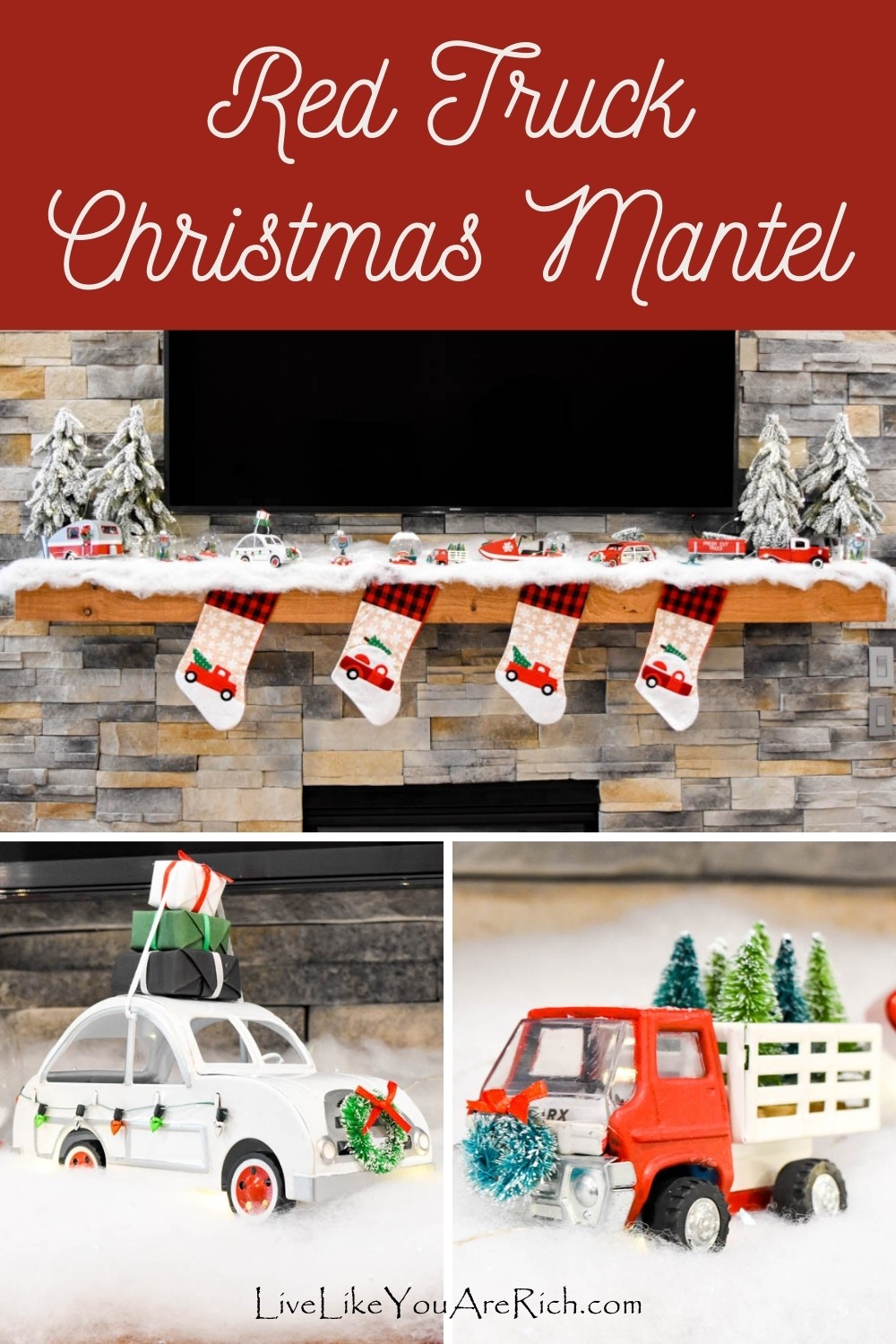 I switched up decorations this year and put this red truck decor on our basement mantel this year.
Pepper decided he wanted to go for a ride on the snowmobile that was there.
In order to prepare for his ride, it looks like Pepper made some goggles, earmuffs and a scarf.
Check out the video of him here.
For the goggles it looks as though he used black felt and cut it in the shape of goggles and hot glued it together in the back.
Then my daughter informed me that he took 2 large spangles that are shimmery (like snow goggles) and hot glued those onto the felt and trimmed the excess away.
He also printed out the Dragon goggle logo in tiny scale (5-10% on the printer) and cut out the decals and glued those to the sides of his goggles.
Pepper's earmuffs look as though he used black felt as the headband and cut a small green glitter pompom in half which he glued on to green felt backing.
He then cut the circle out and glued that to the black felt headband.
Pepper's scarf looks to be a large pipe cleaner/chenille stem wrapped around his neck and cut to size.
My daughter was so cute when she remarked that she knew why the scarf and hat were pointed up high into the sky behind him. I asked why and she said, "Because it shows that he is going fast! It's like the wind is blowing it". I said, "Yeah that is exactly right!" —sooo cute.
I like that he used a large pipe cleaner/chenille stem because it holds its shape really well.
It looks as though the elf hat may have been stuffed with poly fill to hold its shape and hot glued on to his head so it stayed— despite some serious shredding of the pow.
My son especially loved our elf's scene this day!
We had a big blizzard this day and my daughter kept saying that he must know the future because he dressed so warmly and is on a snowmobile.
Don't kids make Christmas the best!?!
Supply List of things Pepper used from around our house to make this snowmobiling scene
Dragon goggle logo printed to a tiny scale (to print this google Dragon goggle logo and print at ~5-10% scale)
giant green pipe cleaner/chenille stem
green felt (pompom backing)
Wondershop snowmobile (Target no longer sells this, but you can check ebay, mercari and or search for a Barbie snowmobile and paint it if you want it red—most I have seen are pink)

Supply List for a Red Truck Christmas Mantel
Red Truck and Red Camper stockings (Dollar Tree or here)
Faux snow glitter Wondershop blanket Target or Amazon
Flocked fake Christmas trees Target or Amazon
Wondershop: Camper, snowmobile, bug, stations wagon, red truck and trailer (Target no longer sells this, but you can check ebay, mercari and or search for red truck wondershop items people are reselling)
DIY Dollar Red Truck and Red Camper snow globes
DIY Camper and sisal tree ornaments
DIY Hot Wheels Red Truck Christmas
Twinkle lights battery—operated I used two 50 light strings for my 9′ mantel. Target or Amazon
We are glad Pepper came to our house. The kids are super excited to find our Elf on the Shelf every morning. He sure has made Christmas more exciting. I hope your Christmas season is wonderful as well!

For other 'rich living' and D.I.Y. decor tips please subscribe, like me on Facebook, and follow me on Pinterest and Instagram.