Halloween Entry Table
We have a mirrored entry table directly across from our front door. It's the first thing you see when you walk into the house.
I like to decorate it, our mantel, and a few other areas of our home for each holiday. This is how I decorated our Halloween entry table this year.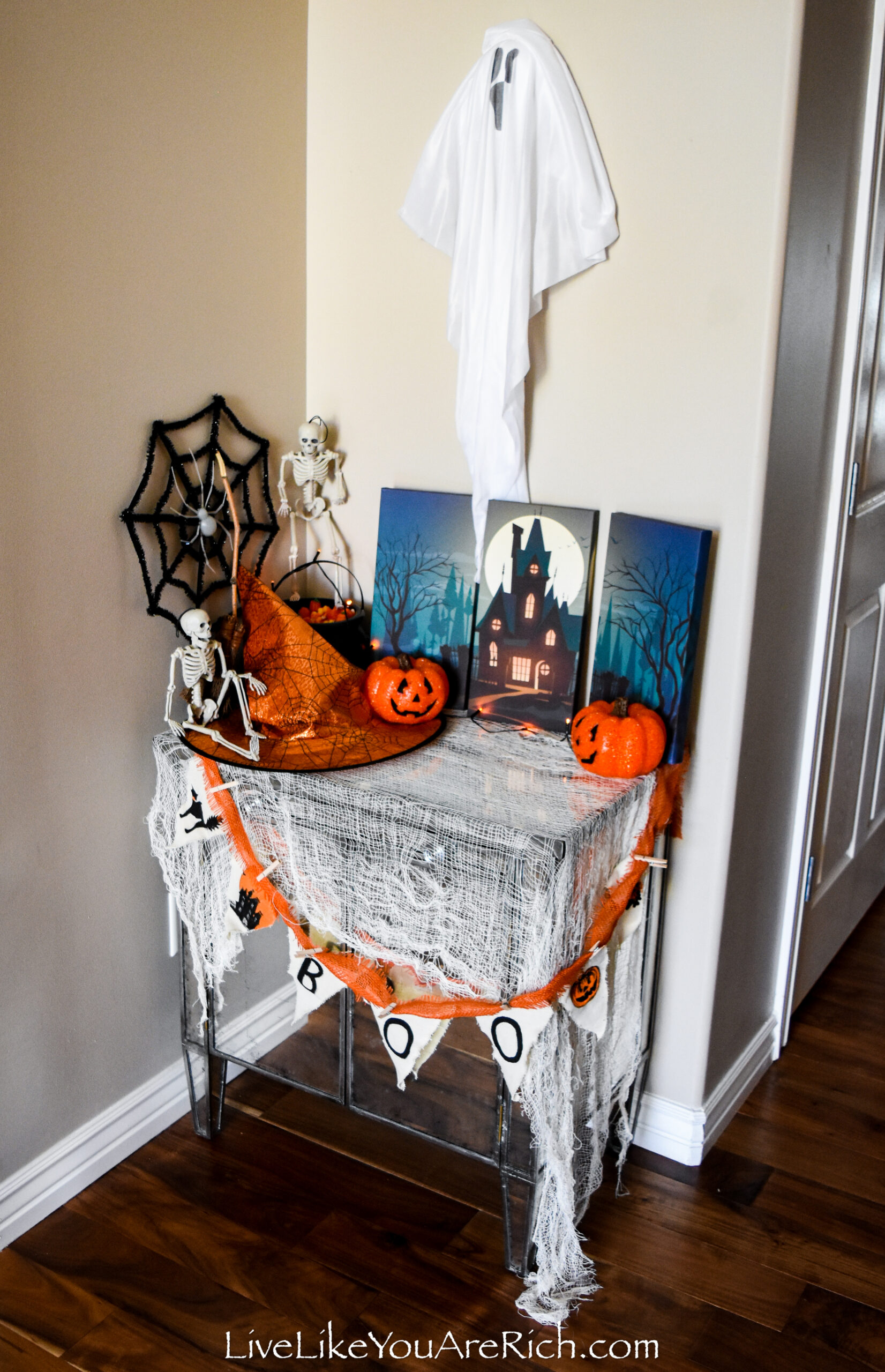 Reusing items I had on hand and purchasing a few more (see supply list below), I was able to make a fun little Halloween scene that my kids and I like.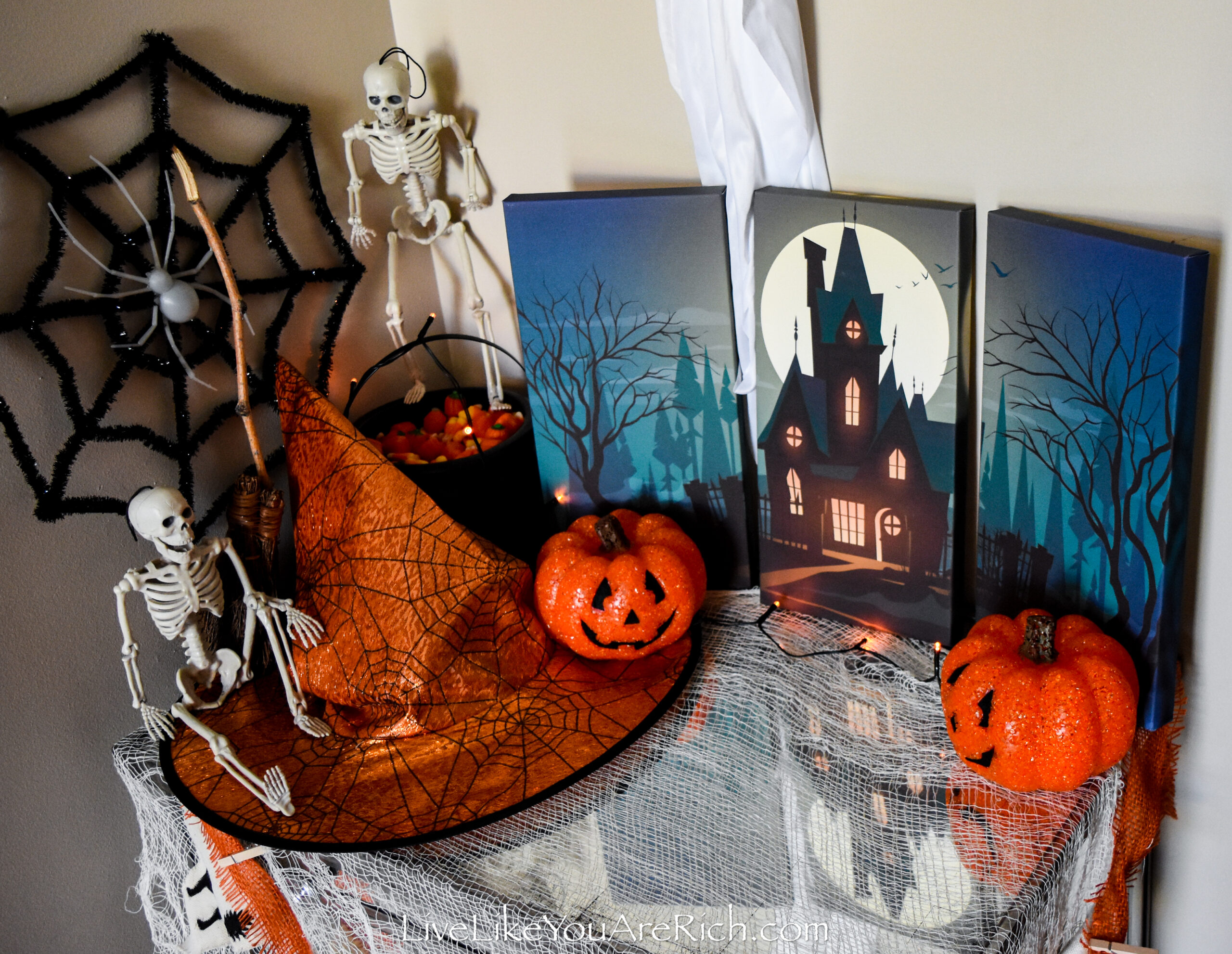 Halloween Entry Table Supply List
2 skeletons (Target) $5.00 each.
spider web (I've had this for a few years. It originally came from Dollar Tree.)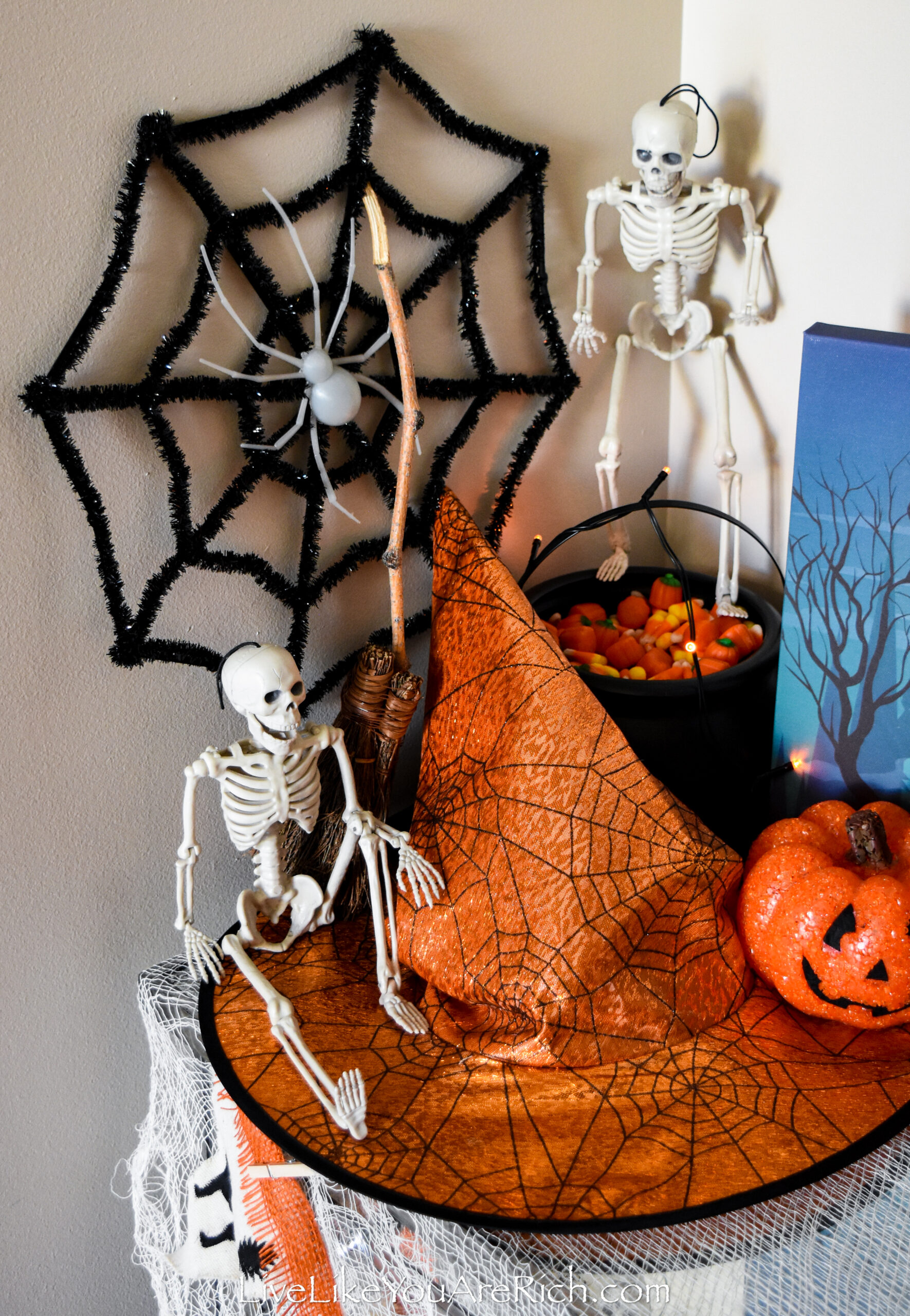 I used it on my witch-themed Halloween mantel.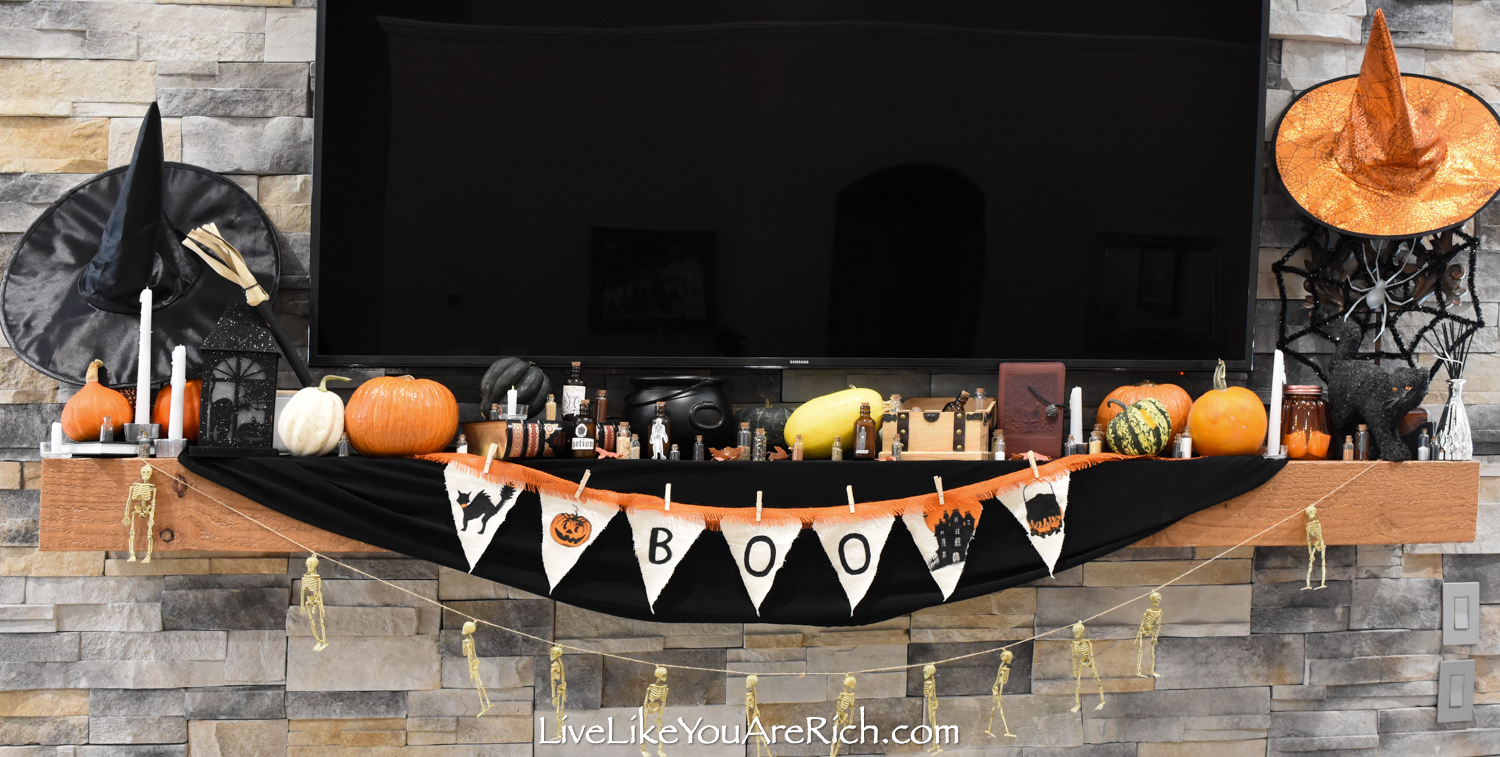 plastic black cauldron (I bought this cauldron years ago for this Halloween frog-eyed salad. I also used it on my Halloween witch mantel and kids' Halloween candy charcuterie board).
witch's broom (I made it, description on this below)
witch's hat ( I don't remember when or where I bought this witch's hat but I've had it a long time.)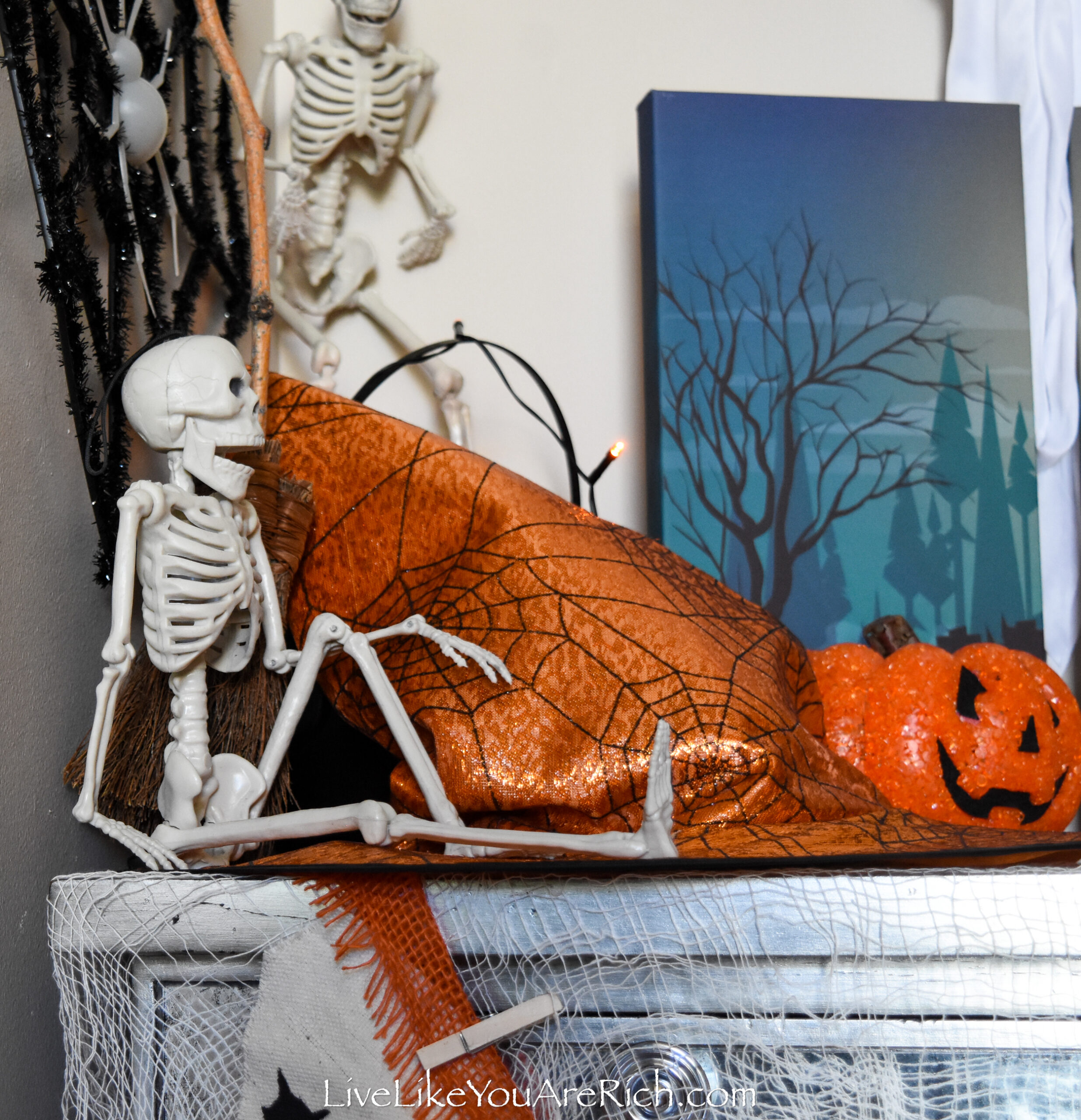 Halloween burlap bunting (I made this last year)
gauze cloth (Dollar Tree Halloween Decor Beige Creepy Cloths, 30×72-in) $1.25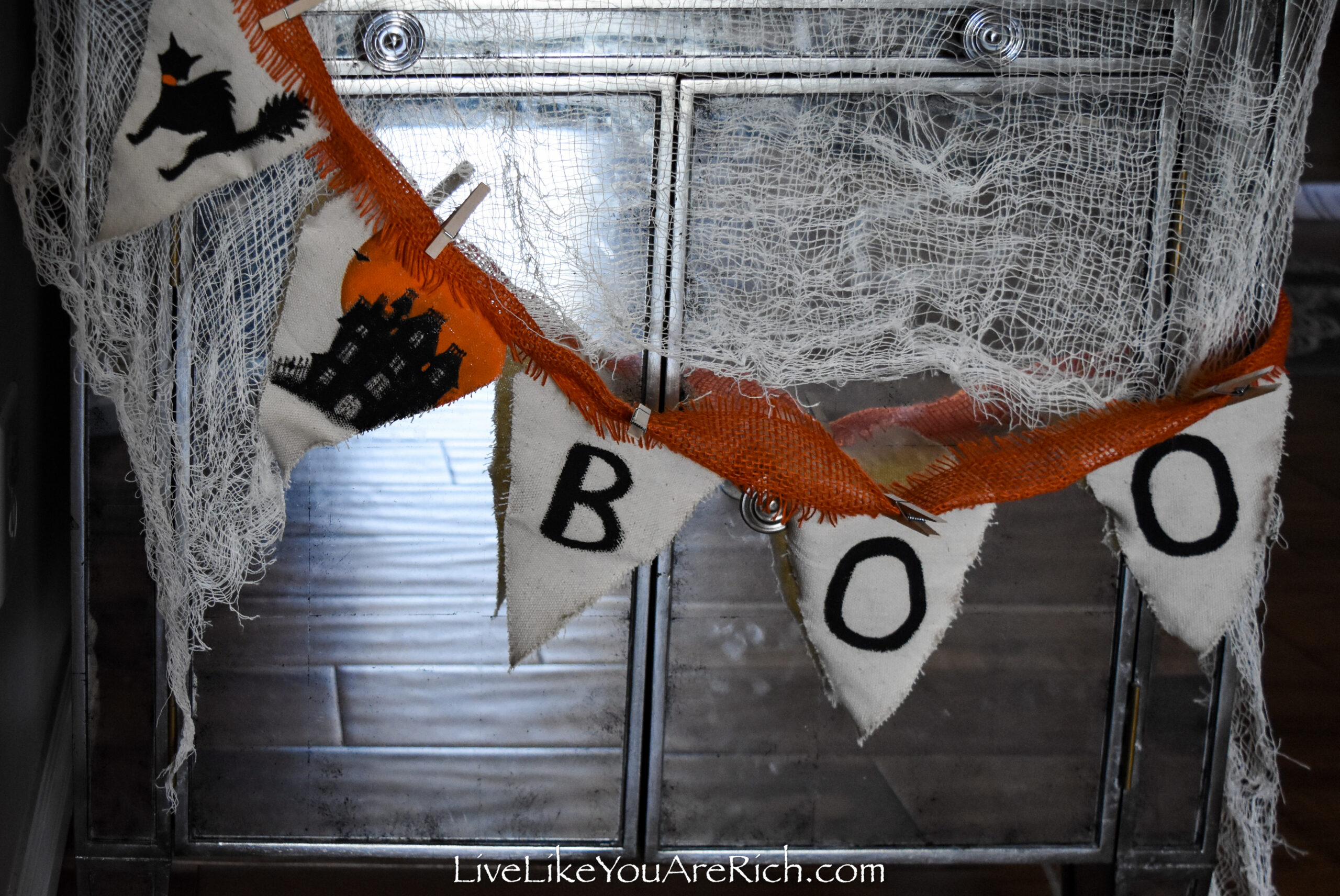 Branch's candy corn and Branch's pumpkins leftover from my Kids Halloween Charcuterie Board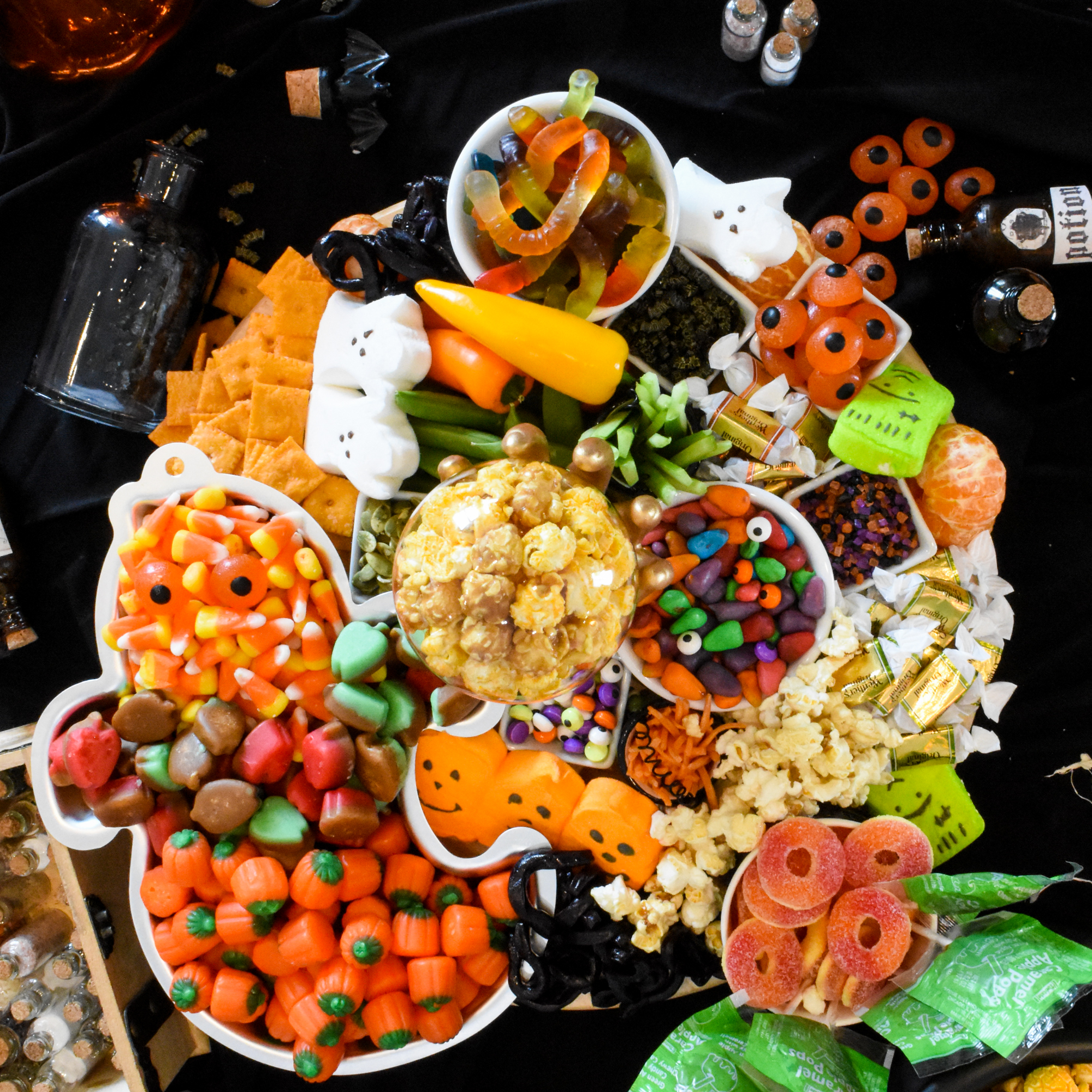 Orange Halloween LED lights (Dollar Tree) $1.25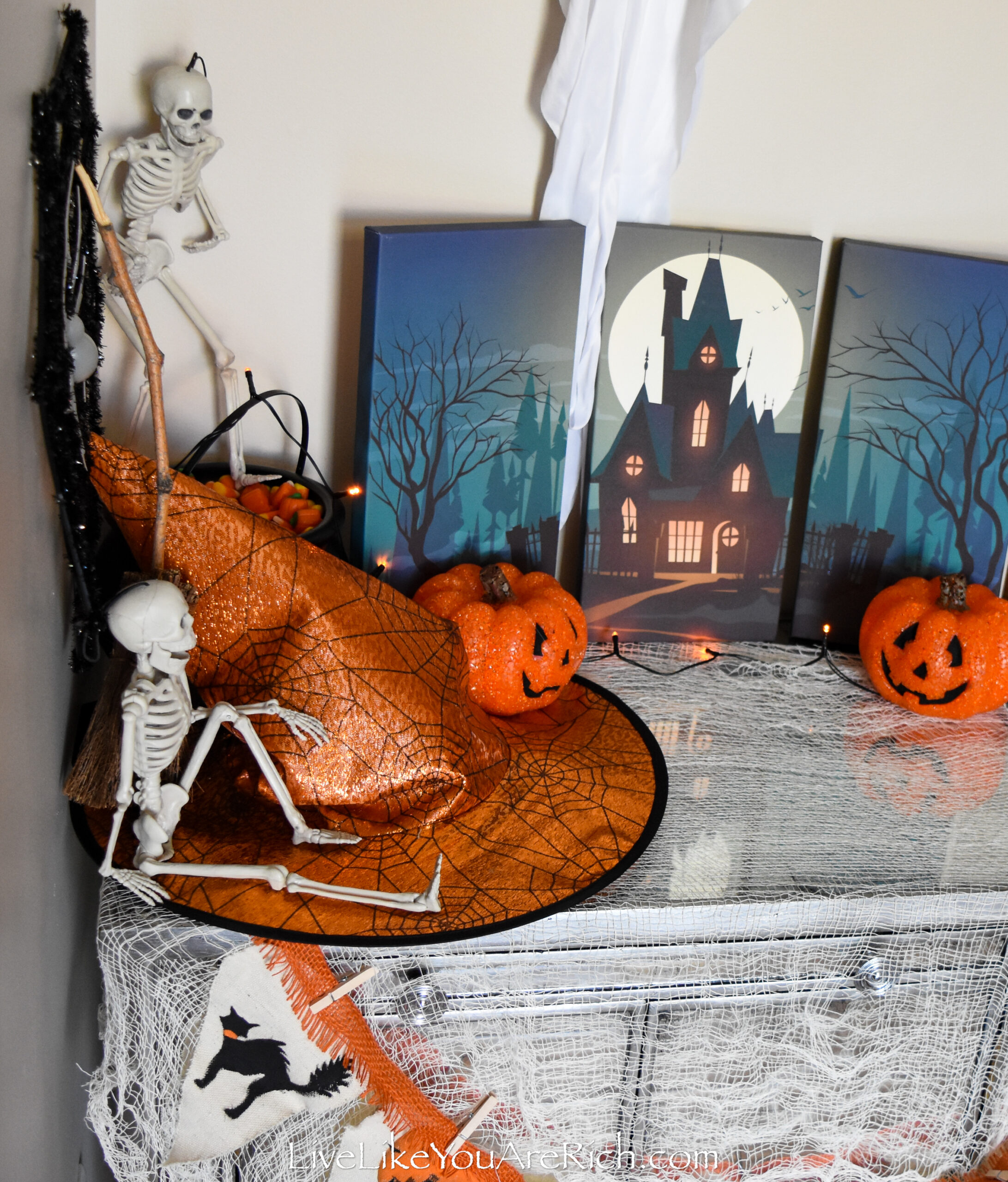 Haunted house canvas- (had) I purchased it from Elephant Stock when it was discounted to $10.00.
I got the ghost from Dollar Tree. $1.25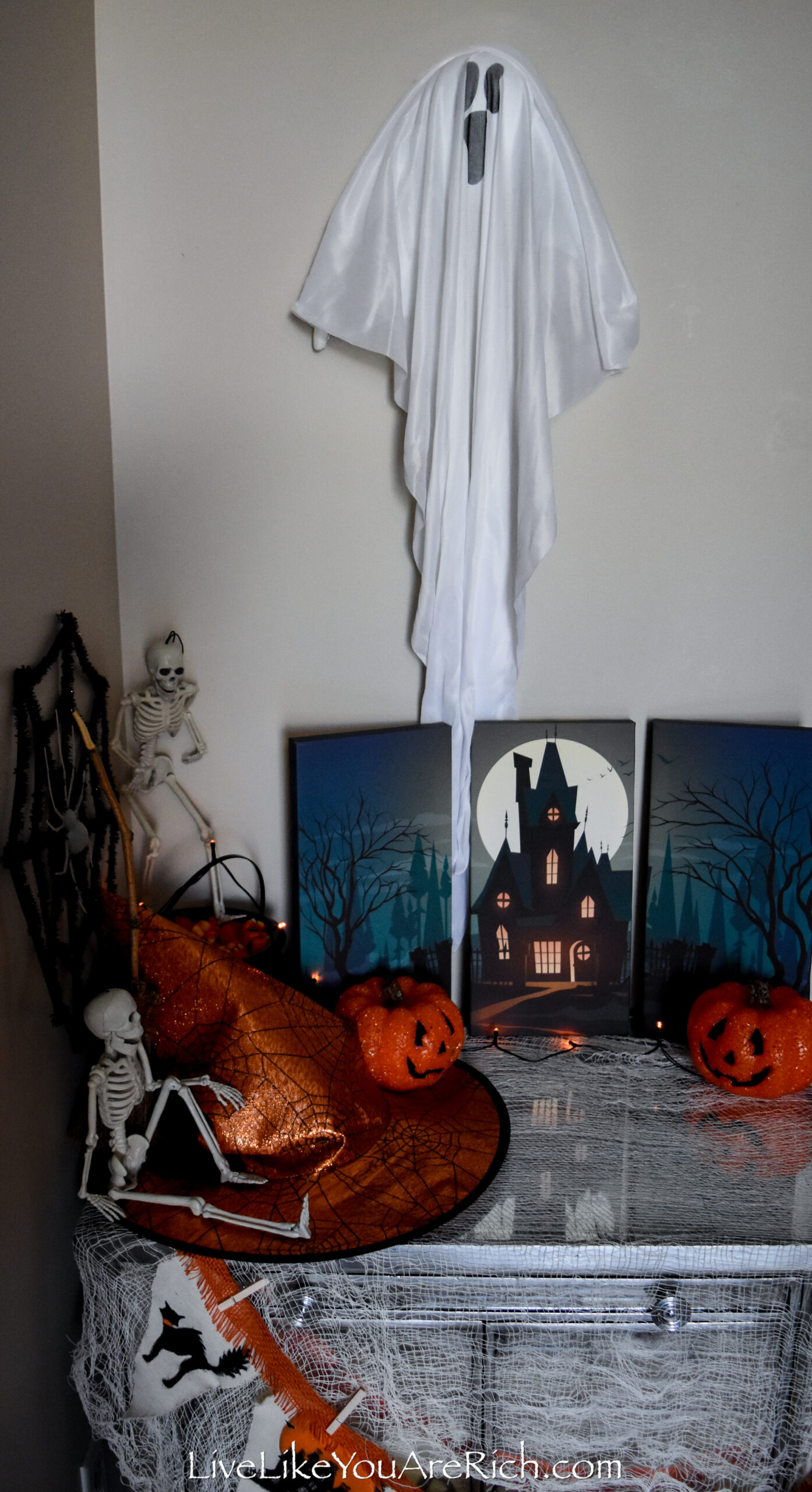 Pumpkins- I have had these two pumpkins for years. I bought them at a garage sale for .10 cents each.
How To Put Together this Halloween Entry Table
1- Lay down the gauze cloth.
2- Place a Halloween banner/bunting on the entry table. If you don't have a banner/bunting then you can make one by following this tutorial.
3 -Place a cauldron with candy corn and pumpkins in it into the corner. I put a towel into the cauldron because I had leftover candy and it wouldn't come close to filling the cauldron up. This way the candy sits on top of the cauldron and is easy to see and access.
4- Hang the ghost from a nail or a screw on the wall.
5- Stuff a witch's hat with a tea towel so you can shape it and direct it in the way you'd like.
6- Set up a haunted house 3-piece canvas. I got this one from Elephant Stock a few years ago for about $10.00.
7- Set out the Halloween lights, pumpkins, skeletons, and anything else you desire on the entry table.
8- Make a witch's broom by wrapping three cinnamon whisks around a strong stick.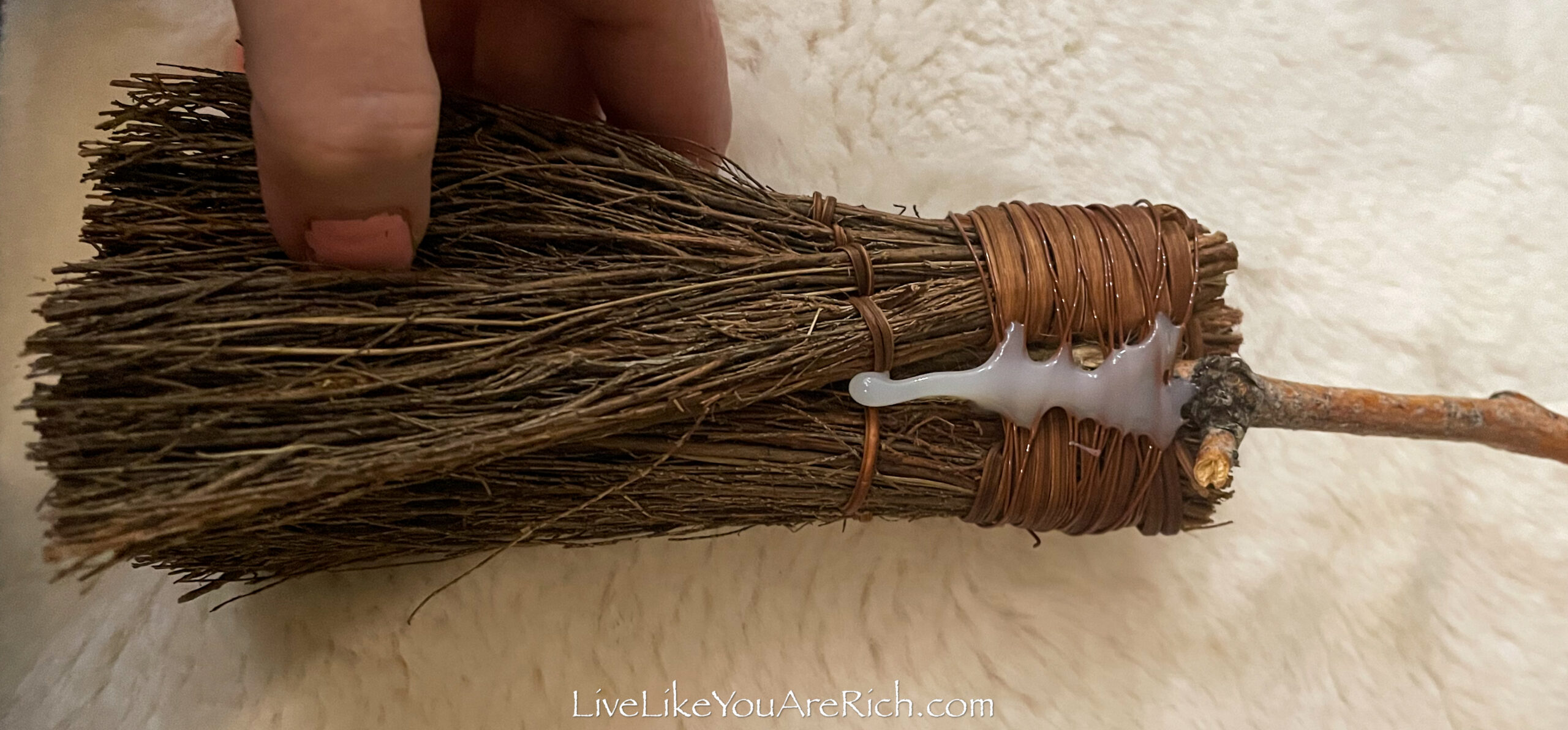 Then glue them with hot glue to secure them additionally. I found the cinnamon whisks at Dollar Tree. 3×1.25= $3.75

9- Place a spider web higher up than some of the other decorations to give the whole entry table a little more overall height.
10- Stand back and rearrange as needed.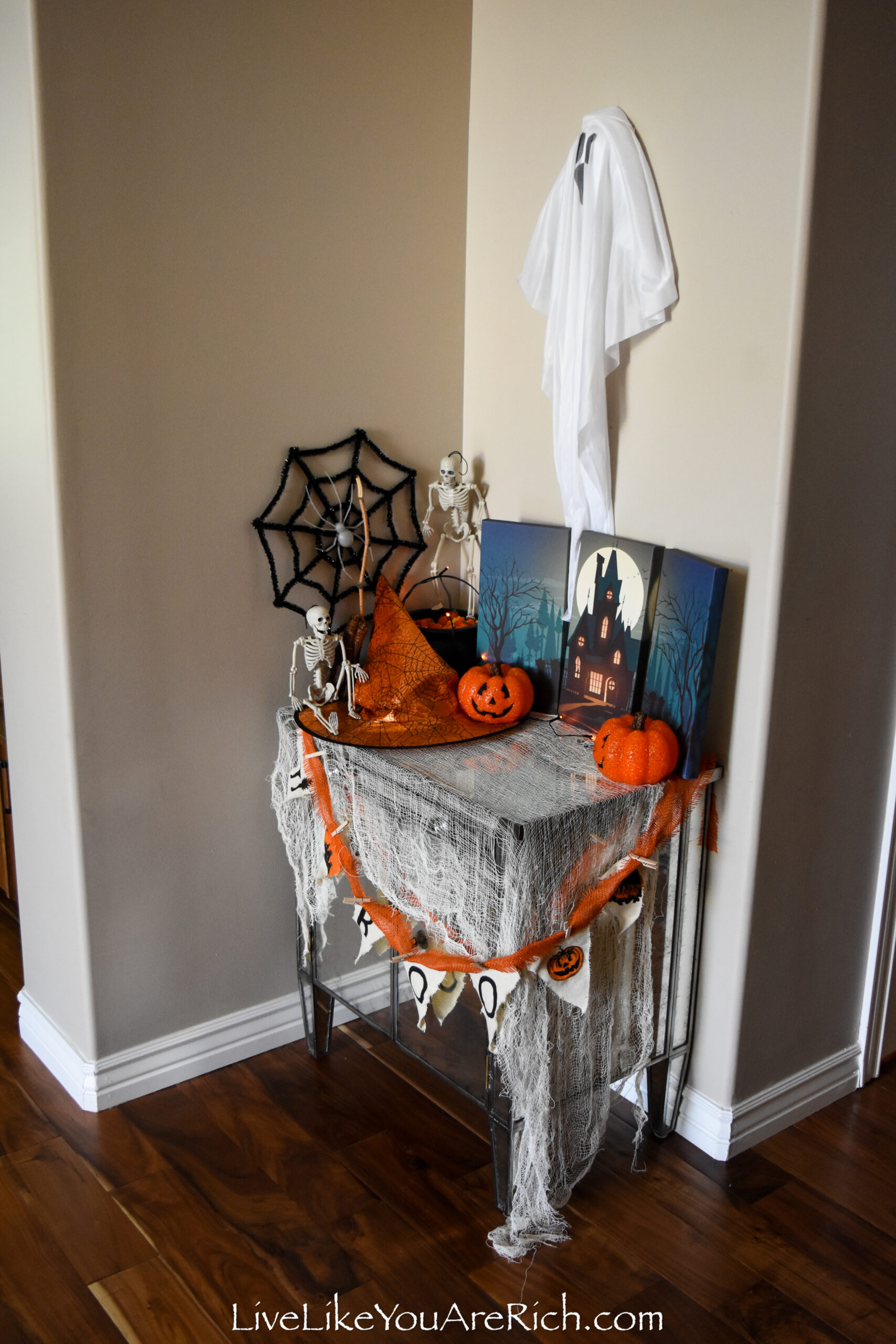 That's it! I hope you have a fun time decorating a Halloween Entry Table as well!
Happy Halloween!

For other 'rich living' and D.I.Y. decor tips please subscribe, like me on Facebook, and follow me on Pinterest and Instagram.