Pumpkin Thanksgiving Tablescape.
Although a few days late, I wanted to share the tablescape that I made for Thanksgiving this year.
It was a pumpkin theme tablescape and was very fun to put together.
I mainly used supplies that I had on hand, some were purchased for it though…
Supply List for this Pumpkin Thanksgiving Tablescape.
large brown pinecone pumpkin
wheat stalk wreath (DIY tutorial here)
various pumpkins in various sizes
Werther's originals (caramel apple and caramel pumpkin spice)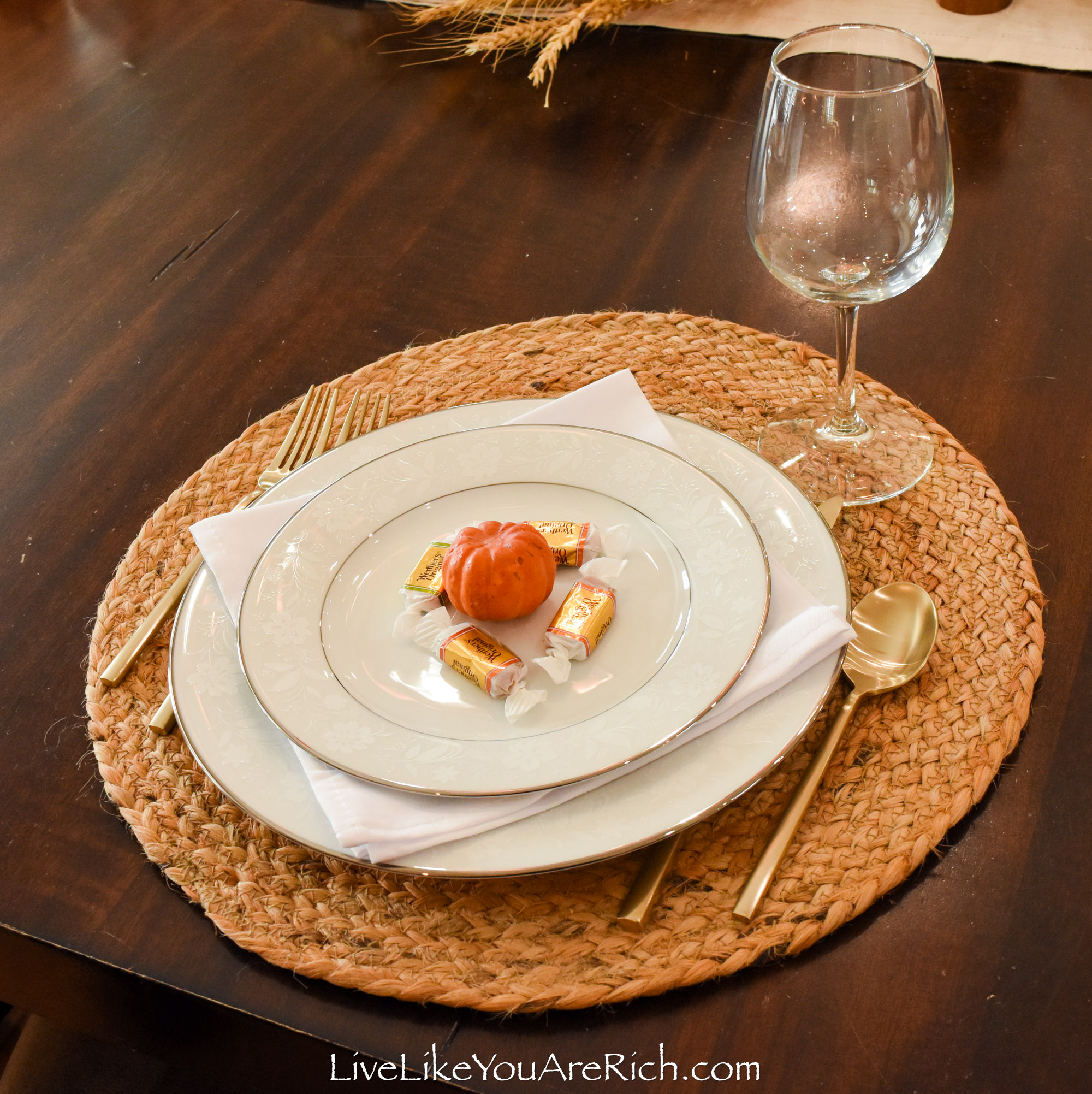 gold flatware Sam's Club—Member's Mark Premium Forged Matte Gold Stainless Steel 20 Pc Flatware Set
salt and pepper shakers (marble and wood)
How to put together this Pumpkin Thanksgiving Tablescape.
While looking at the photos is probably self-explanatory to see how to put this tablescape together, I'll explain what I did just in case anyone would like additional information.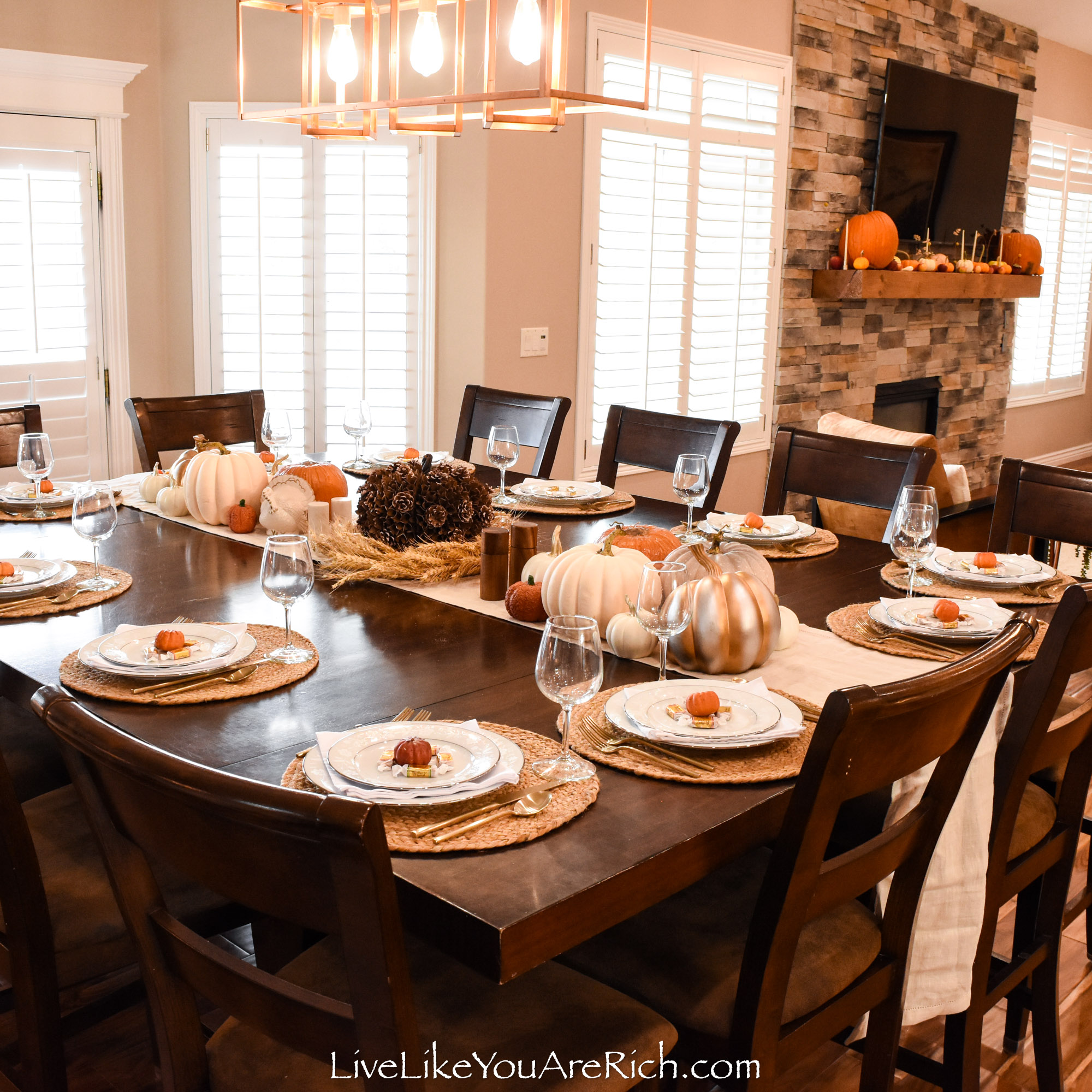 1- I put two linen table runners together and to camouflage the seam, I put this wheat stalk wreath that I made last year down on the runners and a brown natural-looking pinecone pumpkin on top.
2- I set up various pumpkins that I had in my Thanksgiving decor bin on either side of the main pumpkin.
I had a ceramic turkey in my Thanksgiving bin as well, so I added that to one of the pumpkin arrangements.
I put salt and pepper shakers on either side of the centerpiece as well.
3- Then, I set the table with jute chargers, white china, white napkins, goblets, and gold flatware.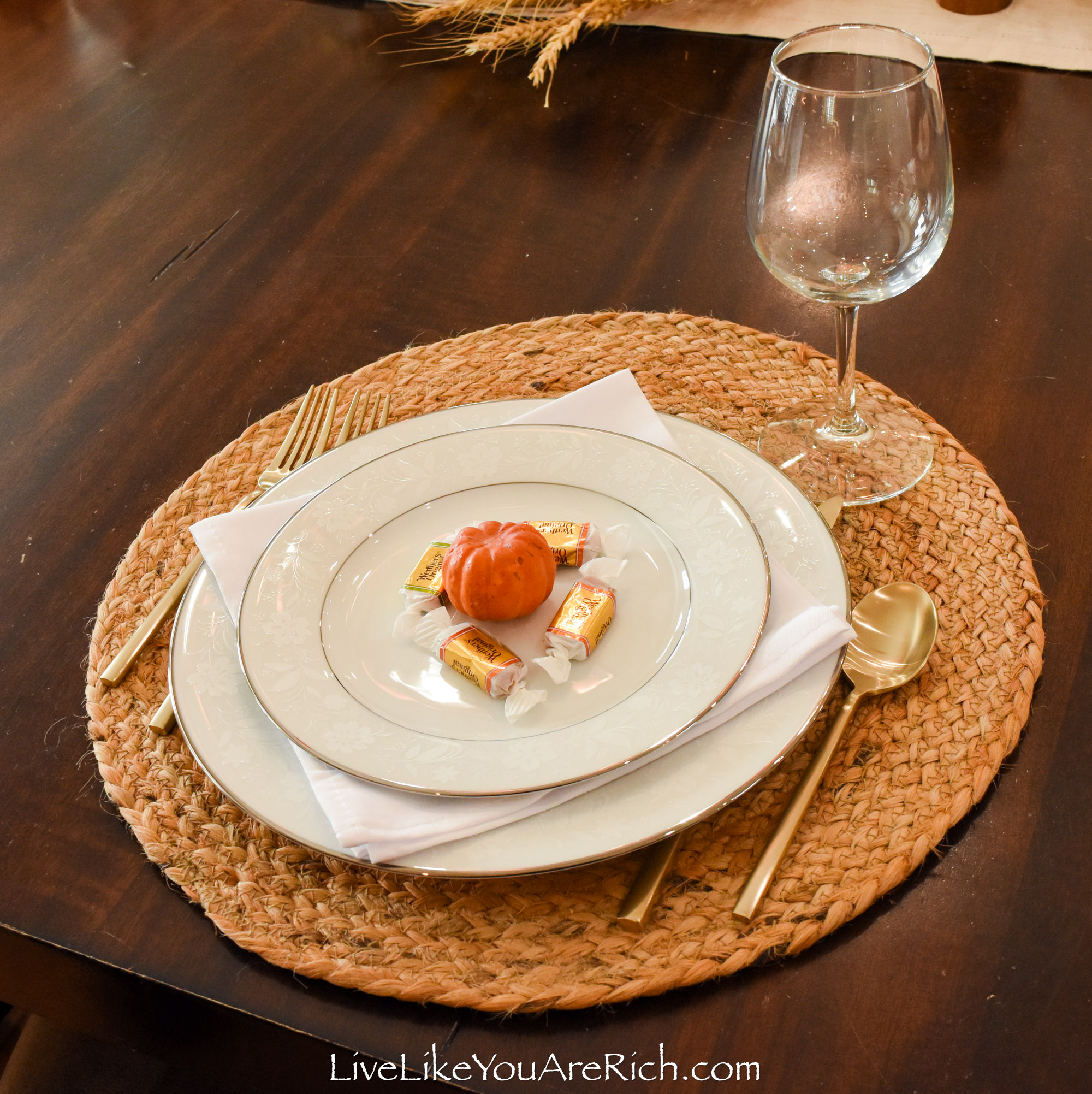 5- Finally I put some of Werther's original chewy caramels on the plate with a small pumpkin for a little plate decor. This just added a bit of orange and gold to each place-setting to match the pumpkins in the centerpiece.
Plus, I find it fun to add a favor or something festive to each setting.

That's it.
I normally state how much my tablescapes cost me to put together. I spent more on this one than I really want to admit to, but to keep with consistency, I'll share…
The runners cost me $20.00 for two with a coupon at IKEA.
I've been wanting to find affordable jute placemats/chargers for over a year. The reason it has taken me so long to buy them is that I could not bring myself to buy them because they were always over $7.00 each and I knew I wanted to buy at least 12.
I purchased these jute chargers a few weeks ago when they went on clearance at Kohl's. With clearance, Kohl's cash, and coupons, I purchased each one for $2.50.
I plan to use them for many more tablescapes however, they were used for the first time here so they cost me $30.00.
Everything else I used I had in my home. So total this tablescape cost $50.00.
Normally, I try to stick to spending less (under $25.00 for a tablescape when I host), but as mentioned, I plan to use these jute chargers many more times and felt they were worth it.
You can see in the photo above, that there looks to be a kids' table next to this pumpkin table. There is. I love decorating kids' tables. So, I decorated this one with A Charlie Brown Thanksgiving theme.
You can check out this Kids' Charlie Brown Thanksgiving tablescape if you'd like to here.
We had a great Thanksgiving dinner and I hope you did too!

For other 'rich living tips' please subscribe, like me on Facebook, and follow me on Pinterest and Instagram.