Traveling to Disney with a child who has special needs can be very successful and a lot of fun, especially when using these 5 tips!
Hi there! I'm Lauren, a guest writer and a Disney and travel expert (more info on me below).  We are a family of 5!  We have 3 children ages 7, 9, and 10!  Our 9 year old little boy has non-verbal Autism and Epilepsy and loves Disney!
Disney is one of the best vacation spots for our family because if our special needs son is having fun, that means we all are having fun!  I just wanted to share 5 tips for traveling to Disney with kids who have special needs.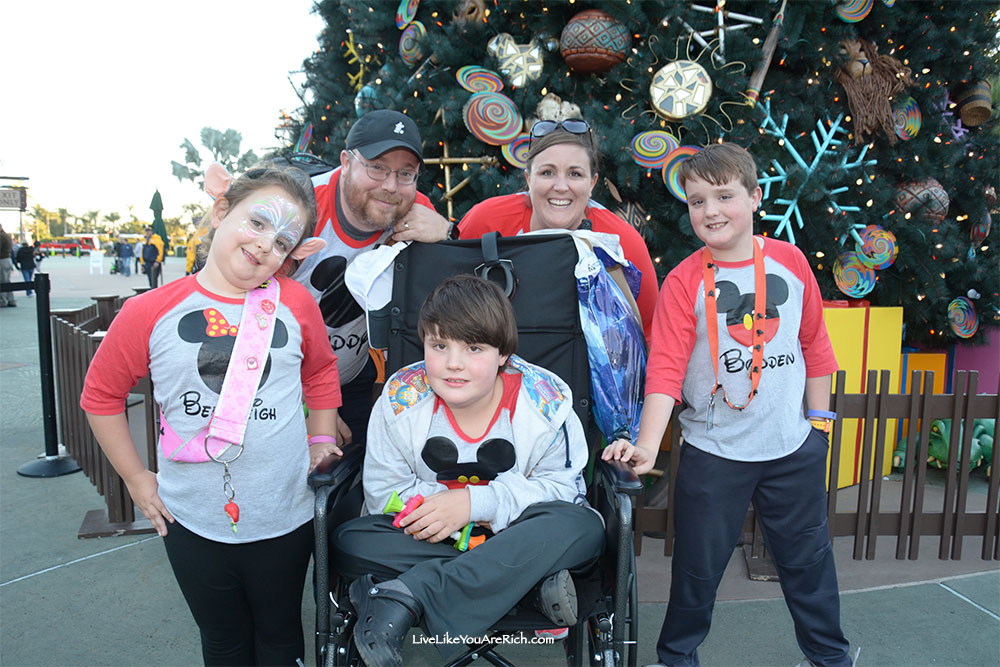 Tip 1 – Pottying
Our 9 year old big man cannot fit on any changing table and will barely fit into a handicapped stall with us.
Luckily, there are Companion Restrooms at most restroom areas in the parks.  These are standalone rooms (wheelchair accessible) with changing tables which allow us to change our son in privacy.  This is a great place for us to change him without trying to cram into a stall.  The wait can be a little long from time to time but the space is worth it.
Note—If traveling in Florida via car, most of the Florida interstate rest areas also have companion restrooms now as well!  These are so much more convenient than the gas station stalls.
Also, each park has one child care area where you can also find private areas to change larger children.  They have amazing little play sections that are air conditioned for the kids to take a break and cool off.  However, since there is only one child care area per park, the companion bathrooms scattered about the parks are a much more practical option.
Every hotel gift shop has baby wipes available and standard size diapers, but I have never found adult size diapers available.  Be sure to pack plenty before leaving for vacation. Amazon Pantry (if ordered in advance) is economical or local grocers or Instacart (will deliver to the hotel) have some options for adult diaper deliveries if you run out!
Swim diapers are sold individually in most hotel gift shops and by most pools for $2 – $3 each—packing ahead saves money on these as well.
Note—If a child has a "number 2" accident in the pool, the entire pool area is closed while it is cleaned and new chlorine is added, so please be sure and put anyone who is still in diapers in a swim diaper!
Tip 2 – Bathing
Every room at the onsite hotels at Disney has a bathtub. Some, such as the Polynesian and the Art of Animation suites, have two bathrooms—one with a tub and one with a standalone shower. 
The tubs are a great perk. However, the bathrooms have automatic fans that come on with the lights.  If your little one is sensitive to noise make sure and bring some sensory headphones in case the fan noise bothers them.
Tip—There are silver discs on both sides of the tub adjacent to the shower curtain. This is a clothes line.  Pull out the small disk and it has a clothe's line that you connect to the other side of the tub.  I've found this to be very convenient to dry our suits without them dripping on the floor.
The shampoo offered in all of the Disney hotel properties is a high-end Sea Marine Green shampoo that contains seaweed.  The smell turns off our little guy.  If you have a child with special needs who is sensitive to smell, I'd recommend bringing a travel sized shampoo.  The bar soaps have a sea salt smell that our son did not have any issues with.
Tip 3 – Transportation
The buses at Disney are wonderful for most, but for special needs children, they can be a little challenging and overwhelming. They only allow one to two wheelchairs or scooters per bus. Likely,  if you are traveling with a wheel chair, you may have to wait much longer to be picked up. 
When they strap our son's wheelchair in, they secure him with a seat belt like device and secure the wheels to the floor of the bus.  You can stand above them and hold a subway-like-handle or sit down, but all seats are 2-3 feet away from the wheelchair.  Keep this in mind when choosing to be transported via bus.
We prefer to drive our van, or when the budget allows for it, we take the Minnie Vans!  They are wonderful.  You can call and request a handicapped accessible Minnie Van if you need the additional space for a wheelchair.  These vans are a partnership with Lyft yet they are driven by Disney Cast Members.  They are painted a very fun Red and White Polka Dot pattern and play Disney songs during the ride.
Hint—drivers of Minnie Vans almost always have great dining recommendations and can answer questions about the parks.
If you drive, keep in mind that you may be parking quite far from the entrance—unless you have a handicap tag.  There are shuttles that will drive you from the parking area to the main gate, but if you have a stroller or wheelchair you will need to collapse the wheelchair or stroller and transfer to the shuttle. 
You may want to carry the wheelchair or stroller from your car, board the shuttle, and wait until you get to the main gate before putting them together. 
If you are able to park in the handicap spaces then the front gate is a very short distance to each theme park entrance and you do not need to use the shuttle.
All of the parks rent wheelchairs and strollers, but they cannot leave the parks…you cannot to take them out to your car. However, there are a few wheelchairs by the handicapped parking area that can be used to transport you up to the wheelchair rental area in the park. Note that on busy days they are usually always taken. 
Wheel chair rentals in the park are $12 per day or $10 per day for multiple day rentals. 
The best option that we have found is to use one of the several Orlando companies who are partners with Disney and rent out wheel chairs.
They will meet you at the hotel with a wheel chair for the length of your stay.  You can use them at the parks, at the hotels, Disney Springs, etc. 
They meet you near your hotel lobby, give you the wheelchair when you check in, then meet you at the lobby and pick it up when you check out.   They were running about $20 a day the last time we used them.
Our little guy becomes immobile and passes out after having a seizure, so for us, a wheelchair is a must.  Keep in mind that even for children without mobility issues, it is 2.8 miles around Epcot (without any diversions) — that is a lot of walking to ask of any child. 
Wheel chair and stroller rentals are only available at the front of most parks so you might want to plan ahead and grab one when you go in. Even if your child ends up walking most of the trip, they are a great place to store any bags, water bottles, or small coolers you may bring in.
Another money-saving option is to bring the stroller or wheelchair in the plane. Airlines will allow you to check the wheelchair or stroller at the end of the gate and it will be waiting for you when you get off—for free.
Tip 4 – Eating
Our little guy is extremely picky about his food. I know that many special needs children are picky eaters as well. I've found a lot of different ways to make traveling with picky eaters more convenient.
Every Disney hotel has a refrigerator in the room that we always stock with food we need.  We often need specific brands of food, not just types.  When needed, we use Instacart to order groceries.  They deliver the groceries to the front desk who will refrigerate them until we call. The hotel kindly delivers them to our room (if you use this service, don't forget to tip!).  Instacart is a lifesaver for fresh fruit, bottled water, specific brands of snacks, and anything your picky eater may need. 
You can bring your own food into the park, even a small cooler if you need. Packing food in is a surefire way to save money and know you have something your special needs child might need.
Our son loves chicken nuggets. I have found that they are available at several of the counter service locations throughout the park.  We like to stop and grab our guy nuggets or pizza and carry it to the restaurant where the rest of us will eat so that everyone is a happy eater.
Almost every quick-service-location has bagged carrots and grapes available.  Don't forget to use snack credits (credits earned through some bookings) on the food and even the fruit cups as a great snack for the kids!
If you are entering the World Showcase in Epcot veer to the right and you will pass the "Refreshment Port".  This is a great place to grab an order of nuggets and fries that you can take with you for picky eaters as you walk around the World Showcase and try some of the more adventurous food.
Some picky eaters like items from familiar fast food. There is a McDonald's at Disney World!  It is close to the Water Parks towards the Animal Kingdom.  A familiar meal calms our picky eater. 
We often get extra boxes of nuggets for him, store them in the in-room fridge, and heat them in the microwaves, which are available at every Disney Hotel Food Court (and some rooms). 
Note—the busses do not stop at the Disney Hotel Food Court. However, there are taxis and Lyft on site that can give you a quick ride.
Tip 5 – How to Pack
Florida is bright!  Make sure and bring several hats and several pairs of sunglasses for your kids.  The sunglass cords and straps are a necessity to prevent our child from losing them.
Even though in day-to-day life our son does not use sensory headphones, he uses them on several rides throughout Disney. 
On each trip, we are asked about a dozen times:  "Where did you get those headphones from?". They are one of the most useful items we have found to pack. Thunder Mountain, Journey into Imagination, and many other rides became some of our son's favorites once he started wearing headphones to lessen the impact of loud sound effects.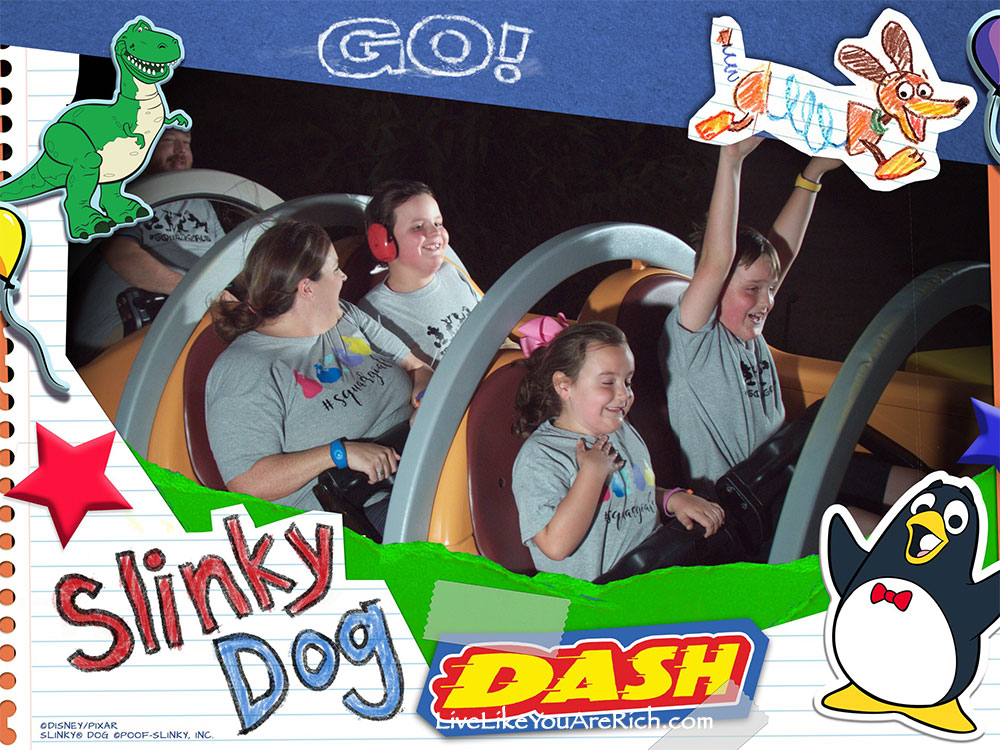 If your special needs child is noise-sensitive, I'd highly recommend packing them. Here are many sensory headphones found on Amazon for around $10 that work great. Note—noise cancelling headphones are much more expensive and we found the sensory headphones do the trick.  
Speaking of fireworks, don't forget that you can see and hear them from Disney World Hotels!  There is nothing quite as magical as swimming in a Disney Pool and watching the fireworks go off at night.
If your child is sensitive to noise like ours, just make sure to bring the headphones with you to the pool and/or when walking around the hotel at night for when the firework show starts.
Ziploc bags. Disney is undergoing an initiative to eliminate plastic waste, so they are selling reusable bags in all the gift shops instead of using plastic disposable bags.  We reuse the plastic grocery store bags or ziploc bags at home for disposing of dirty diapers, cleaning up messes, etc.  Keep in mind that these are not readily available anymore.  Pack or order Ziplock bags.  You will be amazed by how many ways you will use these.
For example, we've used Ziplock bags to protecting water-sensitive items if it begins raining, to save food for later, and especially for having a place for stinky diapers.  Ziplock bags will come in handy more than you can imagine.   
Straws and Lids!!  Another part of the plastic elimination is the limited offering of straws and lids for cups.  If your child, like ours, needs a special cup or a straw, be sure and bring one along.  When we find straws available we always grab a few extra in case the next place we stop is not offering them.
Final Tip—use a travel agent who knows about traveling with kids who have special needs.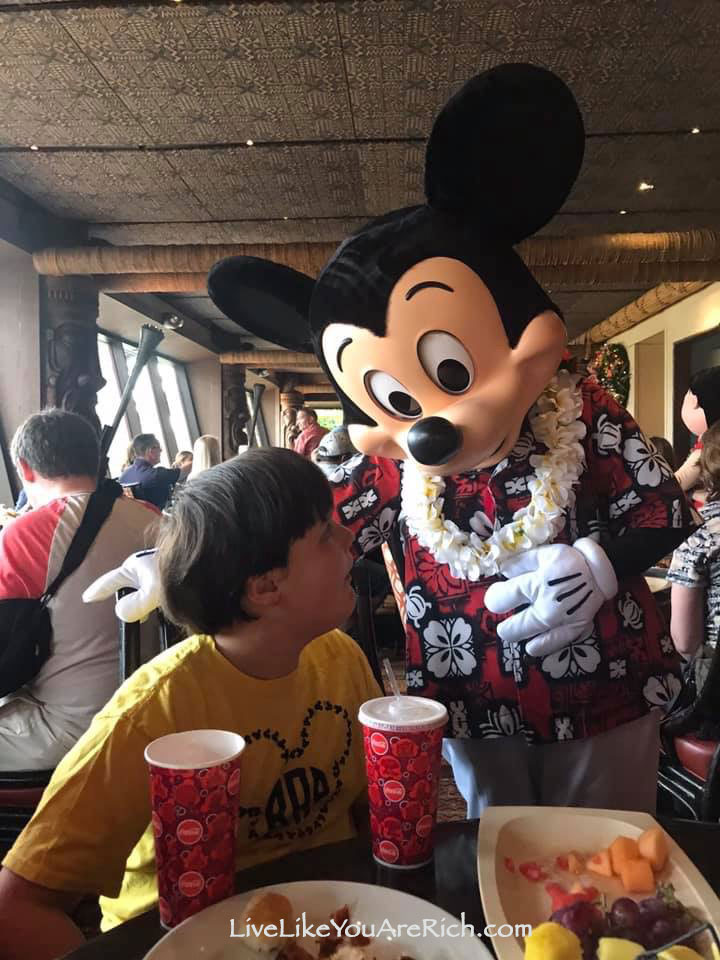 It doesn't have to be me, but if you are traveling anywhere unknown with a child with special needs, I highly recommend using a travel agent who is educated on the challenges that may present themselves.
I have many more tips about traveling (not just to Disney) with kids who have special needs.  If you're interested in a free quote to see how I can help your trip be much more convenient and save you money, I'd love to help!  Fill out this quick form and I'll get right back to you!
-Lauren Atkinson, Epic Escapes Travel Co., Travel Designer
**Lauren Atkinson is a graduate of the Disney College of Knowledge and has been a travel agent for 2 years.  She has been an annual passholder at Walt Disney World for 5 years and has an abundance of knowledge on all things Disney.  Lauren is also a Universal Parks and Resorts Specialist as well as a member of CLIA (Cruise Lines International Association).  Lauren is also knowledgeable in Carnival Cruise Line, Royal Caribbean, Sandals, Beaches, and Norwegian Cruise Lines.  Lauren was a special education teacher and worked with children with autism and special needs for 10 years before leaving the teaching field when her son was diagnosed with autism at age 2.  Her son is now 9 years old and is non-verbal, and was also diagnosed with epilepsy at age 3.  His love of Disney and family vacations are what drove her to find her passion for helping families with special needs children plan and go on successful vacations.  Lauren can be contacted by filling out this form or email directly at [email protected].
You may also like to check out these posts: Top 9 Tips For Saving Money at Disney World and Disney's Aulani – 7 Money Saving Tips Your Trip.

For other 'rich living tips' please subscribe, like me on Facebook, and follow me on Pinterest and Instagram.