Elf on the Shelf: A Christmas Carol.
Today our Elf on the Shelf sibling duo found their way into, A Christmas Carol by Charles Dickens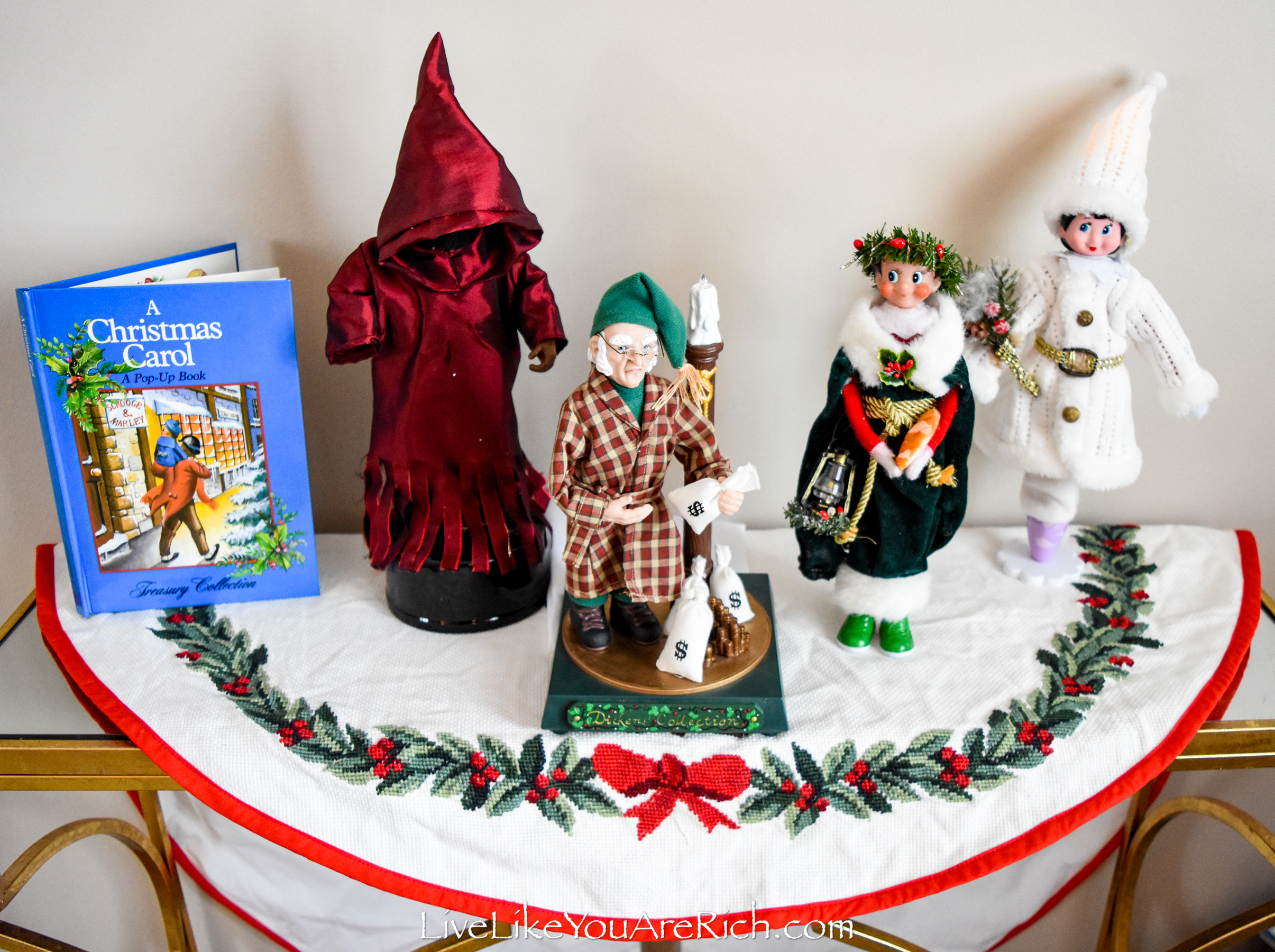 As written in the book,
Scrooge was visited by multiple ghosts.
Our Elf on the Shelf, Winter, dressed up as the Ghost of Christmas Past.
Pepper was the Ghost of Christmas Present.
And a spirit visitor of some kind is the Ghost of Christmas Yet to Come.
I recently re-read, A Christmas Carol by listening to it on Audible. It's the one with Hugh Grant narrating it.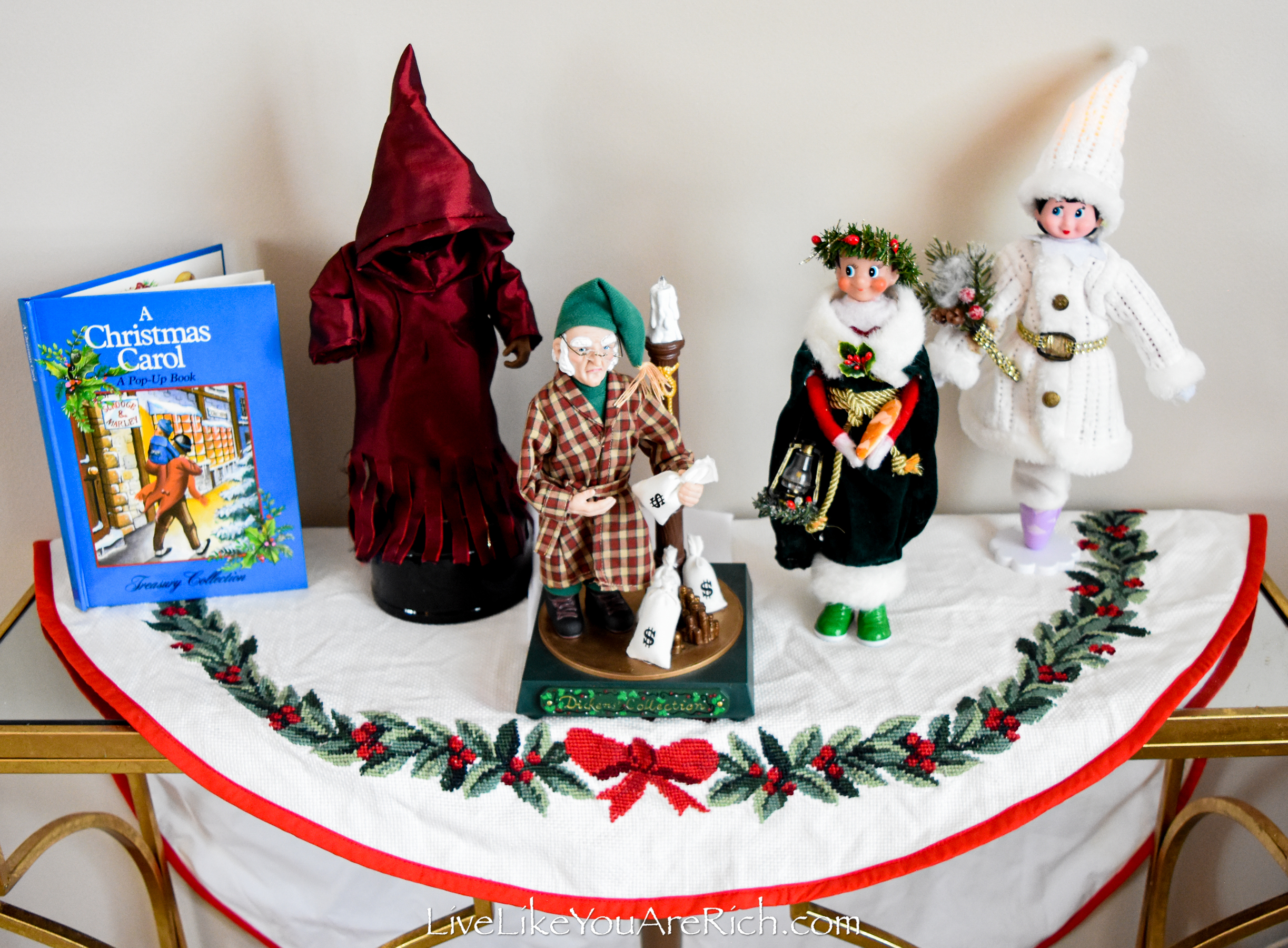 It was very well done!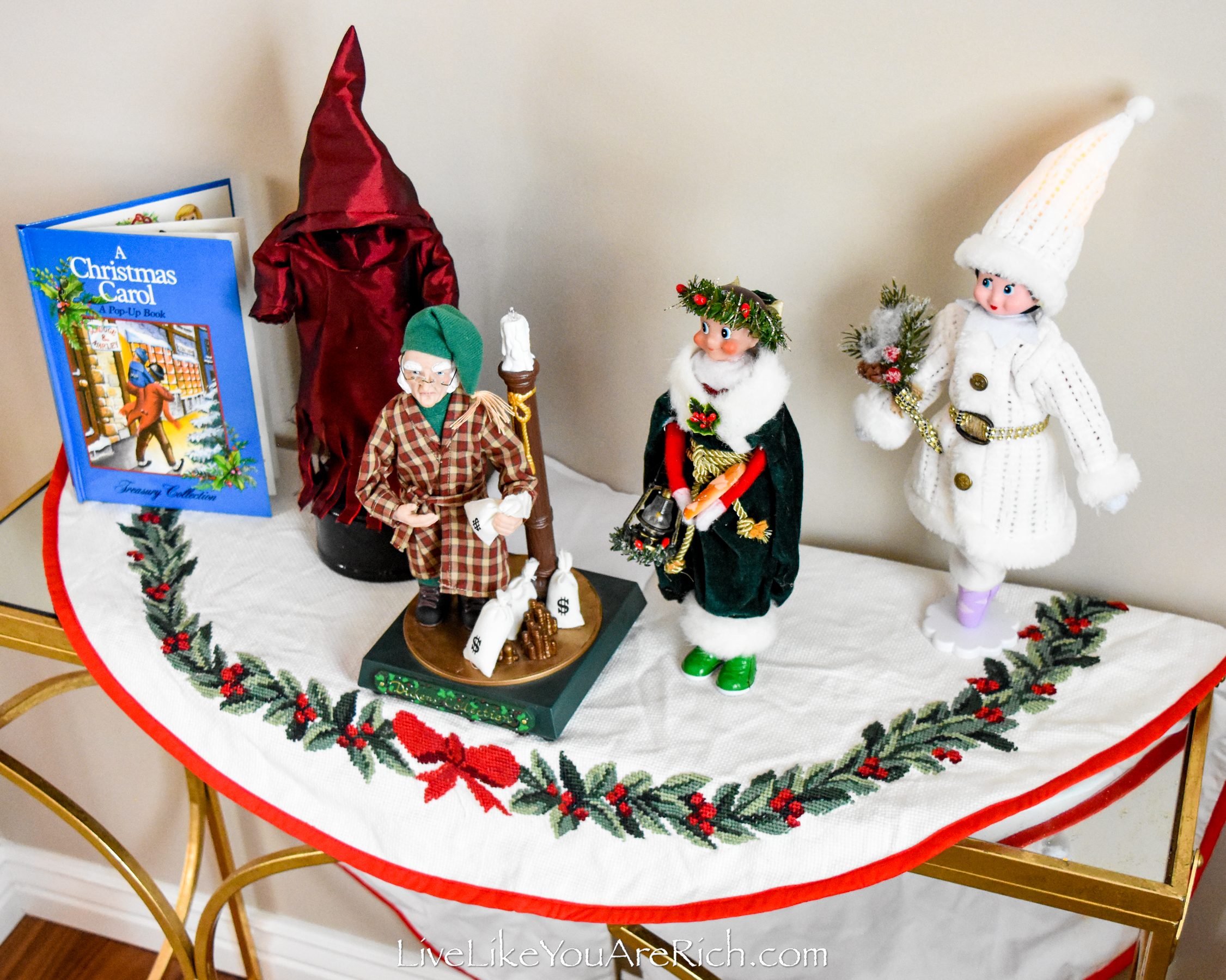 It's such a festive and fun story to read and re-read.
I remember reading about each ghost and I think our elves did a pretty good job with the details of their dress.
The Ghost of Christmas Past is described by Charles Dickens as wearing a white tunic
and 'round its waist was bound a lustrous belt, the sheen of which was beautiful.
It holds a branch of fresh green holly in its hand and
on top of its head is a bright flame similar to a candle.
Dickens described this character as an, 'it' and said it carried with him/her a metal cap, made in the shape of a candle extinguisher.
While it seems like Winter is missing this metal cap,
It looks like she pretty accurately portrayed the other descriptions in her costume.
The Ghost of Christmas Present was described by Dickens as wearing a green robe bordered with white fur.
He wears a wreath of holly on his head.
The wreath has icicles in it.
When Scrooge first meets the Ghost of Christmas present he is surrounded by food, so Pepper is holding a loaf of bread.
He is also said to have a torch,
which he uses to spread goodwill, which is a symbol of the transforming power of Christmas.
He also wears a rusty scabbard without a sword, which is a symbol of peace.
Pepper doesn't seem to have this item, but it looks as if he really tried to get the rest right.
The Ghost of Christmas Yet to Come is described by Charles Dickens as, "a solemn Phantom, draped and hooded, coming, like a mist along the ground"
This ghost is said to be clad in a black garment
that conceals its face and body.
The only body part visible to Scrooge is one outstretched hand.
While the color isn't black, this cloak depicts the other descriptions quite well.
Scrooge fears all of the ghosts but he especially fears the Ghost of Christmas Yet to Come… I wonder why. Haha.
Scrooge is described by Charles Dickens early in the story with the following, "The cold within him froze his old features, nipped his pointed nose, shriveled his cheek, stiffened his gait; made his eyes red, his thin lips blue, and spoke out shrewdly in his grating voice."
Dickens further describes Scrooge as "a squeezing, wrenching, grasping, scraping, clutching, covetous, old sinner!…
Hard and sharp as flint… secret, and self-contained, and solitary as an oyster."
This Dickens Collection Statue maker did a great job of getting the description of Scrooge right.
Supply List for this Elf on the Shelf: A Christmas Carol scene.
Dickens Collection statue Scrooge (search Google, eBay, or Mercari for something similar)
Santa (about the same size as Elf on the Shelf) wearing a white coat, a large white beanie, and holding a lantern. (Michael's 2022 stock)
Green velvet with white fur trim Santa pants (from a larger Santa figurine) turned into legging pants for the Elf on the Shelf freeze stand and a cloak
lantern (came from a Santa)
bread loaf (came from a Santa's pack)
gold rope (came from a Santa's pack)
holly (came from a Santa)
small pine wreath with red accents and gold iceclices
grim reaper nutcracker decoration for Halloween (his cloak)
Tree skirt (cross-stitch-looking)
Large Santa with green velvet pants trimmed with white fur that you don't mind taking apart.
How Pepper and Winter put together this Elf on the Shelf: A Christmas Carol scene.
They put my vintage-looking cross-stitch-style Christmas tree skirt on our gold sideboard type of table.
Then they set out the book, A Christmas Carol.
Next, they put the Scrooge statue in the middle.
For the Ghost of Christmas Yet to Come. They took a cloak off of a nutcracker grim reaper decoration for Halloween that my friend had and put it on a Santa clause figurine.
They placed black felt around this Santa figurine's head so you couldn't see his face if you crouched down and looked up into the cloak and set him on a black hot cocoa mug so he would be taller than Scrooge.
For Pepper, the Ghost of Christmas Present, they put a small wreath around his head and hot glued tiny sparkle sticks to look like icicles.
They took green velvet pants off of a large Santa figurine we have. We have A LOT of Santas in this house due to receiving a Santa Christmas Tree as a gift from my brother and me shopping after Christmas sales and thrift stores for them.
Anyway… I think that Pepper took off the legs of this larger Santa and used one pant leg to cover his freeze frame legs and the other pant leg was cut open and hot glued in the front to form a cloak.
Next, they put a holly berry on his cloak to conceal the seam, gold roping for a belt, and had him hold an old school lantern and bread loaf in his hands.
For the Ghost of Christmas Past, Winter removed the coat and beanie from a Santa figurine that is now the Ghost of Christmas Yet to Come and put it herself.
She made a belt of faux gem ribbon and used Santa's belt buckle to thread it through.
She stuck a light in her hat and hot glued a branch of 'holly' in her hand.
Finally, she took the same Santa figurine's pants and stepped into them in her freeze frame, and cut the other pant leg off since she only needed one. She just hot glued the cut pant leg together at the top and also used the belt to keep it up.
That's it.
While this scene looks like it took a lot of time and work to come together, I have it on good authority it took them less than an hour thanks to using items from other figurines that we were okay altering for this scene.
For more details check out the Elf on the Shelf: A Christmas Carol video on this post.
To see more Elf on the Shelf ideas check out this post here. I'll be adding more this December as well.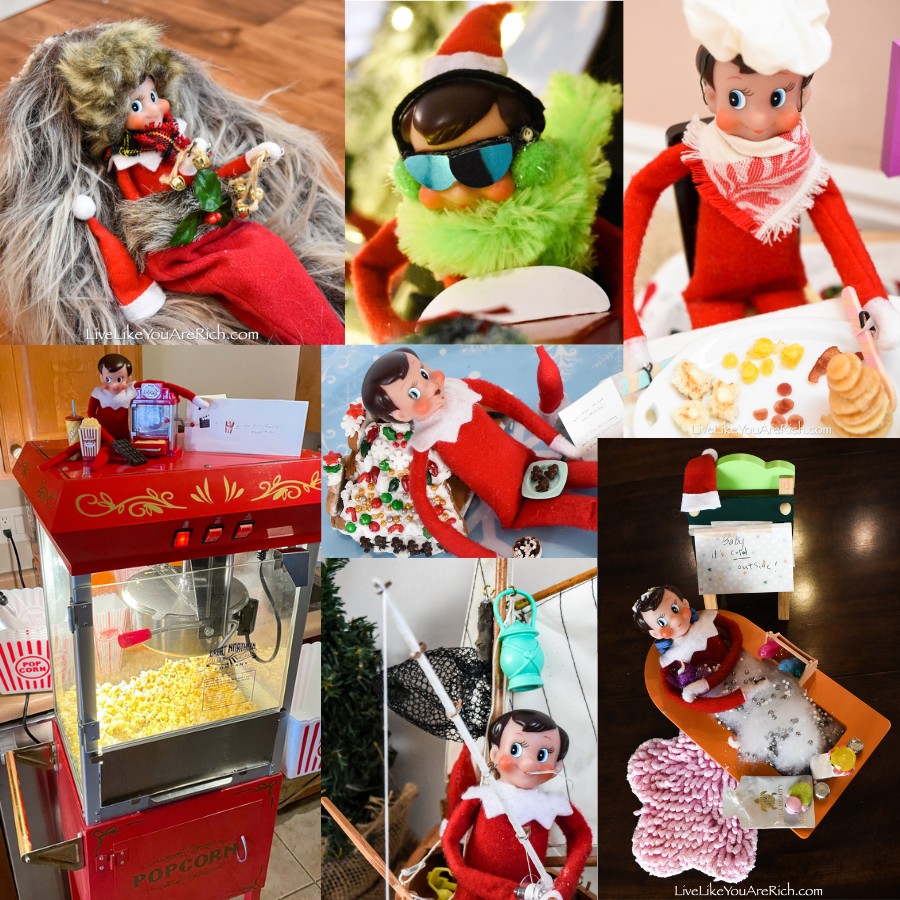 For other 'rich living' and D.I.Y. decor tips please subscribe, like me on Facebook, and follow me on Pinterest and Instagram.