Haunted House Halloween Doormat
Last year, I searched all over online for a Halloween doormat that would match my porch haunted house and ghost decor. I couldn't find anything under $60.00.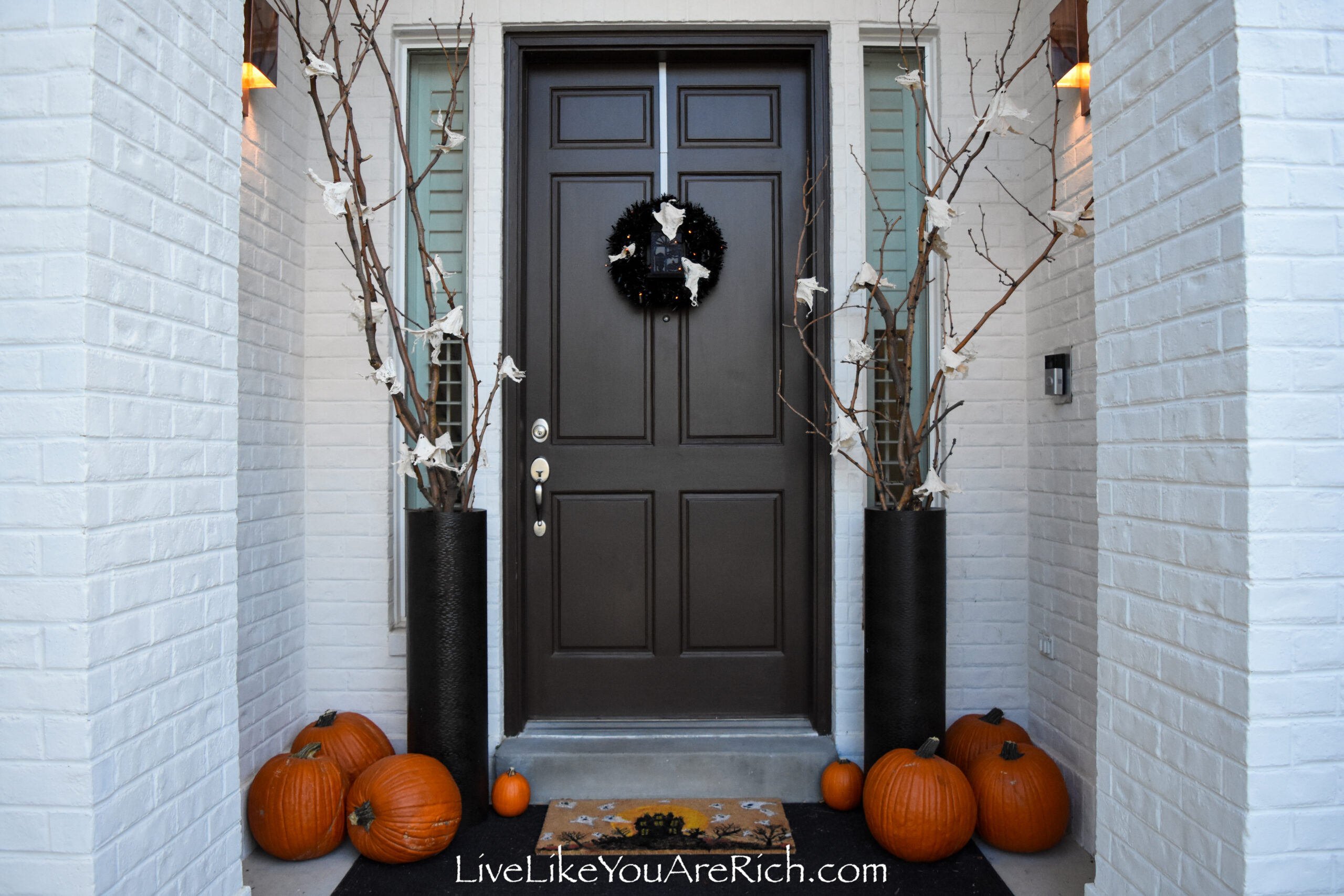 Since I had purchased 10 blank coir doormats using a coupon from Home Depot earlier I had many blank doormats on hand so I decided I'd make one to match.
These doormats only cost me $8.00 each.
I was able to paint and customize one of those blank doormats to match my DIY Gauze decorations and Haunted House Ghost Wreath.

I have made multiple mats before so I had all of these supplies on hand.
If you don't have these supplies on hand it will obviously cost more—though subsequent mats made similarly won't.
Supply List for Haunted House Halloween Doormat
Cricut cutting mat ( I used a 12×18 mat but if you did the design a little smaller or in two you can use a 12×12 mat)
Digital downloads get them here
Exterior/Outdoor acrylic craft paint. The exact brand I used is called Craft Smart.
chunky full-bristle acrylic paint brushes
thin bristle acrylic paint brushes
paper plates for paint
Optional- Krylon Clear Coating spray UV-resistant and moisture blocking
How to make this Haunted House Halloween Doormat
Continue reading and/or watch the video tutorial on this post…
Cut out the haunted house, tree, and ghost files using a Cricut on freezer paper (read on below if you need more guidance on this step). Free files are also below.If you do not have a Cricut you can print the free files of clipart and cut them out by hand and/or freehand paint them.
Weed the freezer paper and then iron the freezer paper down onto the coir doormat. Secure with clothing pins or even safety pins if the iron isn't quite working or if you are placing it over an area that's been painted.
Paint the haunted house black and freehand paint a hill underneath it.
Cut out the tree files and iron the stencils on. Paint the trees black. Freehand paint the branches if you want to fill them in more.
Once the black paint on the haunted house has dried, paint the windows of the haunted house in freehand with yellow paint.
Cut out the ghosts and iron the stencils on. Paint the ghosts white and the eyes and mouth black. You'll need a few coats of white paint for the ghosts.
Peel the moon stencil off and iron it on. Paint the moon yellowish-orange.

Once the black hill has dried, freehand paint the pumpkins orange. Use green to paint on the stem.
Paint a silhouette of a graveyard.
Let it dry fully. Take the mat outside and spray the mat with UV protectant clear coating and let that dry for a few hours as well.
That's it!
Cost for the Haunted House Halloween Doormat
The doormat was $8.00 and I had the exterior paint, brushes, and other supplies. So, it only cost $8.00.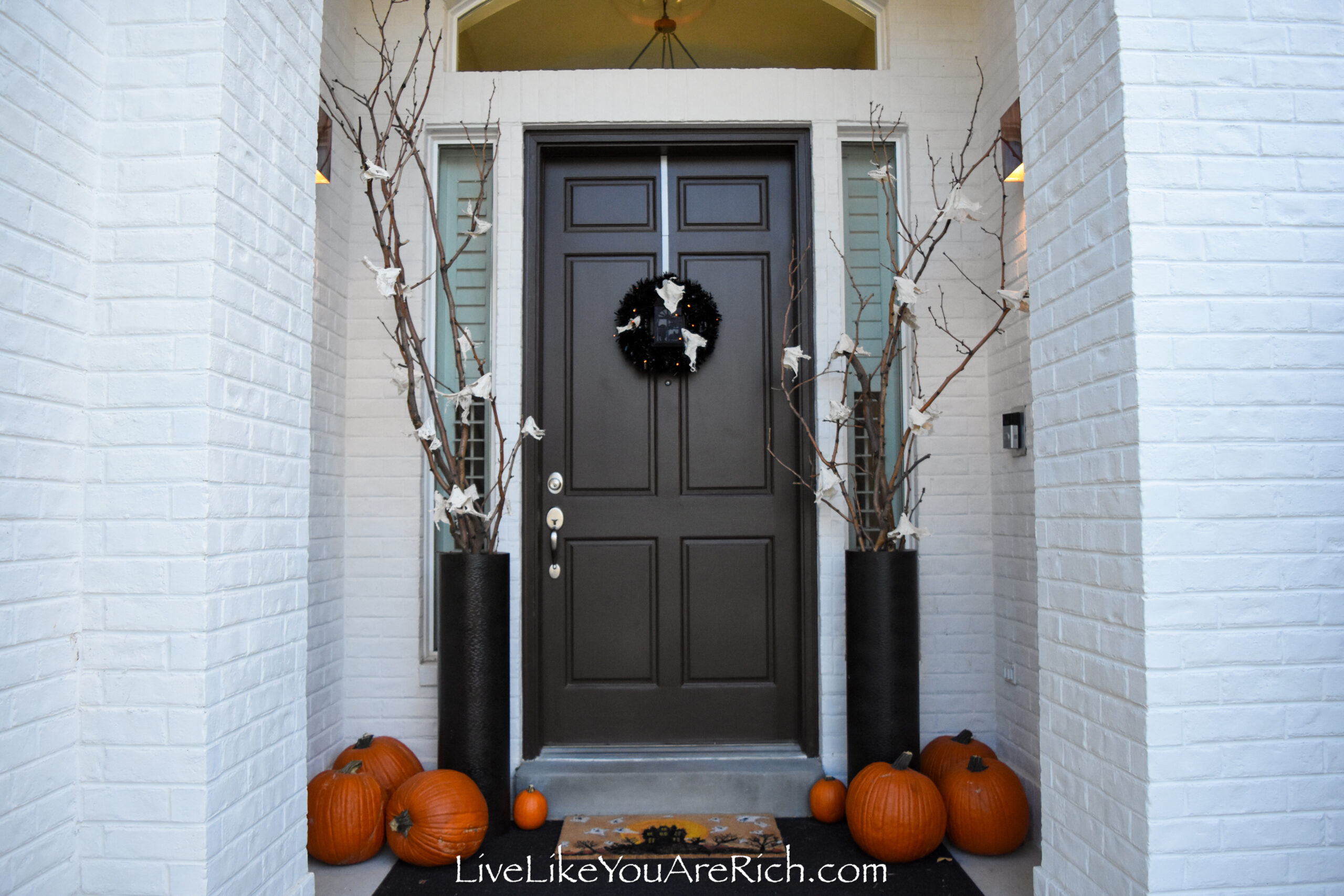 How to use a Cricut to cut freezer paper.
Upload the free files to your Cricut Design Space. If you are unfamiliar with how to do this, you can google how to or select the following:
New Project, Upload, Upload image, browse, select the file, click "complex", then click the white background (it will disappear), then click any areas that need to also disappear, then click apply & continue.
Select Cut Image and then add to the canvas. Drag it larger until at least one side is slightly less than 11.5″ (the largest you can cut on a Cricut mat).
You may have to break up the image into two different cuts if you don't have a 12×18 cutting mat. If you do then you can select that option and cut the prints out on one 12×18 and the lettering on the other.
Put freezer paper on your Cricut mat and smooth it out.
Load it into the Cricut.
Click "make it", choose "heavy paper settings" and "more" under the pressure of the cut.
Then click the flashing C button to cut out the design.
You'll want to weed out the paper carefully.

I hope this Haunted House Halloween Doormat was helpful!

For other 'rich living' and D.I.Y. decor tips please subscribe, like me on Facebook, and follow me on Pinterest and Instagram.