Having food storage for emergencies, job loss, economic disasters, etc. is very important. It brings peace of mind to any parent knowing that they will be able to provide food for themselves and family during tough times.
I have grown up being taught that you should have a 3 month supply of food and supplies (paper goods, hygiene products, etc.) that you can rotate through and a one year supply of staple survival foods that last much longer (10-30 years or more). I wrote this blog post years ago when we were getting our food storage set up.
Of course, I love to get the best deals and save the most where I can, so here are seven steps to take to save on your food storage:
1. Buy from inexpensive preparedness websites. I have looked at a lot of different places online to find food with a very long shelf life for the best deals. I found one main website that has rock bottom prices and another website that is reasonable for specialty foods.
This Church of Jesus Christ website link has staple foods (wheat, oats, flour, sugar, rice, etc.) at the cheapest price you will find them. They are already stored in #10 cans for long-term preservation (if you find them cheaper, please let me know, but I kind of doubt you will). Further, they ship the food to your door.
I recommend putting an item in your cart and going through the first section of checkout (where you enter your address) and seeing what the shipping charges amount to. Even if you have to pay more in shipping you will probably still save money because I found that the Church of Jesus Christ of Latter-Day Saints website's food was significantly cheaper ($2.00+ for the #10 cans cheaper) than all other preparedness websites. The website is limited in the food they sell so I bought the staple foods they offered and then looked all around for an inexpensive website for specialty foods.
IMPORTANT: I just learned that if you live next to a Church of Jesus Christ cannery getting the food is even cheaper… about 30% cheaper than ordering online!! So see if there is a cannery near you before buying online.
The other website I came across (decided to order from) is this one Emergency Essentials/BePrepared. This website is only accessible in the US). I found that they have a clearance/sale section and often have significant savings on their food as well. Further, the food reviews for most everything is fantastic. The dry instant milk is the best reviewed online, the freeze dried cheese, fruit, meat, etc. all have great reviews. Further, you can buy many normal items and unusual items freeze dried on this website too. I also received an excellent shipping price! They only charged me $13.00 to ship over 50 pounds worth of food as well.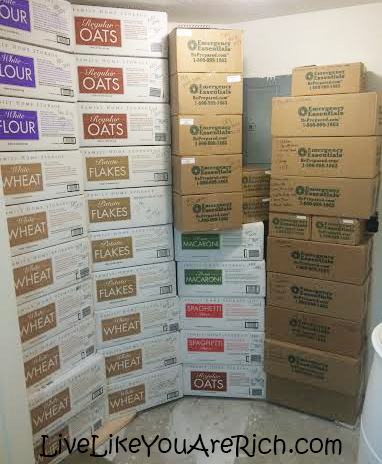 The first shipments arrived in less than 2 days after the order I made. I was very pleased! There was a back order on red wheat, pinto beans, and sugar (about 12 boxes) on the Church Of Jesus Christ.org website so we have another stack of food that will arrive next week and besides spices that I will be buying at WinCo and canning, that completes our 1 year food storage. The Emergency Essentials/BePrepared
company got everything to me within 48 hours for a super lower shipping charge, which can't be beaten.
We also have 3- 55 gallon water barrel drums we are working on sanitizing and filling and a 3 month food storage upstairs in the kitchen, pantry and cupboards.
Don't forget Baby-Formula, diapers, and wipes. Buy 2 months or more at a time so you have extra in case of an emergency.
2. Learn how to coupon and stock up on items that last a long time that you can buy on sale with coupons. Some of these items may include popcorn kernels, sugar, salt, baking powder, baking soda, canned items, etc. Here is a beginner's guide to coupons. If your coupon a lot here is an article on common mistakes couponers make and how to avoid them.
To learn how to save at specific stores consult these links:
Here is a link to how to coupon at Target.
How to coupon at Kroger aka Smith's, Ralph's, Fry's etc,
How to coupon at Walmart,
How to coupon at Walgreens,
How to coupon at CVS.
3. Look for case lot sales. I was able to get tons of canned tuna fish, cereal, sugar, etc. for great prices recently because of a case lot sale. Please be aware that not every case lot sale item is a great price. In order to find the case lot sales that are going on in my area and the best deals in the sale, I consult Grocerysmarts.com. Grocery Smarts highlights deals at stores near you, the case lot sale items that are 4 or 5 stars (amazing deals) are marked as well. If the item is a 4 or 5 star and we eat it/need it for our food storage I look up the shelf life and what I need and buy accordingly.
4. Rotate foods as often as you can. For your three month supply (of normal foods you cook with and regularly eat) it is important to rotate the foods often so that the oldest is used first, etc. Do your best to eat the foods before they expire. Using a sharpie to mark the top of the cans with the expiration date so they are easy to read helps a lot!
That said, please don't get too disheartened if there is some waste (foods expire before you use them). My friend's husband mentioned that he considers his food storage as a form of life insurance. Thus, when/if something spoils/goes bad he is not terribly unhappy because it is a cost that comes along with ensuring his family's survival by having enough food for them if there were any emergency. I thought that that perspective was awesome.
5. Store your food in the best area as possible (which helps them last longer). Places that experience extreme changes in temperature (especially heat) are not great to store food. The best place is a cool dark place (out of sunlight) that has a pretty consistent temperature such as a food cellar or a basement room, etc. But, if you don't have a place like this don't let it prevent you from storing food. Storing food even in less ideal areas is better than having none. My sister stored a full year worth of food for her family of 4 under all of their beds. It was just empty space so they filled it up with #10 cans full of food storage. She had all the food under their beds for years until they moved and she had a better place to store them in.
6. Grow your own food, hunt, buy in bulk, and/or buy while it is in a season when the prices are the best. I've often heard of people buying a half a cow, raising chickens, hunting for their own meat, etc. I've also seen huge amounts of food come from friend's gardens. These are great ways to prepare for an emergency.
In addition, usually, when the fruit or veggie is in season, you can buy those foods very inexpensively at that time of the year. You can also buy a lot of fruits and veggies for cheap in group co-ops like Bountiful Baskets.org.
7. Bottle, can, or freeze dry food yourself. Canning your own food at home can be very cost effective. WinCo often has really inexpensive staple foods, spices, etc. that you could buy in bulk and bring home and can them. Costco sometimes has coupon/sale deals that are quite good on long-lasting food in bulk. You can also go to a local cannery and can your own foods there (if you have one in your area). My mom always juices and bottles grape juice every year. Bottling extra garden veggies is another great way to preserve food. My grandparents pressure cooked and bottle roast beef and gave a bunch of it to us grand kids. It was so delicious, tender, and flavorful that we went through those bottles they gave us very quickly. I can't wait to learn how to do this on my own. Just please make sure you know what you are doing when/if you try preserving your own food.
Bonus tip: Use this food storage calculator to find out how much food you'll need for your family for a year.
Having food stored brings huge peace of mind and security for those who have it. I hope that using the seven aforementioned steps will save you money in the process of getting your food storage!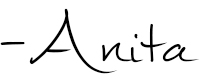 For other 'rich living tips' please subscribe, like me on Facebook, and follow me on Pinterest and Instagram.