Kids' Woodland Party Tablescape.
Recently, I threw a birthday party for my two-year-old and I set up the kids' tables to reflect the woodland theme.
The kids who came to the party seemed to really like the table decorations as did my sweet mother-in-law who choose to sit with the kids.
When guests like the tablescapes it really makes me happy and wanting to continue making things fun and cute when I host.
To make a similar tablescape for a woodland party, all you need are a few supplies.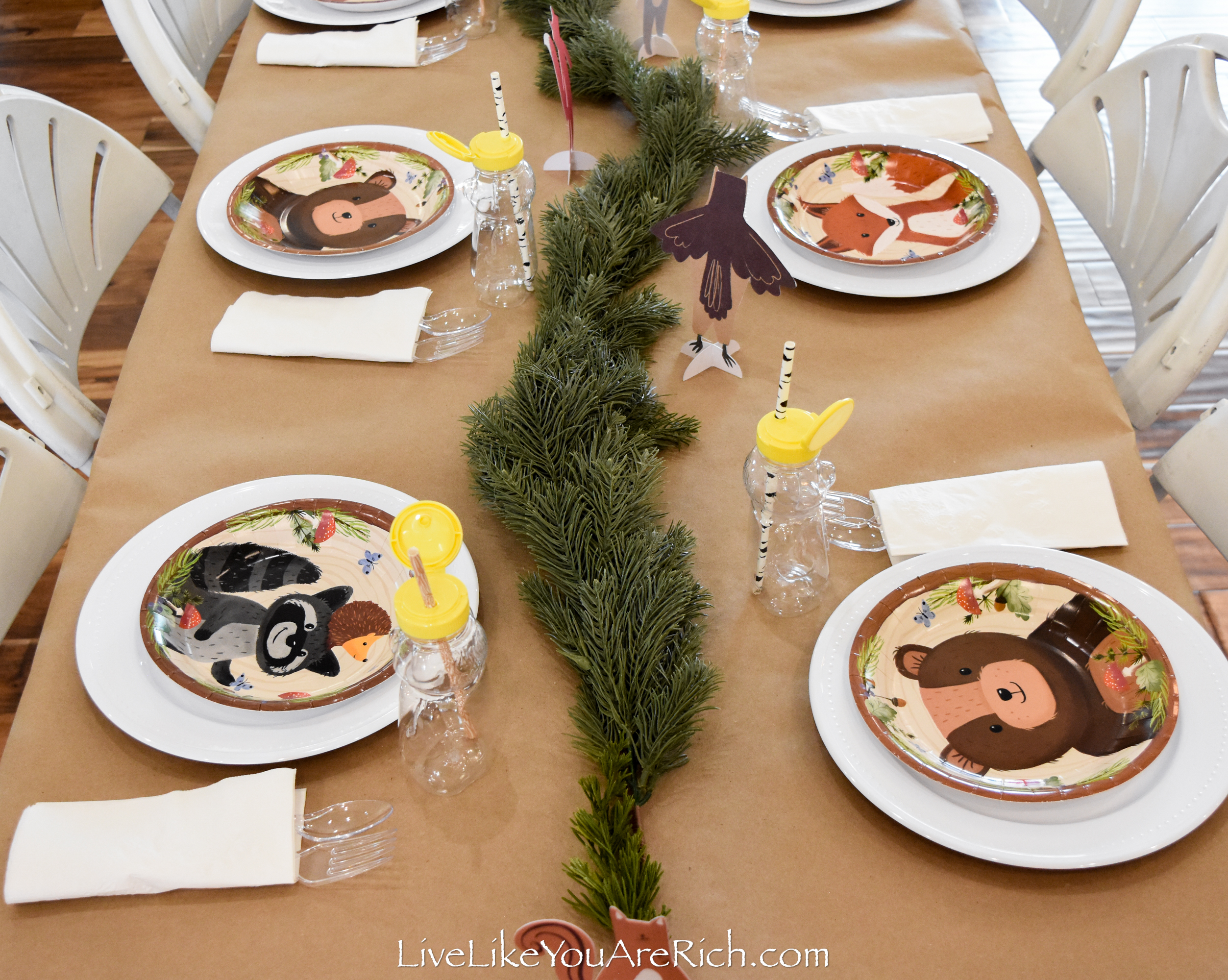 Kids' Woodland Party Tablescape Supply List
Rolls of brown craft paper, scissors, and packaging tape or tablecloths
24 white banquet folding chairs (I bought these used for $4.00 each on local classifieds from a banquet company who were purchasing new chairs. I purchased 34 because we host a lot! We've been using them about once a month for 3 years now).
4- 6′ foot pine garland-exact ones, similar on Amazon
Honey Bottle Bear 12 Oz Clear Container Squeeze Jar with Lid (exact ones, similar on Amazon)
timber and birch-printed straws
white plastic plates on sale (Costco) similar here
Hobby Lobby woodland dessert plates 2 packs of 20
2- Meri Meri woodland animal advent calendars I bought these in an after-Christmas sale for $10 each. I used hot glue to keep them standing up well. If these aren't on sale you could use other paper woodland animals as well.
plastic cutlery and white paper napkins (Costco)

How to set up this Kids' Woodland Party Tablescape
First, we wrapped the tables with some leftover paper that I've had for years. We taped it underneath to keep it secure.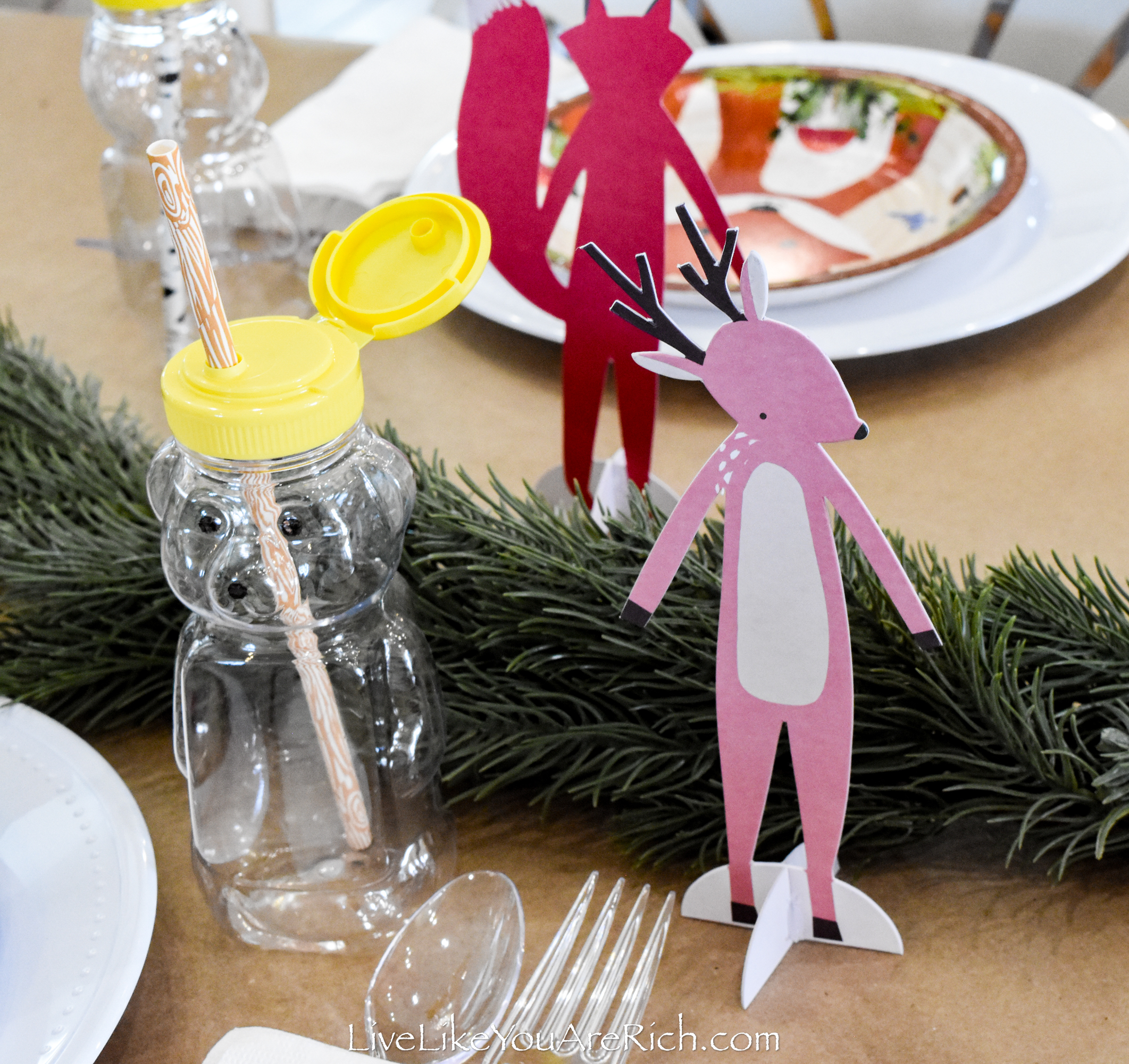 After we wrapped the tables, we set out the plates with woodland dessert plates on top,
plastic cutlery, napkins, bear cups with lids, and timber and birch printed staws from Etsy.
I made sure that the kid's bear cups had lids on them because most of the 16 kids that came are little and many are prone to spills.
The lids worked great and luckily the straws fit as well because I was concerned they might not fit.
I ran 6′ of garland down each table to represent the woodland theme and match the greenery on our dessert table.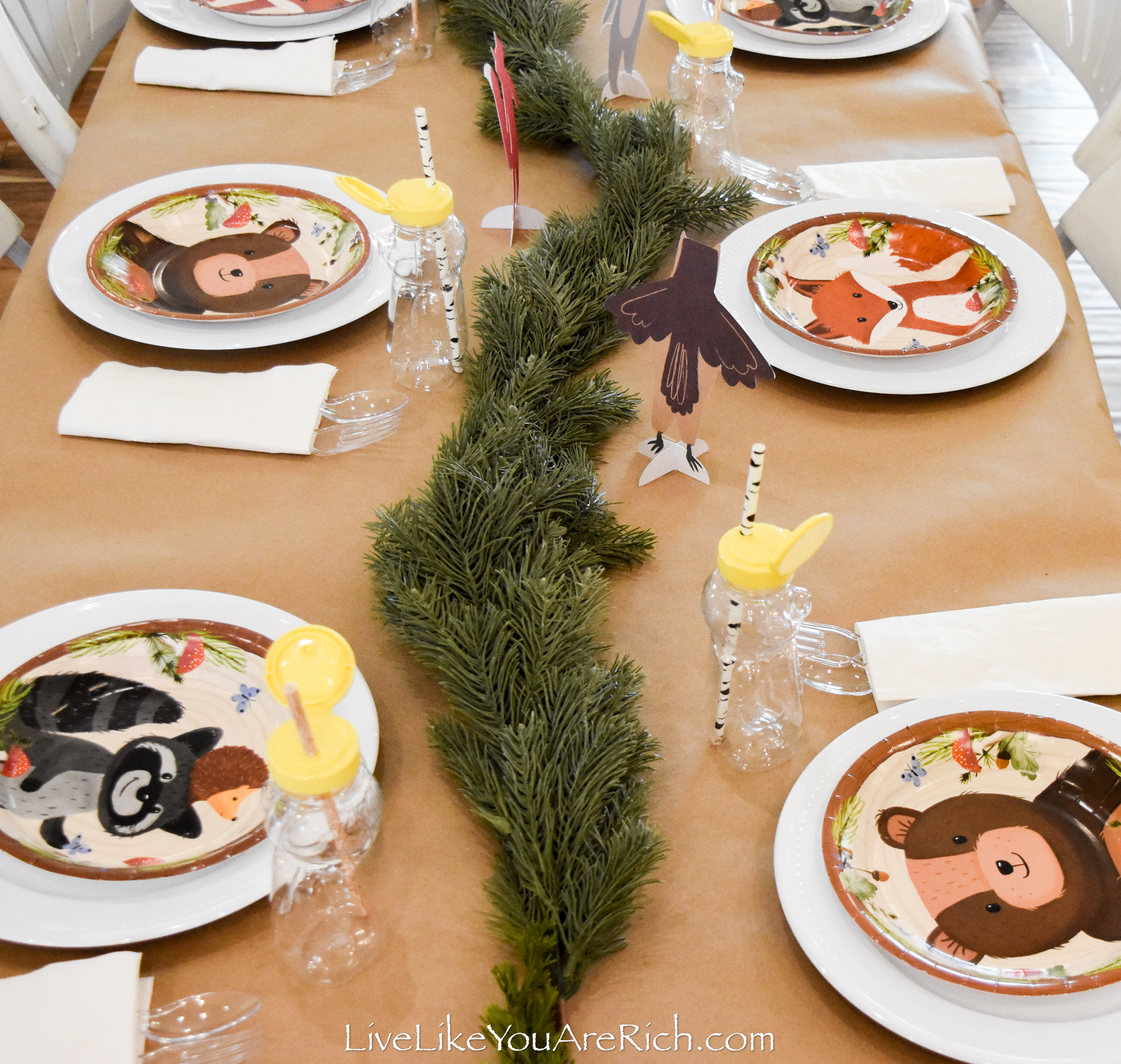 Next, I got my Meri Meri advent calendars and set up the woodland animals.
While cute, the woodland animals didn't want to stay standing, so I used a very small dab of glue on the joints of their paper stands, and that worked.
The kids liked these little stand-up woodland figurines and they were fun to look at while they ate.
Cost of this Kids' Woodland Party Tablescape
The straws were .20 cents each (shipped).
The bears cost $1.10 each
plastic plates and were .20 each setting
woodland dessert plates .12 each setting
paper= I had
Meri Meri Advent calendar x 2= $20.00
pine garland= I had
plastic cutlery .05 a setting
The total for these tables was $60 for 24 settings or $2.50 a setting.
To see more posts for this Inexpensive Woodland Birthday Party check out these posts below…
Invitations and Details- Inexpensive Woodland Birthday Party
Decoration– Woodland Party Decor
Decoration– Kids' Woodland Party Tablescape
Decoration- Adult's Woodland Party Tablescape
Decoration- No-Sew DIY Burlap Banner (coming in the next few days)
Food- Woodland Party Food
Food- Cheese & Tomatoes Mushroom Display for a Woodland Party
Cake- Easy Tree Stump Cake for a Woodland Birthday Party (coming in the next few days)
Cake- Mini Burlap Banner for a Cake (coming in the next few days)
Food- Edible Ladybugs for a Woodland Party (coming in the next few days)
Food- Easy Nilla Wafer Acorns (coming in the next few days)
Research I did for ideas- Darling Woodland party ideas including ideas I didn't have the time or budget for (coming in the next few days)
Happy Partying!

For other 'rich living' tips please subscribe, like me on Facebook, and follow me on Pinterest and Instagram.