I made this Peter Rabbit Spring Tablescape a few weeks ago when I hosted my family for Easter.

I love the Peter Rabbit books and turning the theme into a Spring Tablescape was really fun.
Last year, I ordered Peter Rabbit Meri Meri plates, napkins, cards, and cupcake liners from Burke Decor for my son's first birthday party. Unfortunately, the plates and one type of napkin were delayed.
Luckily, I was able to pull the party decorations and tablescapes together without the items that had been delayed.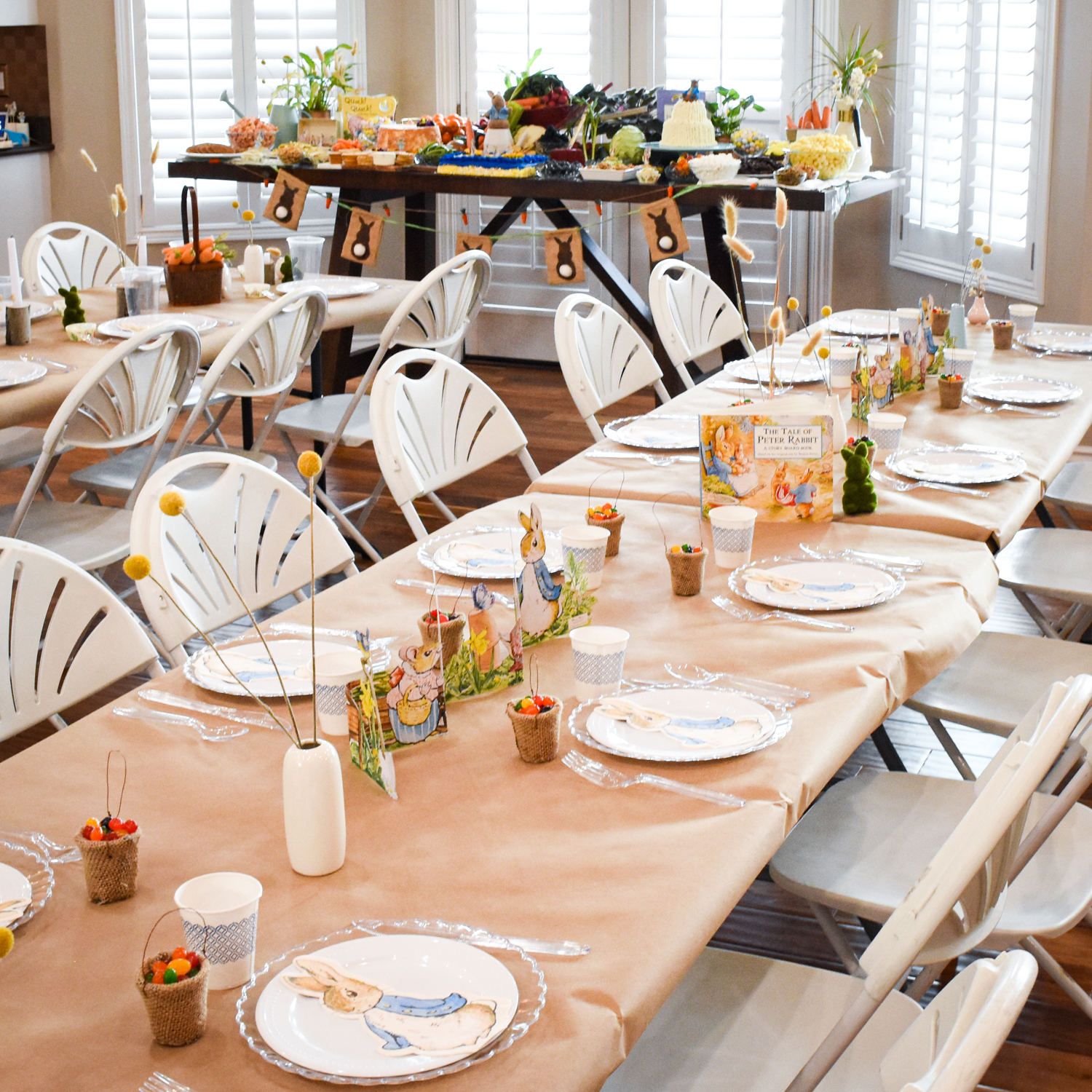 However, when they arrived I didn't have a use for them anymore. So, I've been storing the plates, napkins, and leftover decorations for about 11 months and had been wanting to find a use for them.
I decided a spring/Easter tablescape would be a cute theme and let me use these items.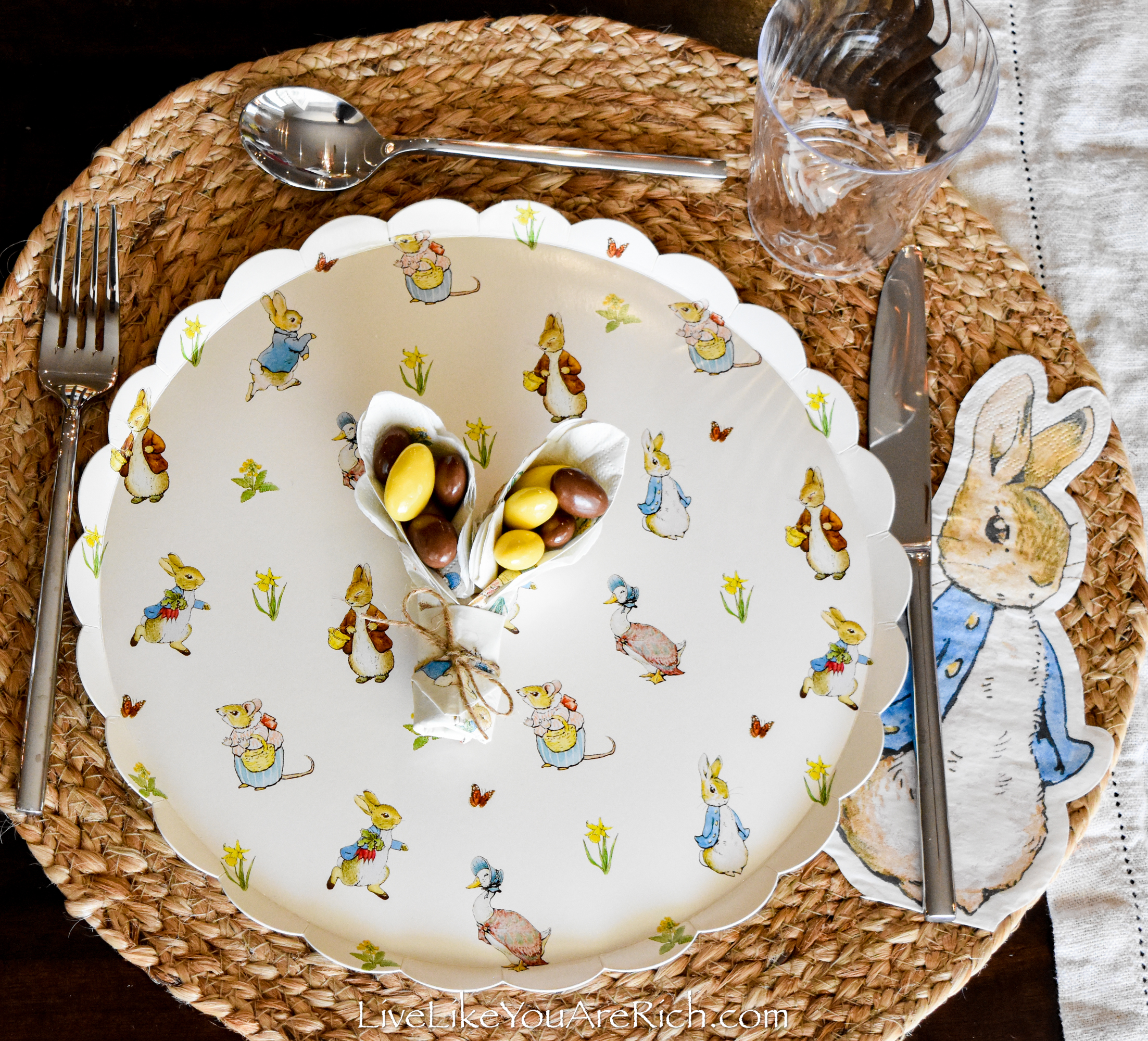 The tablescape turned out cute and we had a nice dinner.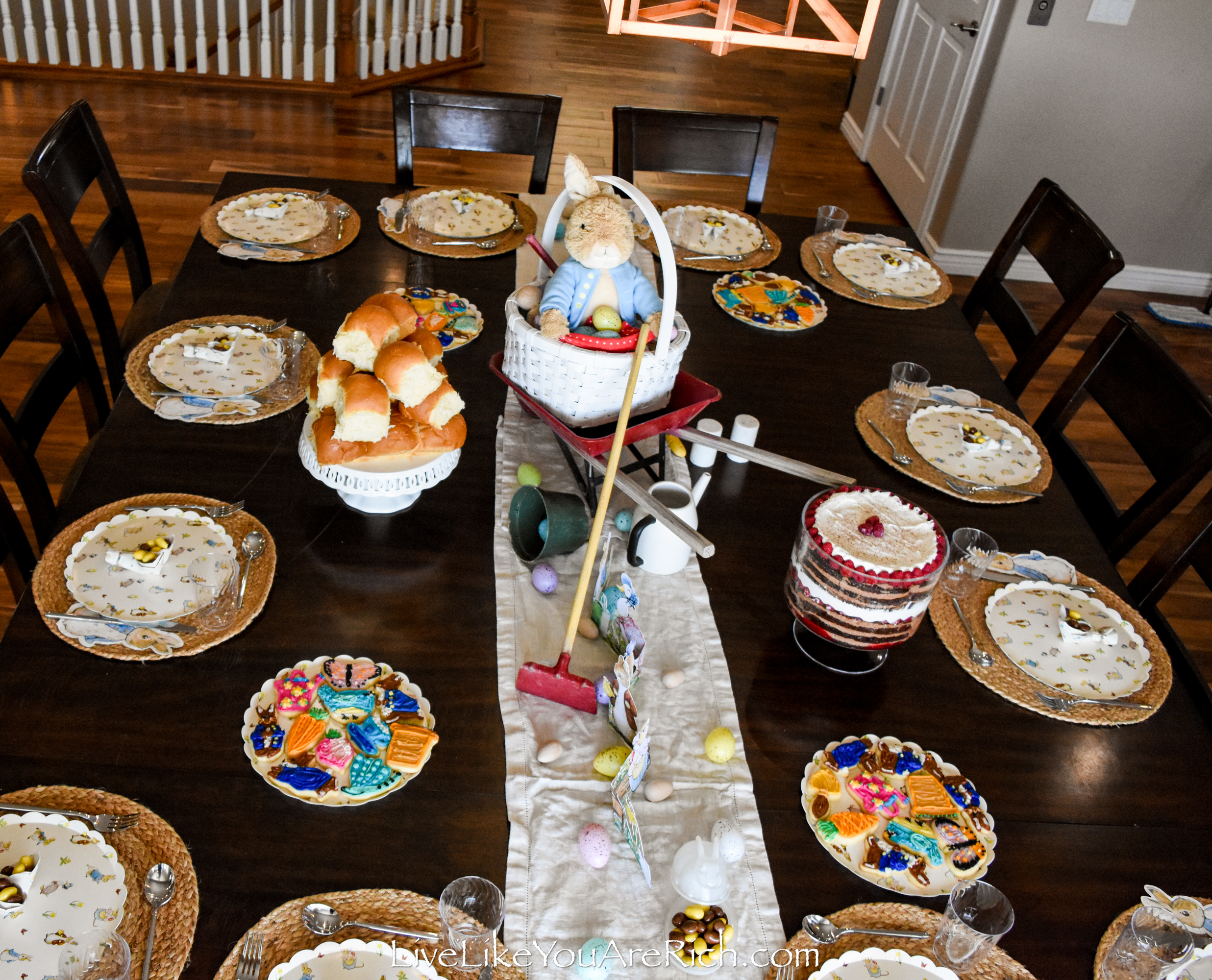 Supply List for this Peter Rabbit Spring Tablescape
Peter Rabbit napkins (Burke Decor)—I bought 2 packs of 20 for this party.
2 Peter Rabbit fold-out cards (Burke Decor)—one for each 6′ table
Peter Rabbit scalloped-edged paper plates (Burke Decor)
Peter Rabbit bunny ear napkins— DIY tutorial here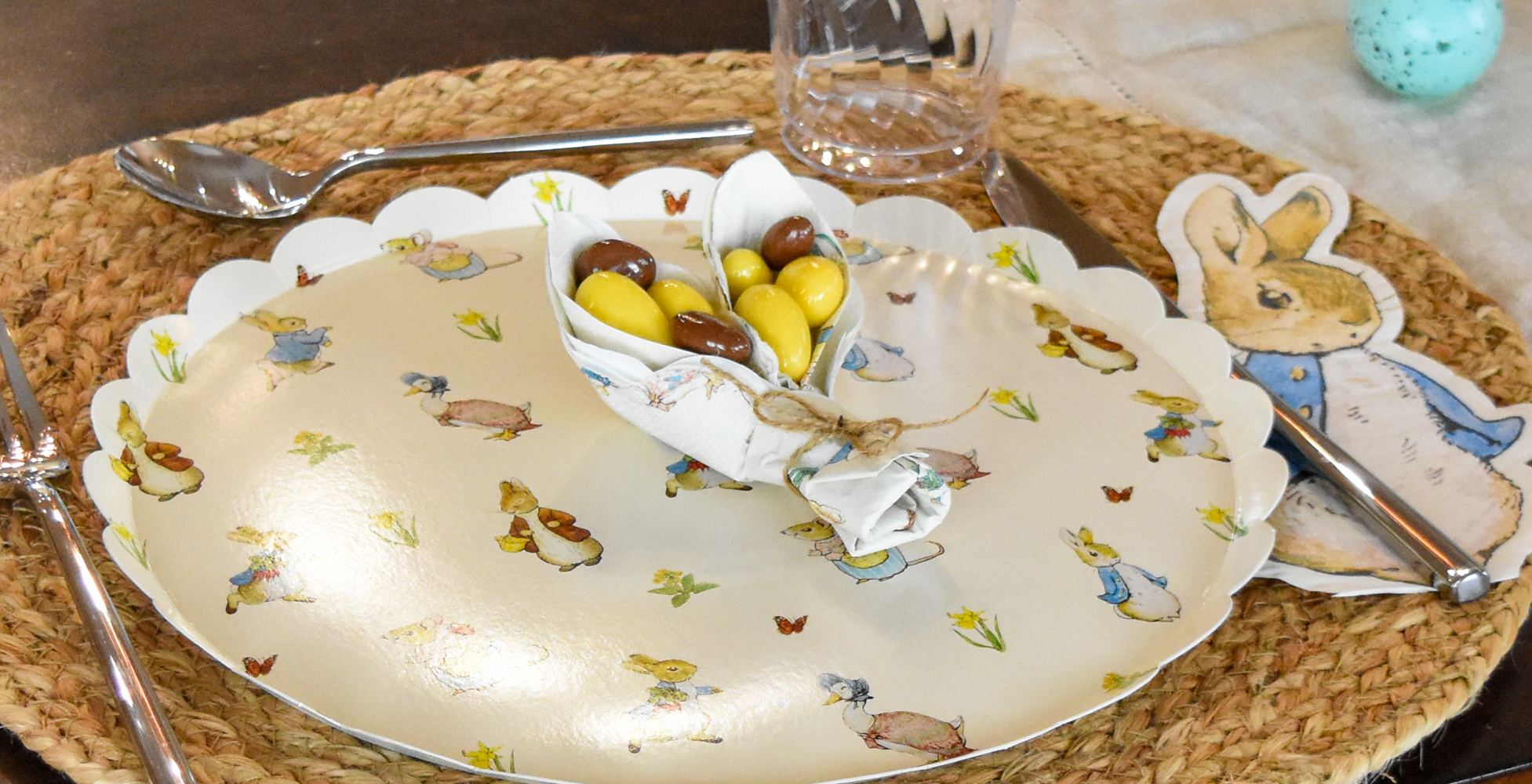 flatware Sam's Club—Member's Mark Premium Forged mirror finish Stainless Steel 20 Pc Flatware Set
large white Easter Basket Williams Sonoma (similar here)
Gund—Beatrix Potter Peek A Boo Peter Rabbit
old small wheelbarrow- similar here
Easter eggs (wooden small and plastic speckled)
How to Put Together this Peter Rabbit Spring Tablescape
First, I put two linen runners down on the table because one doesn't cover the whole thing.
I didn't iron them because I was in a hurry and I liked the wrinkly look.
Next, I set the Peek-a-Boo Gund Peter Rabbit stuffed animal in a white basket and used it as the centerpiece of the tablescape.
This is the cutest stuffed animal that talks with a British accent and plays Peek-a-Boo by lifting his arms up and down.
Originally, I didn't have the wheelbarrow, rake, and hoe as part of the tablescape,
but when I tried them on the table with the basket inside the wheelbarrow I found I liked it better.
I set out the accordion Peter Rabbit cards that I had.
I originally used these on the Kids' Peter Rabbit tablescape I made for my son's birthday and I loved how cute it was.
I was surprised that a greeting card folded out could be used as a centerpiece and look good.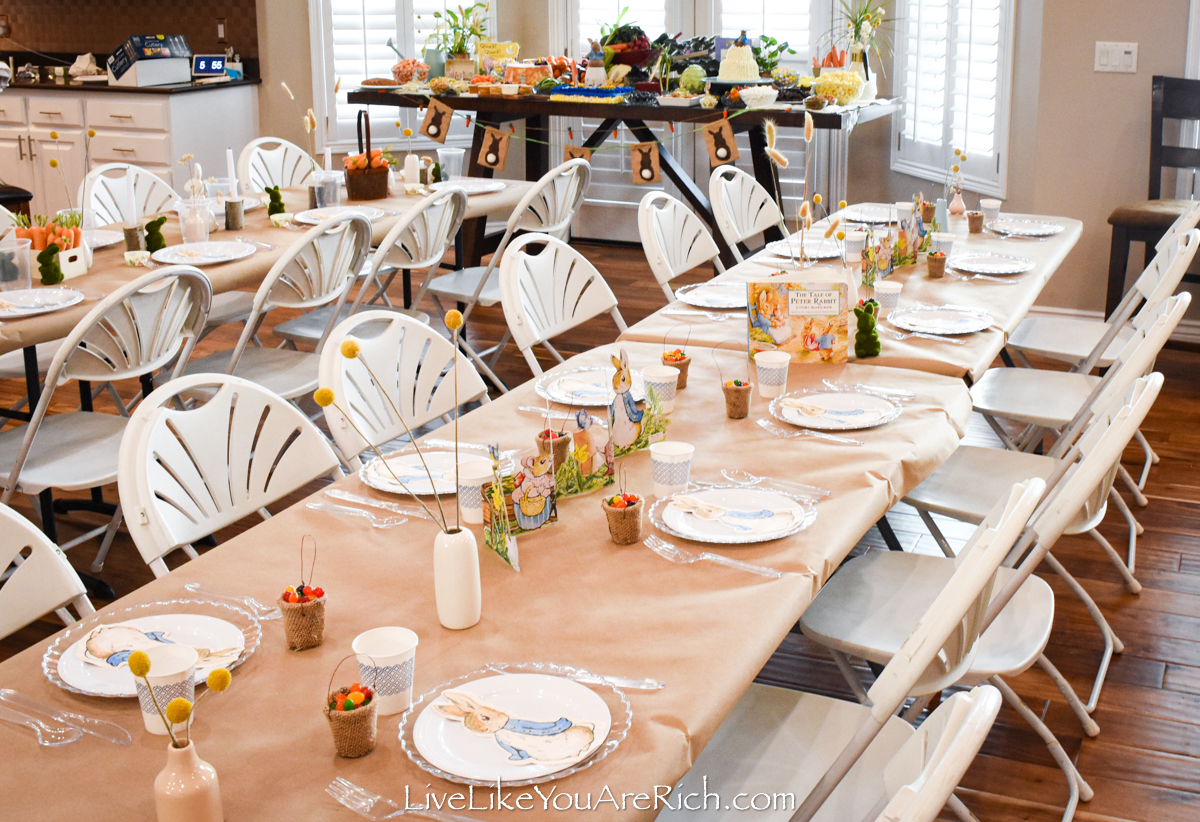 I'm glad I experimented and found this out because it is an inexpensive way to fill up a long table.
Next, I dug some decorative Easter eggs out of my Easter bin and set those in the basket with Peter Rabbit and around the table on the runner.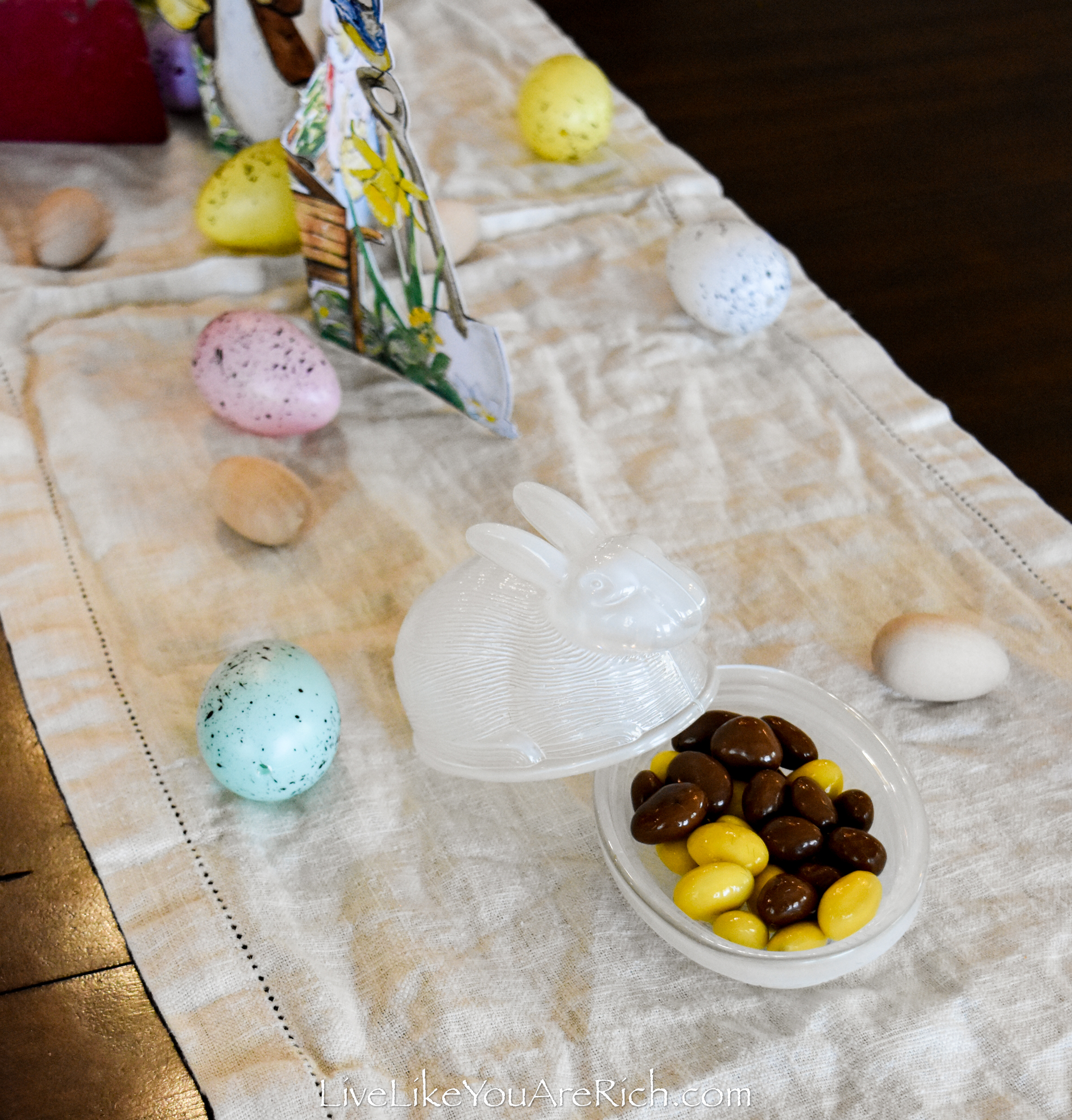 Then I set out the jute placemats, paper goods, and silverware.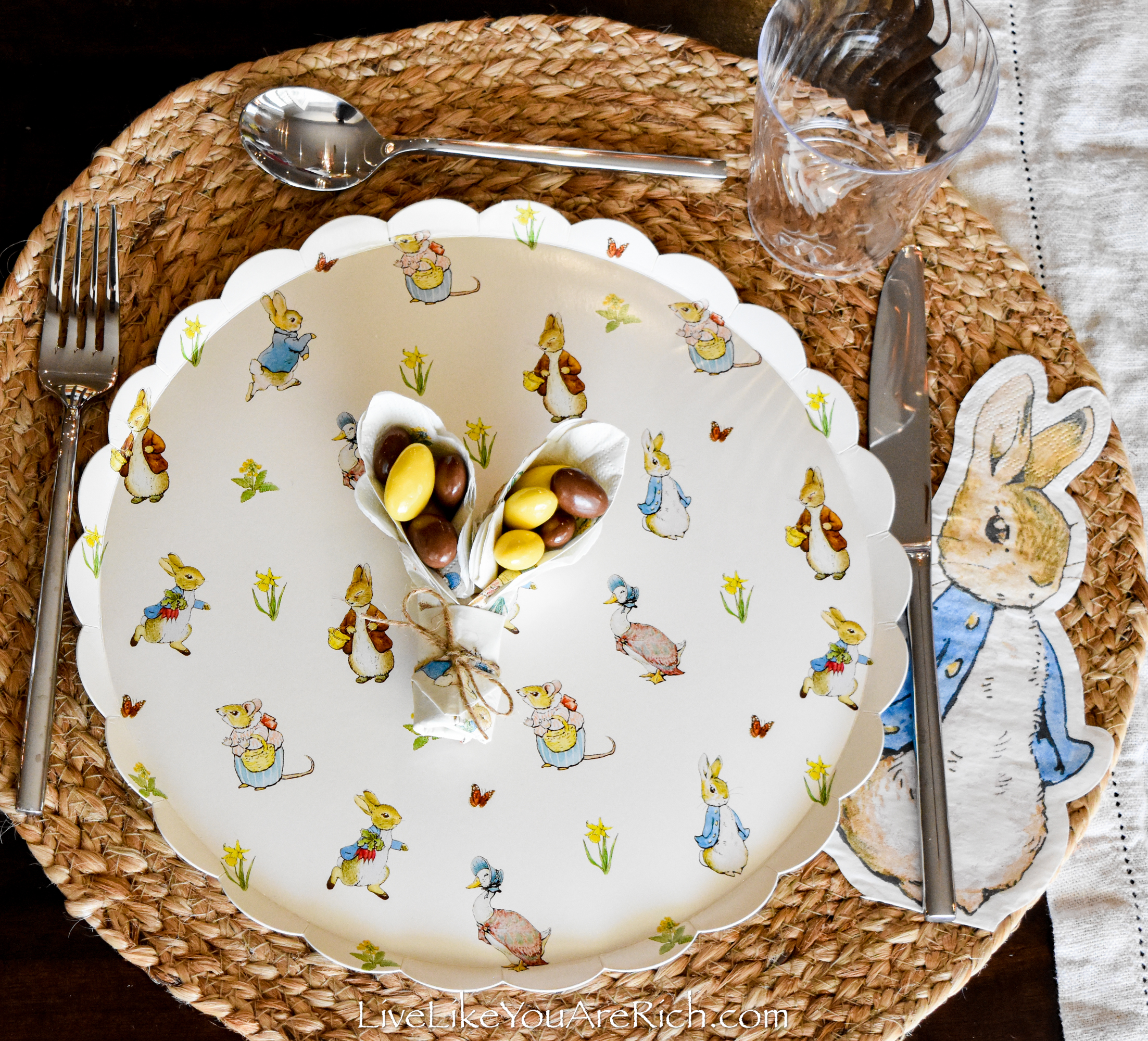 I folded the napkins into bunny ears and filled them with lemon-covered almonds and chocolate-covered raisins. A visual tutorial plus a video tutorial on how I made these bunny ear napkins can be found here.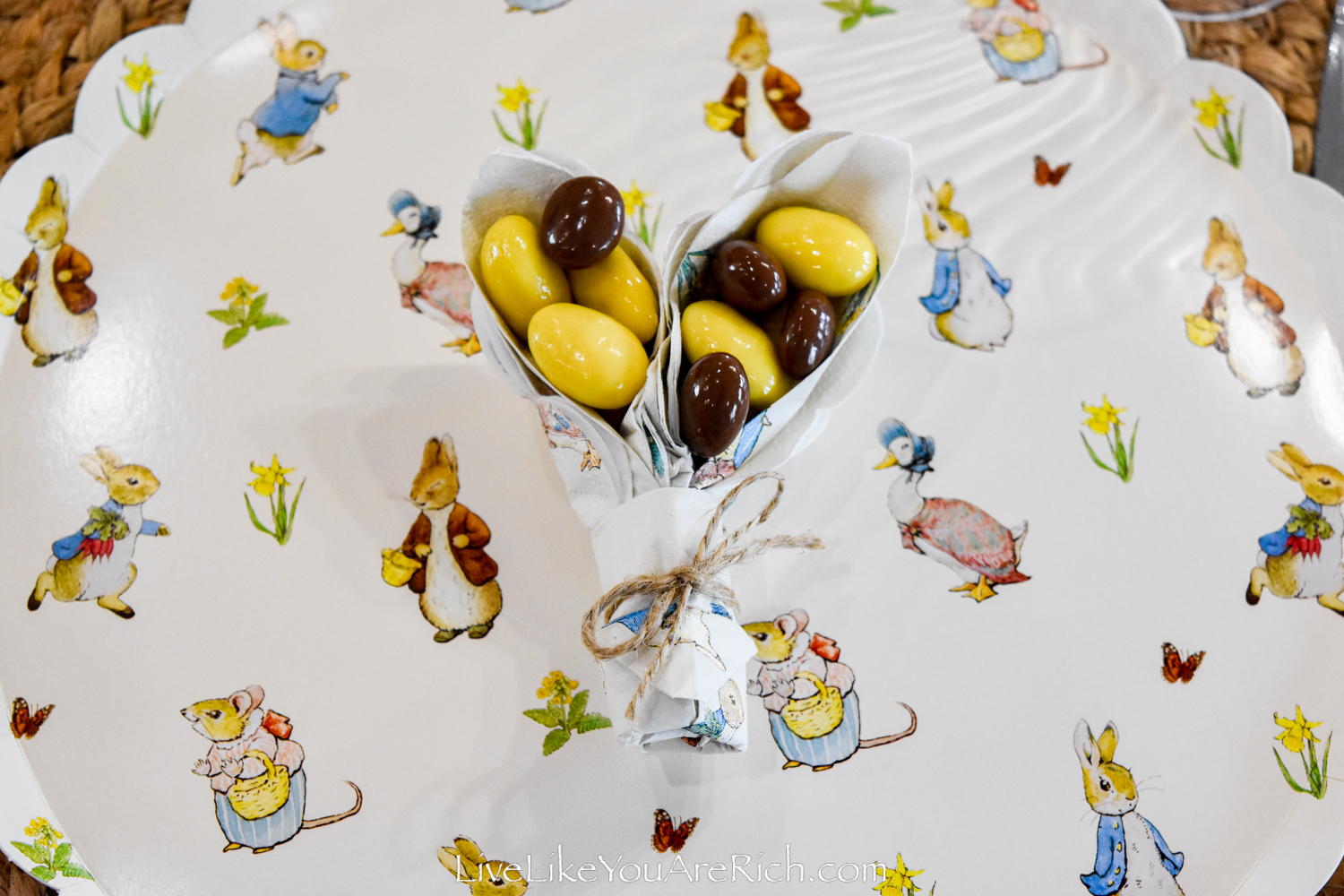 My family and I did a potluck style of Easter dinner so everyone brought something.
I was in charge of dessert and rolls.
I made Peter Rabbit sugar cookies. A tutorial on making and decorating these cookies is coming soon.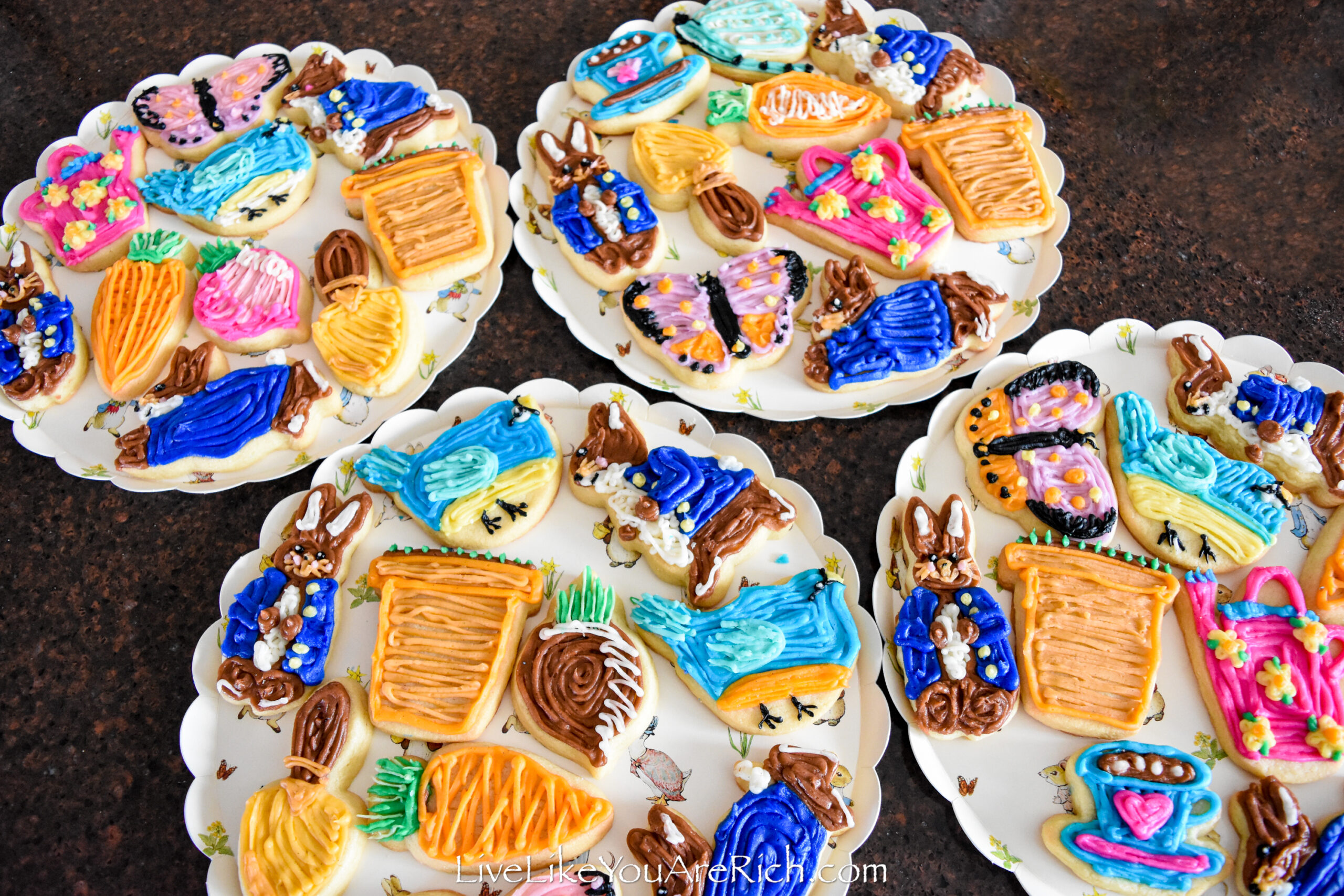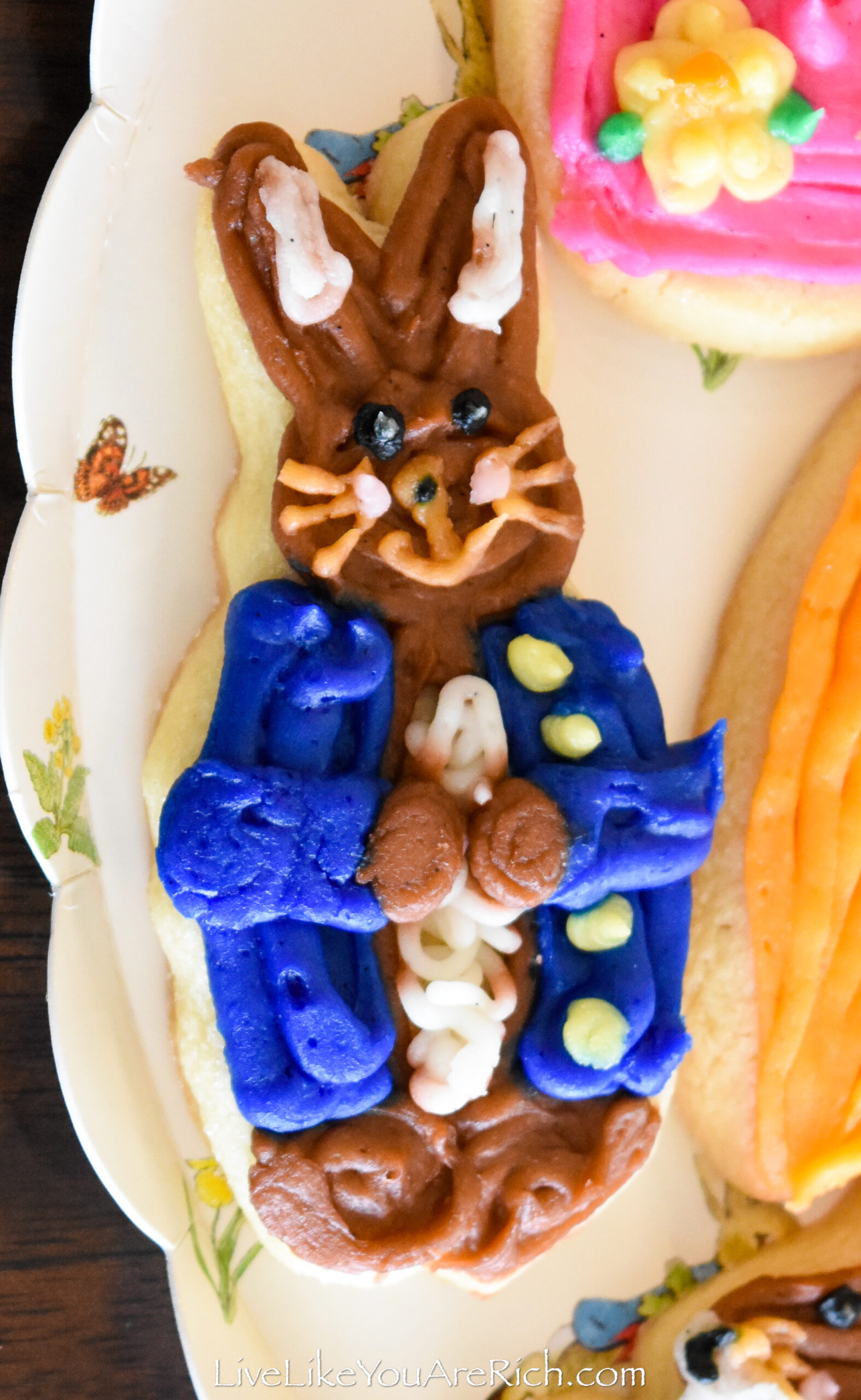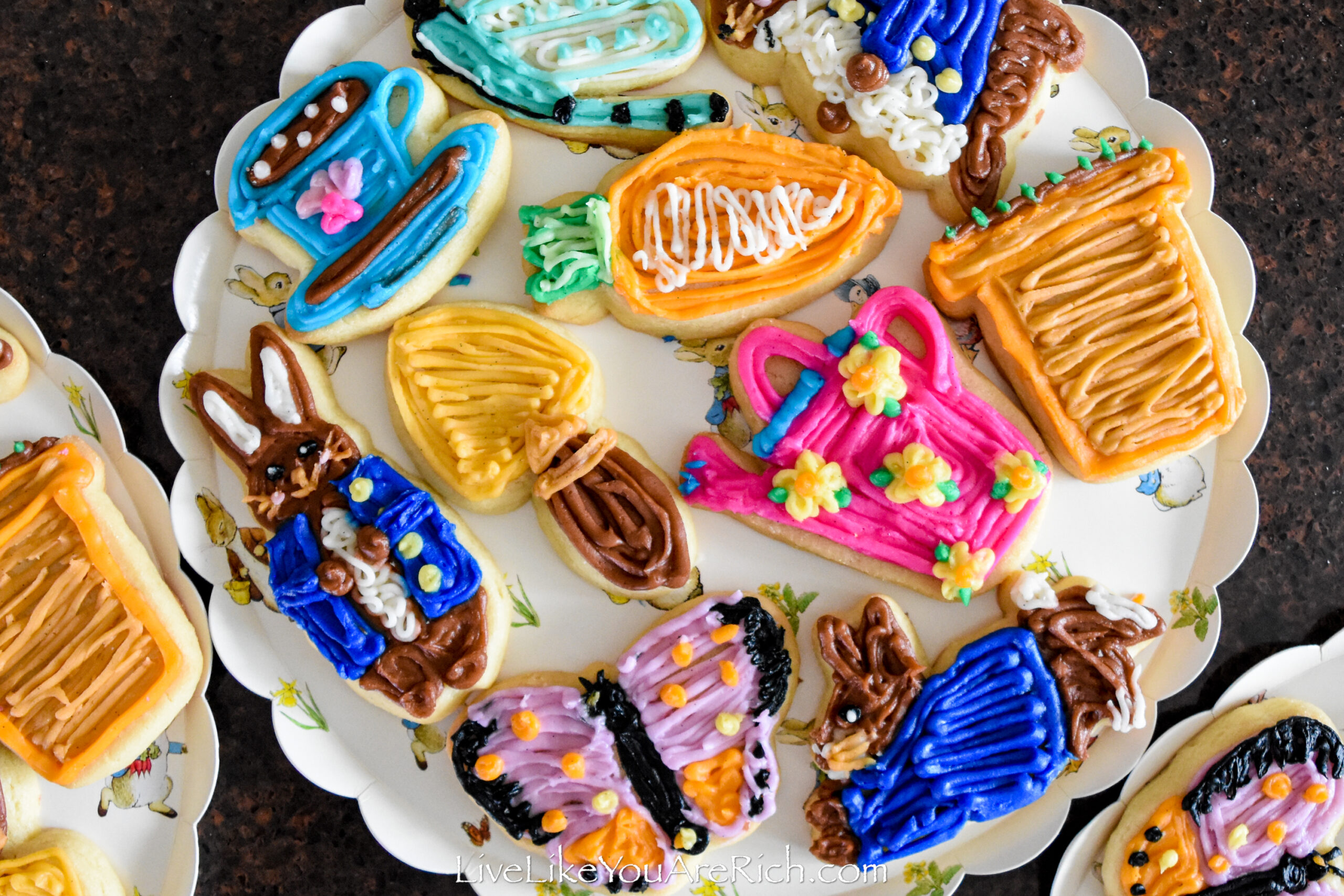 I also made a Chocolate Raspberry Trifle cake.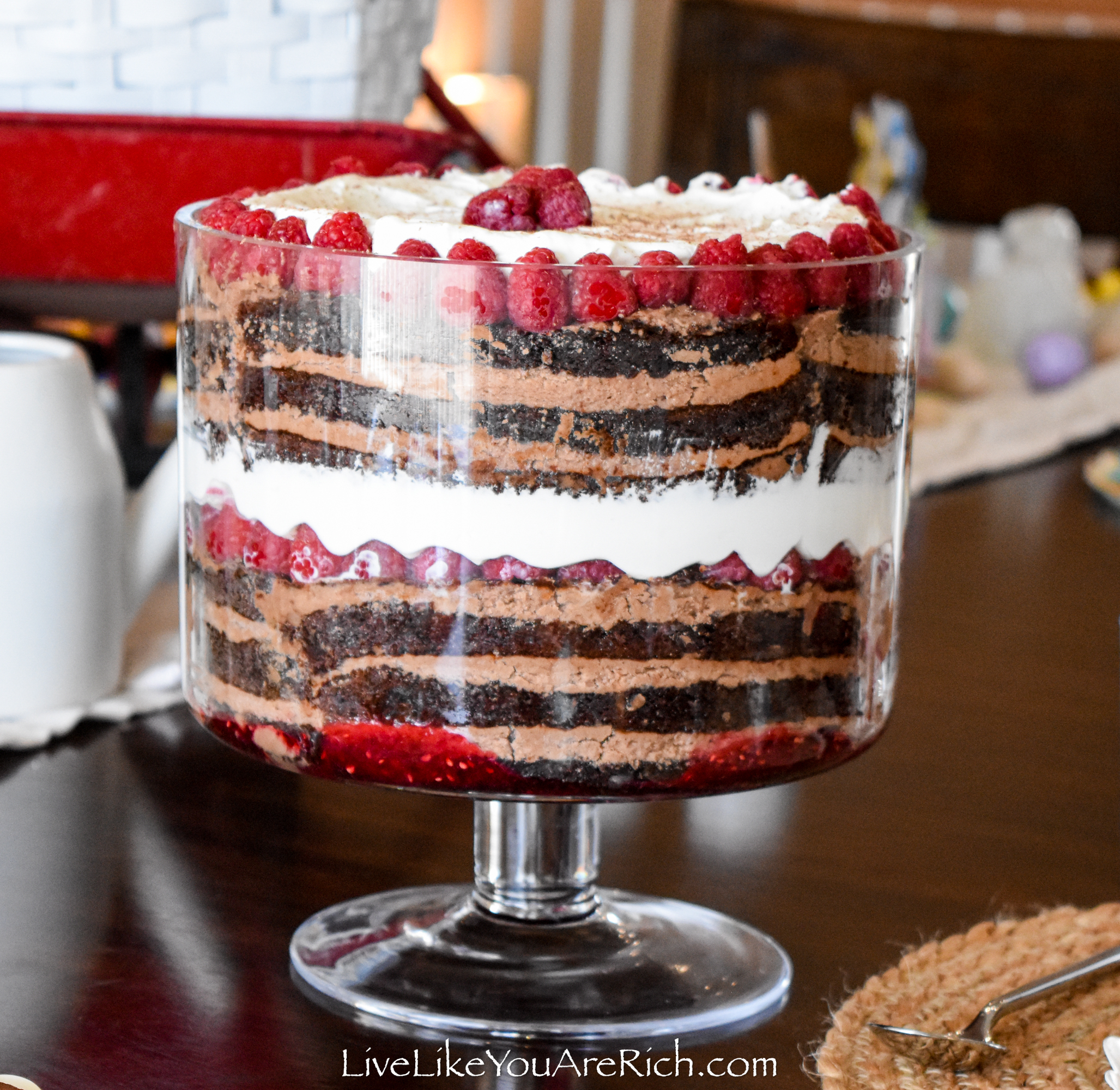 You may be, like my guests were, wondering what a trifle cake is.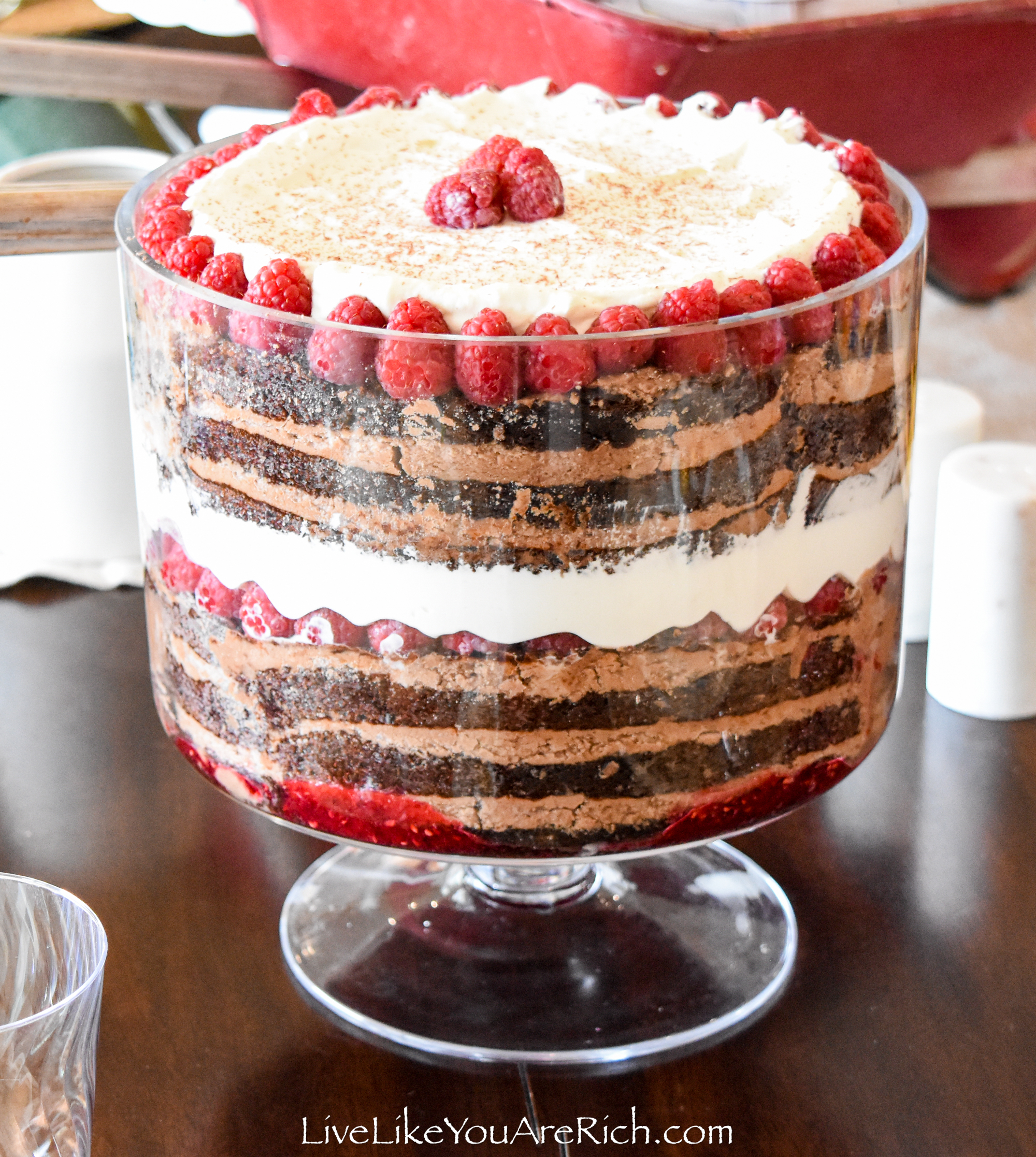 Well, it's something I came up with when my chocolate layered cake looked less than perfect on the outside. I really was unhappy with it and I didn't want to add more icing, so I deconstructed it and turned it into a trifle.
To offset the sweetness and turn it into a trifle, I added lots of fresh berries, tart raspberry jam, and slightly-sweetened whipping cream.
It ended up looking impressive (according to my family) and tasting delicious. The tutorial is coming soon.
I didn't have the time to make these delicious rolls on my blog.
So, I bought rolls from Kneader's Bakery as their rolls are amazing.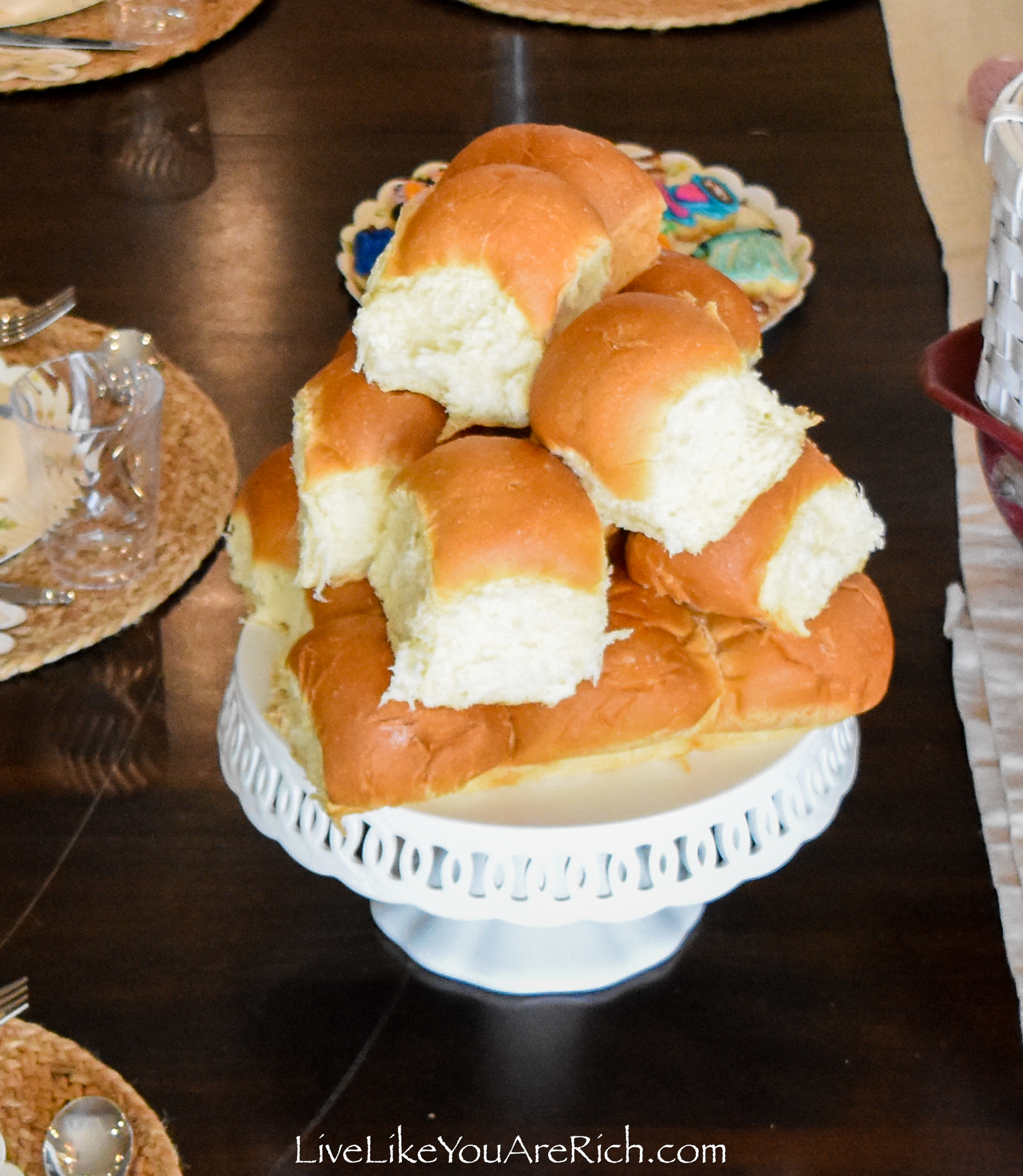 Cost of this Peter Rabbit Spring Tablescape
I ended up resuing almost everything I already owned and/or ordered over a year ago.
Since I didn't add the cost of the delayed items to my son's party, I'll add those here. I think the plates were about $10.00 for 24 (using a coupon), the napkins $4.00 (with the use of a coupon), and the lemon-covered almonds and chocolate-covered raisins were probably $5.00 total for the amount that I used. The total for this tablescape was $19.00.
Using and reusing items and repurposing things like greeting cards, Easter baskets, and kids' garden tools can help make a Peter Rabbit Spring Tablescape affordable.

For other 'rich living' tips please subscribe, like me on Facebook, and follow me on Pinterest and Instagram.