I made this Tulip Easter Arrangement for spring this year.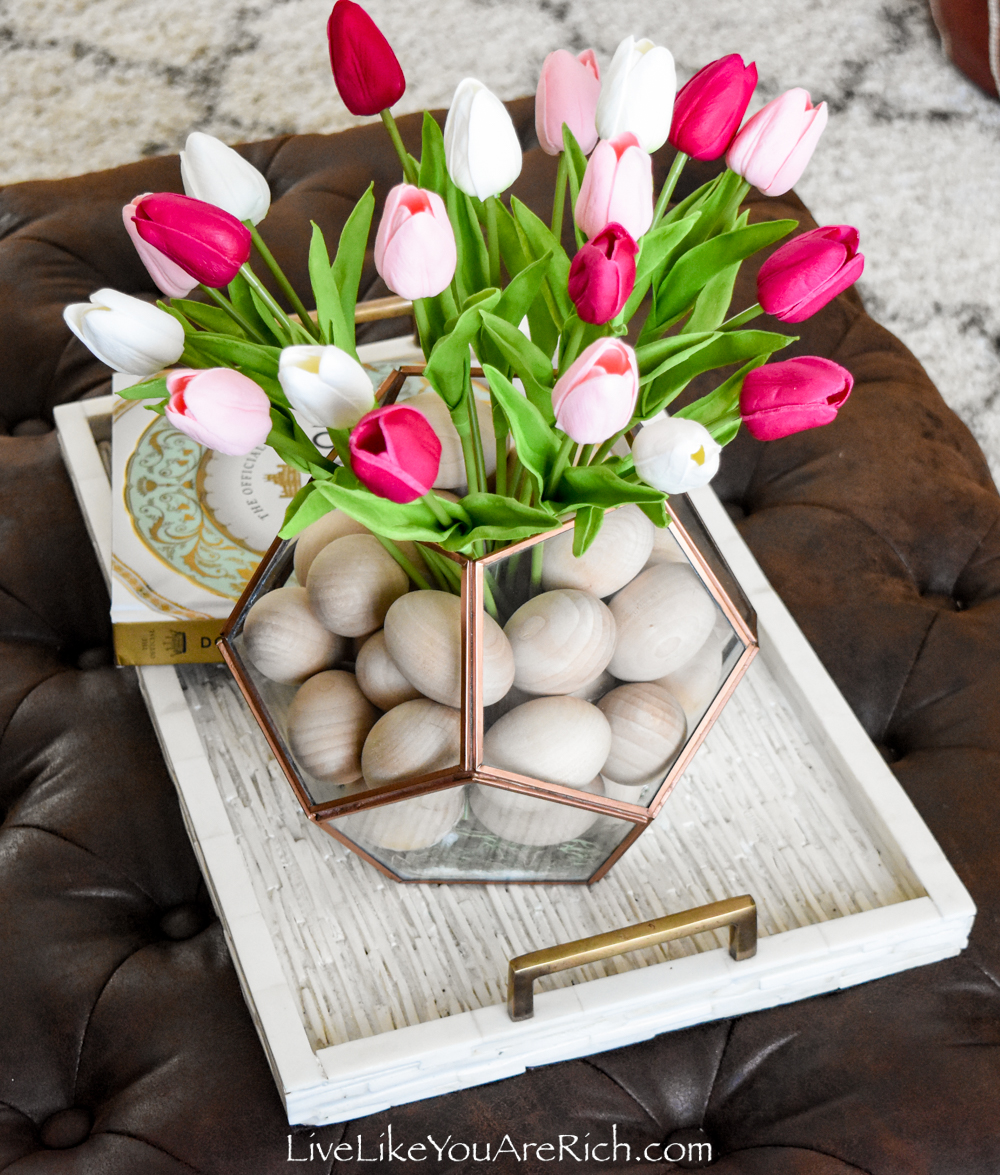 I love tulips and usually attend the Tulip Festival each spring at the Thanksgiving Point Ashton Gardens.
A few days ago, on April 3rd we got a lot of snow in our area!
The tulip festival that I usually attend has been postponed a few days and I'm just not sure I'll be able to get there this year with my little ones in the cold temperatures we are experiencing.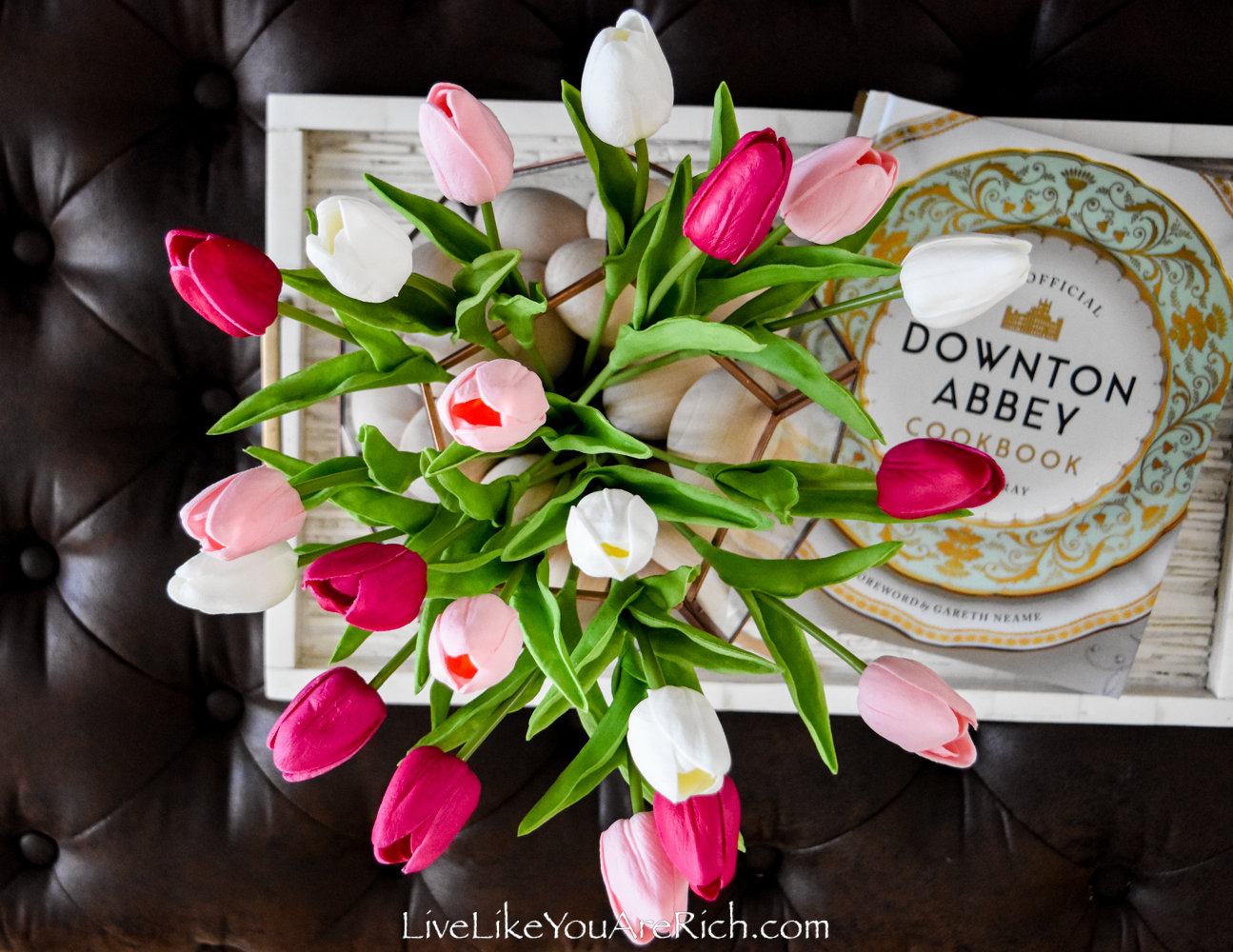 So, I went online and ordered some faux tulips because they make me happy and I am not sure if I'll be able to get to see many this spring.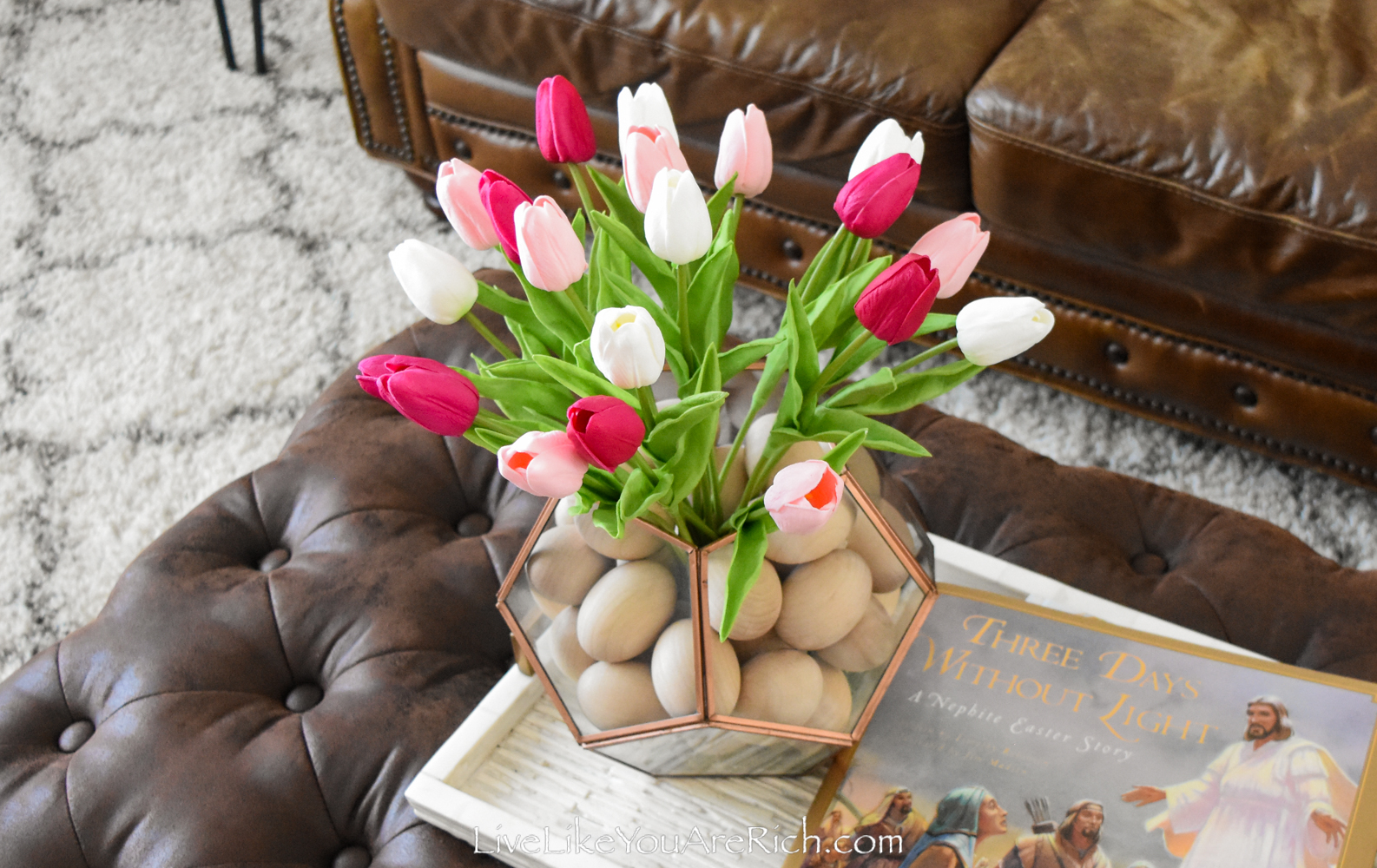 I planned to put them in the copper vase that I had been using for these faux flower arrangements.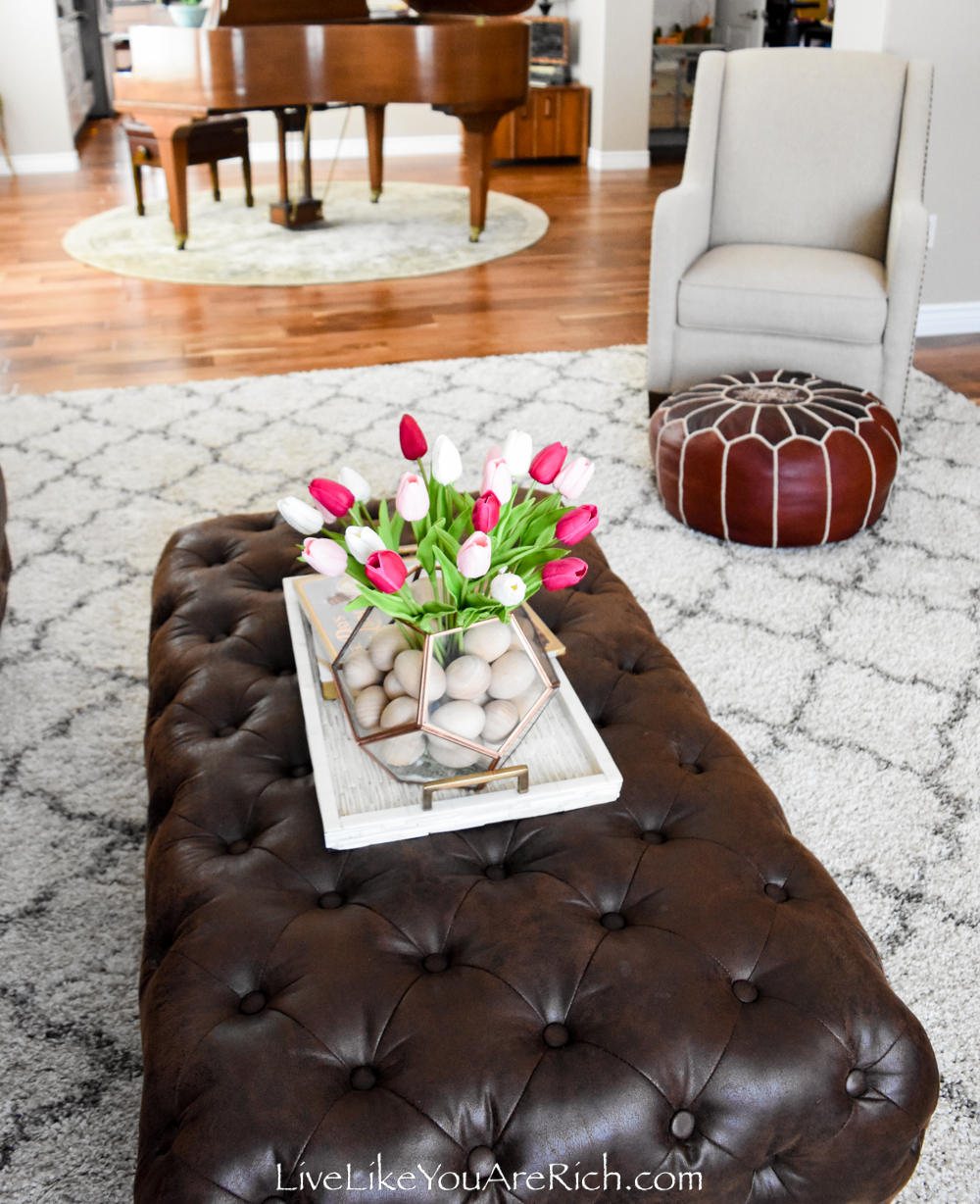 I paired the faux tulips with wooden eggs to inspire an Easter-spring theme.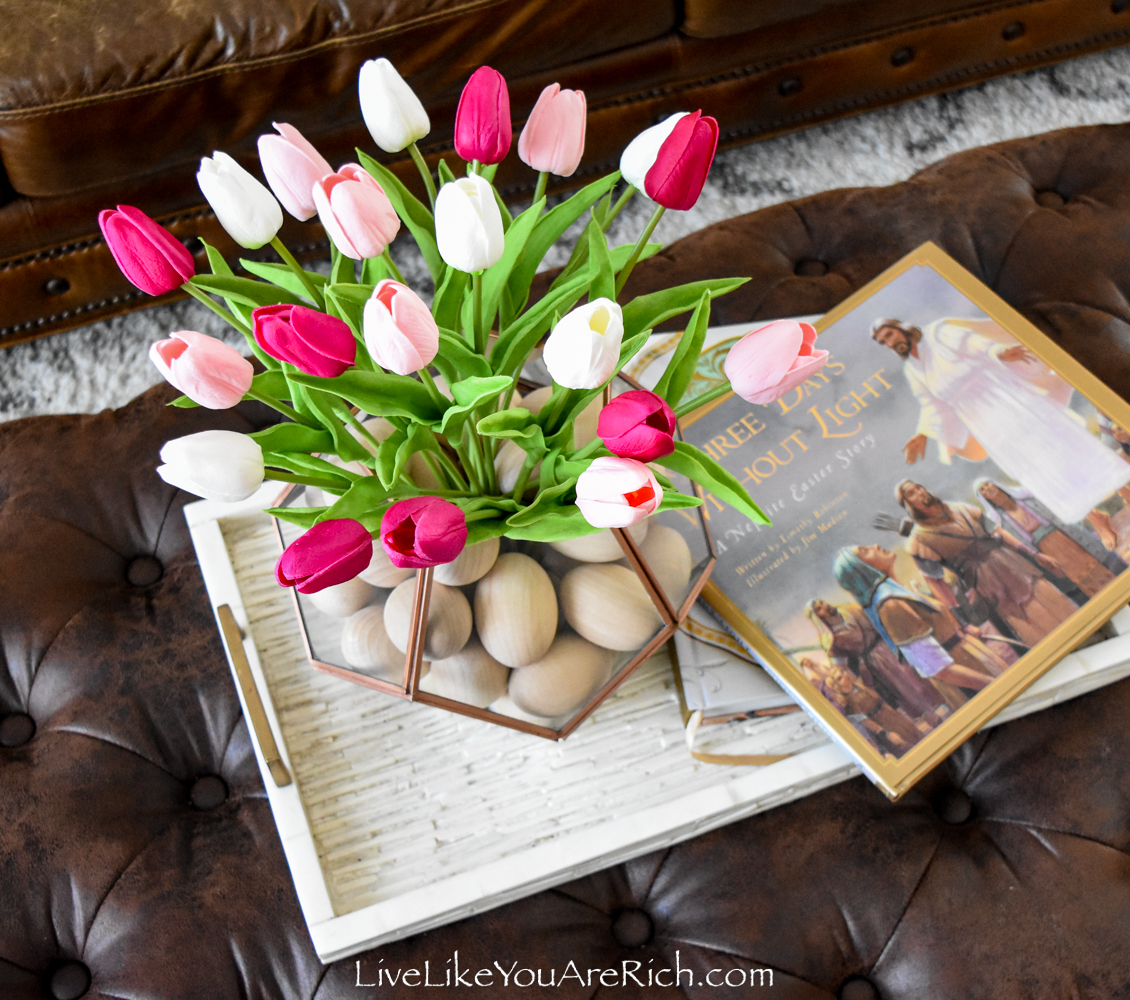 I placed it on the serving tray that is on my ottoman in our front room so that when guests come into our house it is the focal point of the room.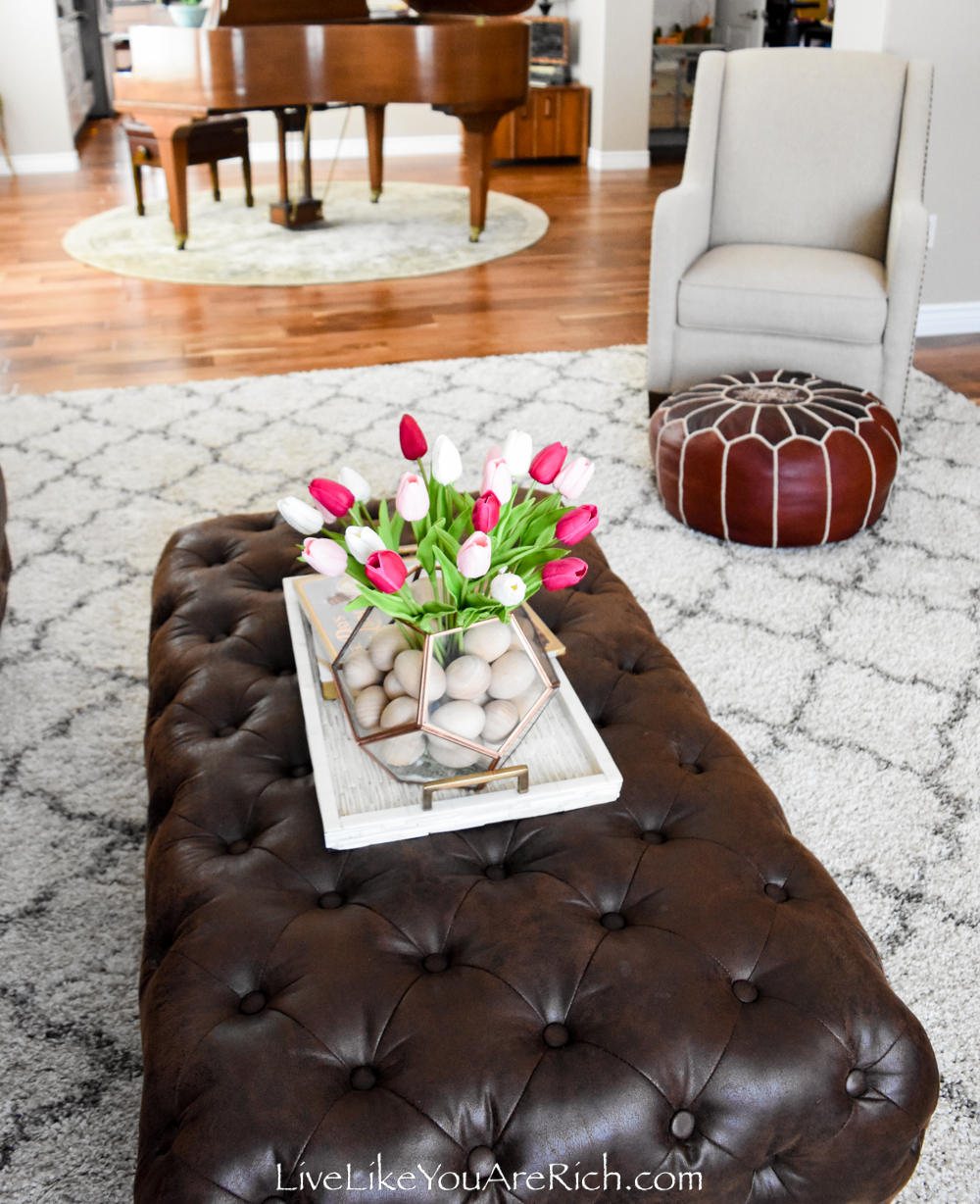 I love how it turned out and it was very quick to make.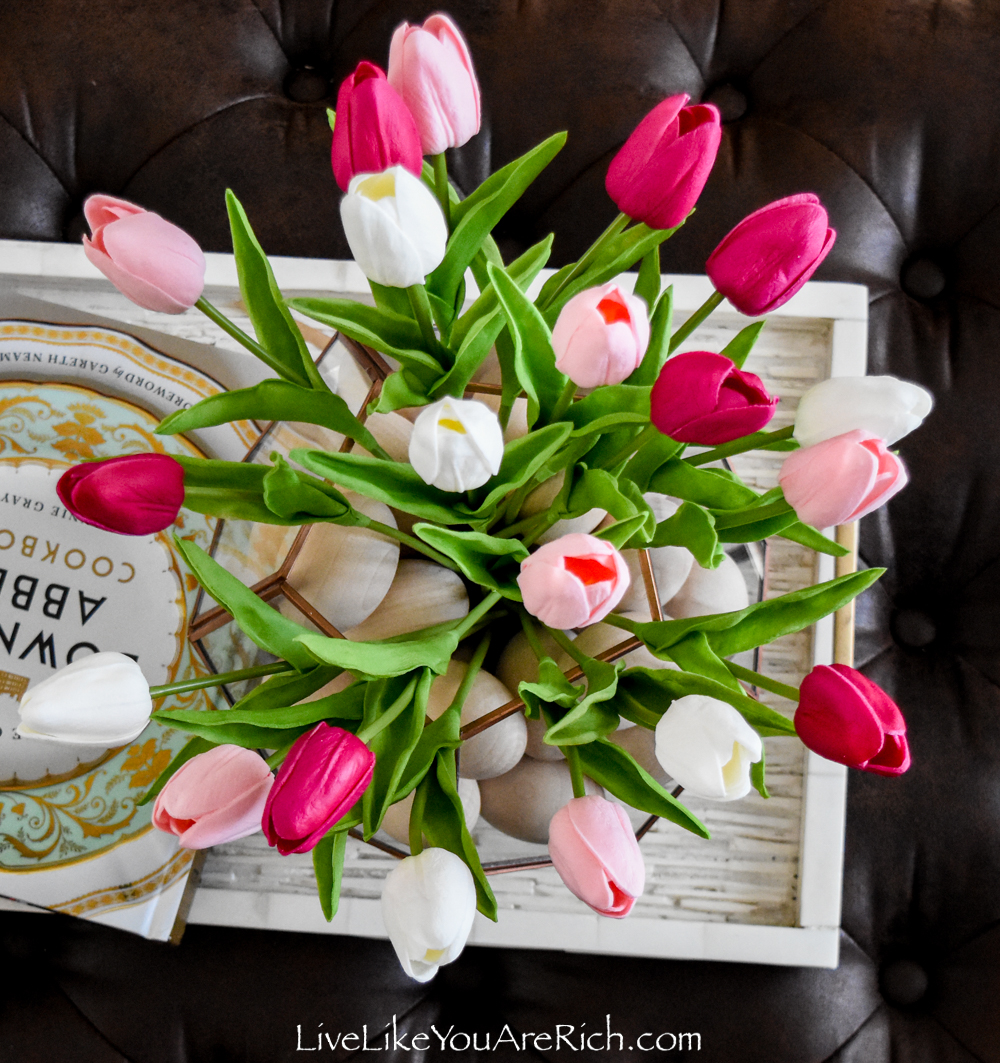 It took me less than 5 minutes to put it together.
Supply List for this Tulip Easter Arrangement
I bought the copper glass hexagonal terrarium/vase in 2017 and unfortunately World Market no longer sells them. I did see some geometric glass terrariums that could be used for vases on crafting websites like Amazon, Michael's, and Hobby Lobby a while ago. If you want the exact same ones, check out Ebay and/or Mercari as well. Someone may be selling the same World Market terrariums there. Amazon has some geometric vases that although not exact, are unique as well.
One bundle of Mandy's 20pcs Shades of Pink Silk Tulips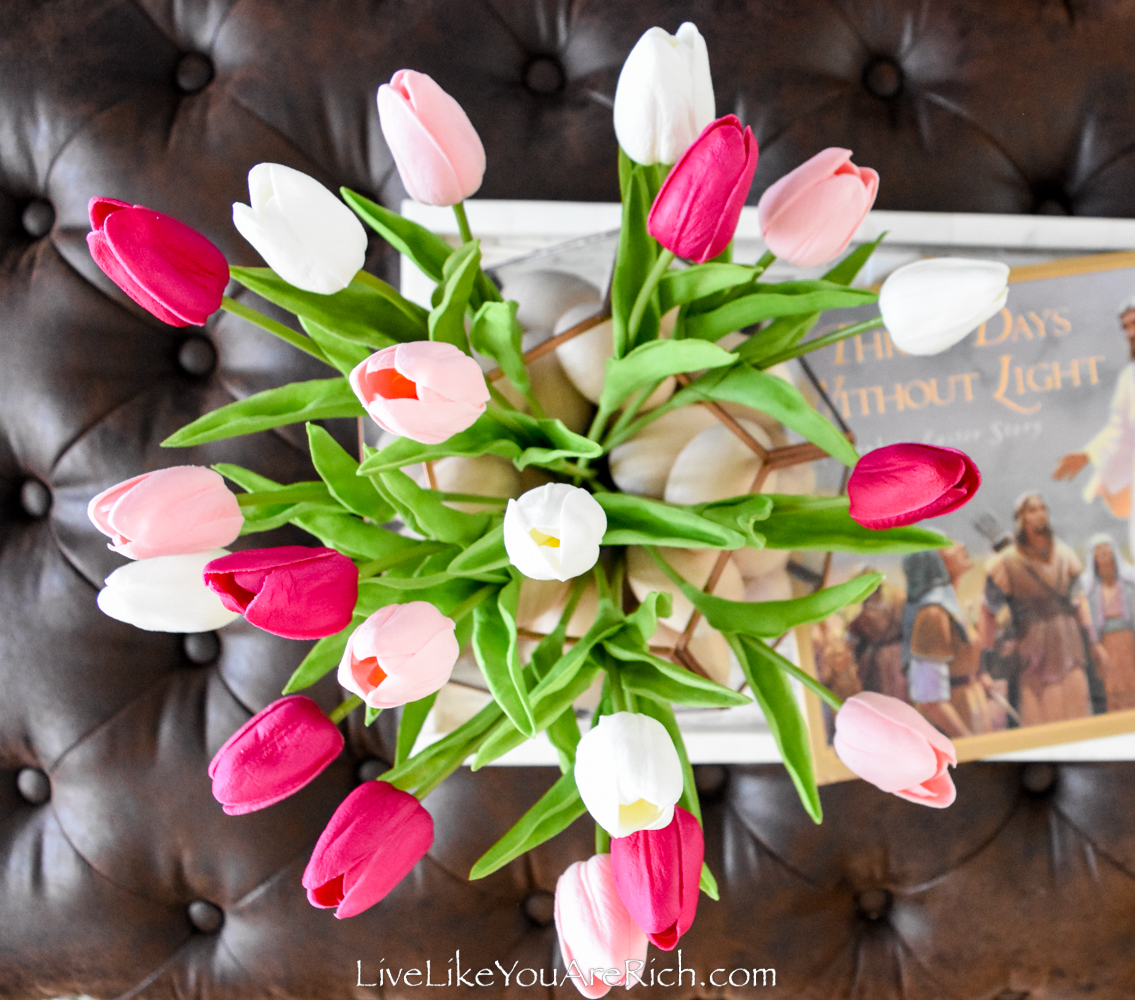 24-34 Wooden eggs about 2.28 inches I bought 48 these last year from SallyFashionStore on Amazon for multiple Easter decorations including these mod podge Easter napkin eggs.
Serving Tray similar here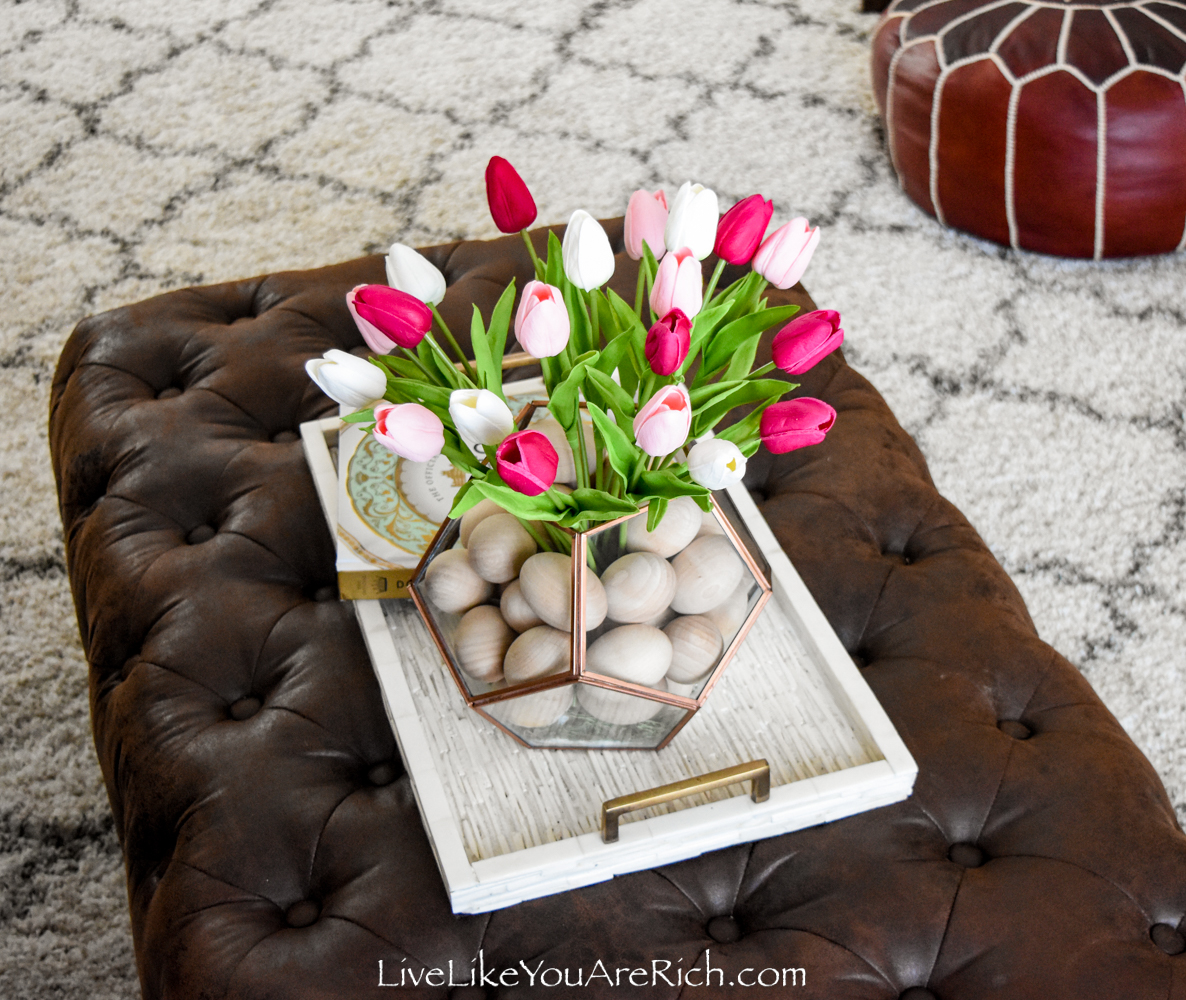 How to Assemble this Tulip Easter Arrangement
Don't do what I did at first.
First, I filled the vase with wooden eggs and then I couldn't fit the tulips into it.
The reason for this is that the eggs don't have movements like sand or water and once they are settled in, it takes quite a bit of sideways pressure to get them to move about. The tulip stems aren't strong enough to move them around.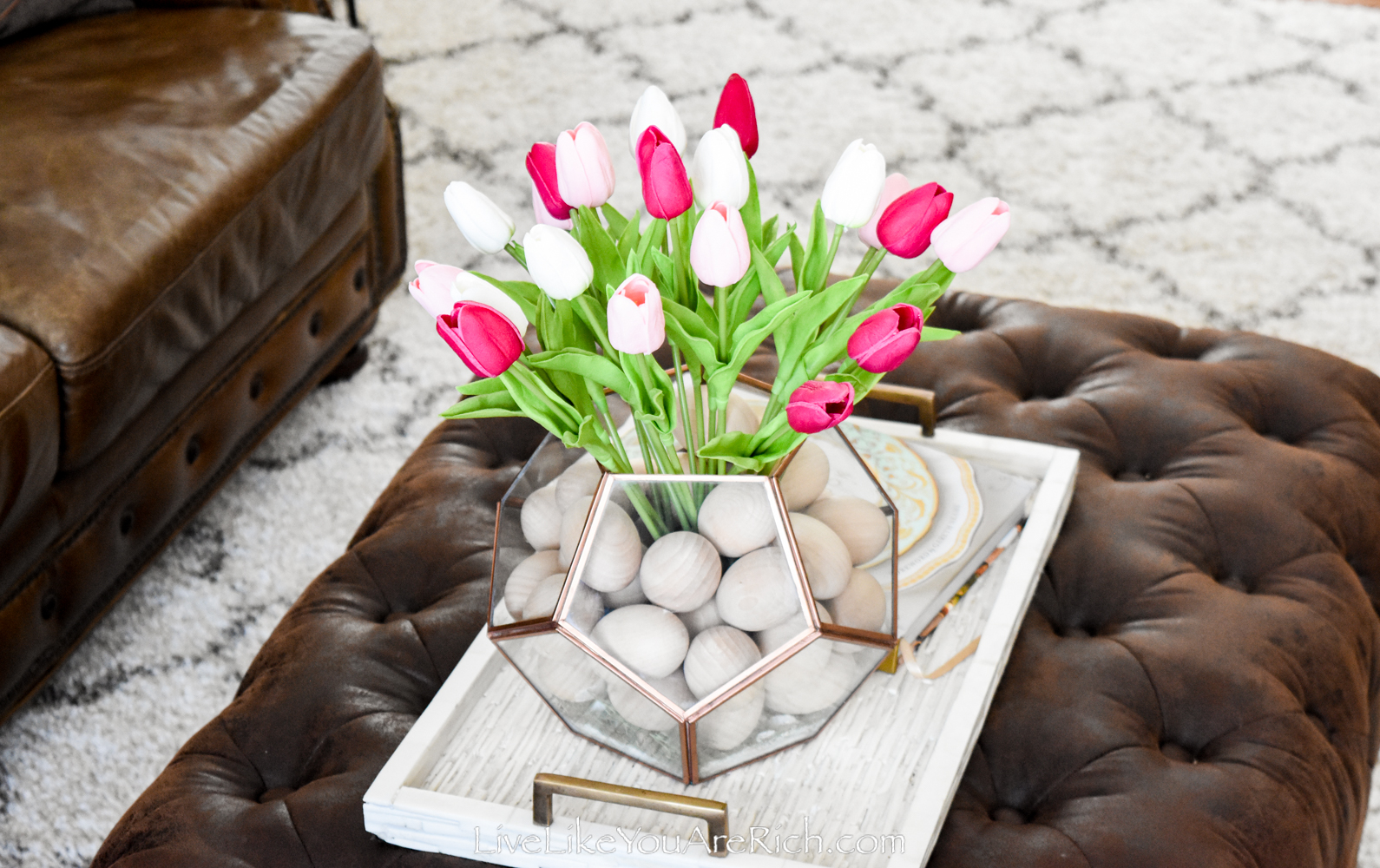 So, I had to take the eggs out and start again.
I put a row of eggs at the bottom of the vase and then I held the tulips in the center of the vase opening.
I held the tulips up with one of my hands; then, using the other hand, I gently placed the wooden eggs all around the tulip bundle.
The reason that I say to gently place the eggs around the tulips is that if the glass of the vase is fragile like it is with mine, you do not want to drop the eggs into the vase as they are heavy and the glass could crack.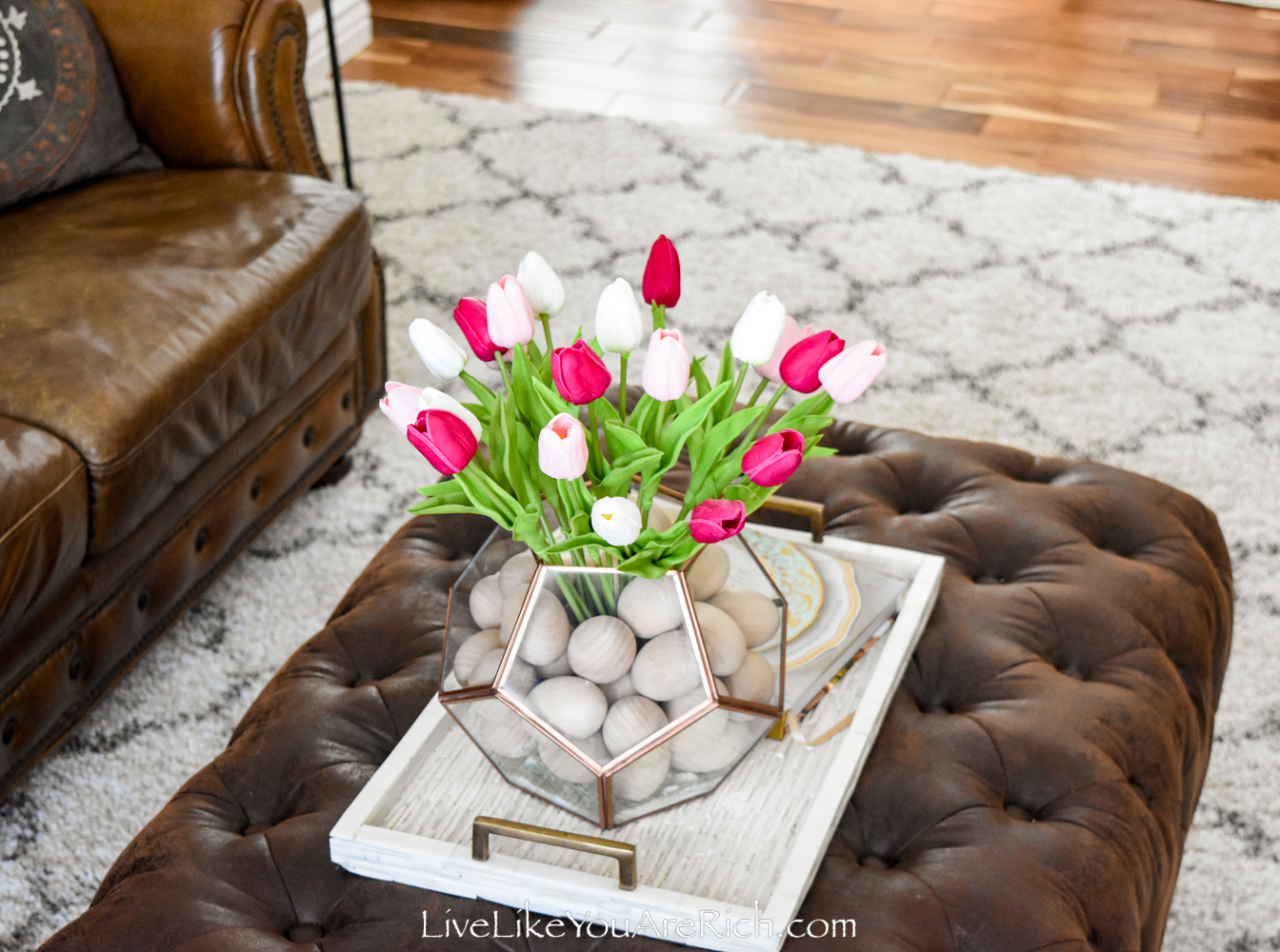 Next, arrange the tulips as you think they look best.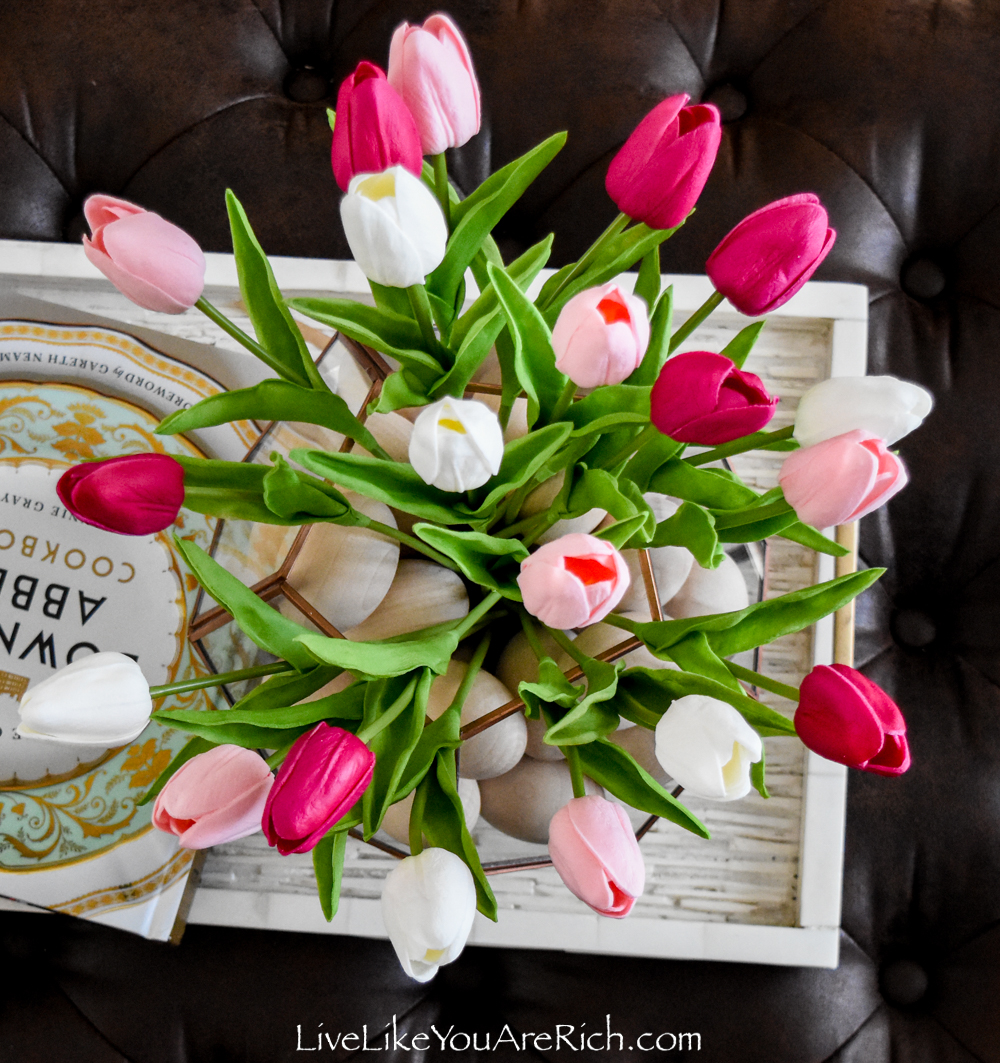 If you use the tulips I ordered, the stems are wired, so you can place each individual tulip in a strategic way to fill any gaps in the arrangement.
Total Cost of this Tulip Easter Arrangement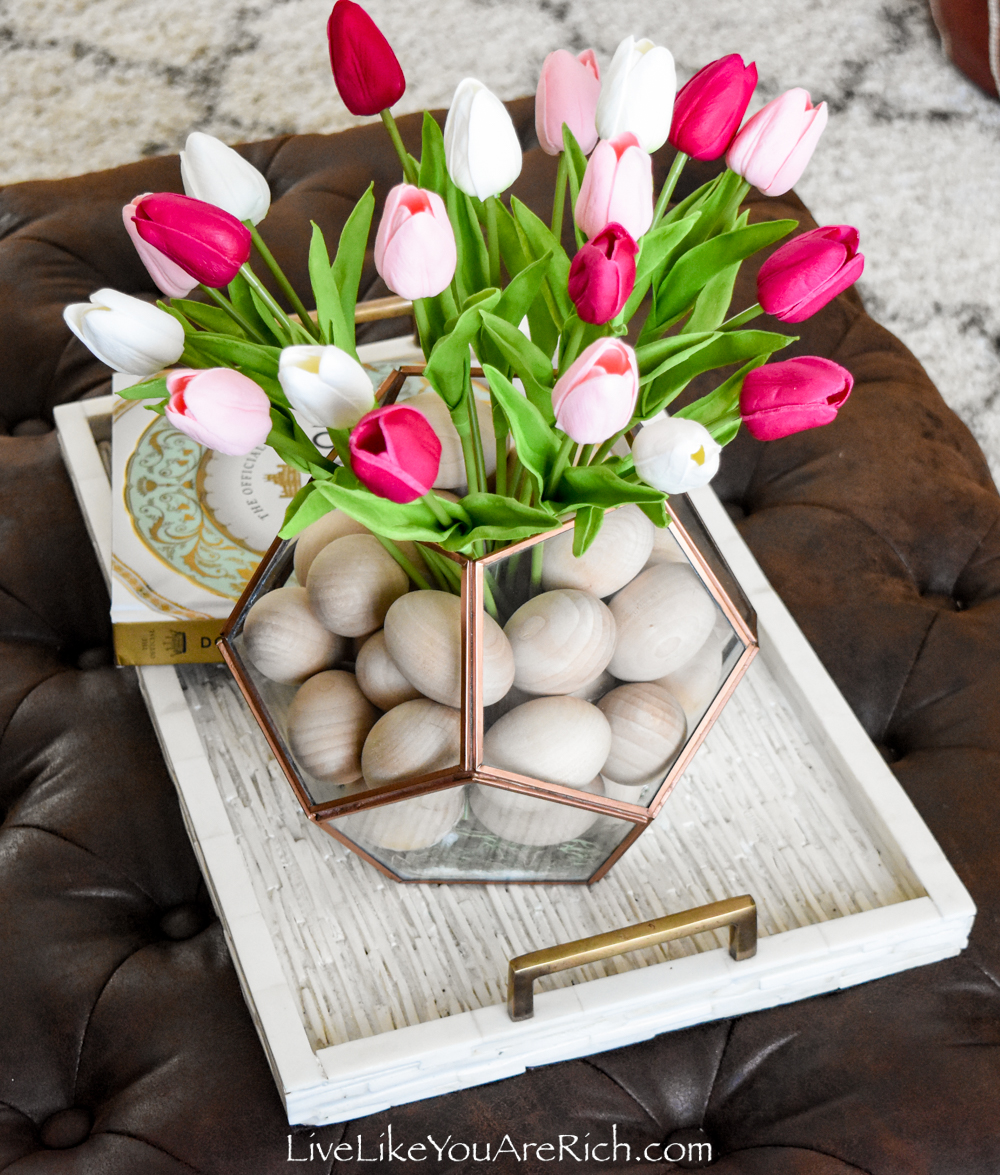 Since I had the vase and the wooden eggs already, the tulip arrangement cost me $22.00— just for the bundle of tulips.
If I had to also buy the eggs and vase it would be much more.
To save money, one could use a different style of Easter eggs that they have on hand and a different style of vase that they have as well.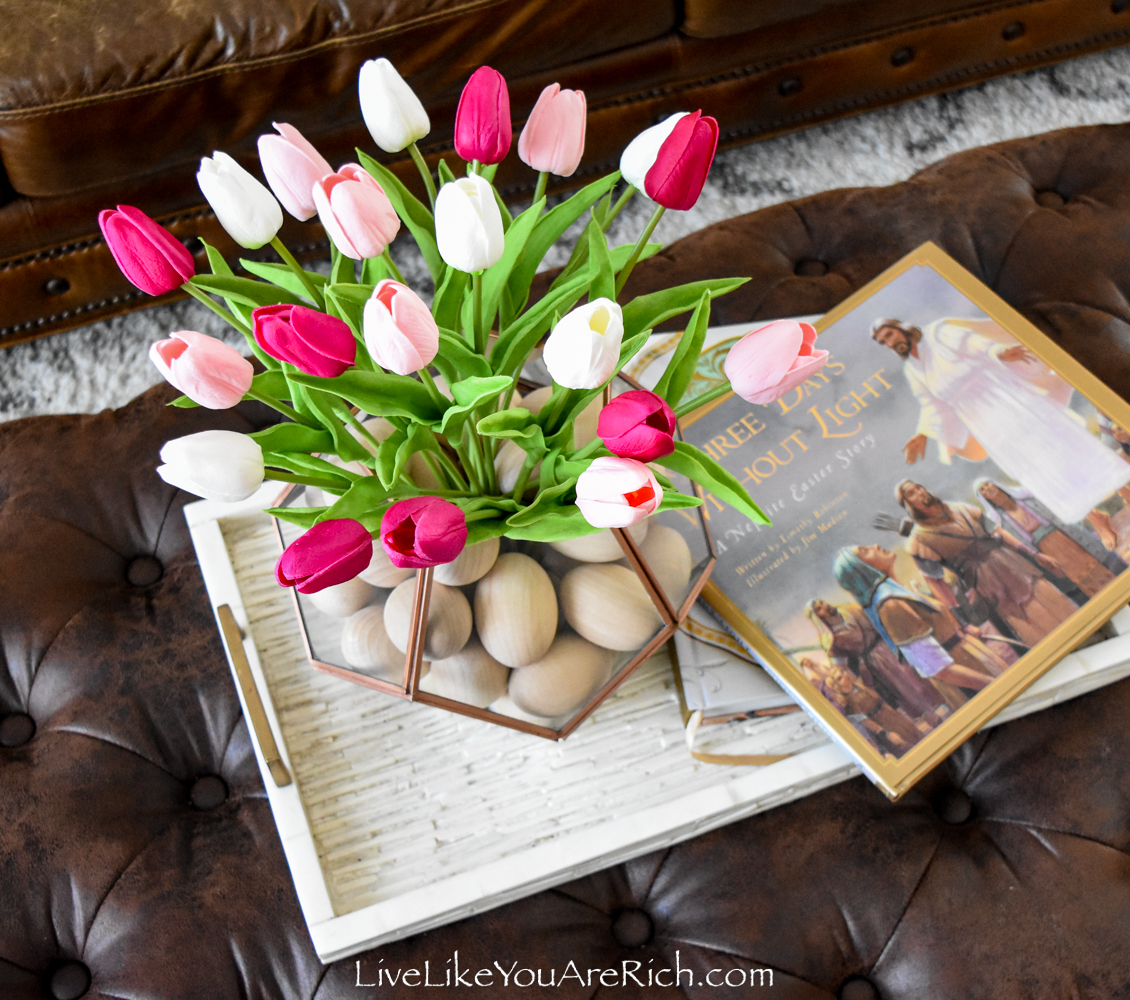 I'm excited to add these tulips to my Easter and spring decor as I just love my Tulip Easter Arrangement.
I was happy that I could make it so quickly and inexpensively.

For other 'rich living tips' please subscribe, like me on Facebook, and follow me on Pinterest and Instagram.