This Valentine's Day Mantel Decor is styled in a shabby chic decorating style. I think it turned out quite cute.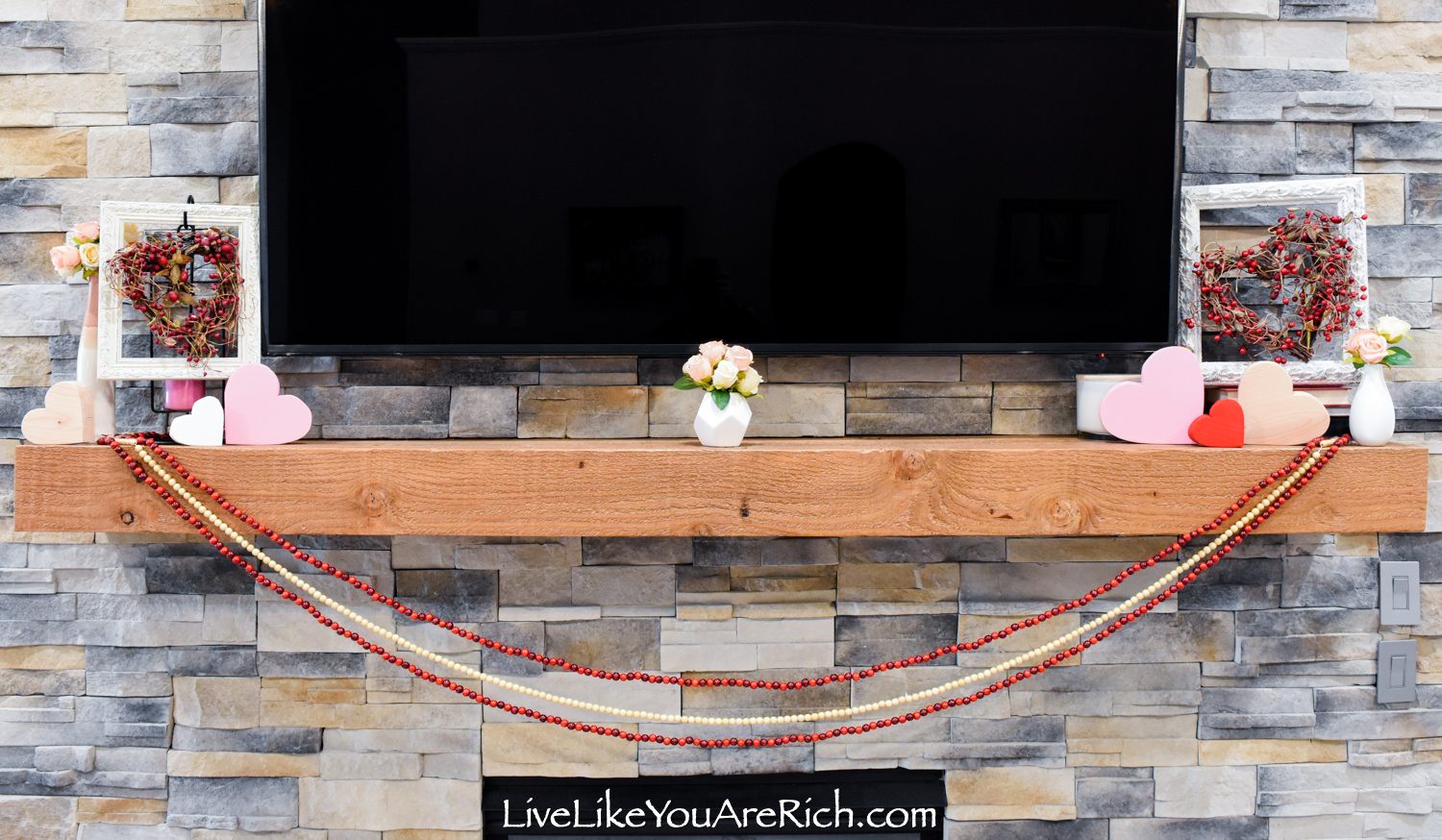 Although I don't often decorate shabby chic, I think it is a super cute decor style. In case you are unfamiliar with it, shabby chic often includes soft colors, a mix of vintage and new items, and feminine accents.
This mantel has vintage frames, wreaths, books, and wood bead garlands. It showcases the feminine colors: pink, white, champagne, and red. And it contains some newer vases and candles. Together they become a shabby chic Valentine's Day mantel.
Supply List for Valentine's Day Mantel Decor
2 vintage wood frames painted white and distressed
2 berry heart wreaths that fit (and slightly exceed) the inner size of the frames
2 candles (I used one white with a natural wood lid and one pink)
Natural wood bead garland ~9-10 ft long
2 Red wood bead garland strands ~9-10 ft long
3 vases that match (white or pink or red or natural wood)
24 roses (pink and champagne)
Books (to stand the frames on)
Wrought Iron 2 part candle holder (to hang frame on)
How I assembled this Valentine's Day Mantel Decor
To make this shabby chic Valentine's Day Mantel Decor, I began by using items that I already had around the house.
I had two distressed picture frames. One that had embroidery in it that my mom embroidered for me when I was a baby. I took that out temporarily. Another frame I have used for various things and was just sitting empty waiting to be used.
I used these frames to showcase two red berry heart wreaths tutorial here.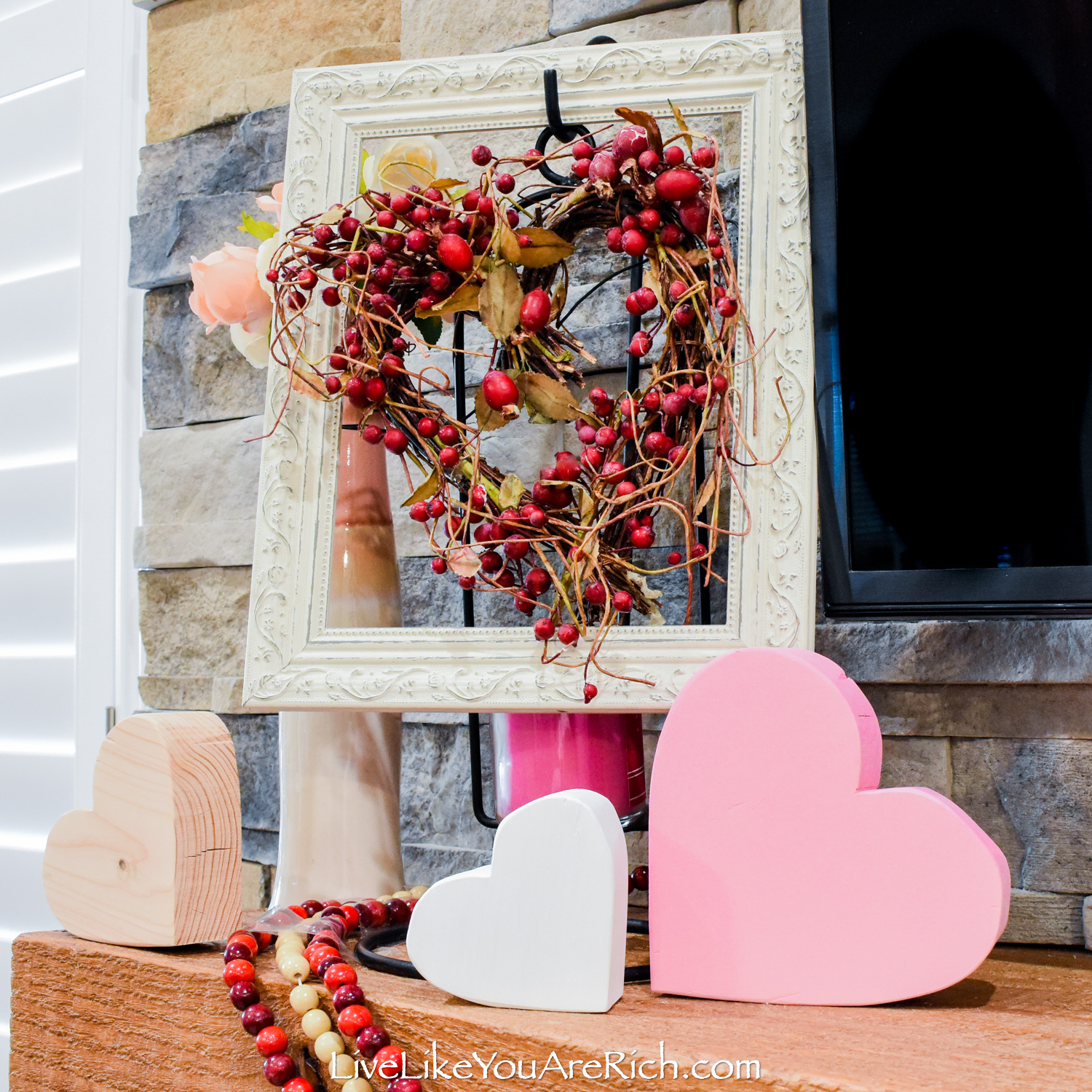 Next, my husband and I made these wood block hearts. A tutorial and video will be posted on how to make these this week.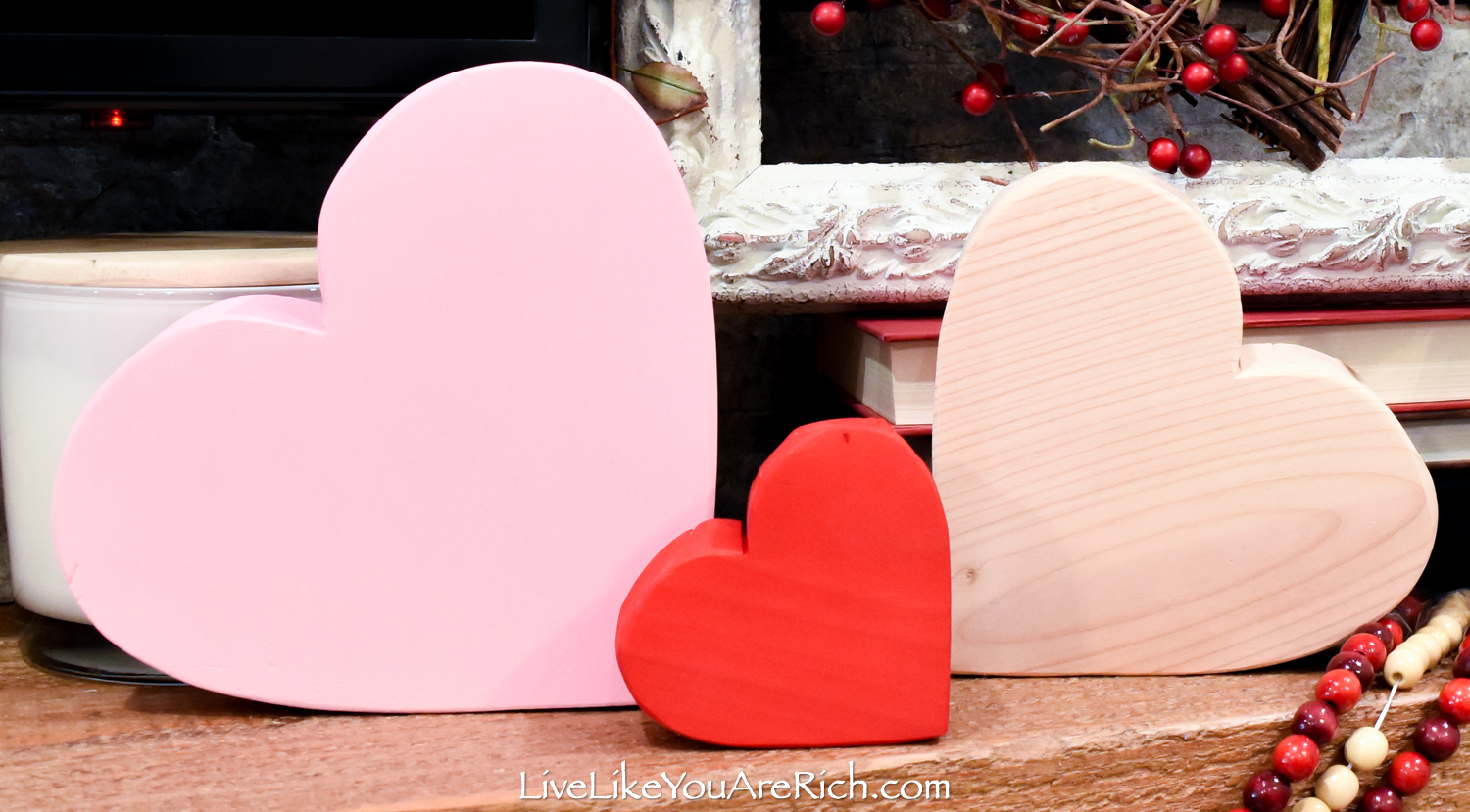 I had some vases around the house that I decided I'd temporarily use for this mantel. I pulled a couple vases from my master bedroom and my daughter's nursery. I'll end up putting them back when I'm finished.
I also pulled the roses out of these peony rose arrangements I made. Likewise, I'll put those back into the arrangements in March as well.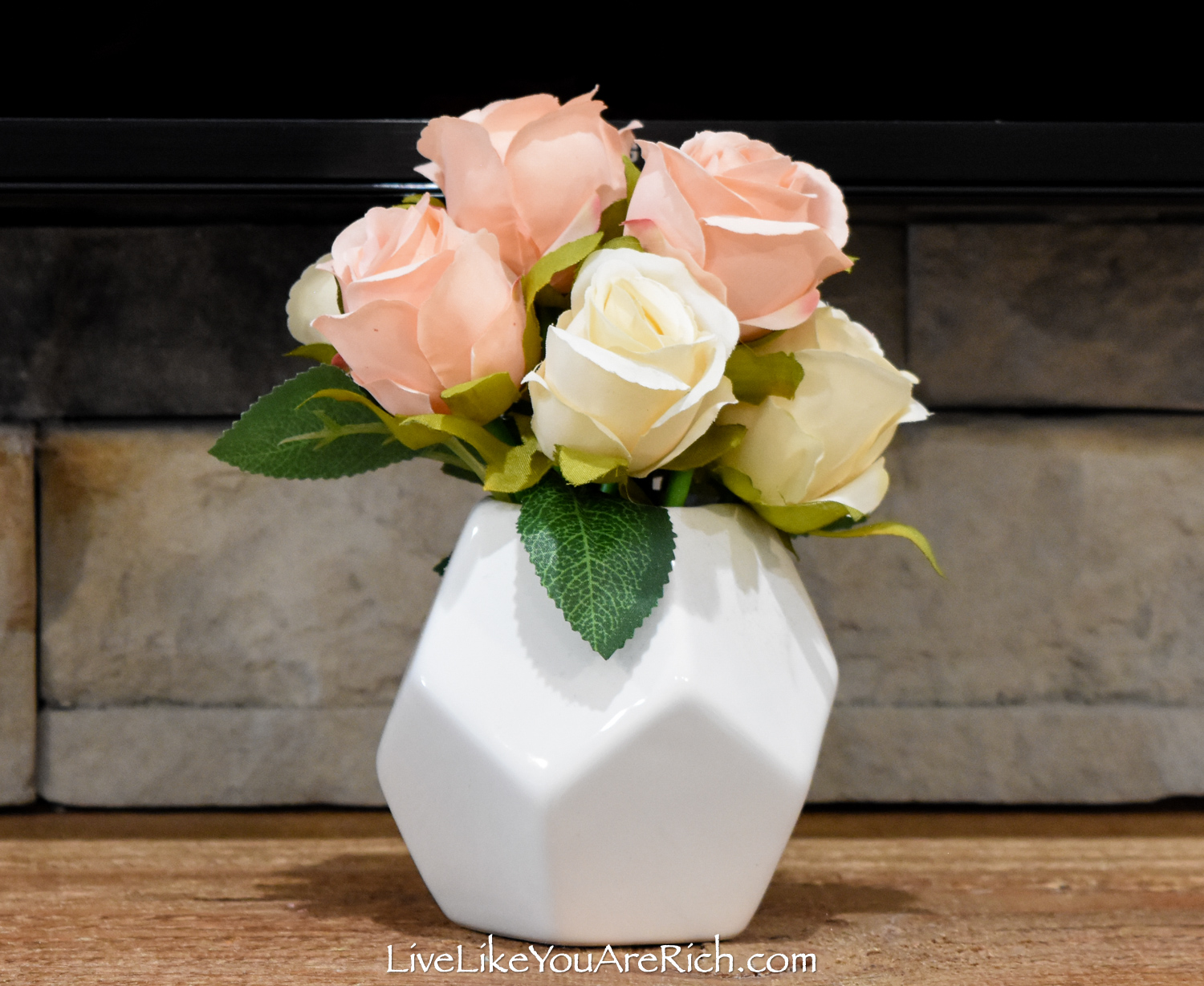 I used a few books I had in my office to stack and add height to the framed-heart-wreath.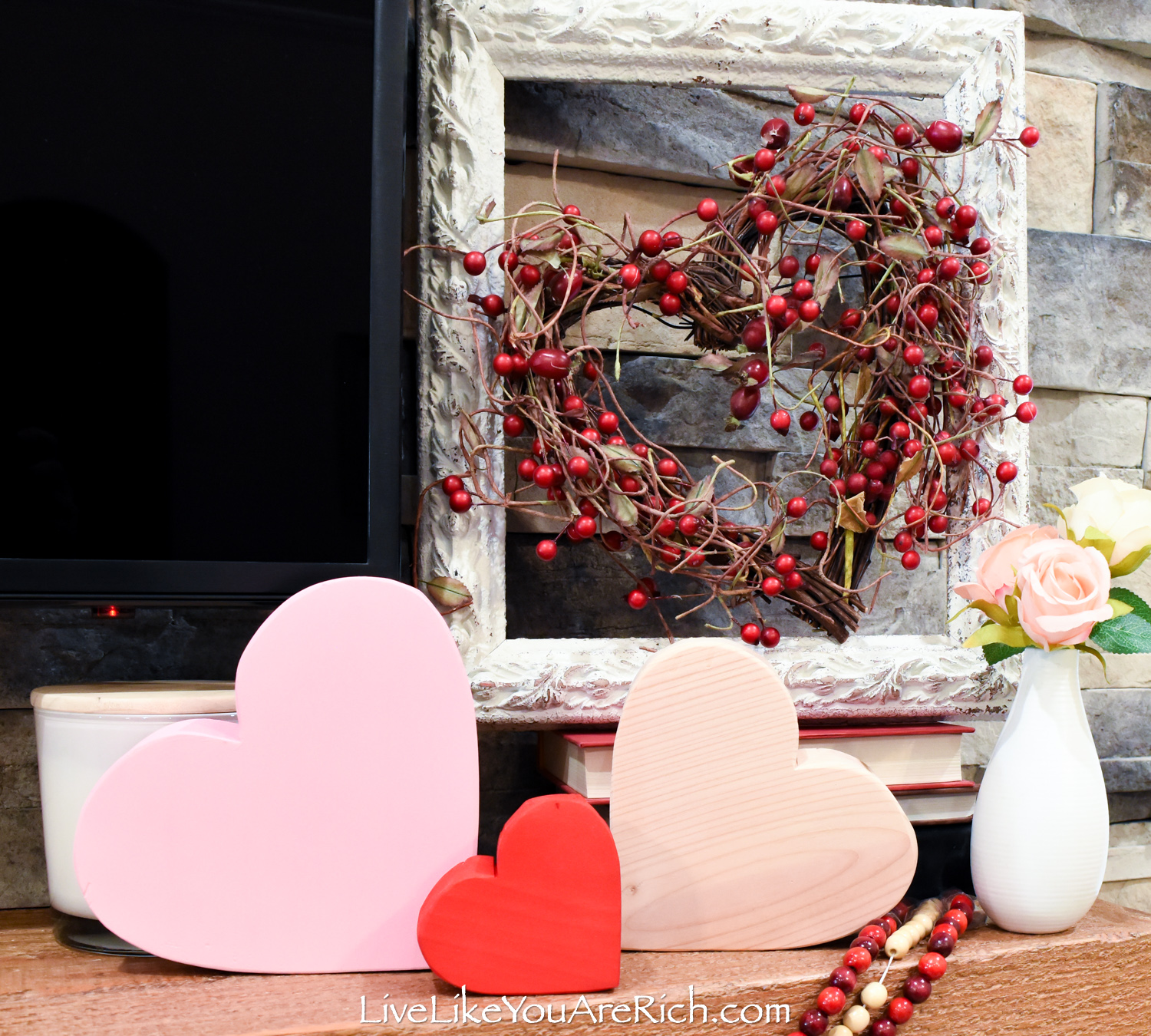 And I hung the other framed heart wreath on a wrought iron candle holder that I usually have on my mantel as decor in off-holiday times.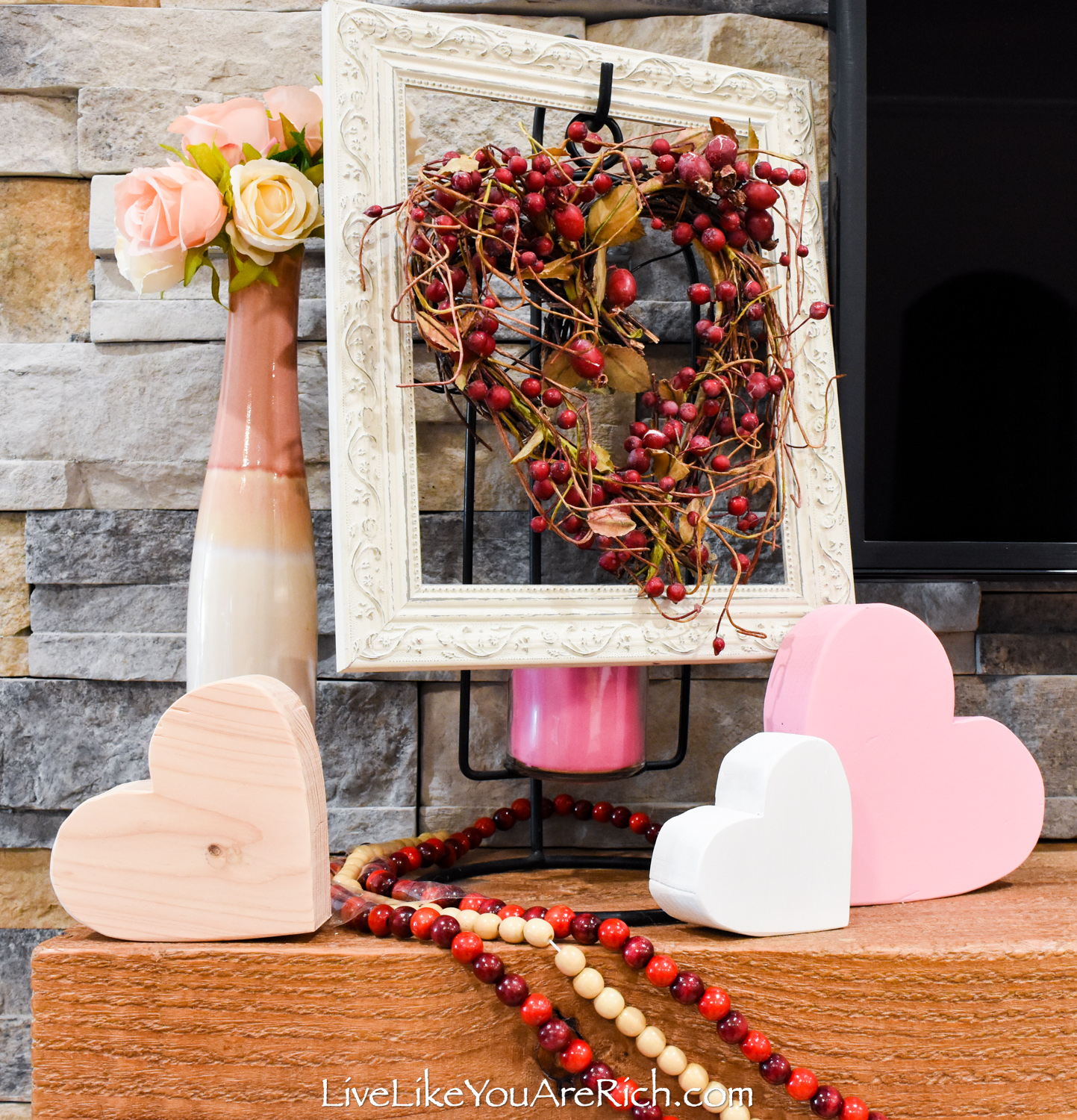 I used the natural wood bead garland from the Fall Harvest Mantel I decorated this last November.
I also took two red bead garlands from my Santa Themed Christmas Tree to use for this Valentine's Day Mantel as well.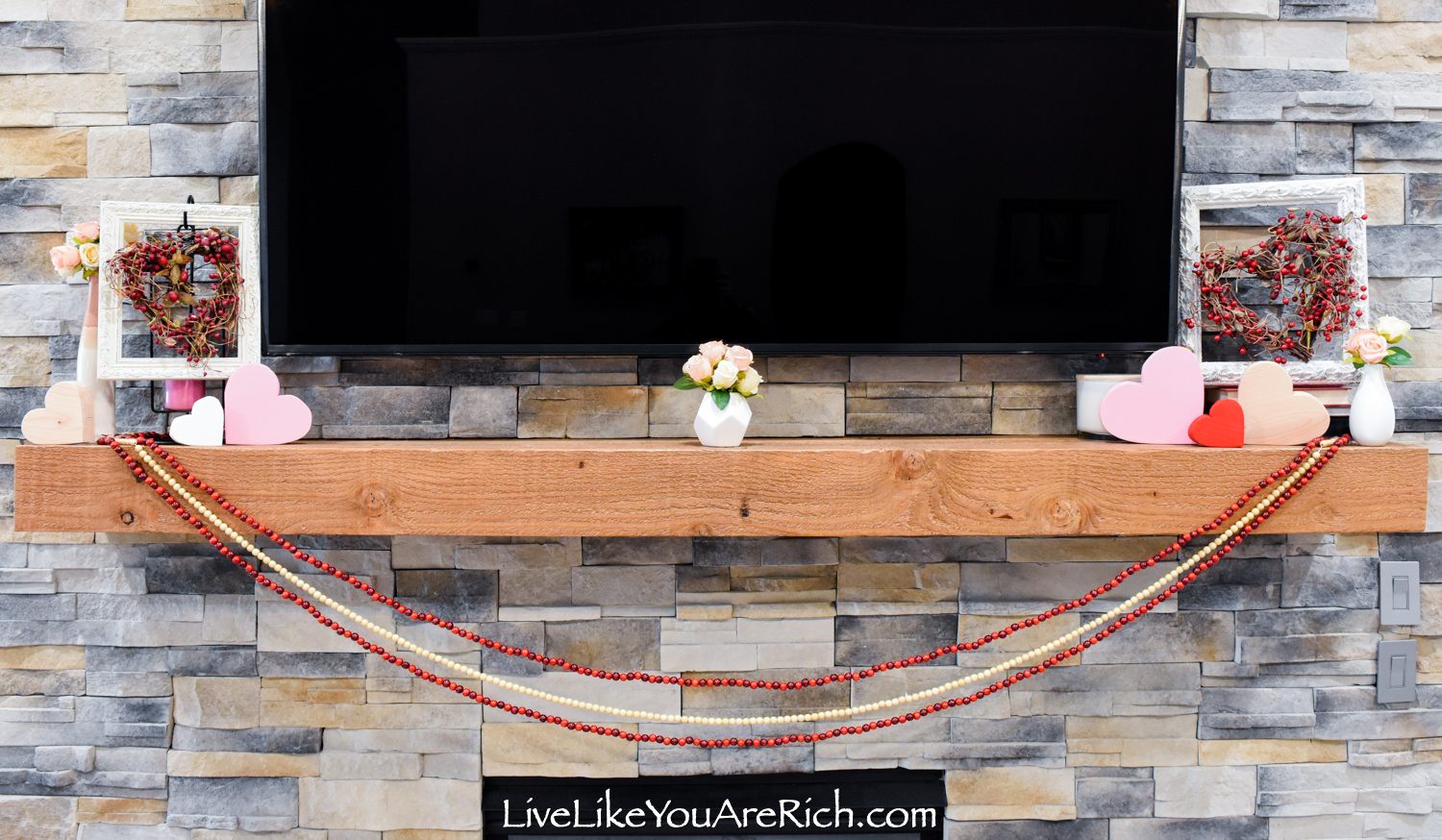 That's it.
This mantel did not come together as quickly as I would have liked it to. Sometimes my mantel decor only takes minutes to assemble, other times it takes hours.
With this mantel, it took hours. I kept moving things around and adding and taking things away. I'd place and shift things for awhile and then realize I didn't want them there at all.
In the end, I was happy with the result! If this ever happens to you, I suggest just turning on a show or going away and doing something else and then randomly looking at the mantel now and again to see what you don't quite love.
Originally, I only had one frame with heart wreath. After a break, I came back and thought, you know this would look better with two framed heart wreaths.
So, I realized I could use a frame I had and take the embroidery art out of it and use another berry heart wreath in it to balance out the mantel. That seemed to fix the issue I was having because after I added the second frame, the mantel came together quite quickly.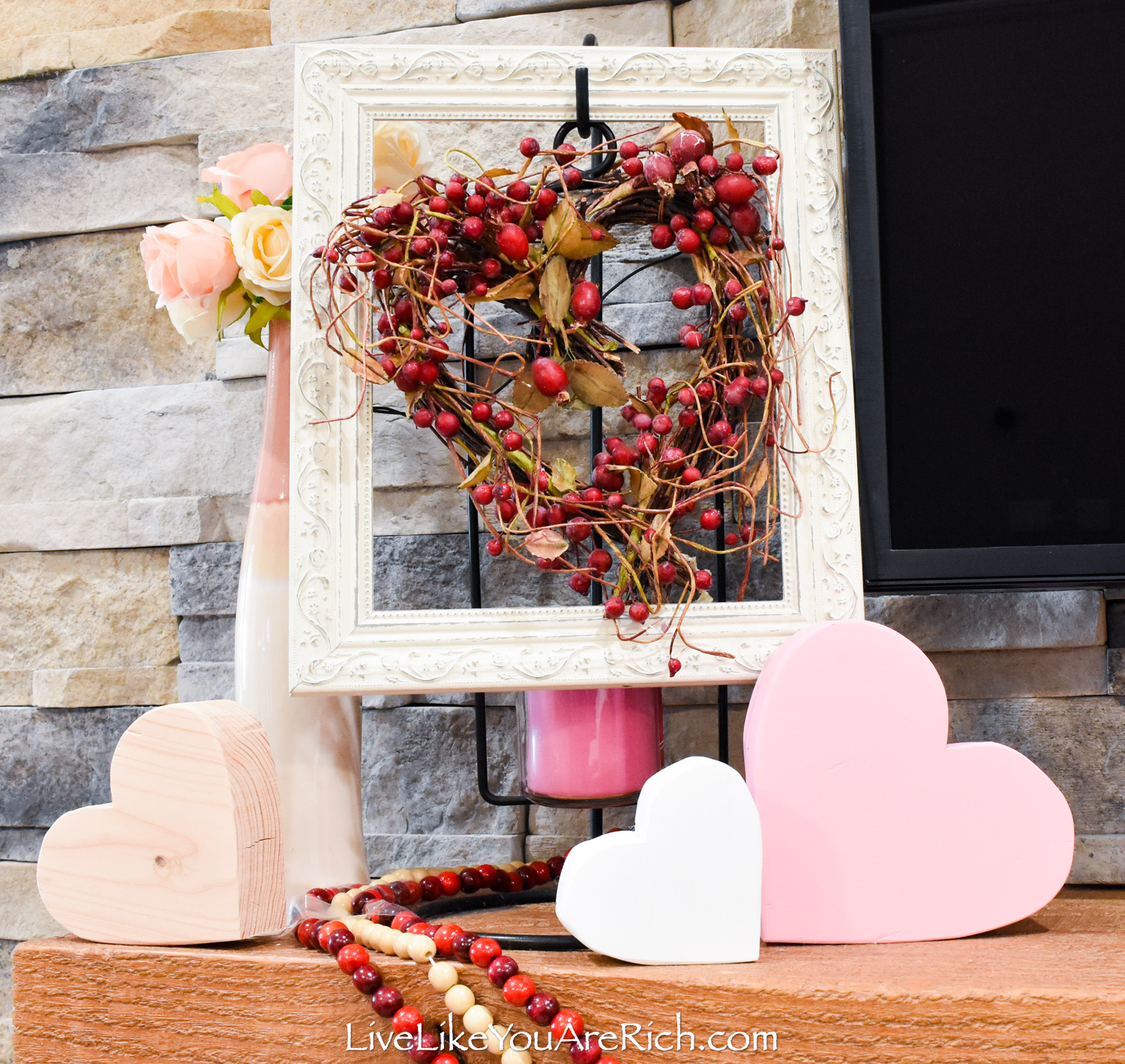 Despite it taking some time, it ended up coming together well.
What made me even happier about this shabby chic Valentine's Day Mantel Decor is that it was so inexpensive. By utilizing items that I had previously bought for other holidays and things I found around the house it was more or less free.
The only thing I bought was the wood to make the wood block hearts. So, this mantel only cost me about $5.00 to put together.
Shabby chic is a fun style to try out. If you haven't decorated using old vintage items mixed with new items and feminine colors then I'd highly recommend giving it a try!
It's always fun to try out decorating in a new and different style. Have you switched up things and decorated in a style that isn't your go-to? I'd love to hear what you have tried before in the comments below.
Happy Valentine's Day!


For other 'rich living' and D.I.Y. decor tips please subscribe, like me on Facebook, and follow me on Pinterest and Instagram.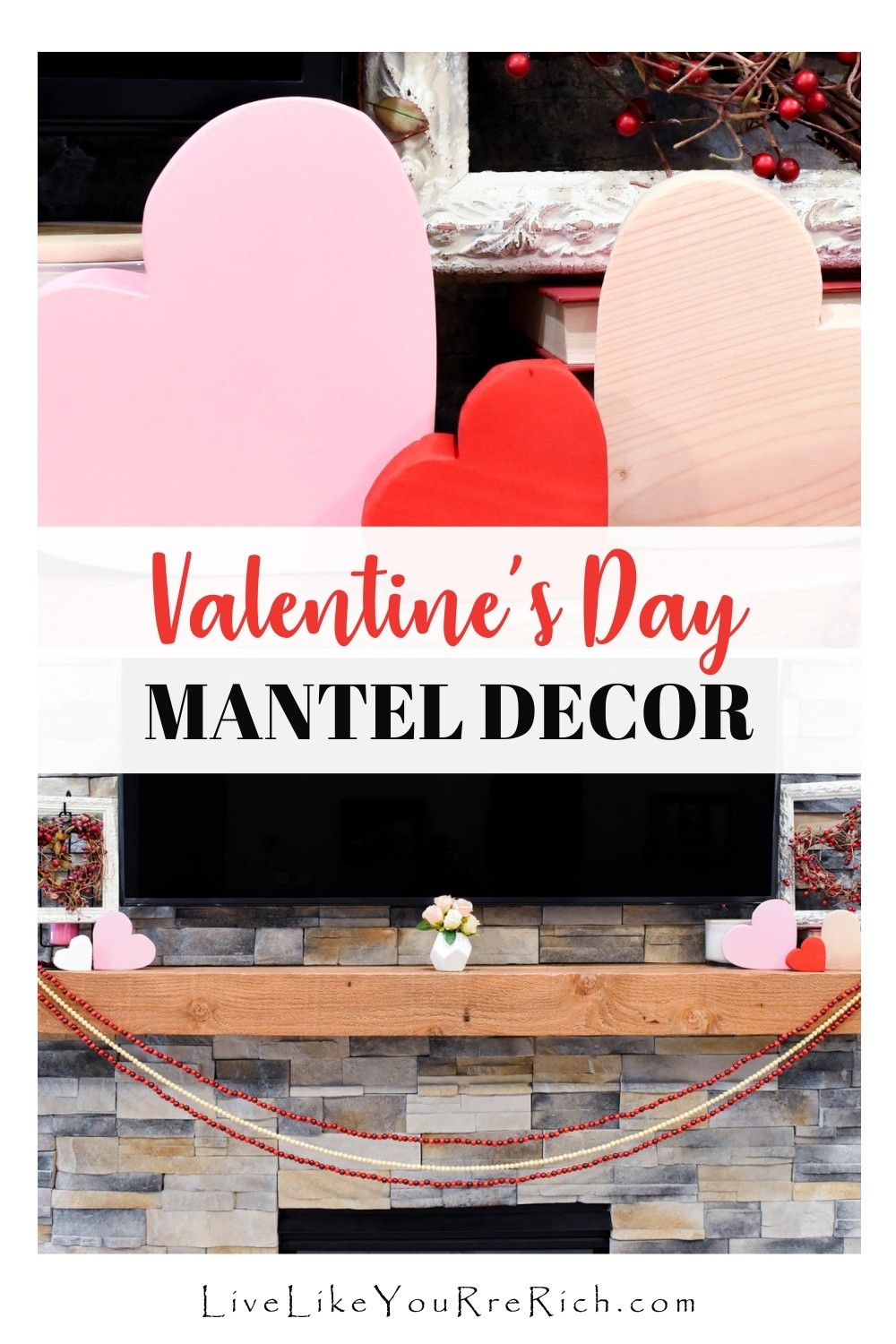 Supply List for Valentine's Day Mantel Decor
2 vintage wood frames painted white and distressed
2 berry heart wreaths that fit (and slightly exceed) the inner side of the frames
2 candles (I used one white with a natural wood lid and one pink)
Natural wood bead garland ~9-10 ft long
2 Red wood bead garland strands ~9-10 ft long
3 vases that match (white or pink or red or natural wood)
24 roses (pink and champagne)
Books (to stand the frames on)
Wrought Iron 2 part candle holder (to hang the frame on)