My daughter and I made these wooden peg ghost dolls the other day as a Halloween craft.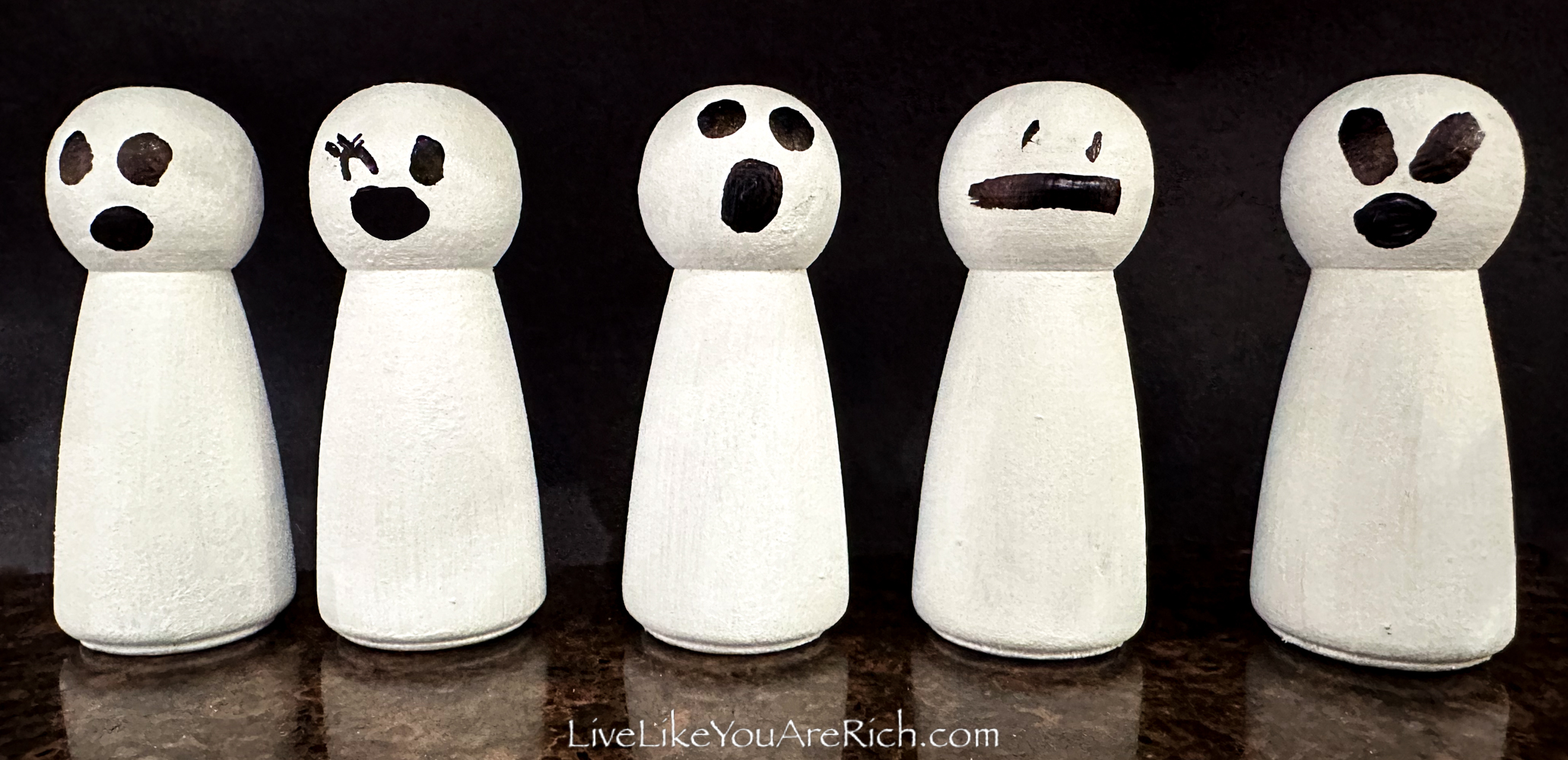 We love using wood peg dolls for crafts. In fact, Aurora and I made this wooden peg nativity a few years ago together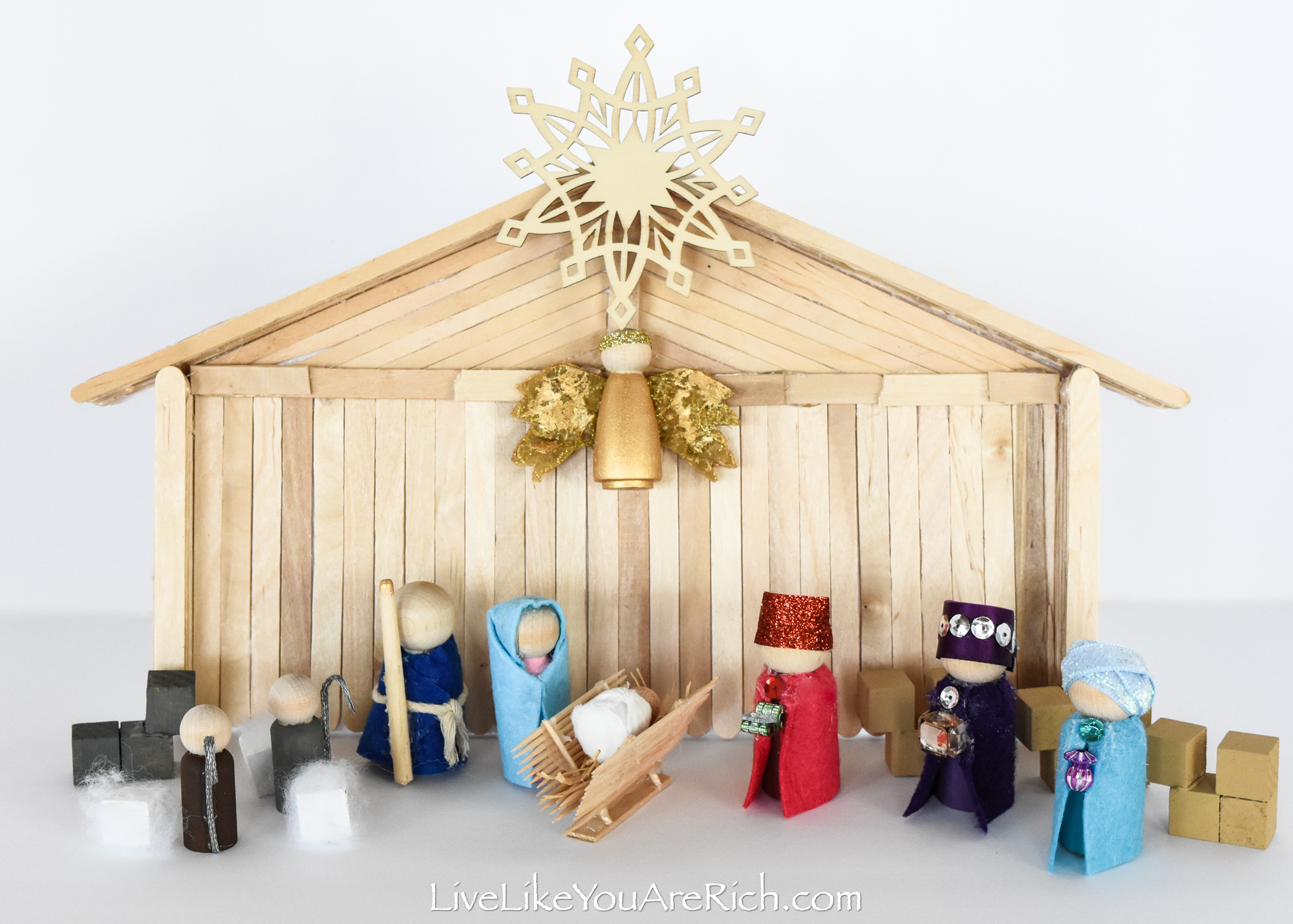 We thought of making these ghosts when we were looking for pipe cleaners in my craft bins and we came across some extra unfinished wooden peg dolls.
I suggested we try to make ghosts out of them and Aurora was really excited to try it.
It was super easy to do and Aurora and I had fun making them.
I thought that this could easily be used as an Elementary school Halloween party craft as well. I have a post of 50+ Elementary Halloween party crafts on my blog; I will be adding this to it.
I have been inspired to make Halloween crafts for elementary-aged students because last year I was asked to be in charge of my daughter's Halloween Party craft for all of the kids in her 2nd-grade class. I had a hard time thinking of something that was easy, quick, kid-friendly, inexpensive, and could be made in bulk. The post I made contains many ideas other people have come up with as well as some I've created myself. You can check it out here.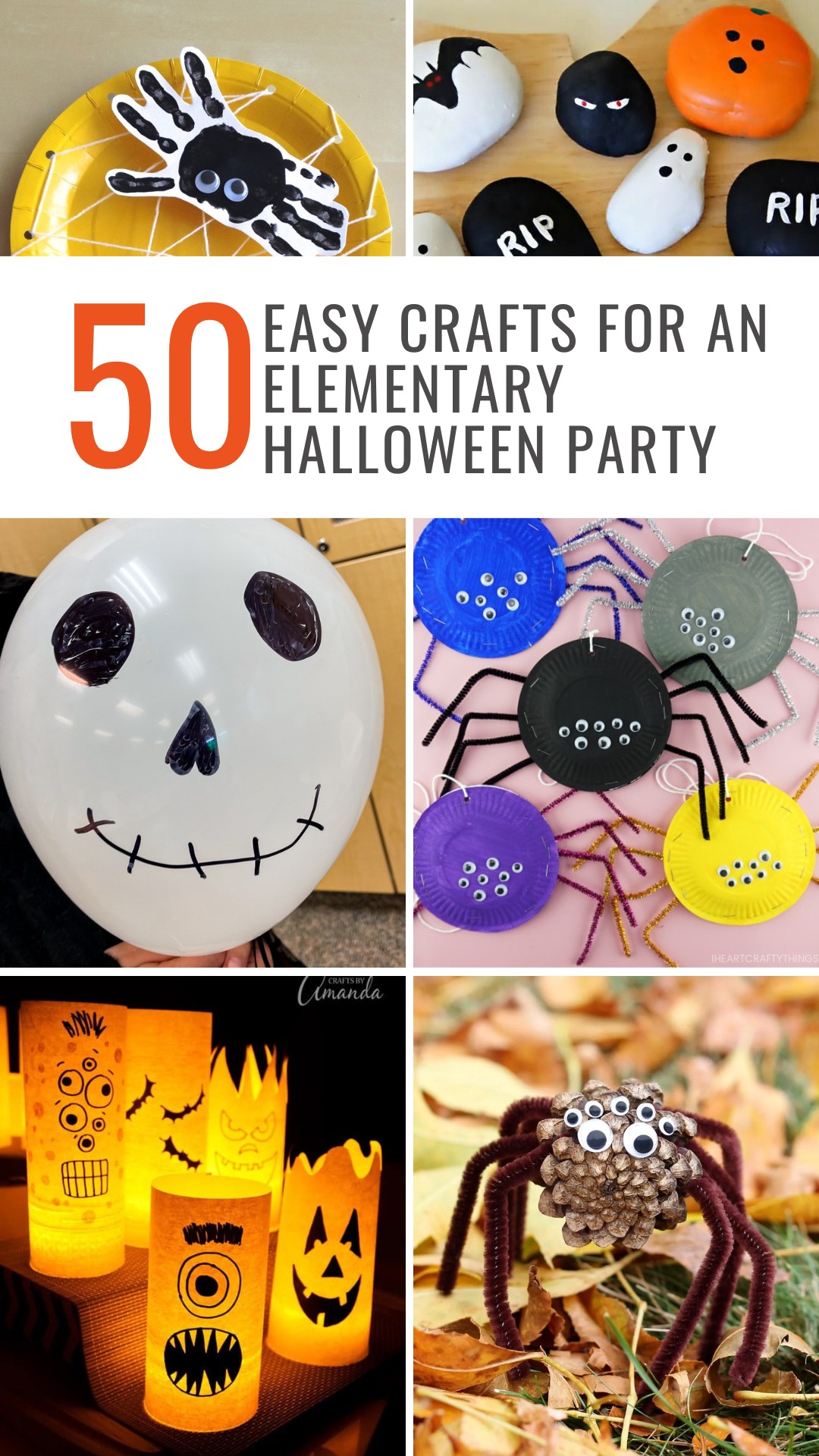 These wooden peg ghosts meet all the criteria I mentioned for an elementary school craft. Here's the supply list and how to make them…
Wooden Peg Ghost Dolls Supply list
Paper plates alternatively you could use a Dollar Tree tablecloth and have the kids put a small amount of white paint down on the disposable tablecloth near them and dip into that.
foam brush you can reuse these if you are doing multiple small groups right after each other—since the only paint color is white.
wood peg doll with round heads I found 50 for $14 (.25 cents each on Amazon). You may be able to find them cheaper at a craft store with a coupon.
paper towels or baby wipes– for clean up and to wipe any white paint off the tip of the marker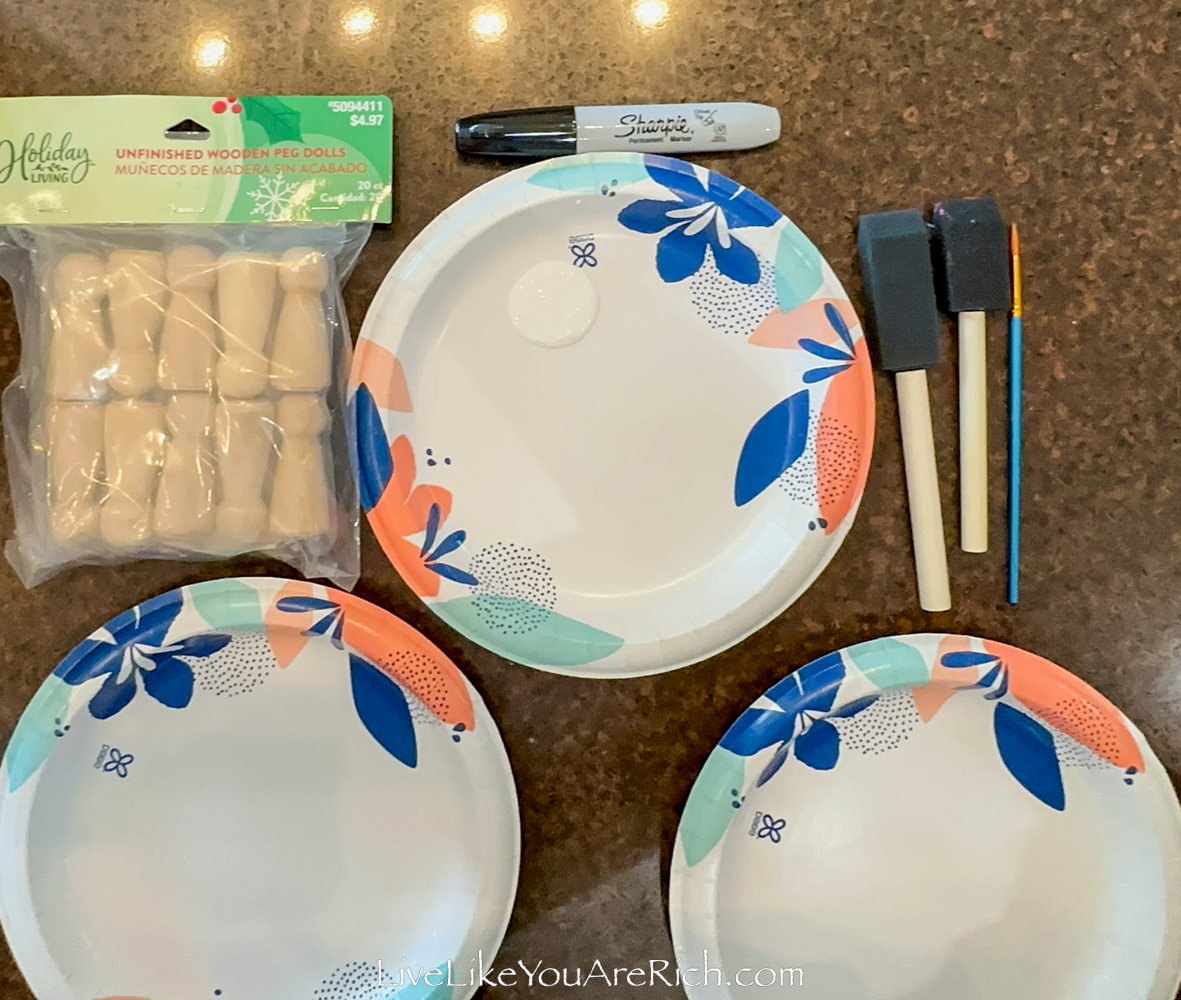 How to Make These Wooden Peg Ghost Dolls
Continue reading and/or watch the video on this post to see how we made these.
1- Paint wooden peg dolls white, allow a minute or two for the first coat to dry.
2- Paint a second coat, and a third if desired.
3- Once dry (a few minutes), using a Sharpie black marker, draw on a ghost-like face.
That's it!
I love that this Halloween craft is super easy, quick, and inexpensive. These only cost about .12 cents each to make. I got the dolls in 1/2 off in an after-Christmas sale so $2.50 for 20 and I had the foam brushes, white paint, Sharpie, and paper plates. If you have to buy brushes, white paint, Sharpie, and paper plates, they could range (depending on quantity bought) from about .30-.90 cents each.
We considered making wooden peg dolls that were a mummy, witch, Frankenstein, etc., and maybe one day we will but for this crafting session, my daughter and I stuck to making only ghosts.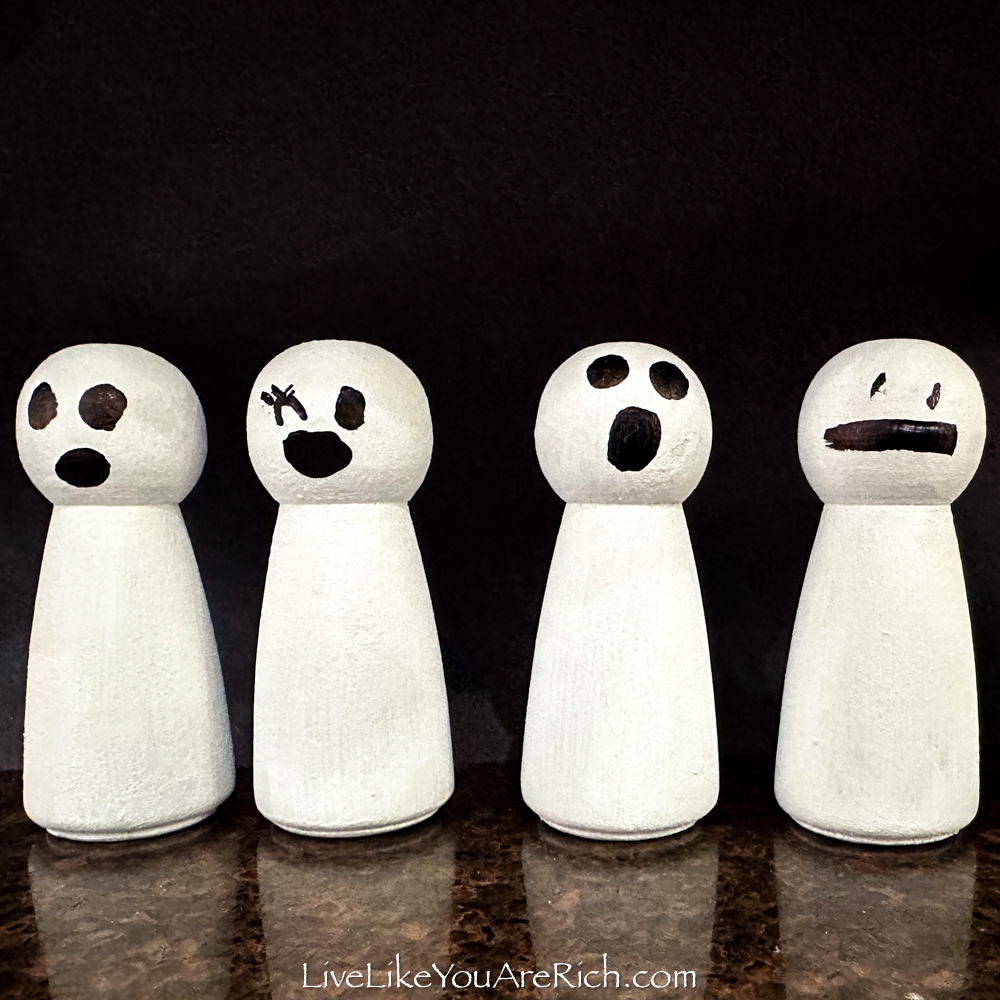 If you are doing this for a party, I'd highly recommend giving the kids ideas of ghost faces they can draw just in case they need some ideas.
Here's a clipart you could use for inspiration.
I stuck to the standard ghost faces but my daughter is so creative she made a winking ghost and a straight-faced ghost. I love watching my kids craft, they are usually very unique and creative.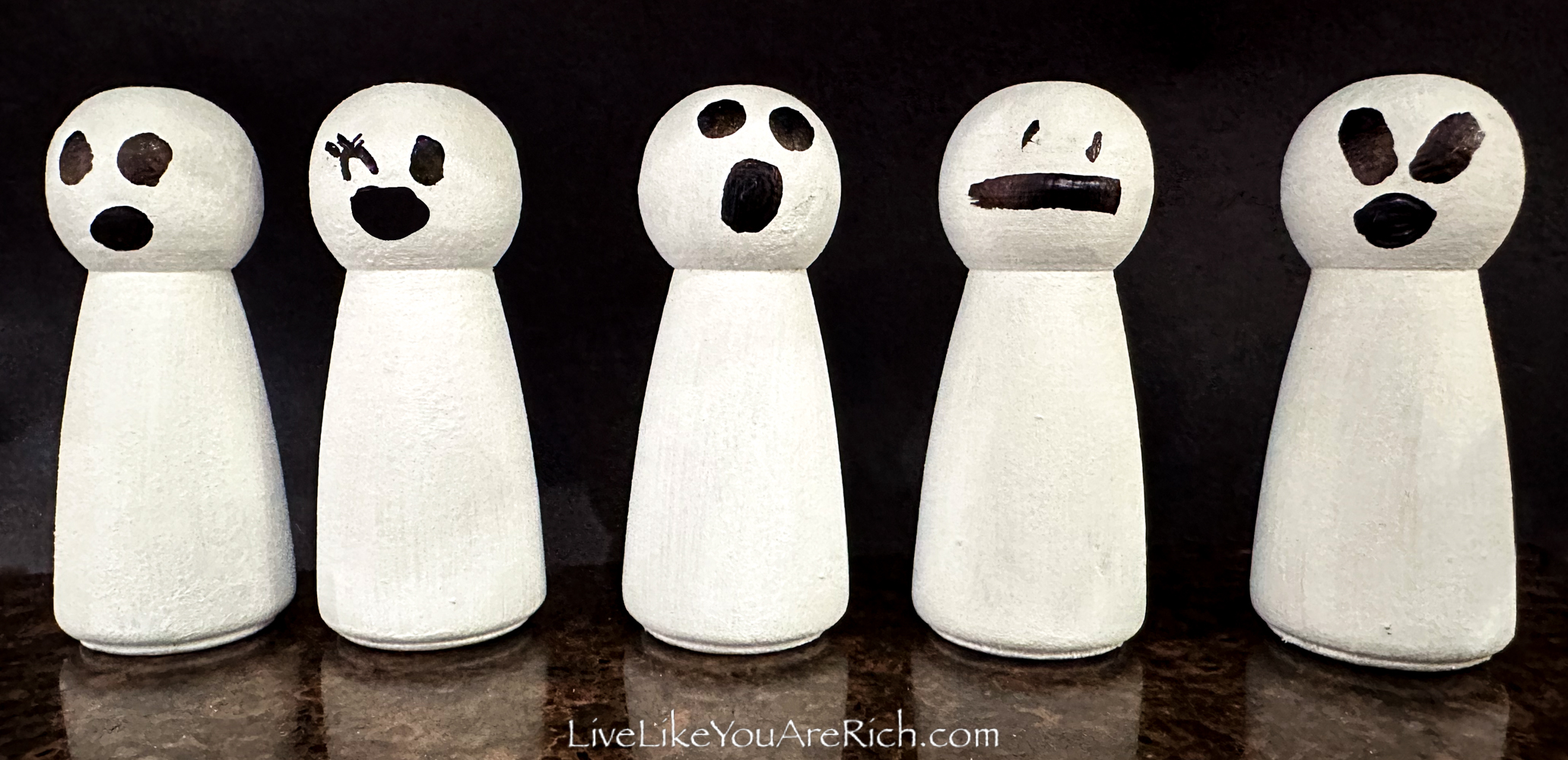 Happy crafting and Happy Halloween!

For other 'rich living' and D.I.Y. decor tips please subscribe, like me on Facebook, and follow me on Pinterest and Instagram.