Christian Symbols of Christmas—Kids Advent Calendar.
My husband and I teach primary kids (seven and eight-year-olds) on Sundays at church.
We belong to the Church of Jesus Christ of Latter-Day Saints and we are asked as teachers to make sure every lesson we teach focuses on Christ and His Life and Mission.
So, for our Christmas lesson last week, we took our wooden door/drawer advent calendar with us. It has 24 doors to open.
Each compartment was quite small so we looked hard around the house and found tiny little Christmas emblems, ornaments, and toys that would fit inside.
We also took along a nativity to set to the side of the advent calendar so that they could see the nativity during the lesson.
The children in our class got to take turns opening each door and then we explained the Christian symbols of Christmas to them. When the child pulled the item out, we read an excerpt/day on the advent calendar explaining how each symbol is related to Christ.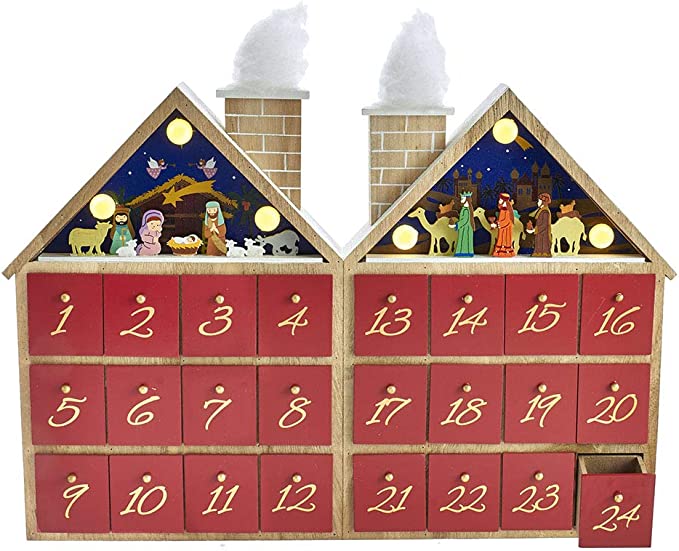 They LOVED this lesson.
I thought it would be a great way to bring Christ into Christmas at home each day in December leading up to Christmas as well. So I'm blogging about this as a reminder to do this in our home with our kids next year.
This is what we had in the doors of our advent calendar.
Merry Christmas I hope this Christian Symbols of Christmas—Kids Advent Calendar is something that will prove useful for you.
If you enjoyed these Christian symbols of the Christmas Advent Calendar, you may also enjoy these posts on other ways we celebrate Christ during the Christmas season. We do this as a family in a variety of ways from reading Christ-related Christmas books, having Spiritual thoughts each night, setting out the nativities together, making nativities, acting out the Nativity (script and costume list here), and going on a Kids Christmas Light Symbolism Scavenger hunt.

For other 'rich living' and D.I.Y. decor tips please subscribe, like me on Facebook, and follow me on Pinterest and Instagram.