Ghost-Themed Halloween Mantel Decor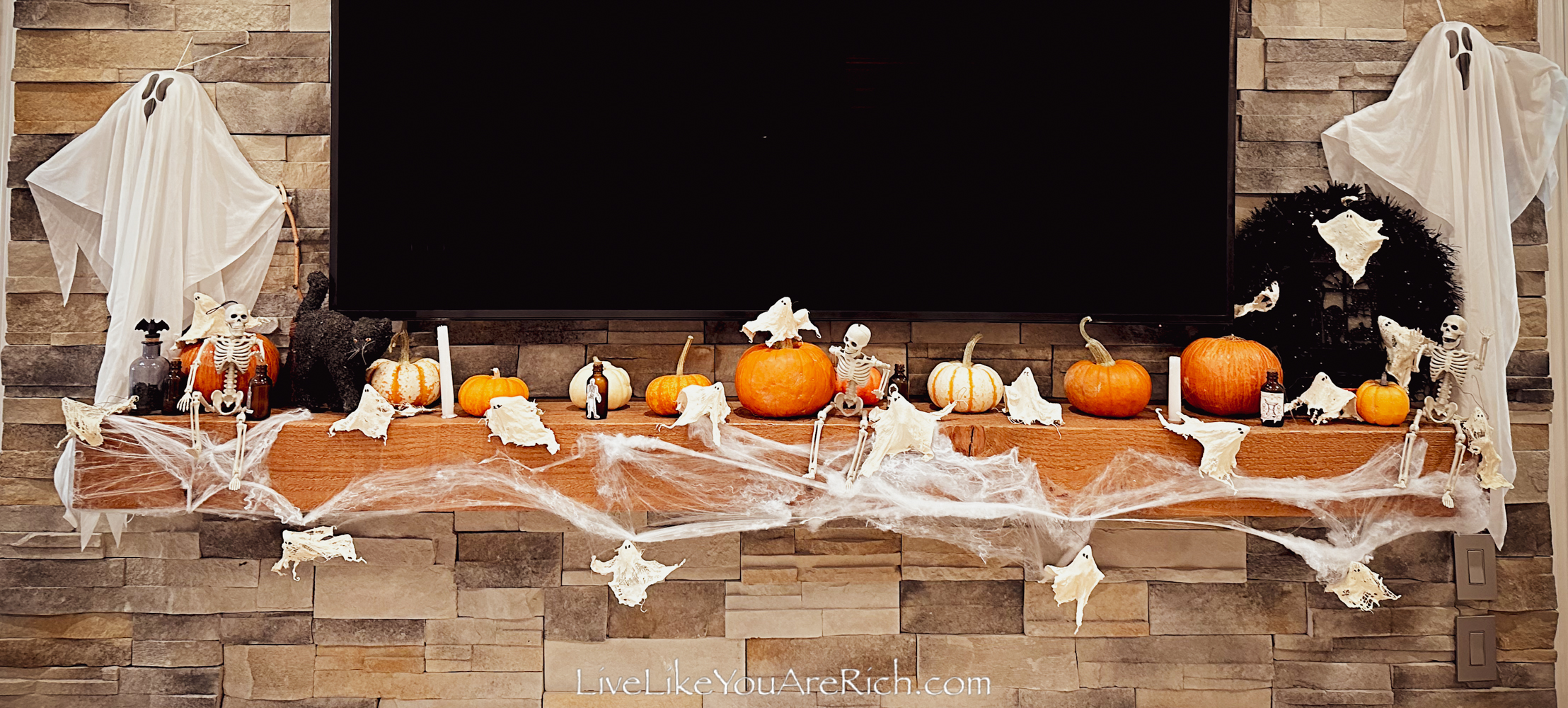 I love decorating my mantel differently each year for the main holidays.
I usually mix and match the decor that I already have on hand to try to come up with something unique, different, and creative each year.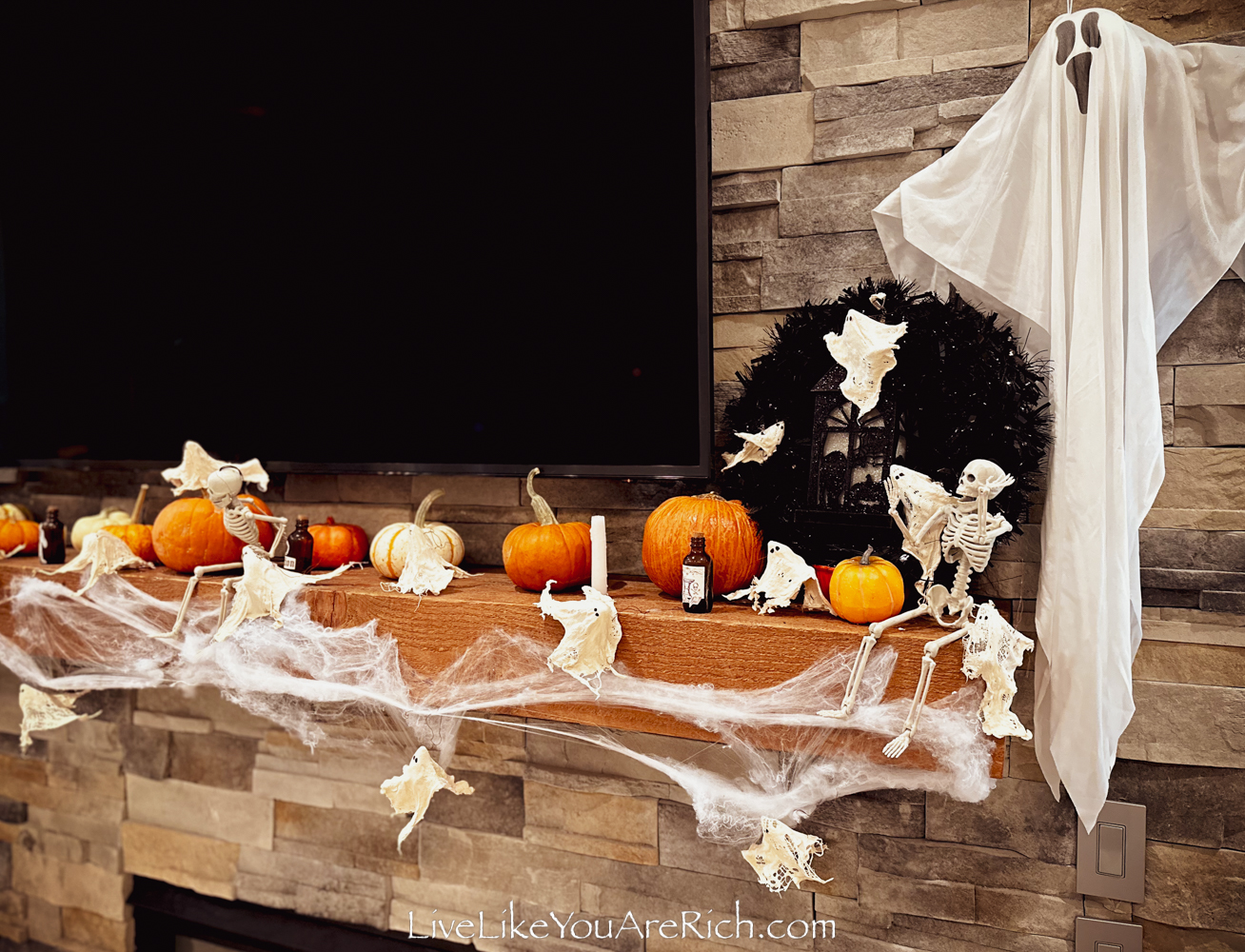 This year I did a ghost-themed Halloween mantel and I love the way it turned out.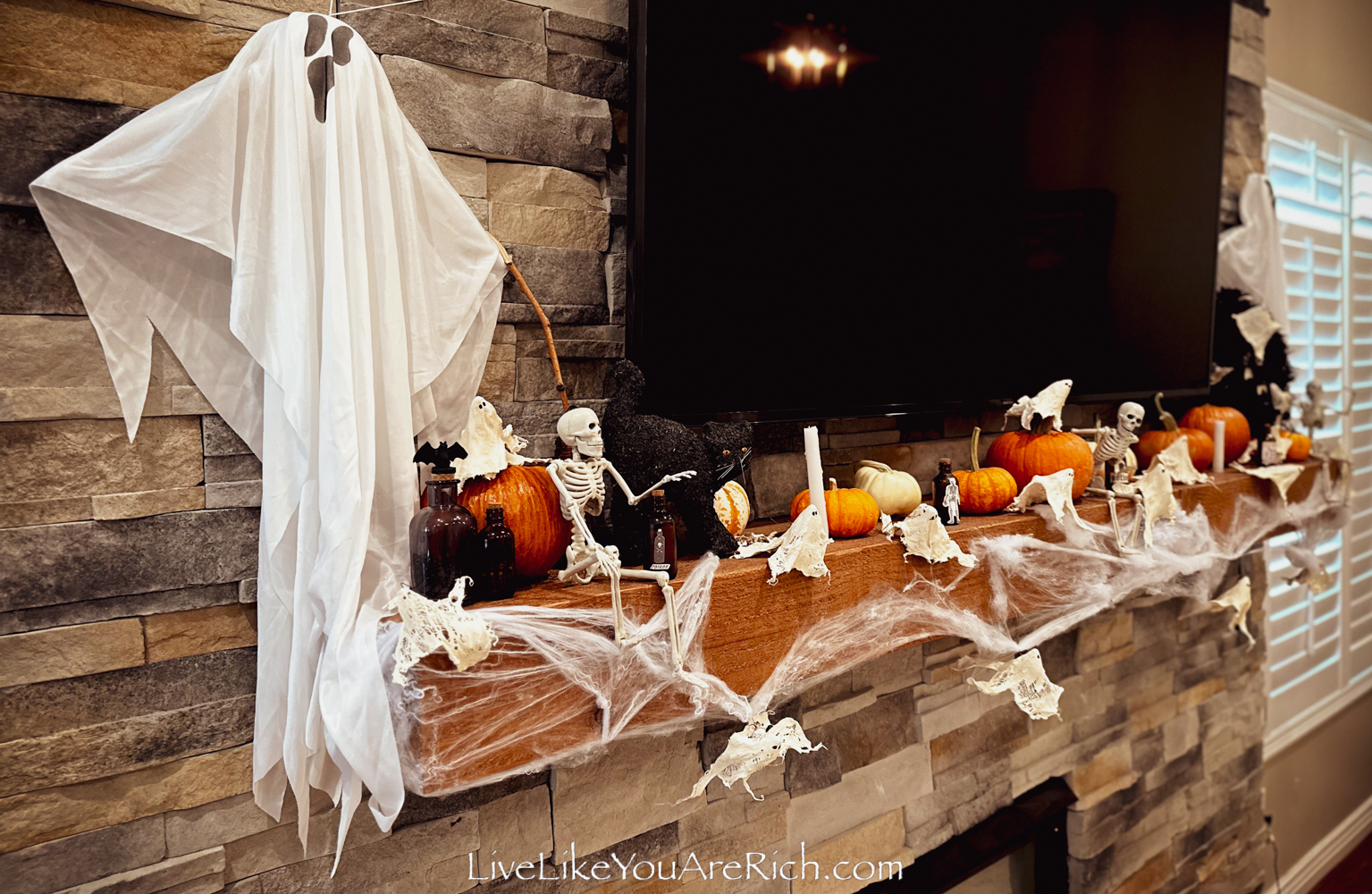 To see the details better, check out the video (scroll up or down to find it on this post).
For the last few years I've done the following mantels:
I decorated this witch-themed mantel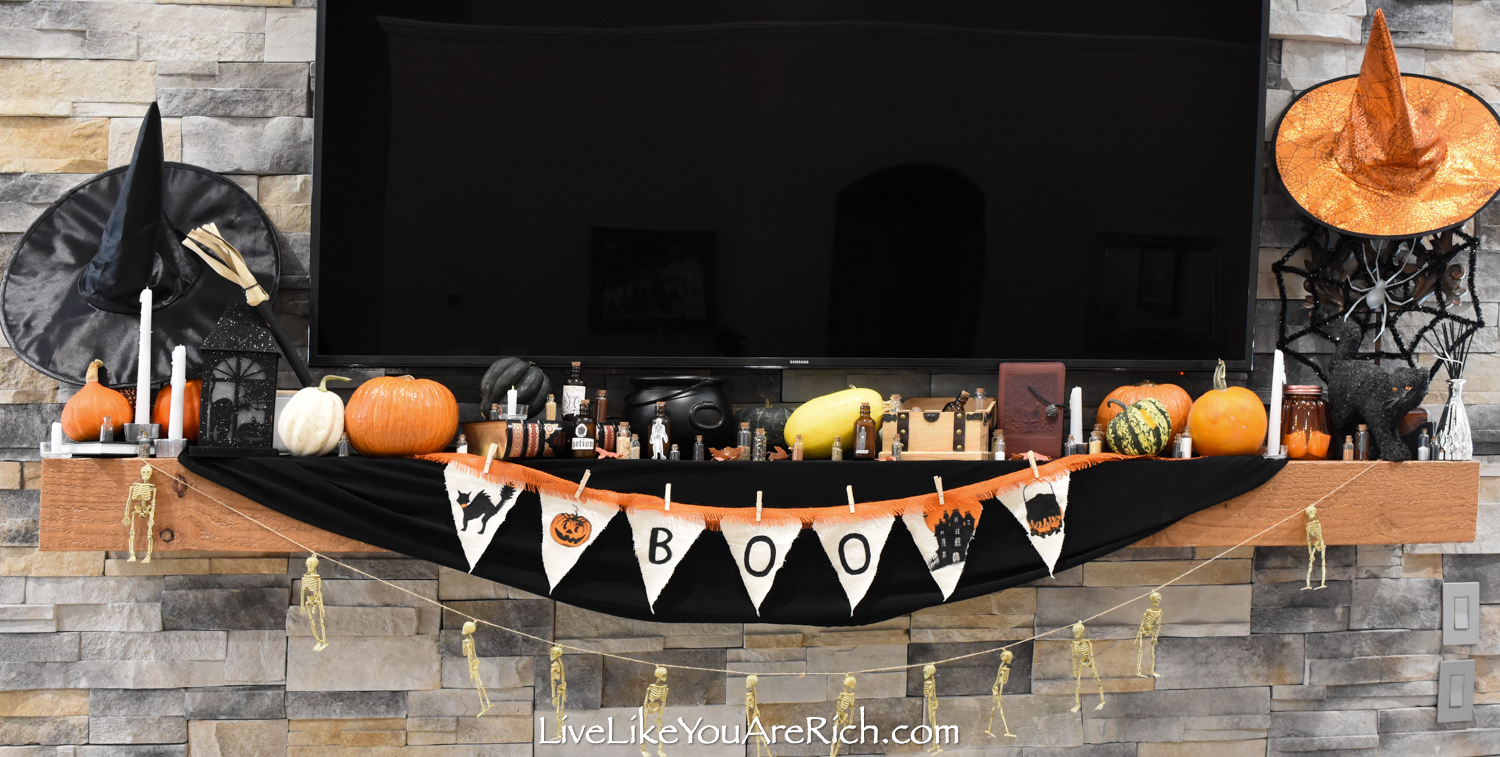 and I decorated this spider-themed mantel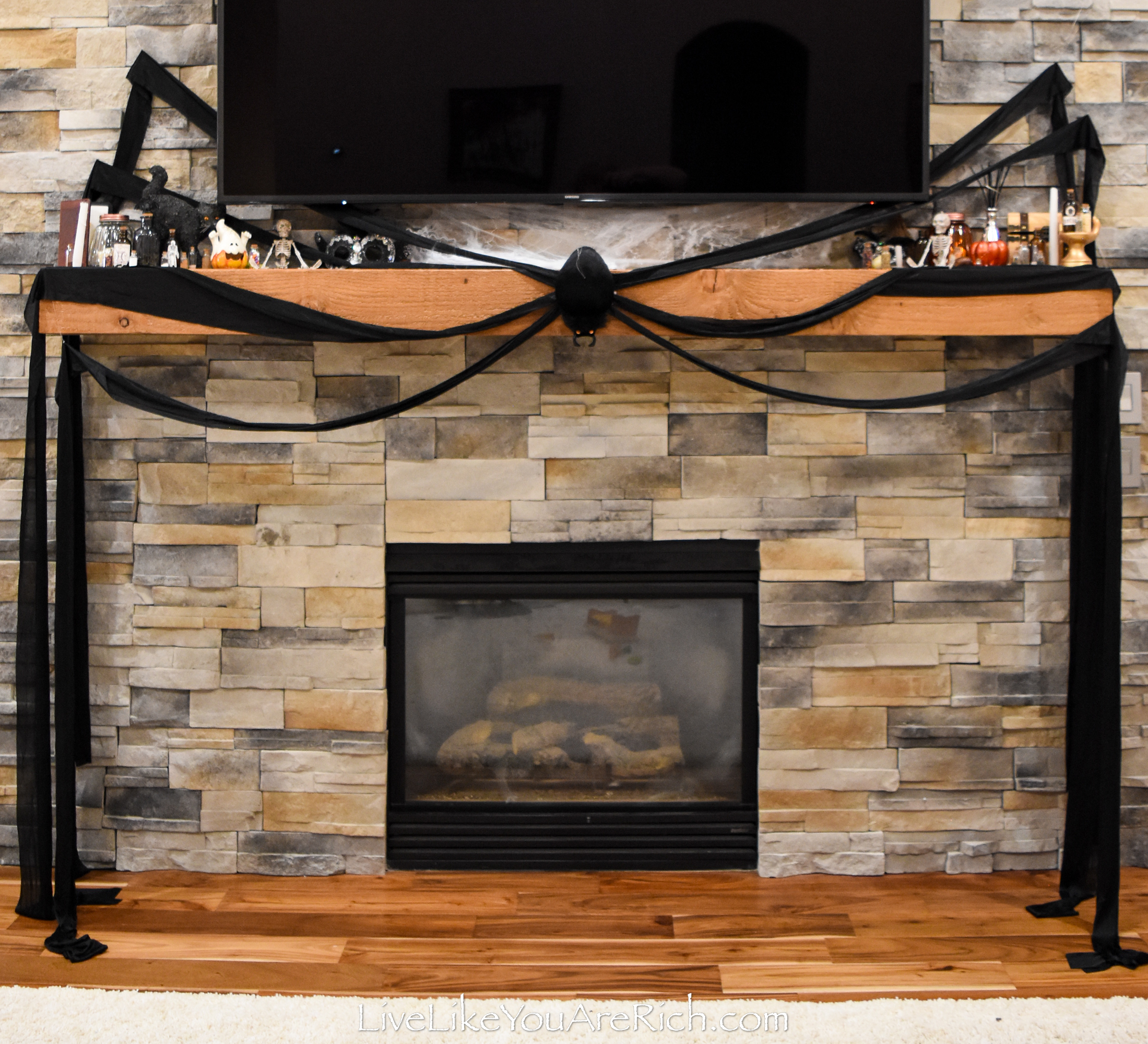 Once you have the supplies for this Ghost-Themed Halloween mantel it is very easy and pretty quick to put together (see supply list below).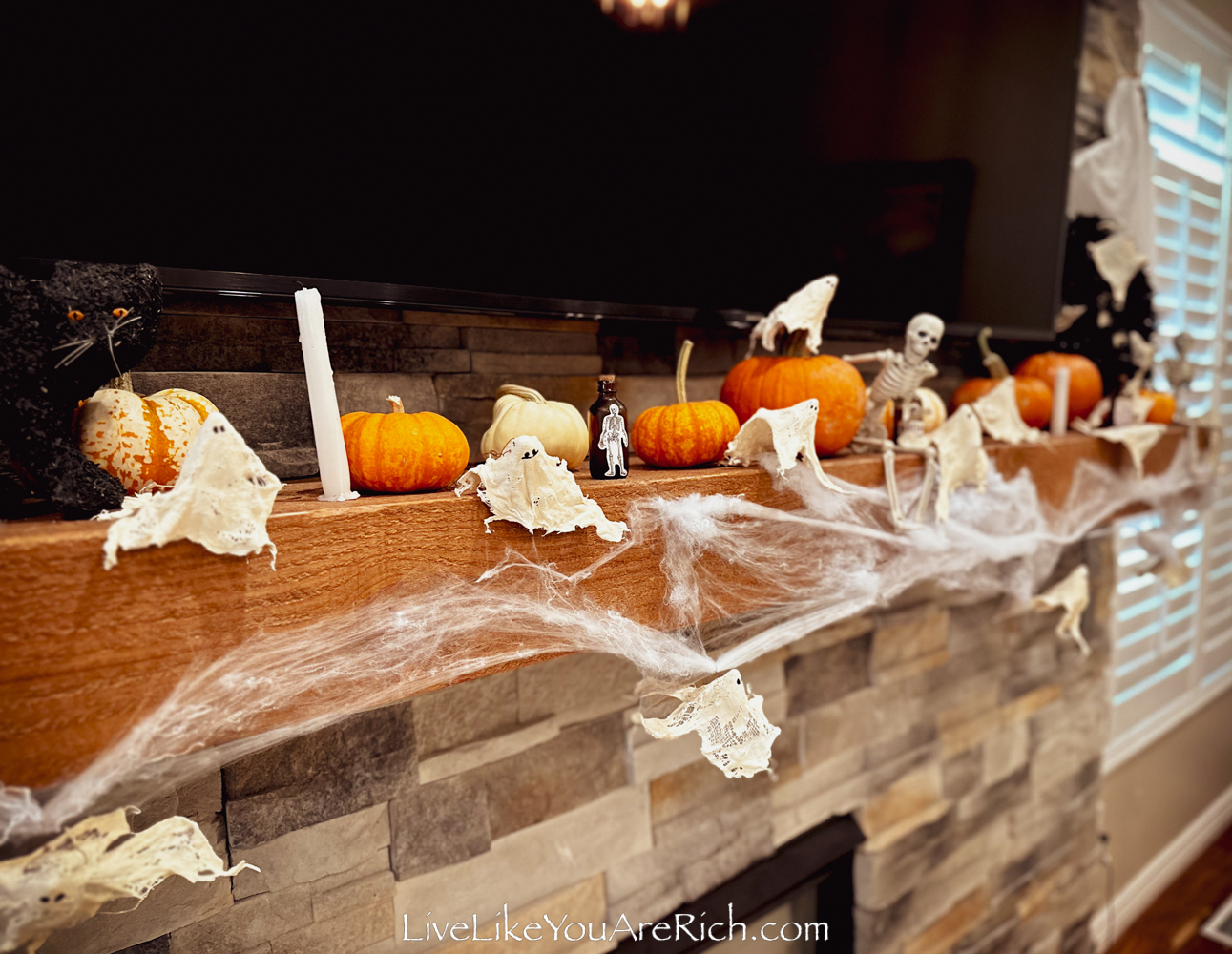 That said, when we made the DIY gauze ghosts that were used on this mantel it did take time.
So keep in mind if you plan to make this mantel that when making the gauze ghosts they will take time.
They are well worth making as they can be used in a variety of Halloween decorations such as this Halloween front door decor and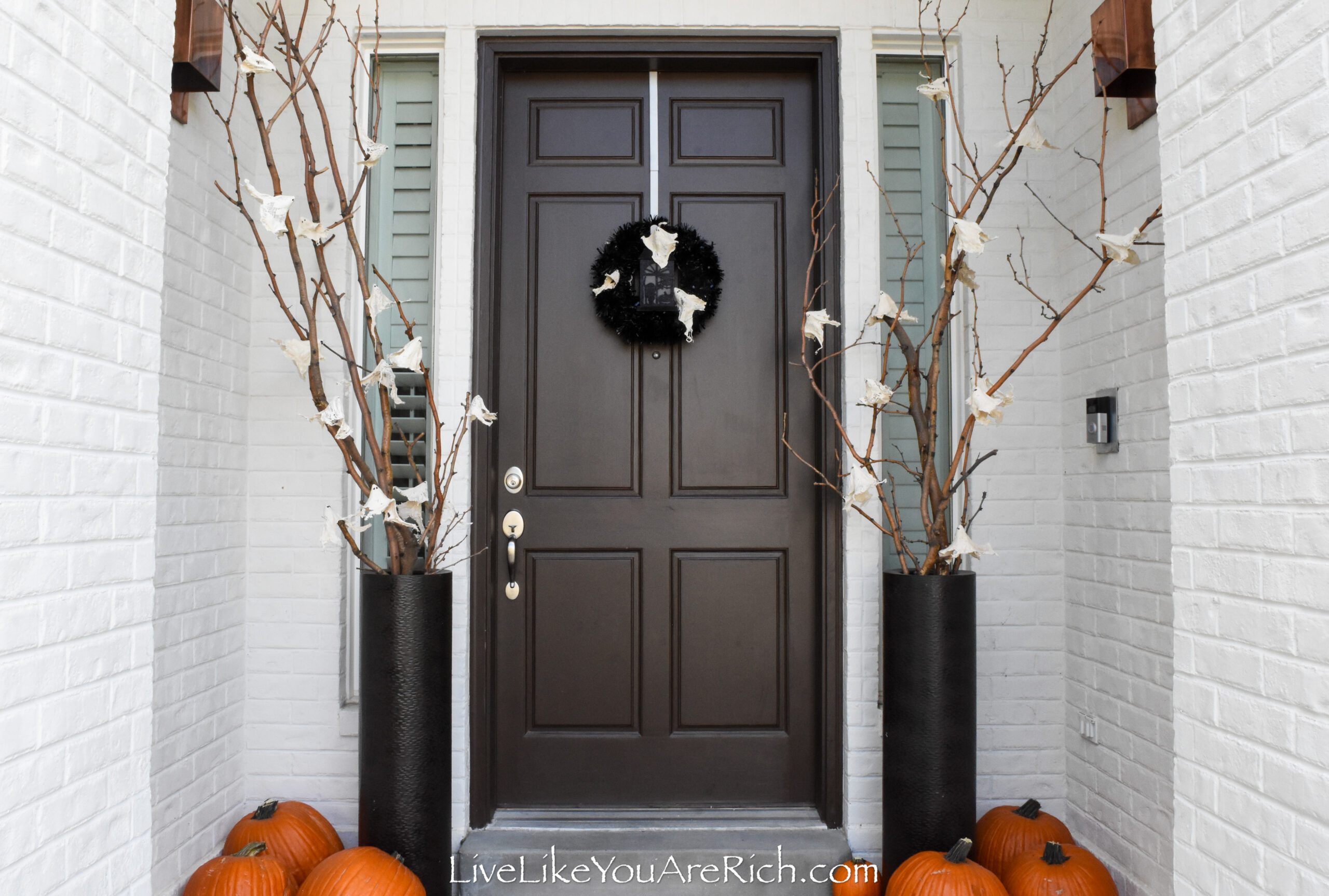 this Haunted House Ghost wreath.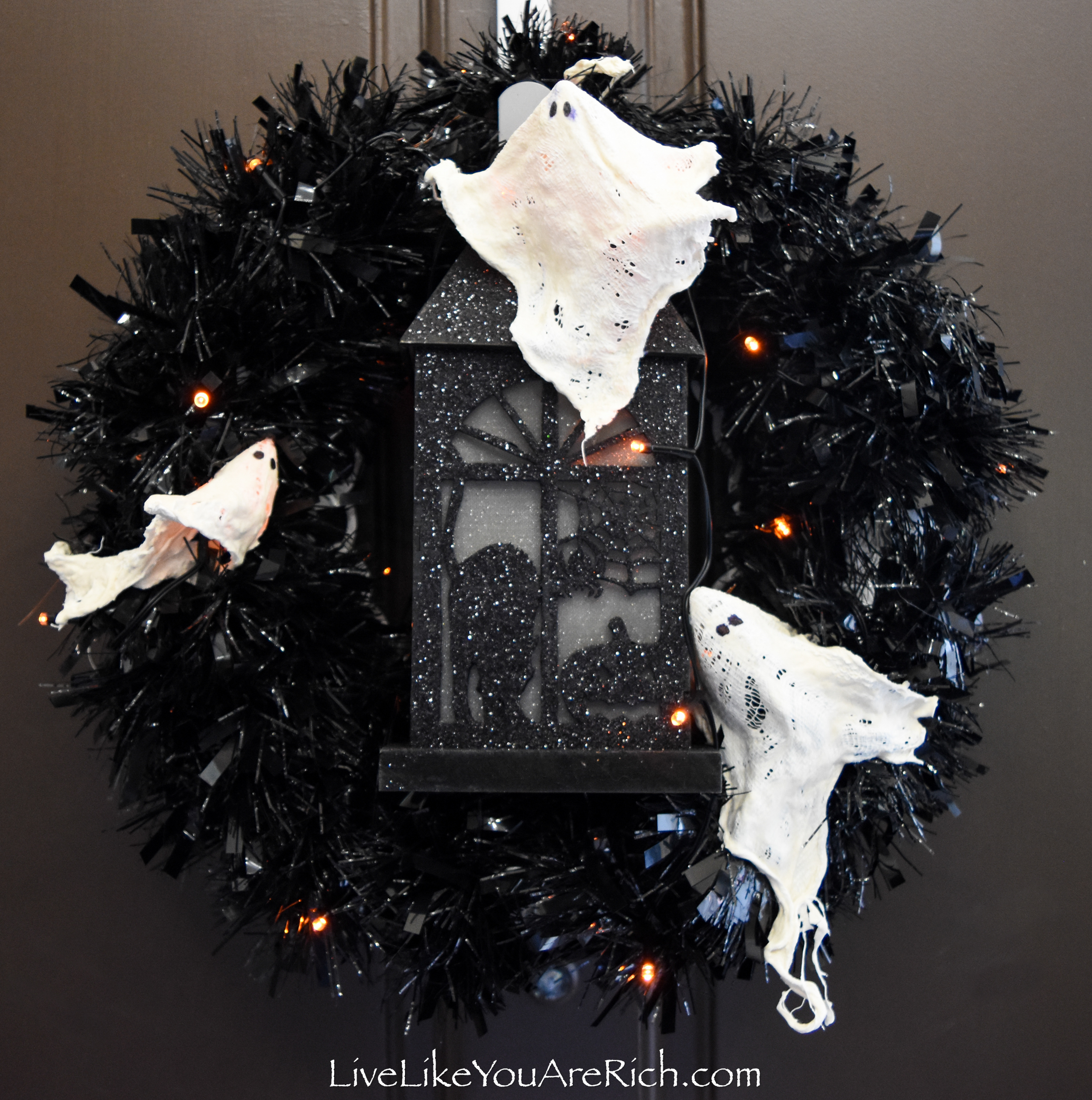 As you can see, I repurposed the wreath for mantel decoration this year.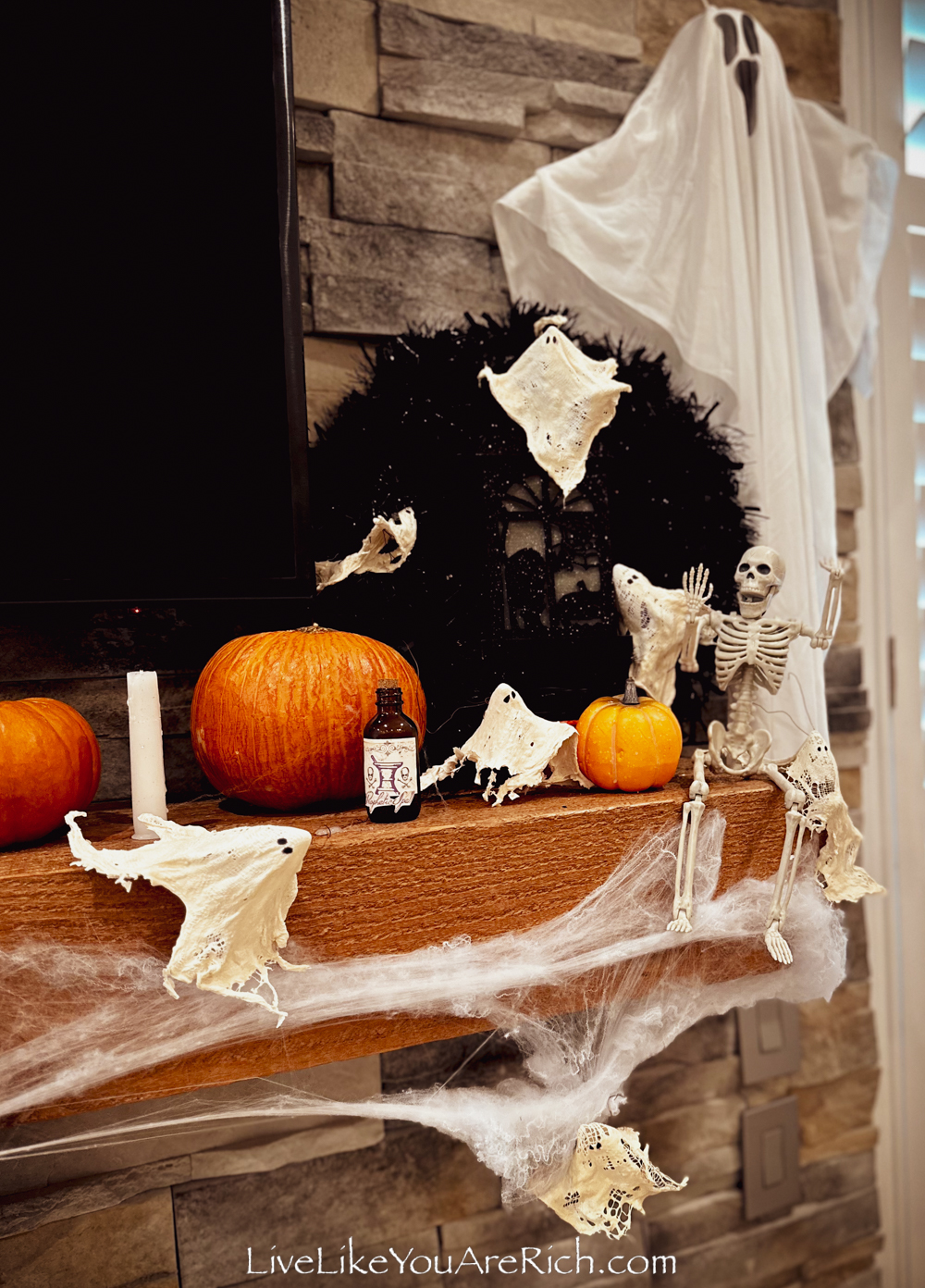 I love re-using and moving decorations around to create new things.
If you like to switch things up, I challenge you to do the same. It keeps things fun and interesting each holiday.
Supply List for this Halloween Ghost-Themed Mantel
3 skeletons (Target) $5.00 each.
supplies for this Halloween Haunted House Ghost Wreath
supplies to make these DIY gauze ghosts
glue gun and sticks— this is my battery-powered glue stick
2 Dollar Tree Halloween Decorative Hanging Ghosts, 36-in.
Pumpkins (faux and real)
black cat
bat-corked bottle found at a thrift store for $1.50 last year.
amber bottles painted with Mod Podge and potion labels (on paper) Mod-podged on,
witches broom (tutorial)
2 white tapered candles, broken, and slightly burned.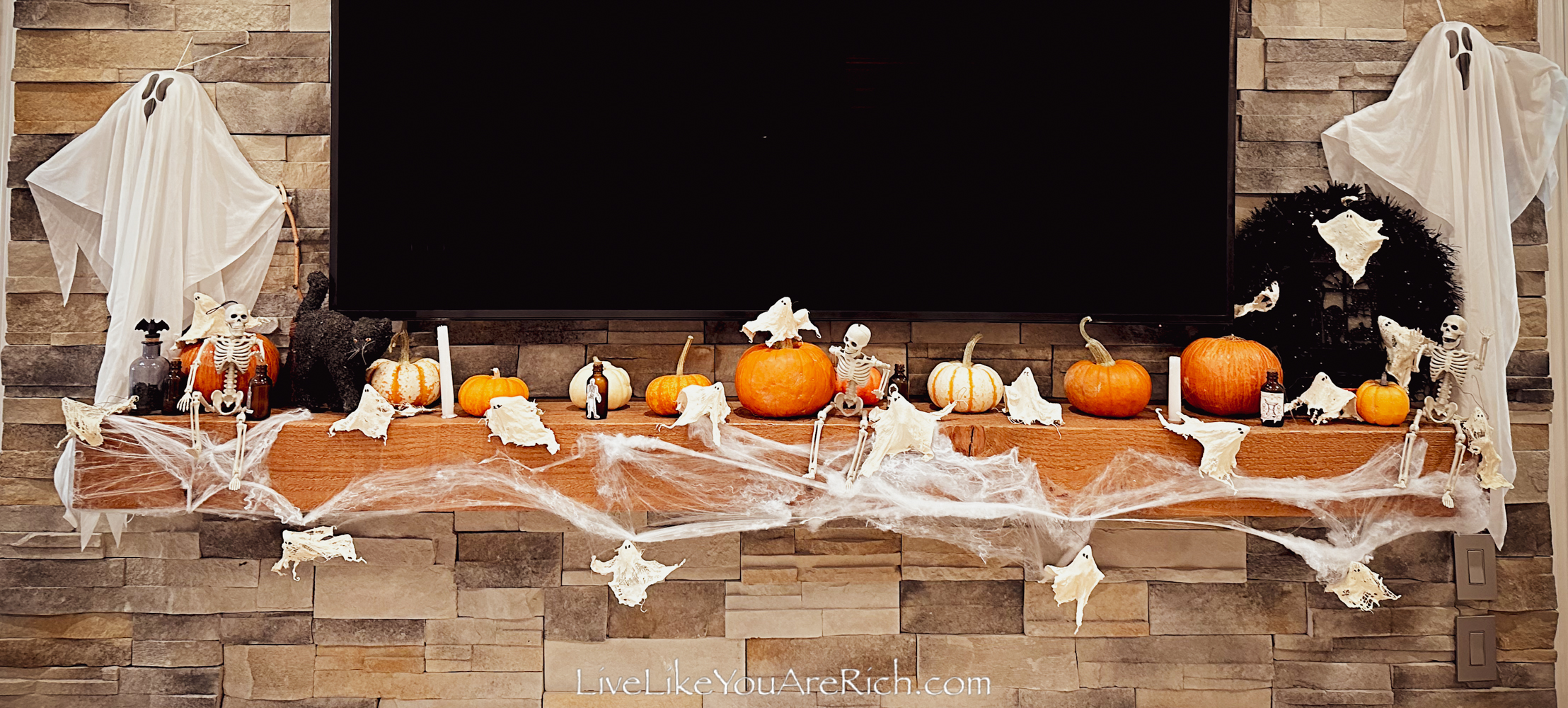 How to Assemble this Halloween Ghost-Themed Mantel
Put a fake spider web on the front of the mantel. If you have a wood textured mantel it should stick on its own as it did on mine. If it doesn't stick on its own, use tape to secure it.
Hang one large ghost on both sides of the mantel. I secured these sheet ghosts with the string, our dry stack (using a little ledge) and since the string kept slipping off the ledge I hot glued the string to the dry stack ledge. The hot glue will hold it until I take the ghosts down. When I take the string off the hot glue will pop right off—so it won't ruin it.
Set up a medium-height scene next to the large hanging ghosts on both sides. On the right, I put our haunted house ghost wreath and then added a skeleton, pumpkins, and an amber bottle for that cluster of medium-height objects.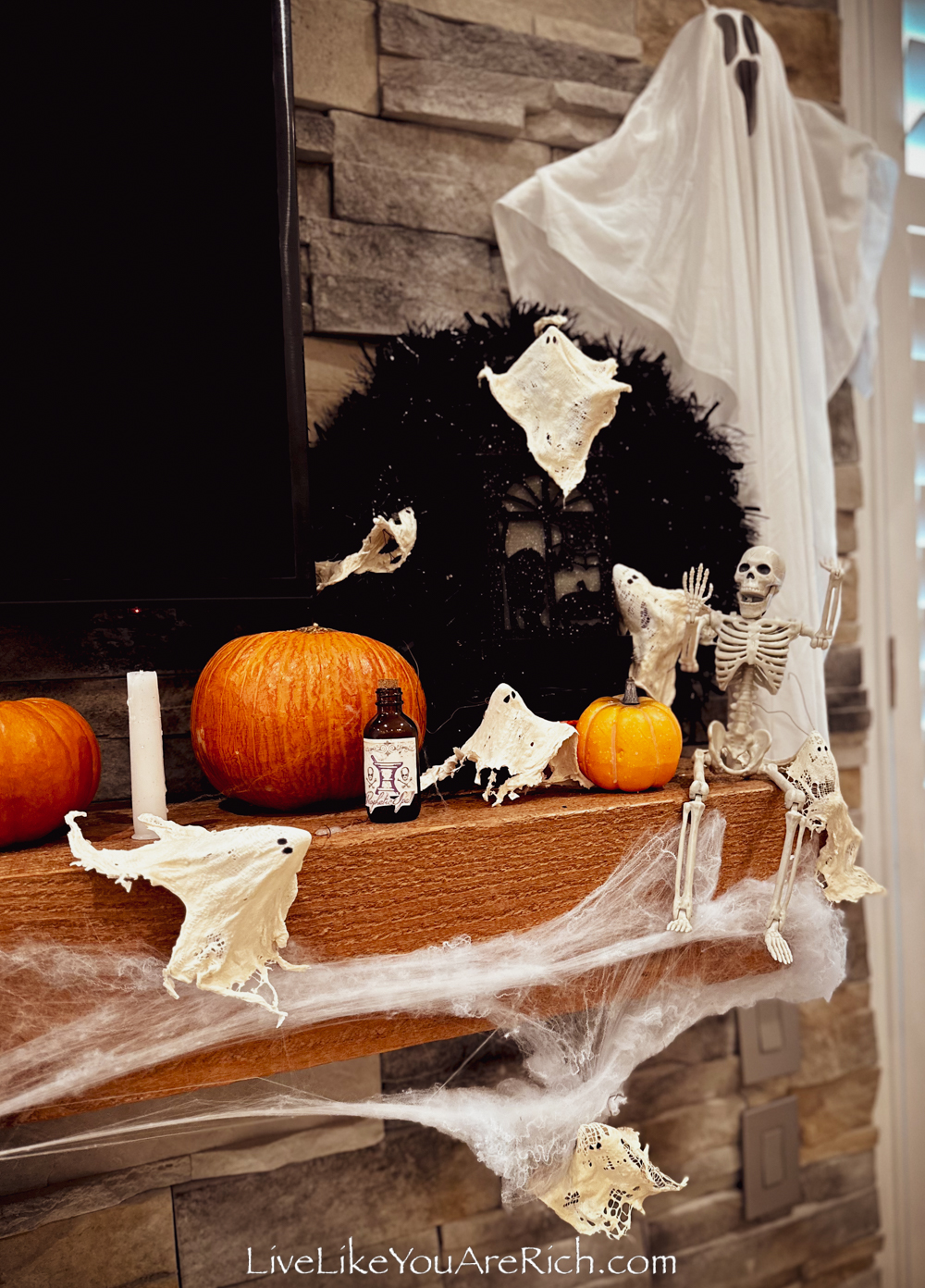 On the left, I set out a DIY witch broom, a cat, a skeleton, a bat bottle, a pumpkin, and a few amber bottles.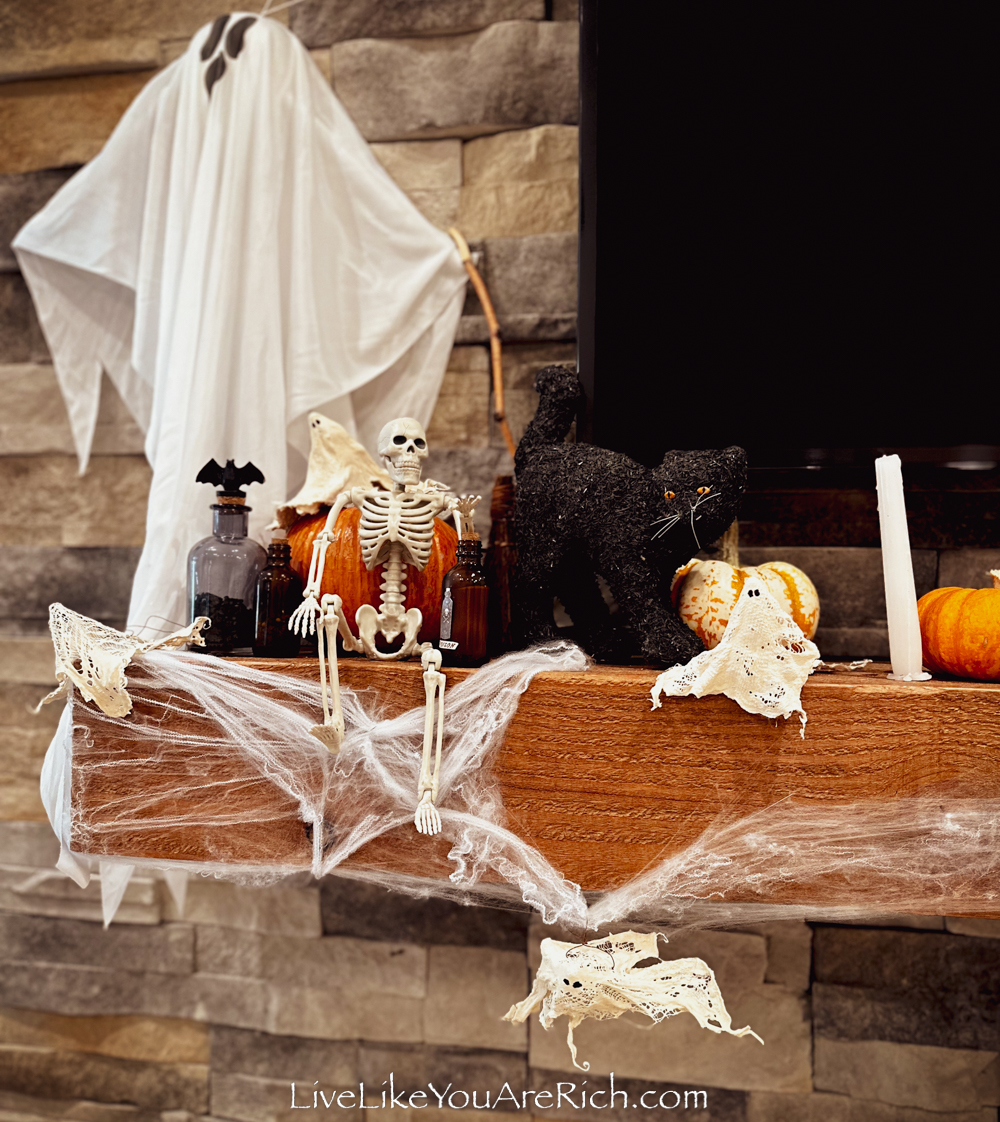 Adding clusters on both sides of the mantel gives variety and balance to the mantel decoration.
4. Add a focal point. I put up a little cluster of objects in the middle of the mantel. I added a skeleton, a ghost on a larger pumpkin, and an amber bottle, and a few ghosts. I worked to tie the objects to both ends of the mantel. The ghosts are either sitting on their own or are being held in place by a floral wire that we attached to them last year when we hung them from the branches by our front door. See the video tutorial on the DIY Gauze ghost tutorial to see how we attached the floral wire to them without breaking them.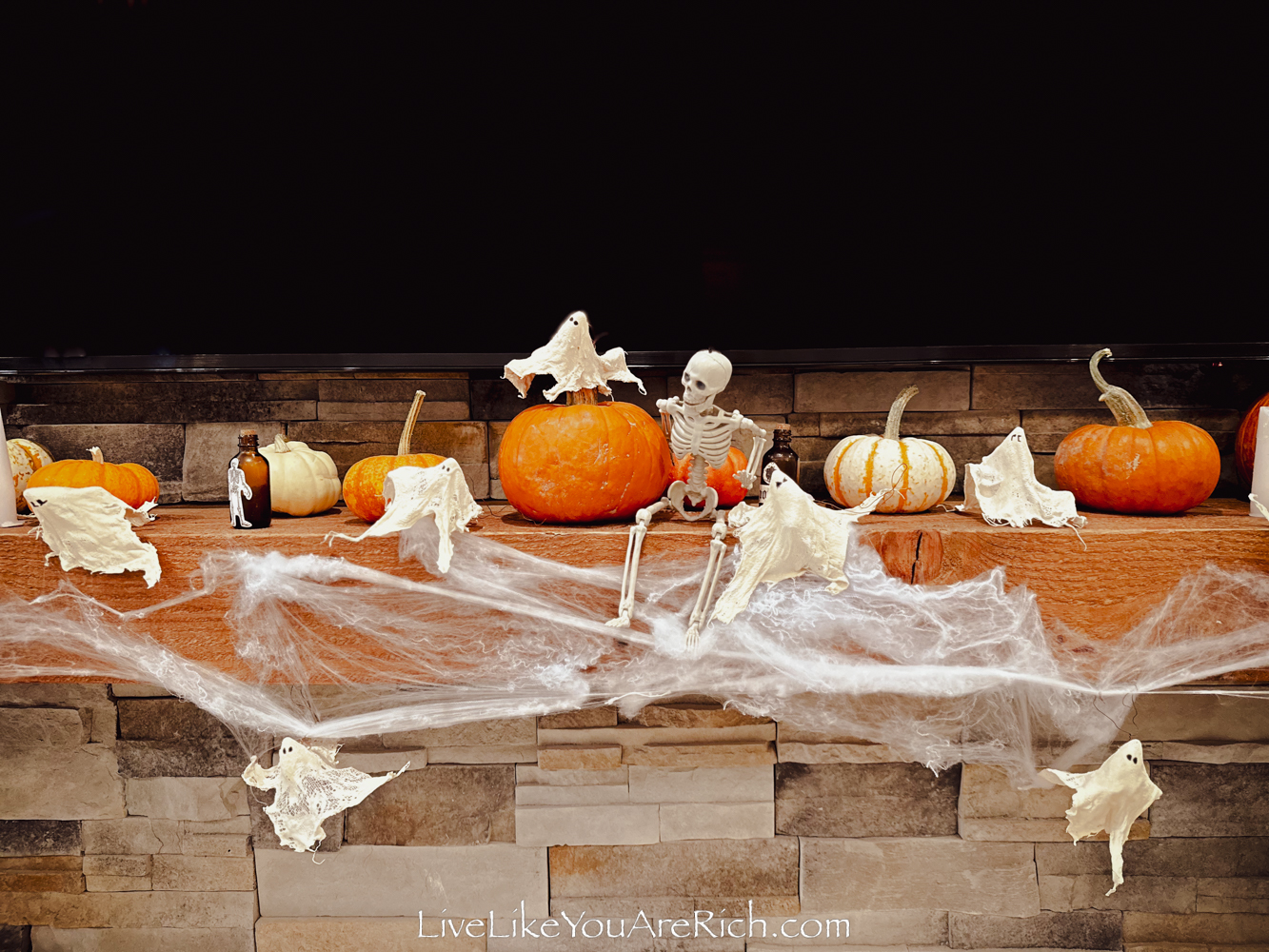 5. Finally, I worked to tie in the areas of the mantel on both sides that are between the middle/focal point and side clusters of objects on both sides of the mantel. To do this, I put pumpkins, candles, amber bottles, and ghosts in between the end cluster of objects and the focal point.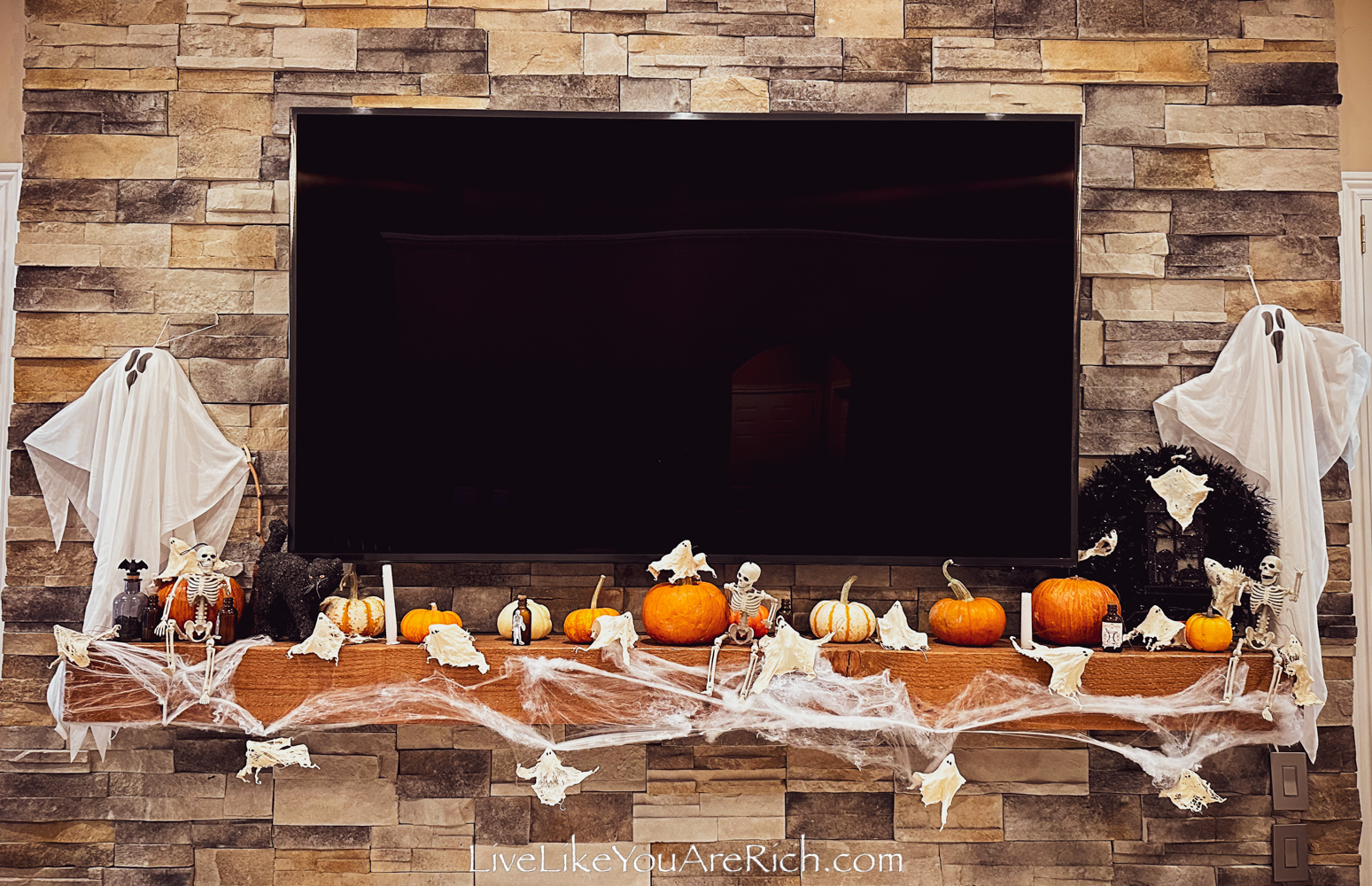 6. To add visual interest my daughter and I hung four gauze ghosts from the faux spider web to dip down below the mantel.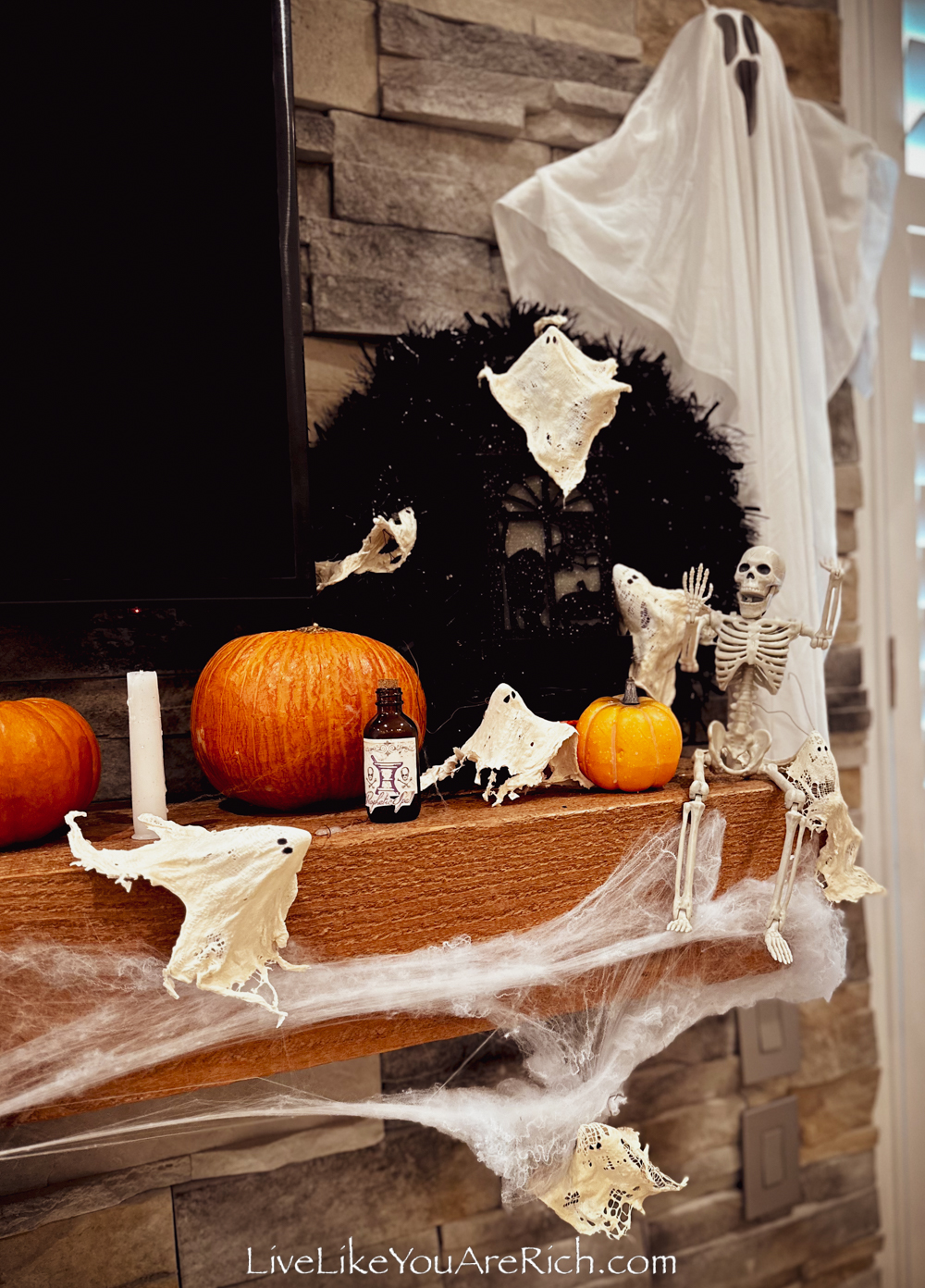 On occasion, I would step back and see where things looked too squished or too spread apart and worked to create balance.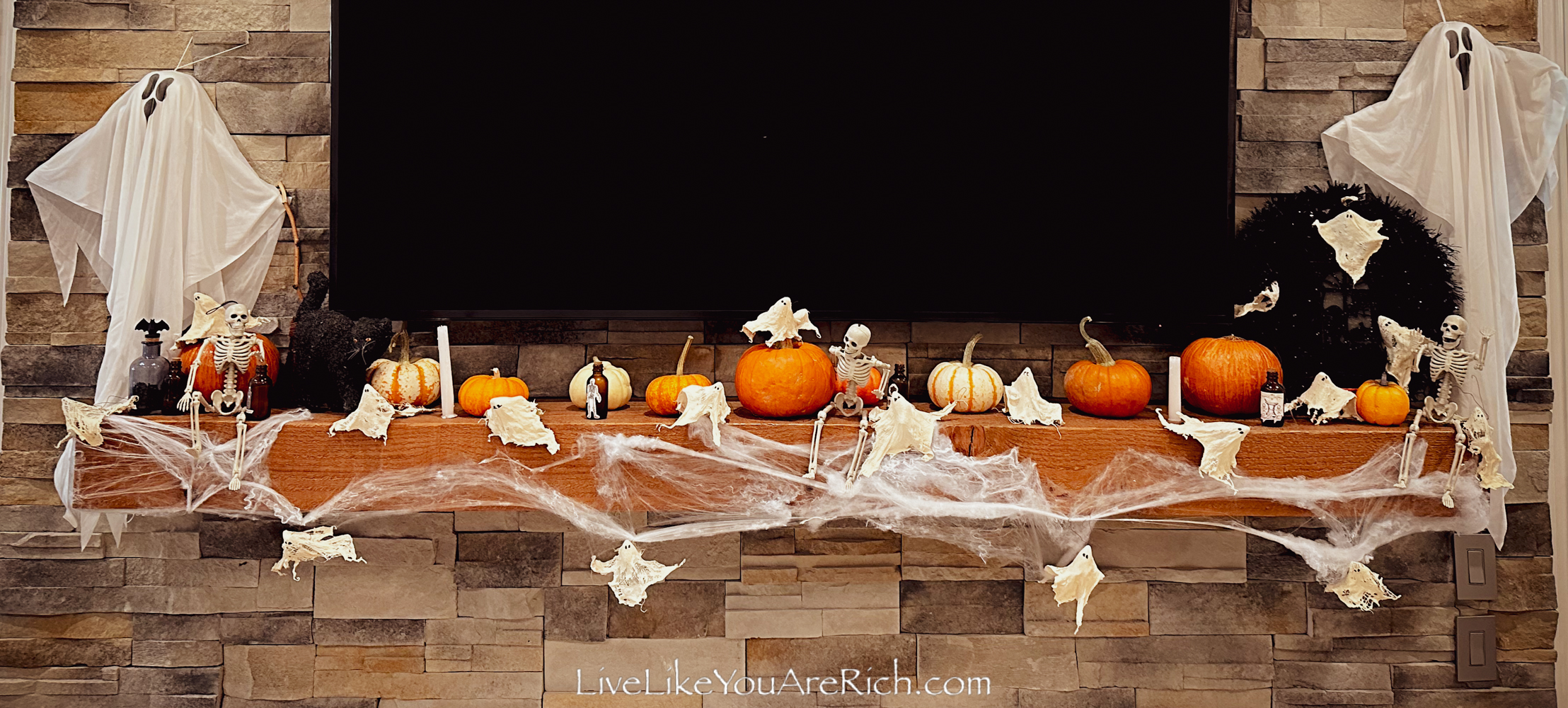 That's it!
Happy Halloween!

For other 'rich living tips' please Subscribe Here for my weekly email or connect with me on these other platforms: