Timeless Christmas Mantel Decoration
This is our mantel this year.
I love to switch up decorations and have different themes for our fireplace mantel. I've posted our nativity mantel, our santa mantel, and our red truck mantel before.
This year I struggled on what to call this mantel decor and just came up with Timeless Christmas Mantel decoration.
The reason why I termed it this is because the mantel is very simple and many of the items used have been on-trend for years, are on-trend right now, and I imagine they will be on-trend for years to come—giving it a timeless look.
Supply List for this Modern-Simple Christmas Mantel Decor
Using pine garland is timeless. It truly is a classic staple to many mantels.
Using real pinecones is also timeless.
Tiny taper candles. Most kinds of candles will be on-trend for years to come. Held up by little glass jars.
Red stockings. You can not go wrong with red and green and since the garland is green, I choose to purchase red stockings.
Instead of a stocking holder, I just use packaging tape.

How to put together this Timeless Christmas Mantel Decoration
It was very simple, easy, and fairly inexpensive to put together.
First, I measure the mantel and divide it into 7 gaps so I know where to place the stockings to make them look balanced.
Next, I use packaging tape to hold up my stockings. I love using strong tape because you can't see it as it's clear, it also doesn't damage our wood mantel, it is inexpensive, and it's strong.
I have been wanting embroidered personalized stockings for years. However, I wasn't sure when we would be done with having kids until Brighton came. I didn't want personalized stockings that didn't match each other. So, after he was born and we knew he would be the last, I felt it was a good idea to buy personalized stockings.
Embroidered stockings can be very expensive. I kept my eye on these ones and figured that if I bought them in late spring or early summer, they may be deeply discounted. I was in luck.
Typically, these stockings cost $45+ each—embroidered. I waited until Mark & Graham had a sale on the stockings and included personalization for free. I got each one for $17.99.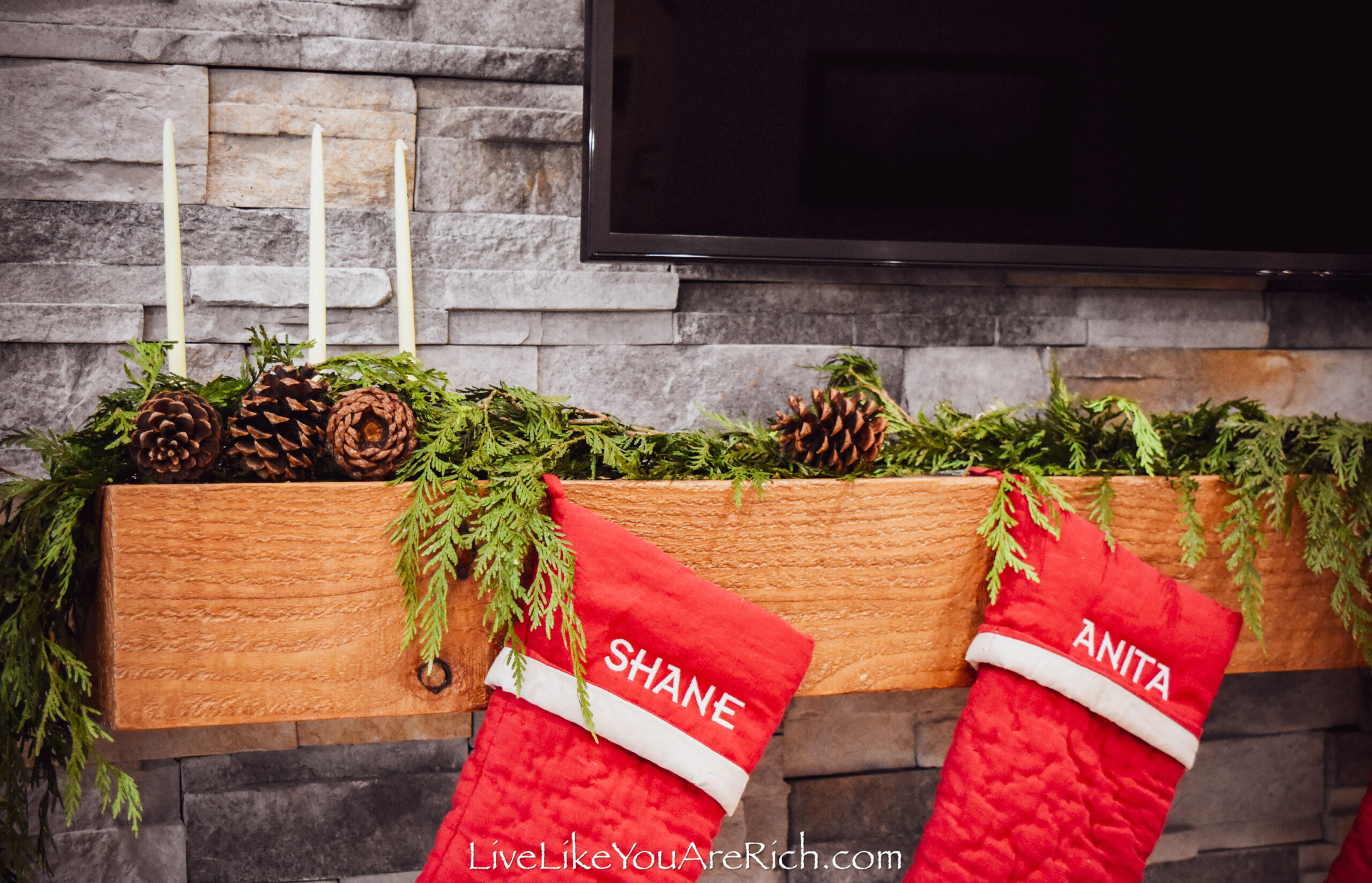 I put candles on the fireplace mantel in a group of three on both ends of the mantel.
These small off-white tiny tapered candles were ones that I had on hand. I purchased them for $8.00 for 12 after Christmas last year from Williams Sonoma. I used tiny glass jars I had on hand to hold them up. You can see a close up of how they are standing in the glass jars on this Thanksgiving Day mantel.
I put a 13′ length of pine garland over the mantel. I just cut down a 30′ from Costco to what I thought looked good. I believe the garland was about $20.00. So it was about $10.00 for this piece.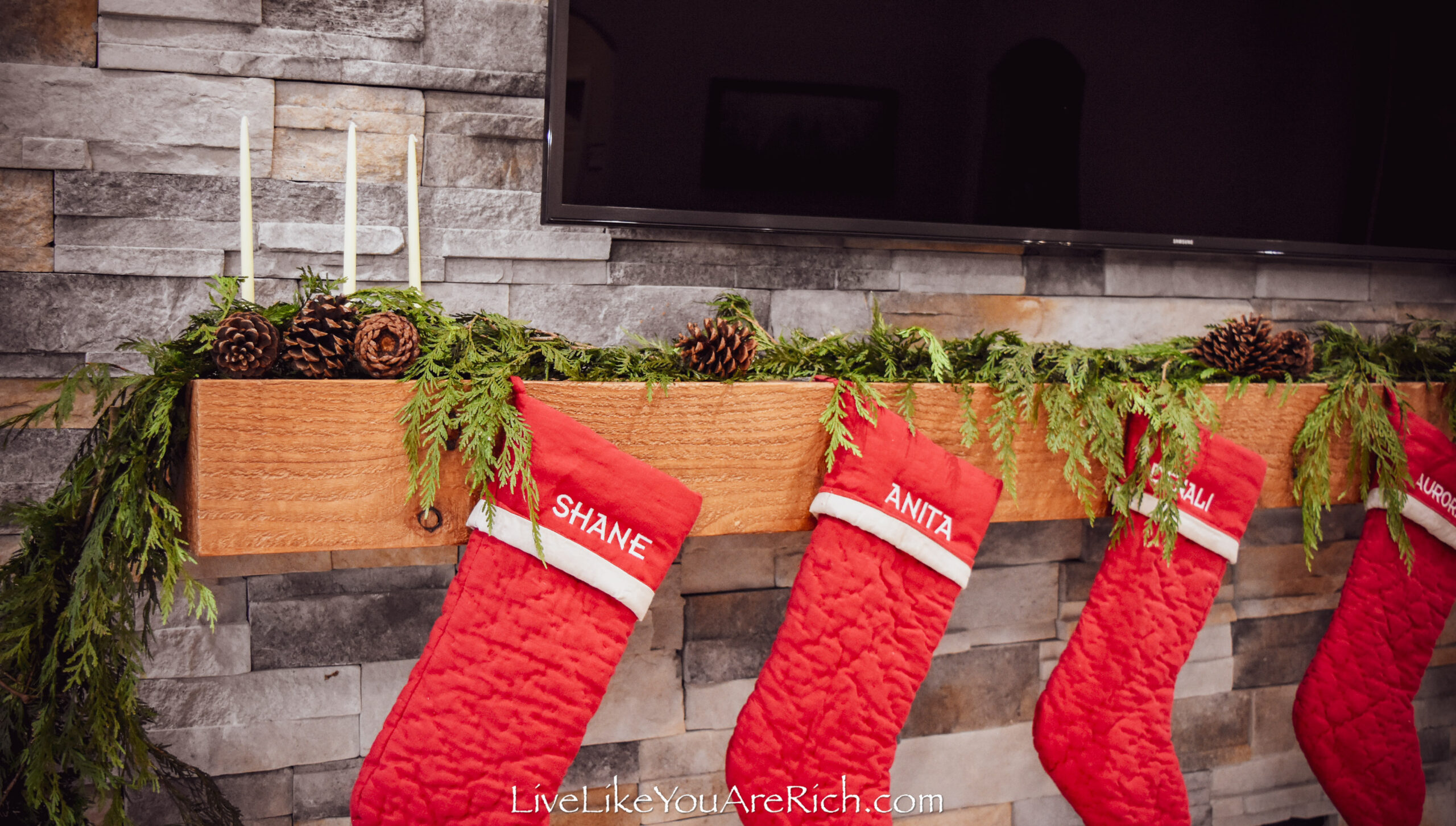 If you soak the garland in water with vegetable glycerin for a few days and then pat it to dry, then spray it liberally with Wilt Stop before setting it out, it will last for much longer. I'll try to do a blog post on how to do this soon.
Spritzing the garland once or twice a day with water helps prolong its life as well.
Finally, I just set out pinecones in groups of 1 or 3.
That's it.
This mantel took me about 15 minutes to put together.
Cost of this Timeless Christmas Mantel Decoration
The stockings were pricey (even on sale) for six it cost $108.00 but I'll be able to use them in future Christmases to come.
The pinecones were free. The packaging tape, minimal, and the candles were bought for something else entirely but were used here so I won't include that cost.
If you don't include the stocking cost, this timeless Christmas Mantel decoration only cost me about $15.00 for the garland and stuff to help preserve it. If you do include the stocking cost it cost $125.00. It's more than I'd normally spend but again, I've been waiting years to buy embroidered stockings so I'm happy I did.
I loved the way it turned out. It's so pretty and cozy looking.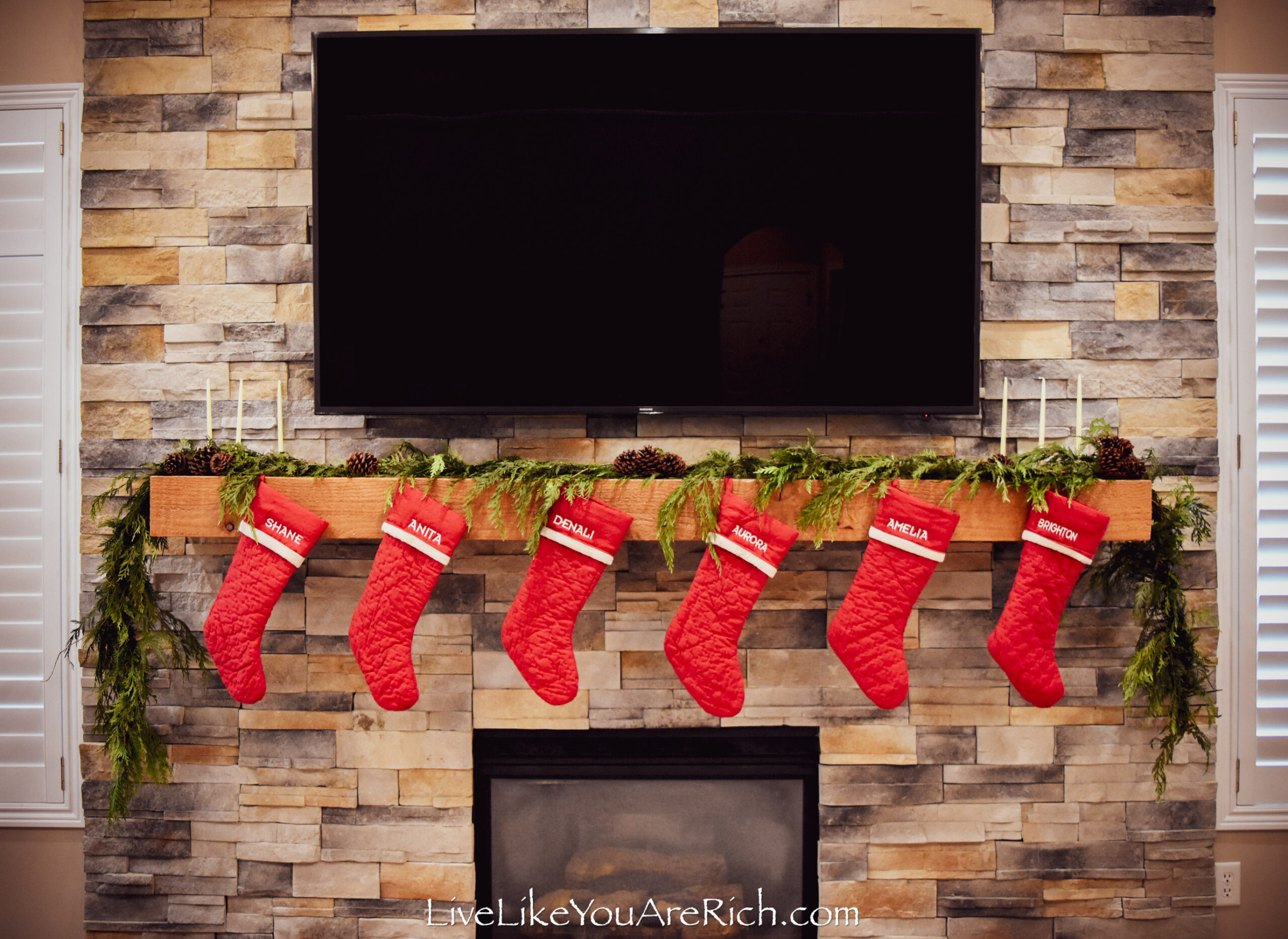 I hope you have a Merry and cozy Christmas this year!

For other 'rich living' and D.I.Y. decor tips please subscribe, like me on Facebook, and follow me on Pinterest and Instagram.