I threw my sister this Authentic Afternoon Tea Bridal Shower.
I am really into history, especially Victorian Era history and I wanted to make this Afternoon tea look and feel authentic.
Afternoon Tea at a person's home with furniture was typically held on low tables and was also called low tea. However, I did not have enough furniture and low tables for forty guests.
In the Victorian period, they also had tea houses and tea rooms for larger groups of women and they would have been similar to the look I went with for this afternoon tea.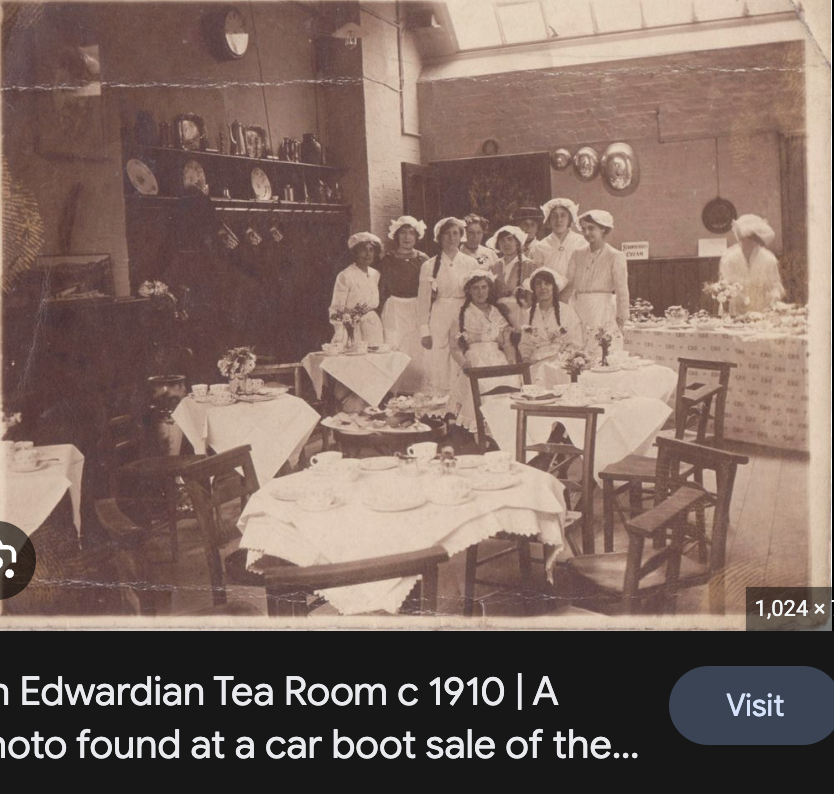 To make this afternoon tea more realistic, I used real porcelain china, glass and crystal goblets, lace tablecloths, authentic food, British teapots, real flowers, and 3-tiered Victorian tea stands.
I received many compliments on this afternoon tea from the guests who attended and more importantly, my sister, the bride-to-be, LOVED it…
It was worth the time and effort that my daughter and I went to to make it feel and look authentic.
You may be thinking that this party must have cost me a fortune. It did cost more than most parties I have thrown. However, for most people, when I say I was able to throw an authentic afternoon tea bridal shower for 40 for $400.00, I think they'd think it was fairly reasonable.
I want to be transparent as I had a lot of china, teapots, teacups, chairs, vases, etc. and I borrowed a lot of items as well.
If you do not have access to these items or know people who would allow you to borrow needed items, you're looking at adding at least another $500+ to purchase the china, cutlery, napkins, etc. at thrift stores, used, or new.
So if you are starting from scratch had don't need to rent a venue, count on the starting price of $900 for a party of 40.
For specific links to the recipes, free invitation files, free afternoon tea trivia challenge printable, etc. continue reading and I will link to them throughout this post OR you can scroll to the bottom of the page to see the complete list of links to supplies, recipes, and tutorials.
How to Throw an Authentic Afternoon Tea Bridal Shower
First, I made, printed, and mailed off the invitations.
I made these with Photoshop from a clip art file I found online. For privacy, I have deleted my address and phone number from the invitation below.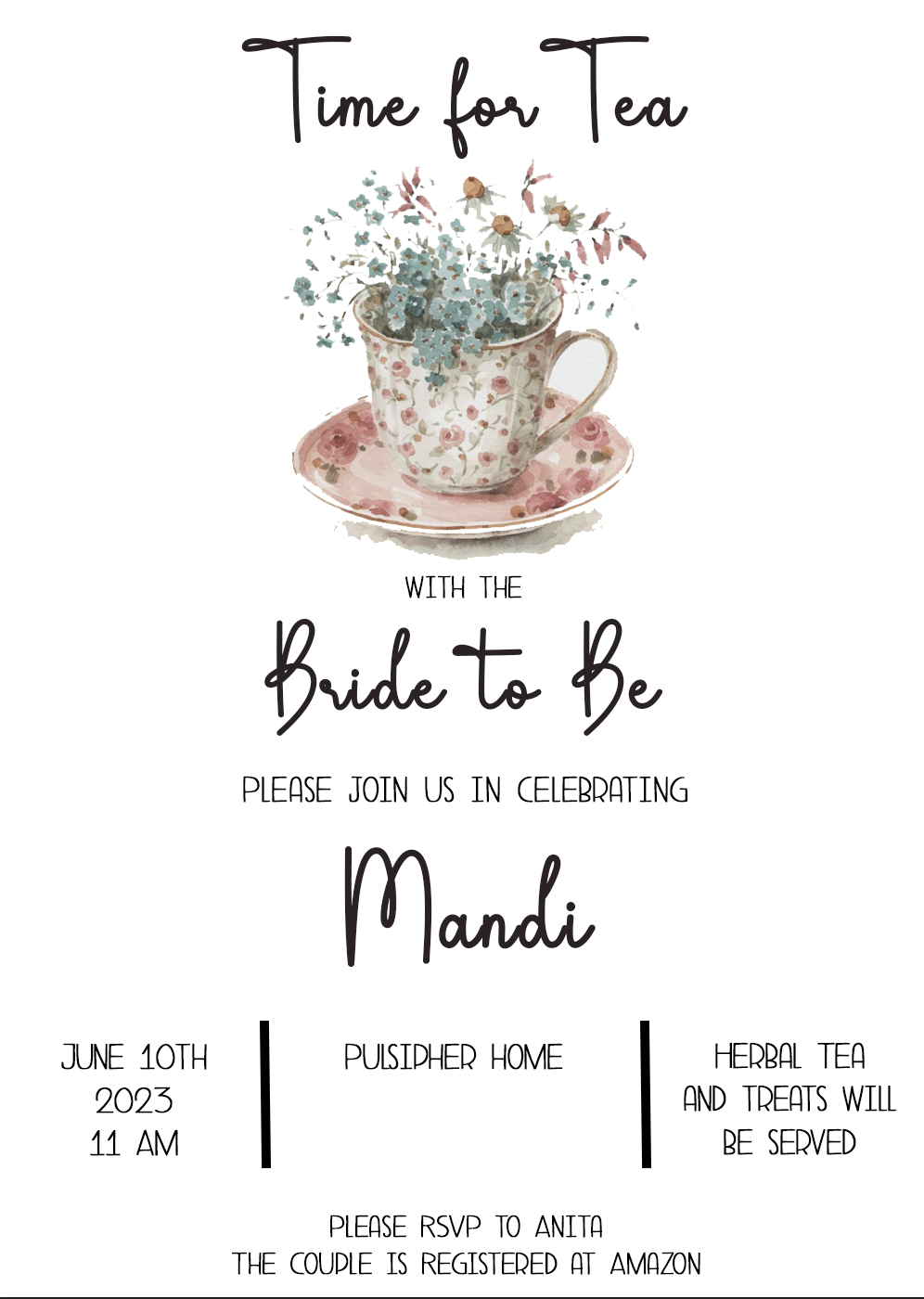 If you have Photoshop you can download the file and change personalize it. The fonts needed are Amelin Secret and DK Aderyn.
If you don't have Photoshop I made a blank invite that you can download and fill in as well. Alternatively, you can find tea party invitations that allow you to fill them with the right font on Etsy.
Since I have Photoshop and wanted a certain design and look and for them to be free, I just made it myself.
I printed them on these 5×7 printable cards and mailed them out using envelopes I had and Avery labels so that I did not have to handwrite the addresses.
You can get the link below to get the free invitations for this afternoon tea bridal shower.
After the invites were sent. I ordered some key things (herbal tea, teaspoons, favors, lace tablecloths), gathered supplies, and made the 3-tiered stands the weeks leading up to the shower.
So while this tutorial is pretty inclusive, it may not be in chronological order.
A few days before the shower I took out my couch, rug, and chairs to clear space for the tables.
This is what our living room usually looks like (if interested you can see how we renovated it here).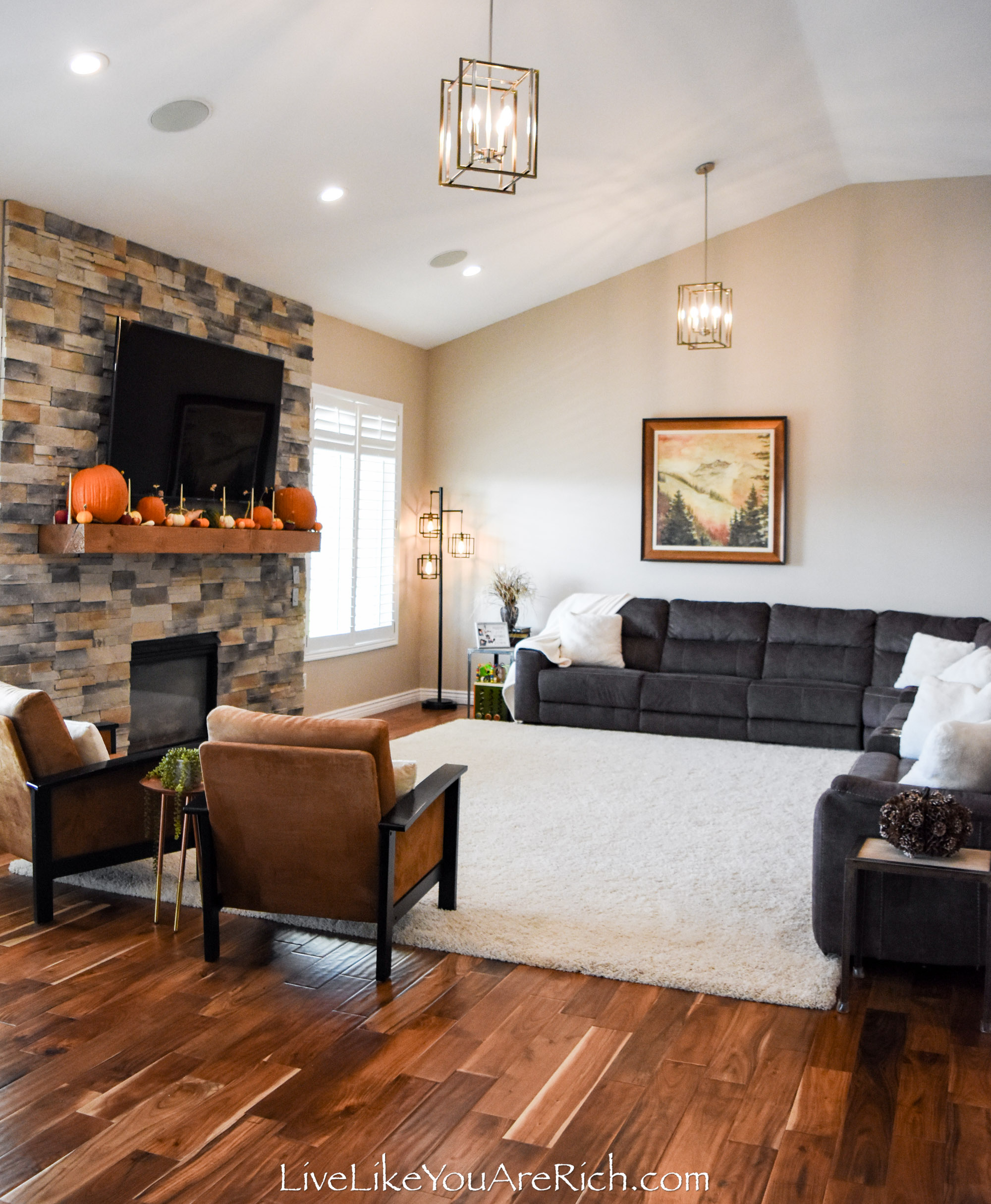 My son helped me lift the furniture into our garage and my daughter helped with the smaller items.
By having the afternoon tea in our house vs. at a venue I saved a considerable amount of money and time as I did not have to worry about transporting items, setting up, and breaking down all at once.
I find hosting parties in my home preferable to hosting at other places. I would have loved to host this outdoors but our area is often very windy and I never want to chance a large party out of doors in our yard.
For the setup, I borrowed 5 round tables from our neighbor along with her white tablecloths.
I had 32 chairs and I was able to borrow the other 8 chairs from another neighbor.
I ordered the lace tablecloths that went on top of the white tablecloths from tablesclothsfactory.com.
I wanted the lace to go down to the floor, so I purchased five 120″ Premium Lace Ivory Round Seamless Tablecloths for $12.00 each.
I really felt like they were worth the purchase because they added a nice touch of elegance.
Although hard to see, when sitting at the table the lace added dimension and beauty to the top of the tables as well as to the sides.
I even set up a little mini afternoon tea for my 4-year-old and her 5-year-old cousin.
I just couldn't get over how cute this little kids' table turned out.
Next, I gathered my china, teacups, teapots, goblets, etc., and realized I would be short for forty. So, I asked my grandma, mom, and grandpa if I could borrow some of their items.
They were happy to share.
Between all of us, I was able to have enough china and teacups for 40 settings.
After borrowing, I actually had extra so I displayed some of my collector's teacups on my mantel and a few awkward-to-pour teapots that I didn't want to use along with some books to tie the mantel decor in with the Afternoon tea theme.
I had six out of eleven 3-tiered Victorian tea stands that I needed for this party.
I calculated that I would need two stands to hold enough food for 8 people seated at each table. I also wanted a stand for the bridal shower favors on the favor table.
I just thought it was so cute to have the favors on a tea stand.
I had these stands stored from a previous afternoon tea party baby shower I threw but needed 6 more.
I made a tutorial on how to make these 3-tiered food stands; they are quite easy to make.
As mentioned, I needed more, so I found some porcelain plates at thrift stores for about .50 cents or less a plate and ordered the hardware sets so that I could make 6 more stands.
Since I have made them before, once I had the supplies, I was able to make each stand in about 5-10 minutes.
They cost about $8.00 each.
Alternatively, you can use a more modern stand like these black ones.
Just be sure you have enough plates for them as well as the settings on the tables.
After I had two stands per table, the settings, as well as three teapots per table (15 total) and a water pitcher for each table, I focused on other details.
I knew that I needed to order the teapot favors as soon as I could so that they would arrive in time.
So I ordered these a few weeks early.
My daughter and I folded them together and put 2 Truvia Stevia sugar packets, 2 Stash teabags, and Ripvan mini waffle cookies individually wrapped and 2 individually wrapped hard candies in each teapot favor box.
My guests loved how cute these turned out… as did I. A huge thank you to my daughter who folded them all while I stuffed them. She was so patient making 50 of these!
For religious reasons, I don't drink black, green, or white tea. So, I provided a wide variety of flavored herbal tea from Stash this way each guest could choose the herbal tea flavor of their choice.
I ordered these early so I knew I'd have them for both the party and the favors. I ordered 12 boxes each with 18-20 tea bags in them for a wide variety (to qualify for free shipping), and for the favor boxes.
The day before the party, I went to Smiths Food and Drug store and went to their discounted flower section. I bought enough flowers to make 6 large vases and some smaller bud vases of real flowers.
I tutorial on how I made these is coming soon.
I LOVE arranging flowers. So, this was fun for me.
I have also used these peony and rose faux flower arrangements I made for an afternoon tea that I threw for my sister-in-law's baby shower which looked lovely well.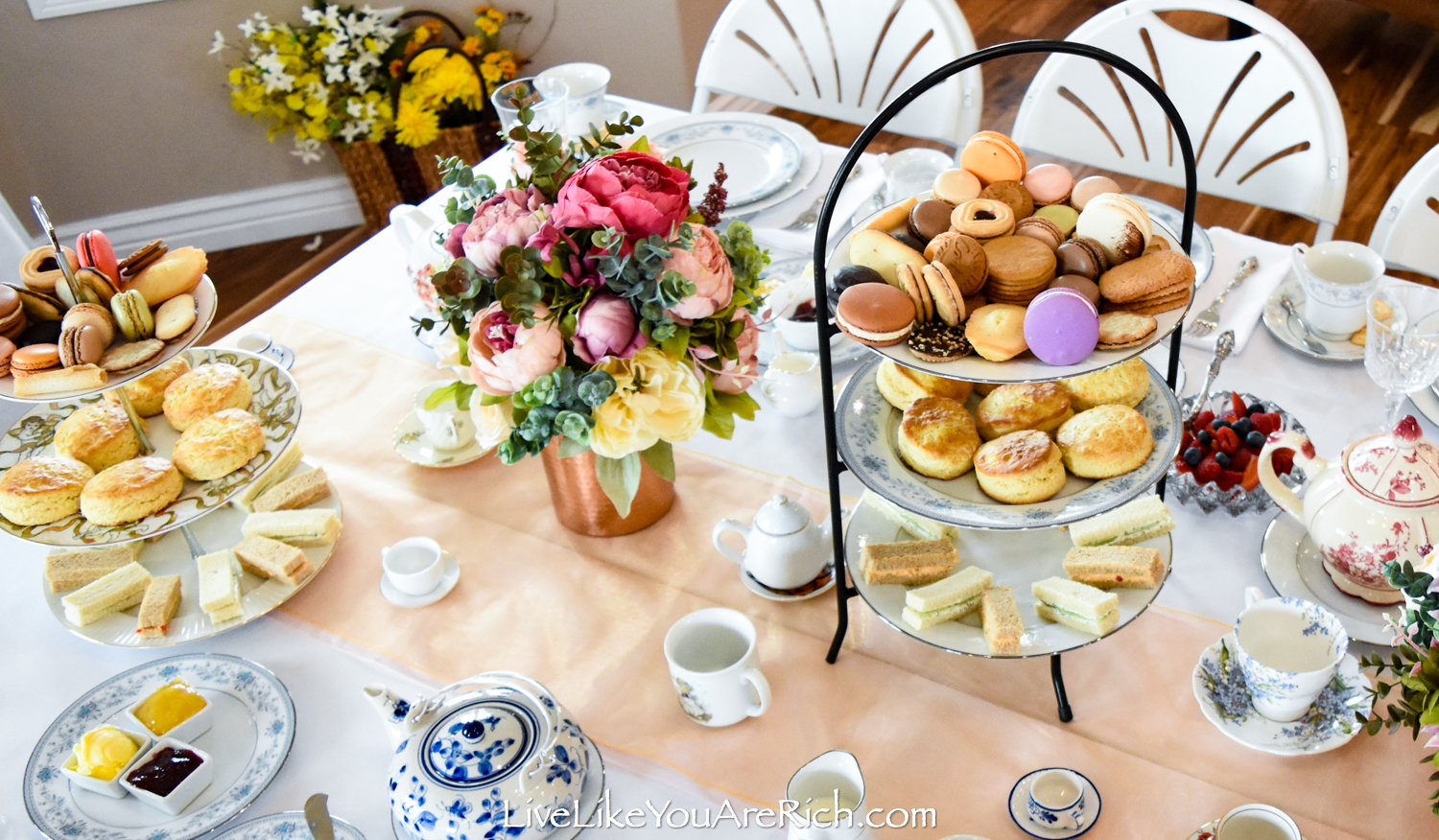 So whether they are faux or real, added flowers really elevate the table.
I love fresh and faux flowers. The reason why I didn't re-use my faux flowers for this party is that I wanted more vibrant colors and to make it a little more elegant as it is a bridal shower.
MENU items for an Authentic Afternoon Tea Bridal Shower
For an authentic afternoon tea you will serve three courses. There is little to no debate on the fact that the sandwiches go first, the scones second followed by dessert, however, some sites say that the scones need to be on the first tier of the stand, others in the middle, and less frequently some say the scones go on top.
So, I did a lot of research on whether the scones went in the middle or the bottom as you see both online. The more reputable, informational, and historical sites said that the sandwiches are on the bottom with the scones in the middle. So, that's what I did.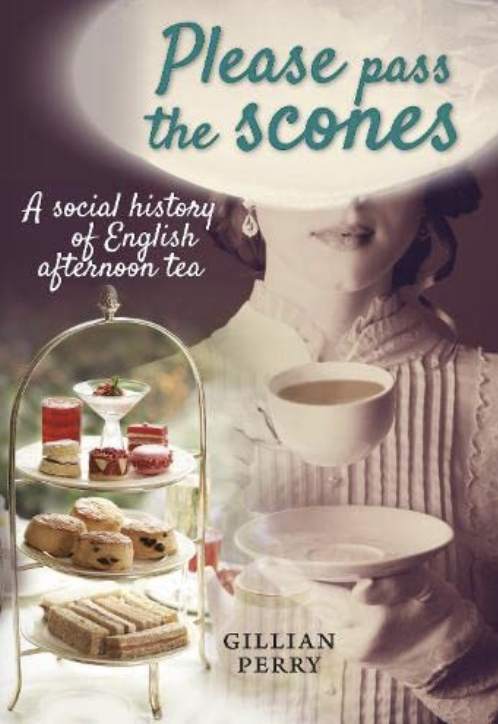 The First Course
The first course of afternoon tea consists of finger sandwiches which are crustless and cut into sizes that are easily handled.
There are many varieties of sandwiches that you can choose to serve at an afternoon tea.
I picked my favorites:
cucumber sandwiches—recipe here,
egg salad sandwiches—recipe coming soon,
chicken salad croissants—recipe coming soon.
A family member brought the croissant sandwiches, so these were added after I was done photographing.
You can kind of see them in the photos below.
A family member brought fresh berries for each table as well.
Berries are a traditional afternoon tea addition to sit separately on the table. The berries were also added to the tables after I was done photographing. You can see them in the photo below.
Nuts were also a traditional item to have at an afternoon tea.
Of course, you need hot water and tea.
For religious reasons, I don't drink black, green, or white tea. So, I provided a wide variety of flavored herbal tea from Stash so that each guest could choose the tea bag of herbal tea flavor of their choice.
I've loved the brand Stash for a while and my guests liked the wide variety of flavors as well.
I boiled a huge pot of water and filled each teapot (3 teapots per table) as the guests were mingling in and my sister was greeting and showing them to their seats.
My mom and some friends and family were all helping fill them as well.
I have been collecting teapots for years and so I had quite a few—most are made in Britain.
I found a few more at thrift stores (yes real porcelain teapots) and I borrowed a few from neighbors and family to have 15.
Aren't they darling?
I loved mixing and matching teacups that I and others had.
Sugar and milk (not cream).
I set out two sets of milk and sugar on each table. Again, I had the sugar and milk bowls and borrowed the rest.
Believe it or not, a lot of Americans want to drink cold water with their tea.
So, I made sure to have goblets and water pitchers on each table. I was curious about how many would be drinking water as well as tea.
During the party, I looked around and found that almost everyone was drinking both.
So don't forget the cold water!
The Second Course
I baked fresh English scones (a recipe which is so good is coming soon)
For the clotted cream…unpasteurized cream which is needed for an authentic clotted cream recipe is almost impossible to find in the States.
I have attempted to make it in the past with skimmed cream from unpasteurized milk which one can find but the recipe failed miserably.
So, we did our best with an Americanized version of clotted cream; it was easy to make and delicious. I'll post the recipe soon.
You also serve scones with strawberry preserves/jam (Bonne Maman is the brand I prefer).
You can also add lemon curd to this second course if desired.
The Third Course
For dessert, we served a variety of petit fours and cookies(biscuits).
We had macarons (store-bought),
apricot biscuits (store-bought),
and I made:
blueberry lemon white chocolate petit fours- the recipe and video tutorial are coming soon,
mint chocolate brownies- the recipe and video tutorial are coming soon,
and mini Victorian Sponge cakes- the recipe and video tutorial are coming soon.
Victorian sponge cake is a staple dessert for an Afternoon Tea party but I did not know how to serve it with so many guests.
I decided to make mini petit four-sized Victorian sponge cakes; they turned out delicious and beautiful- the recipe and video tutorial are coming soon.
That's it for the menu.
So we've covered the table setting, the favors, the food, and now on to the activities…
Activities/Games for an Authentic Afternoon Tea Bridal Shower
Once everyone was seated I got up and welcomed them and asked them to pick a tea if they already hadn't, and get it steeping in hot water. We played the Tea Party Etiquette quiz and How Well Do You Know the Bride and the Groom while the tea was steeping.
I made up the etiquette quiz using some questions I found online and things I know and have researched about Afternoon tea- the free printable is coming soon.
My older sister told me that she was really happy we did the quiz first because she was completely lost on what proper Afternoon tea etiquette was and got most of the questions wrong.
So, she was glad we did this quiz while the tea was steeping and I'd recommend this as well for others.
The winner got a candle.
We then went on to how well people scored on the bride and groom quiz. The person who knew my sister's fianće the best got a candle, and the person who knew Mandi the best got a candle as well.
It was fun and most importantly quick so that the tea didn't steep too long and we could move on to eating.
Then we just enjoyed the afternoon tea for about 45 minutes, opened gifts, and passed out the favors.
The party lasted about an hour and a half to two hours and was a fantastic experience.
My husband installed an audio system in our home and he had some classical music playing in the background as well.
One of my cousins who is also obsessed with the Victorian Era said that it was like walking into an English tea room and experiencing a real authentic afternoon tea.
That comment among the many others made me so happy.
Supply List for this Afternoon Tea Bridal Shower.
5 round tables 6′ in diameter (8 chairs fit perfectly for each).
40 chairs
1 table for favors, flowers, and extra desserts.
5 round white tablecloths
5 round 120 lace tablecloths ($60.00)
Tablecloth and lace covering for the favor table (had)
fresh flowers for 6 arrangements day-old discount flowers ($25.00)
copper flower vases (had)
Stash herbal tea (13 boxes) $51.00
teapot favors (50 boxes) $18.00
Truvia packs (had)
Mini waffle cookies 36 count x2 ($23.00 on sale)
china, cutlery, goblets, napkins and teacups for each guest.
Scones recipe for 40 ($10.00)
candles as prizes ($3.00)
clotted cream-American version (family brought)
jam (family brought)
bread and ingredients for cucumber and egg sandwiches for 40 ($15.00)
Chicken croissant sandwiches (family brought)
mixed nuts ($10.00)
berries (family brought)
Petit four ingredients ($15.00)
mint brownie ingredients ($15.00)
macaroons ($17.00)
biscuits ($5.00)
Mini Victorian Sandwich ingredients ($10.00)
milk and sugar ($3.00)
China (had or borrowed)
cutlery (had)
napkins (had)
teapots (had and borrowed)
sugar and milk bowls (had and borrowed)
teacups (had and borrowed)
goblets (had and borrowed)
Victorian stands had and made 6 more ($45.00)
invitations cardstock cards $7.00
envelopes (had)
Avery labels for envelopes (had)
stamps $23.00
ink for printing everything ($5.00)
additional 30 teaspoons ($17.00)
Misc ($30.00)
child tea party set up (had).
After the party was over my kids kept using it over and over, it was so cute. You can find a link to most items needed for this kids' version in this post here if you don't want to read that post the main items are: IKEA LÄTT Children's table and 2 chairs, white/pine
Tea party wooden food (for the exact one, google Tender Leaf Toys, Chocolate Bonbons NMS21_Z28VD—where I purchased mine is sold out)
Cost of this Afternoon Tea $400.00 total
Afternoon Tea Bridal Shower Links to Tutorials, Free Downloads, and Recipes (if there is no link, that tutorial is still not posted but will be soon)
Free invitation
Victorian 3-Tiered Stand DIY tutorial
Real flower arrangements and/or faux flower arrangements
Scone recipe
Americanized clotted cream recipe
Egg Sandwich recipe
Chicken Croissant sandwich recipe
Mint Flower Brownies recipe
Mini Victorian Sandwich Petit Four recipe
Blueberry Lemon Curd White Chocolate Petit Fours
Etiquette Quiz and Bride and Groom activity downloads (free)

For other 'rich living' and D.I.Y. decor tips please subscribe, like me on Facebook, and follow me on Pinterest and Instagram.