I realize many have shifted holiday gears and moved on to Christmas. I too am moving on, I just wanted to quickly share this Vintage Modern Fall Tablescape I made for our dinner Thanksgiving of 2020.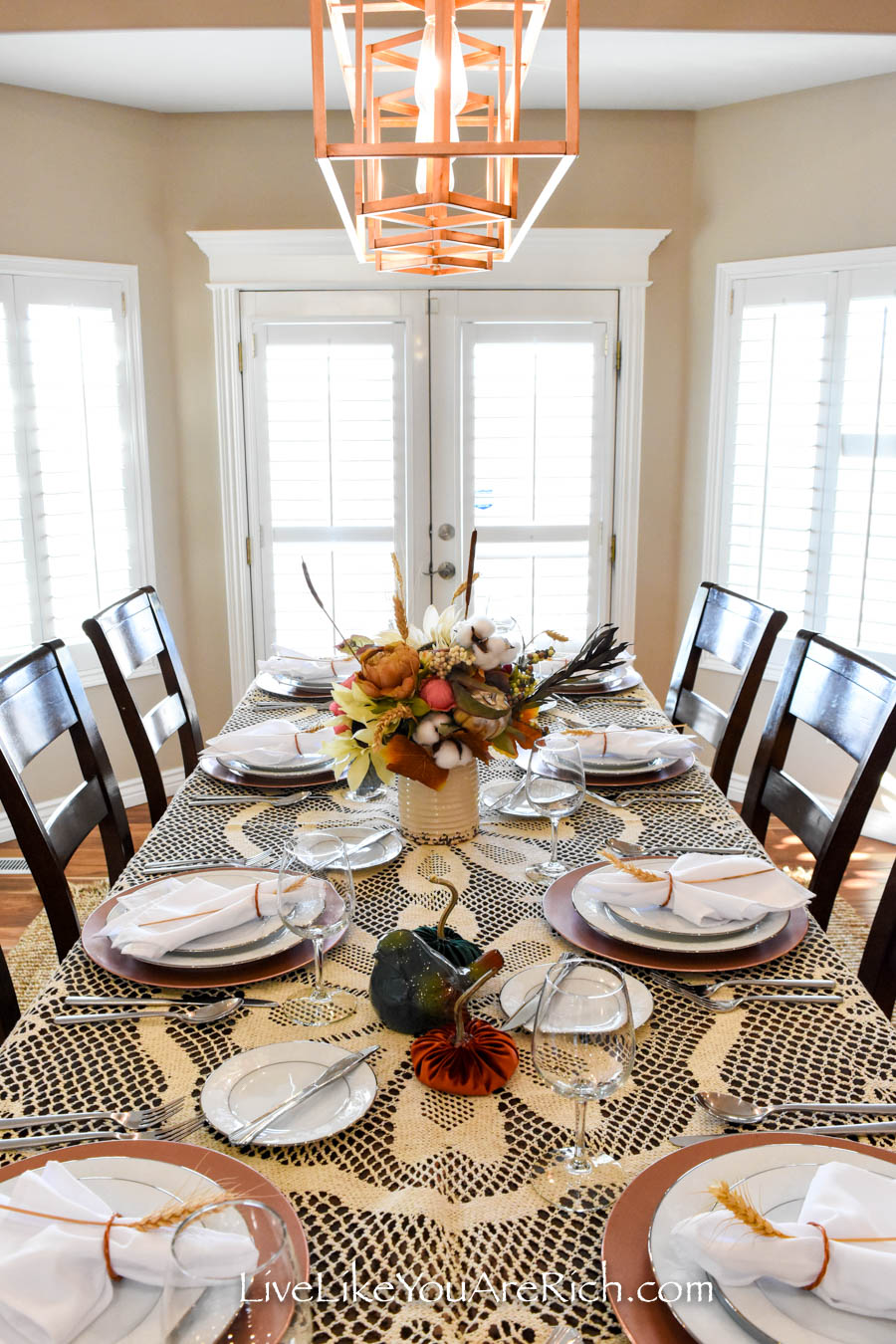 I was actually surprised with how quickly and easily this vintage modern fall tablescape came together.
Unlike a few of my other fall tablescapes, this one is very minimalistic.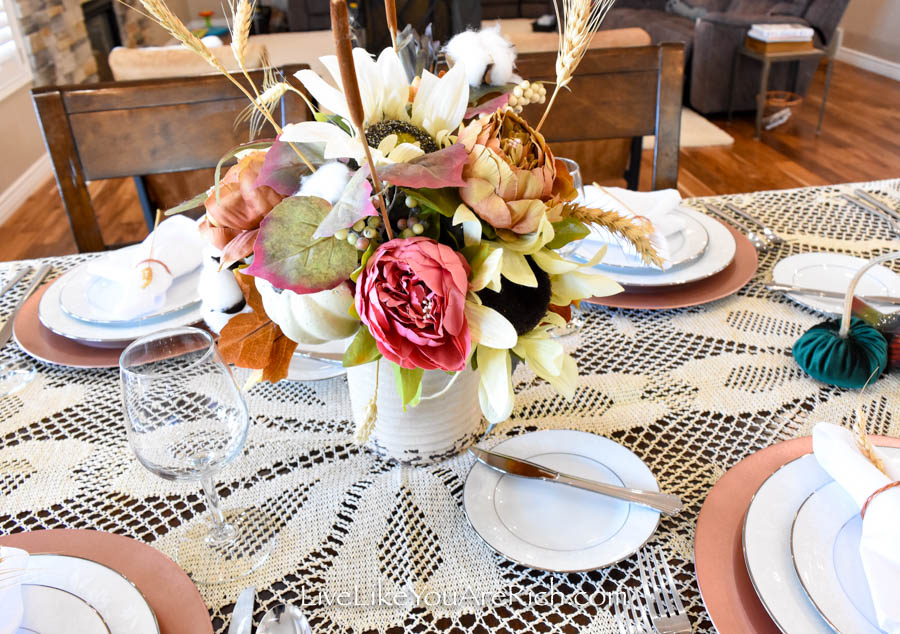 I did not have to buy anything to put this together. I was able to utilize what I had on hand which was also very nice.
Some may be reading this wondering what exactly "vintage modern" means. It is a style of decorating when one mixes and decorates with old style and new style items.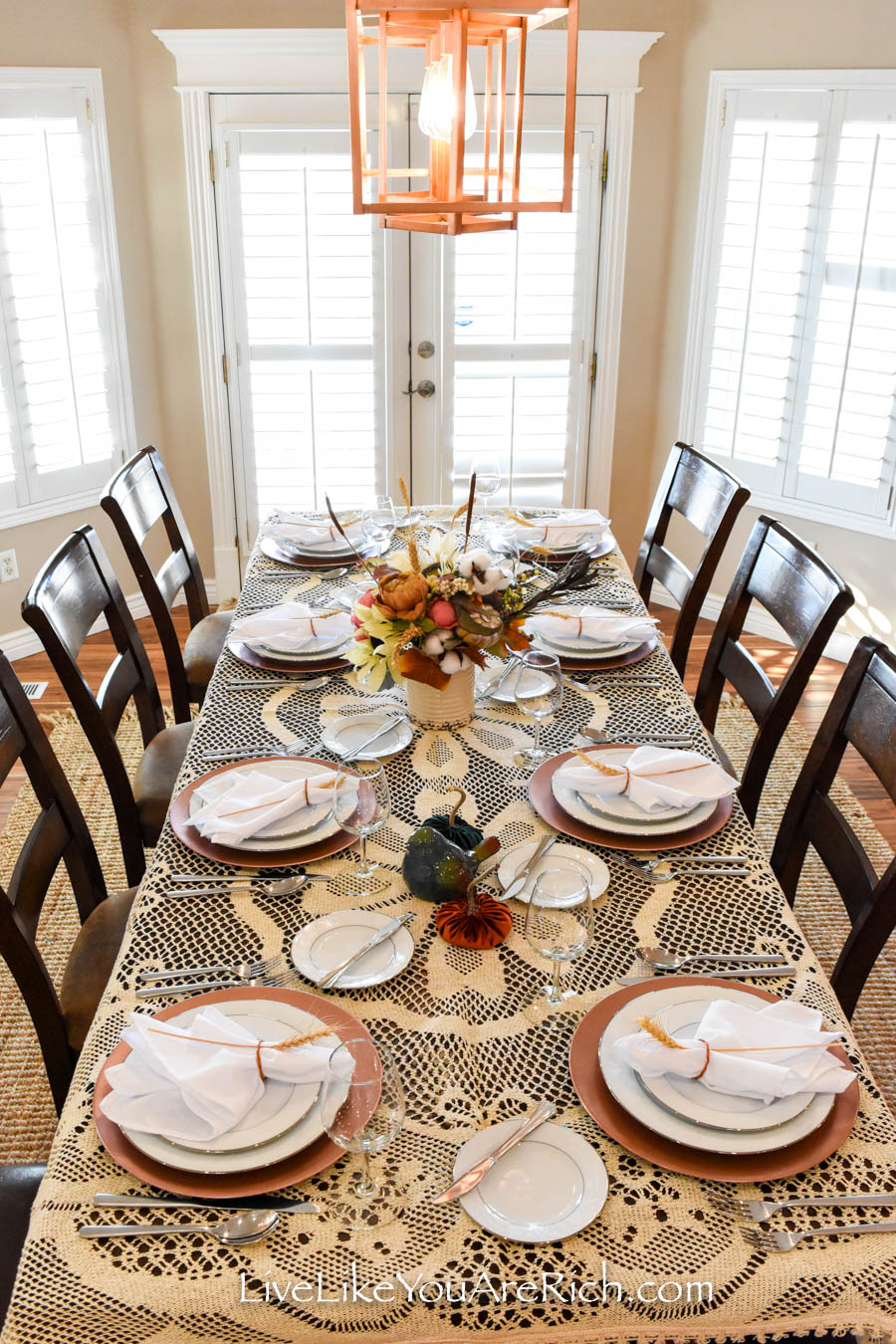 For example, the copper chargers, napkin rings, silverware, velvet pumpkins, goblets, and chairs are all more modern-looking while the crocheted tablecloth, china, flower arrangement, napkins, and bird decor are more vintage-looking.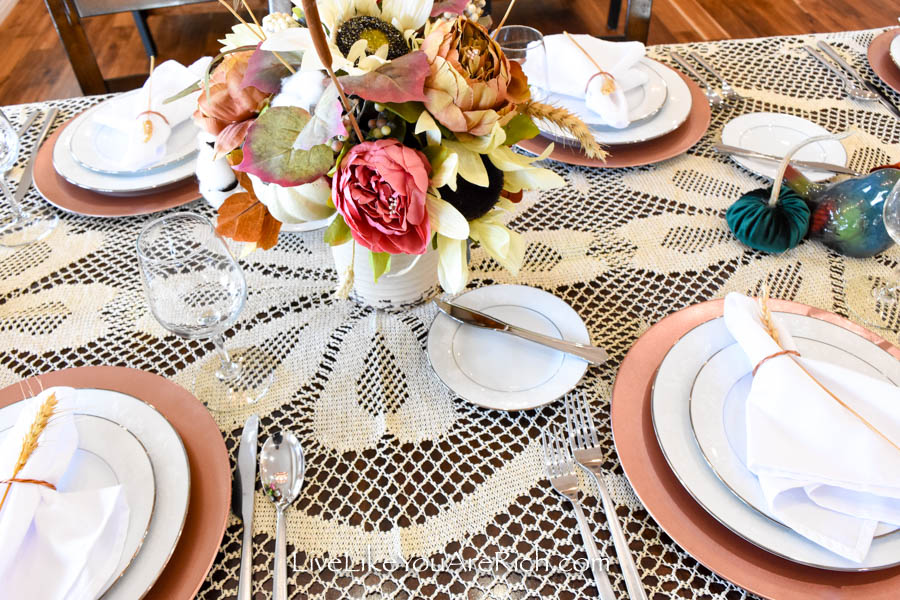 Together they create a fun and unique look that is called vintage modern.
Supplies Needed for this Vintage Modern Fall Tablescape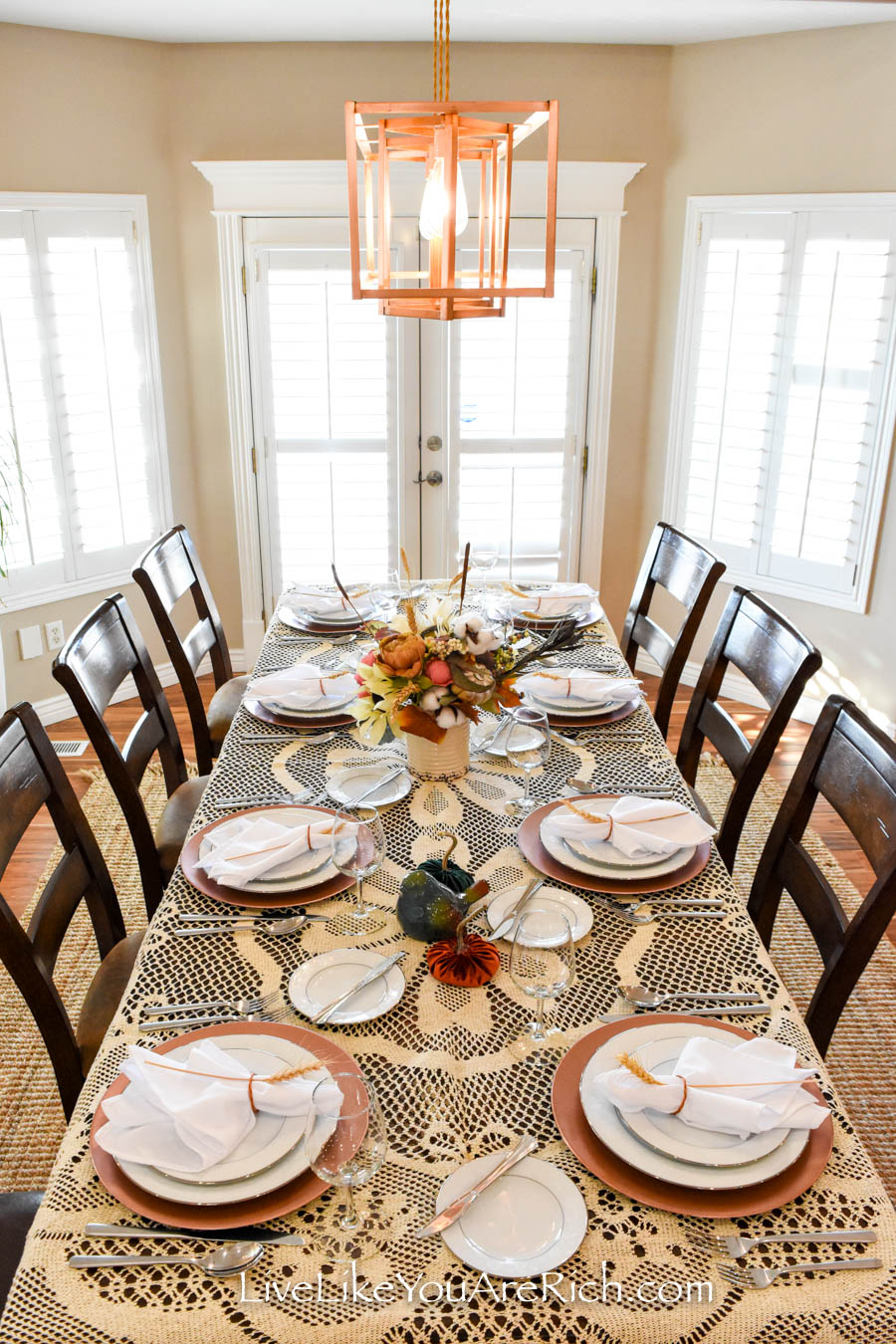 To create this tablescape, I draped the table with a gorgeous crocheted vintage tablecloth my mom had bought me on vacation. It comes from the island of St. Martin.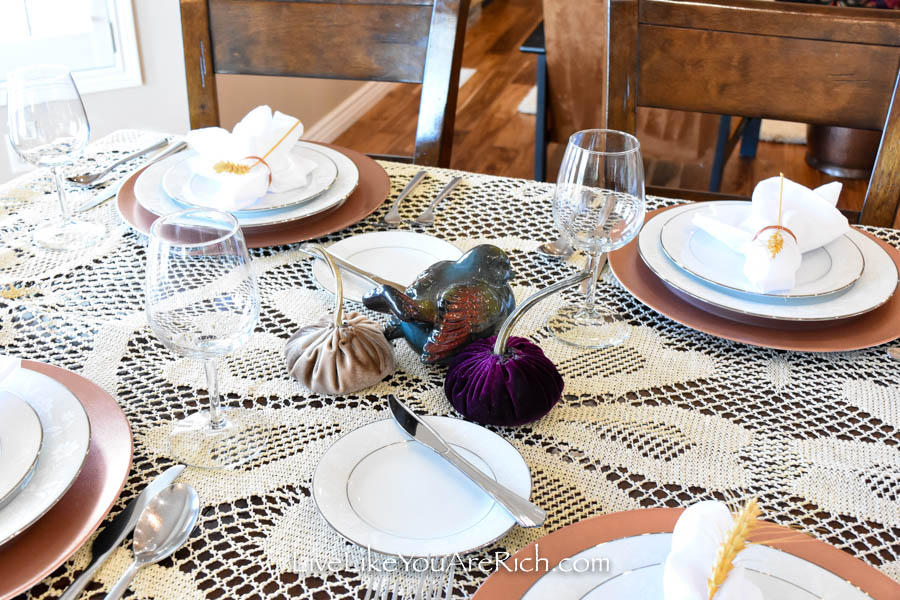 Then I added a few DIY velvet pumpkins on either end and added a decorative bird in with them.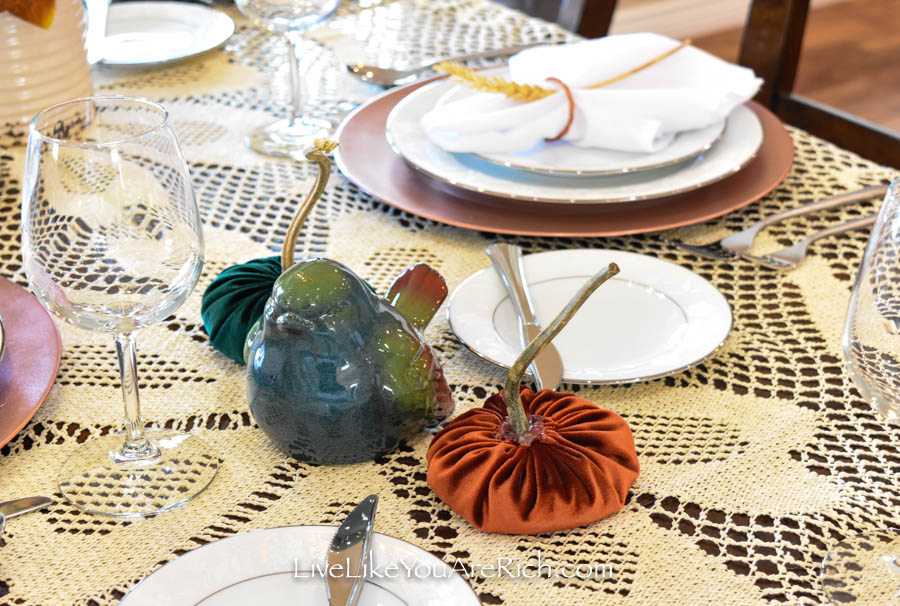 The velvet pumpkins were simple and fun to make and were used as fall decor on an entry console table before I snagged them for this tablescape.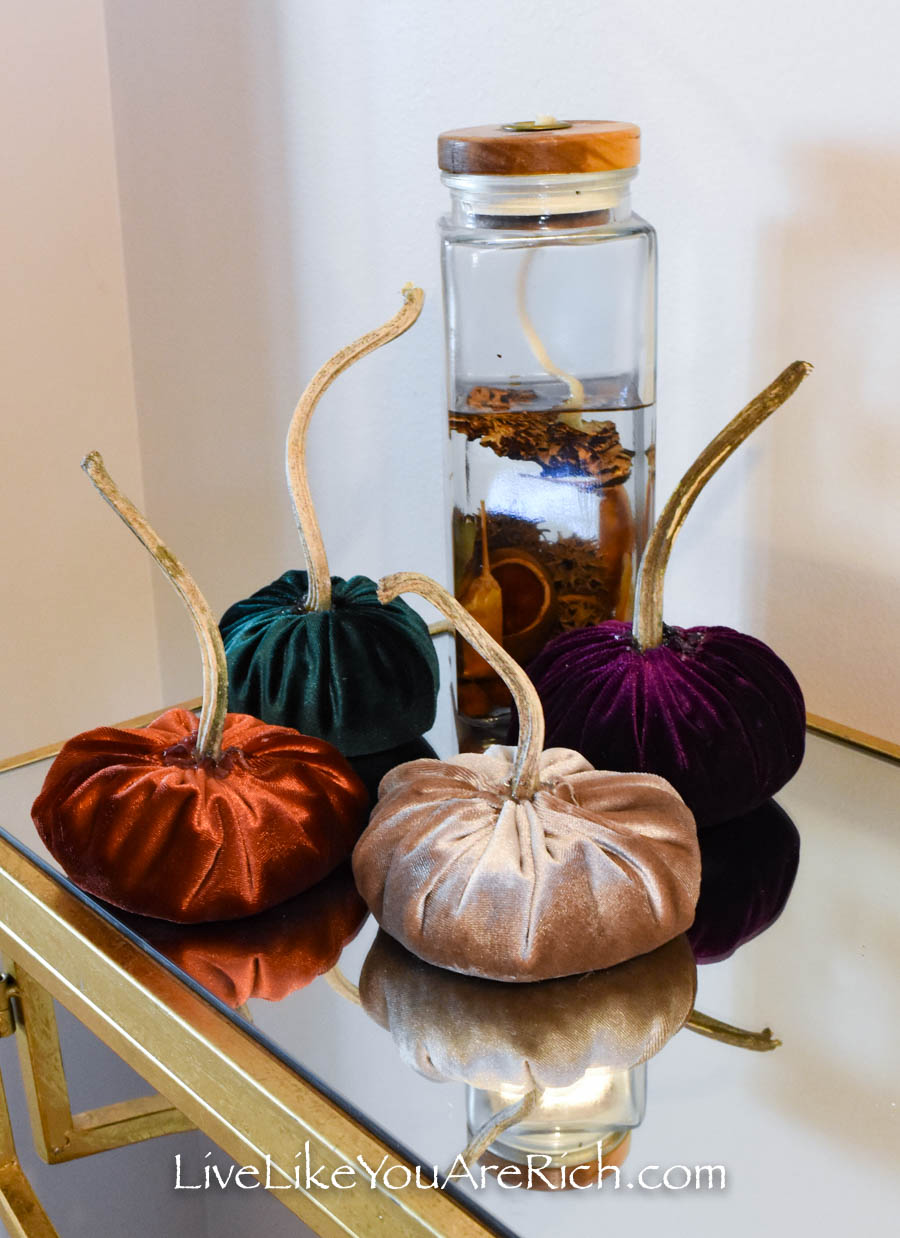 I had bought the decorative birds for last year's harvest tablescape.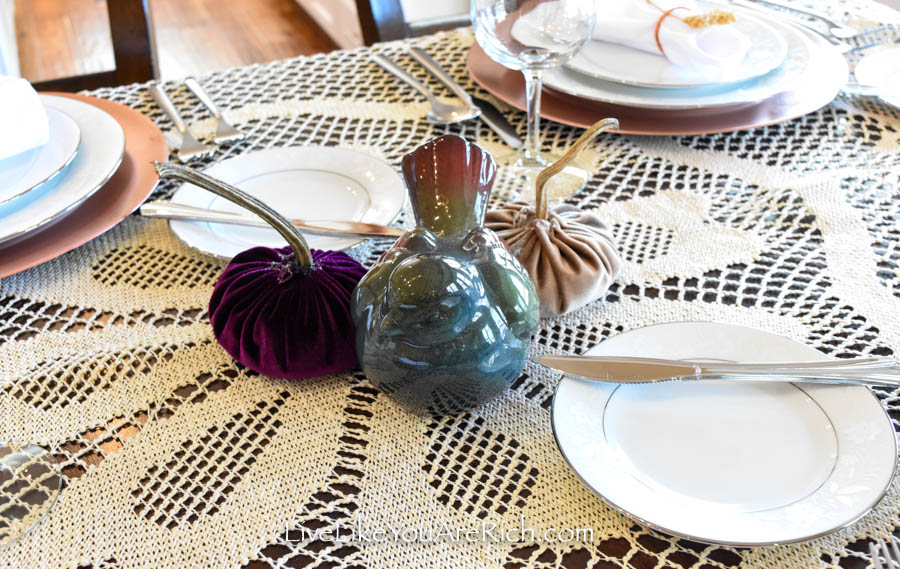 Next, I placed a copper colored charger, a dinner plate, salad plate, and bread plate in the table setting. On top of the salad plate I added a wheat stalk on each napkin held together by a copper napkin ring.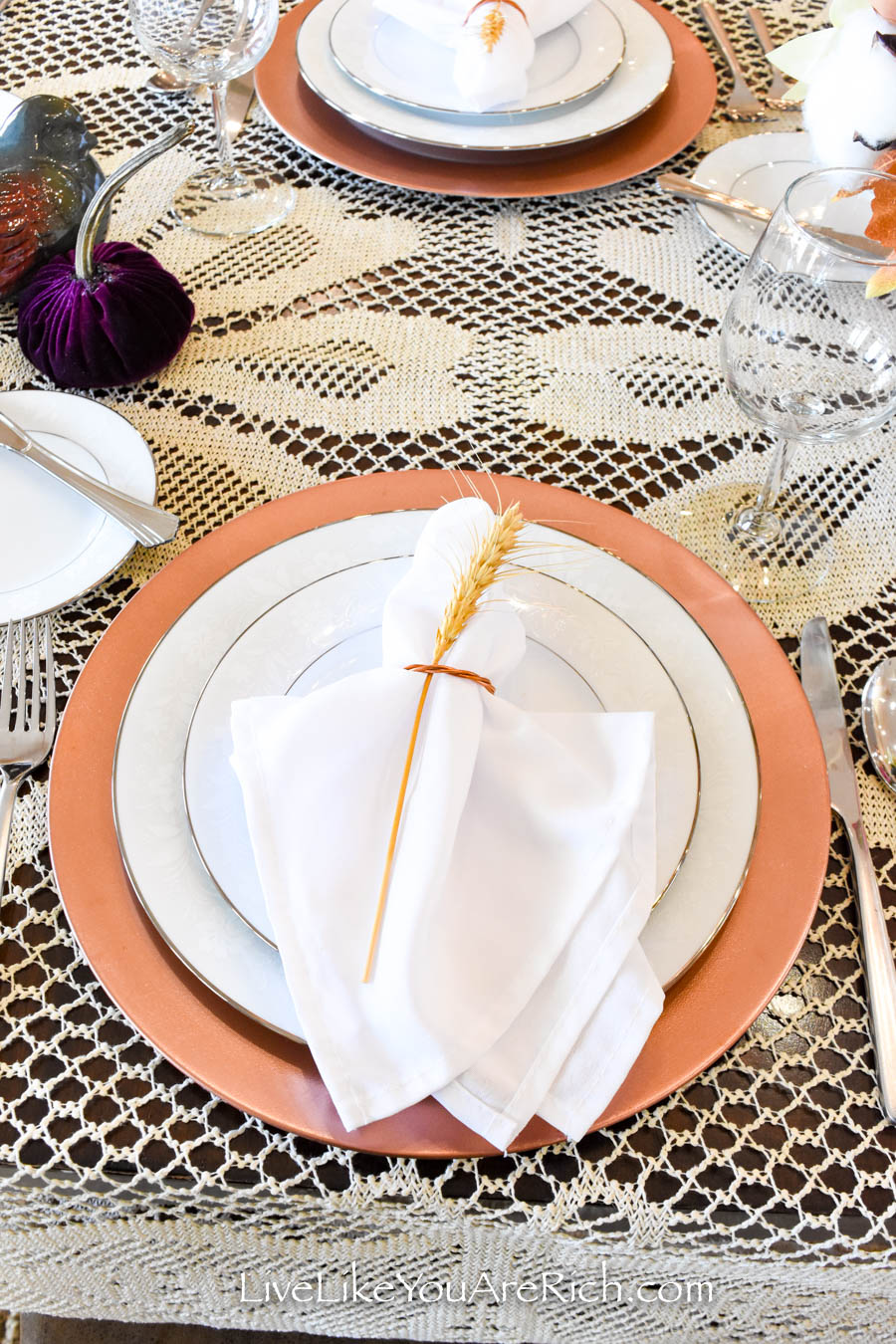 I added modern silverware and goblets to the tablescape.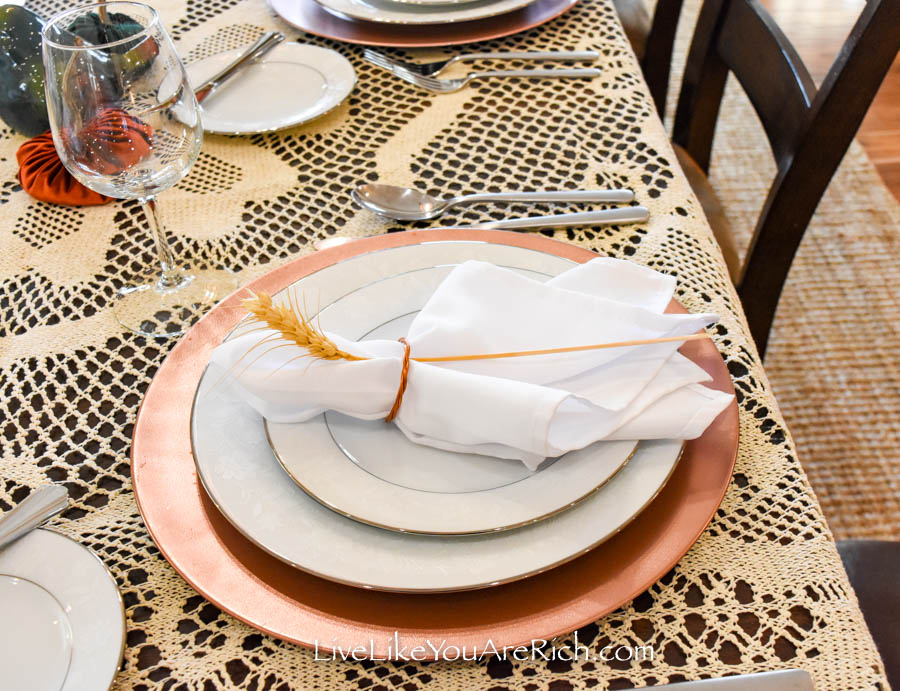 To complete the look, I placed this fall harvest flower arrangement that I made in the center of the table.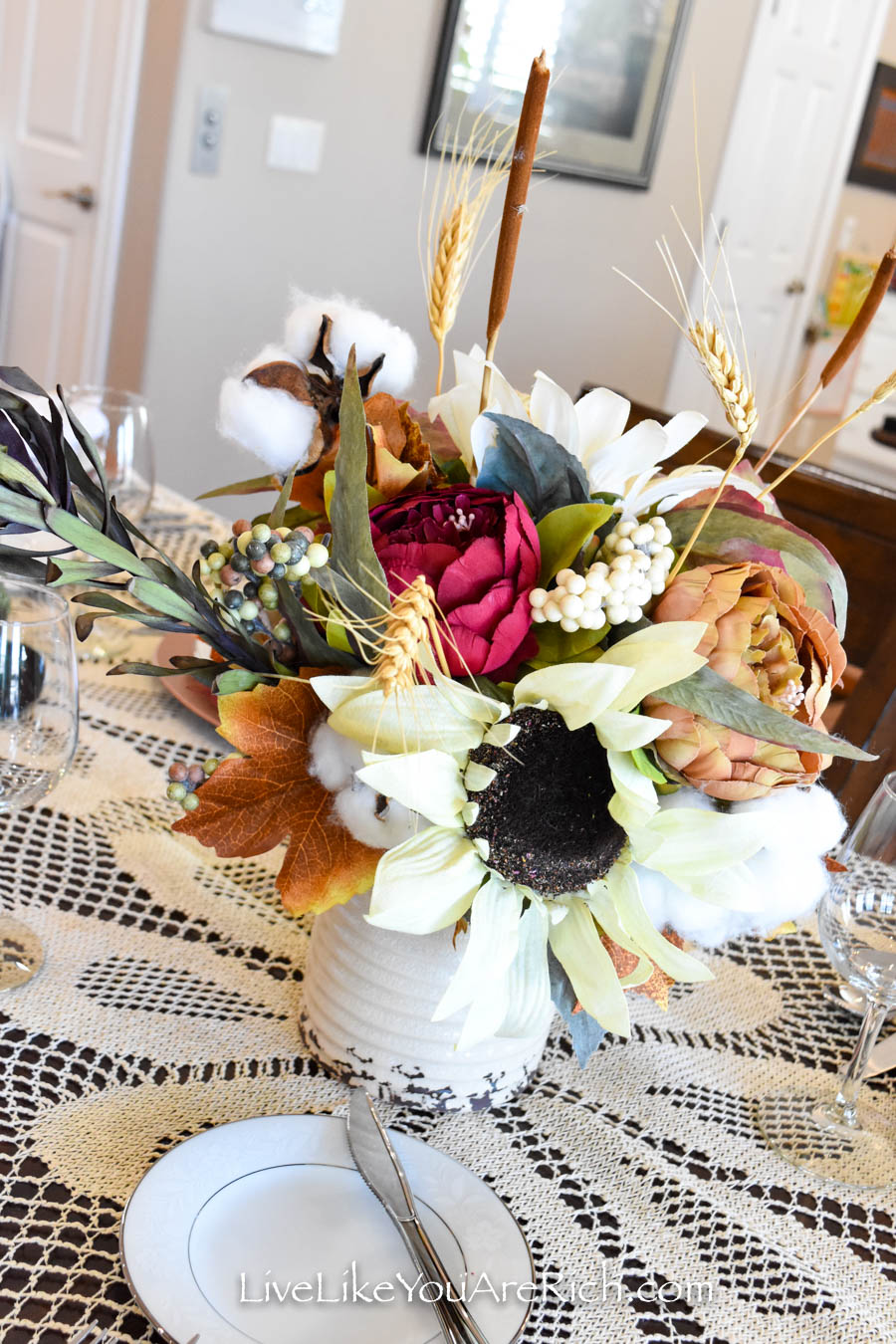 Luckily, I made three of these arrangements because I was using two on my Harvest Mantel and I wanted to leave them there for the dinner decor.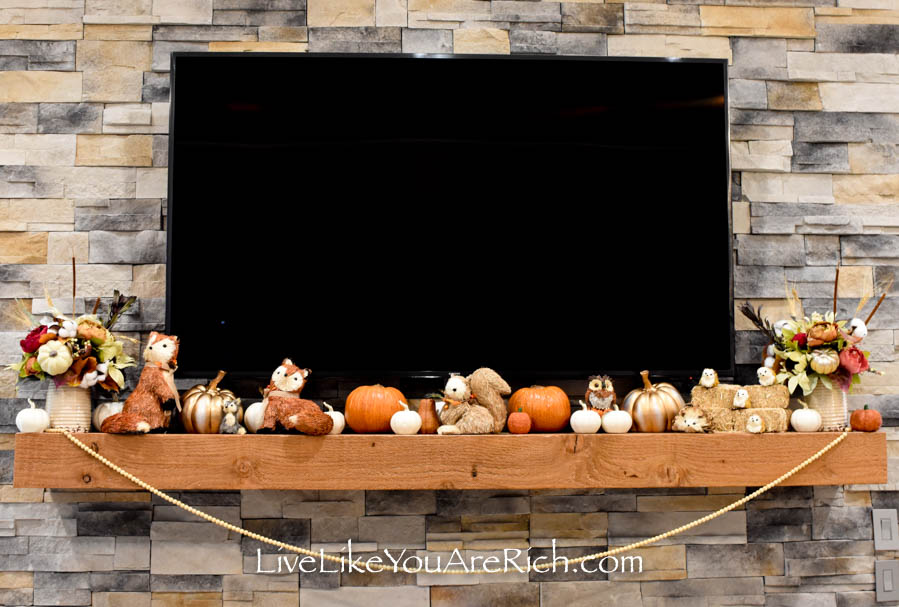 In the end, the few family members who came to dinner (due to COVID19), really liked the look of this Vintage Modern tablescape. I did too.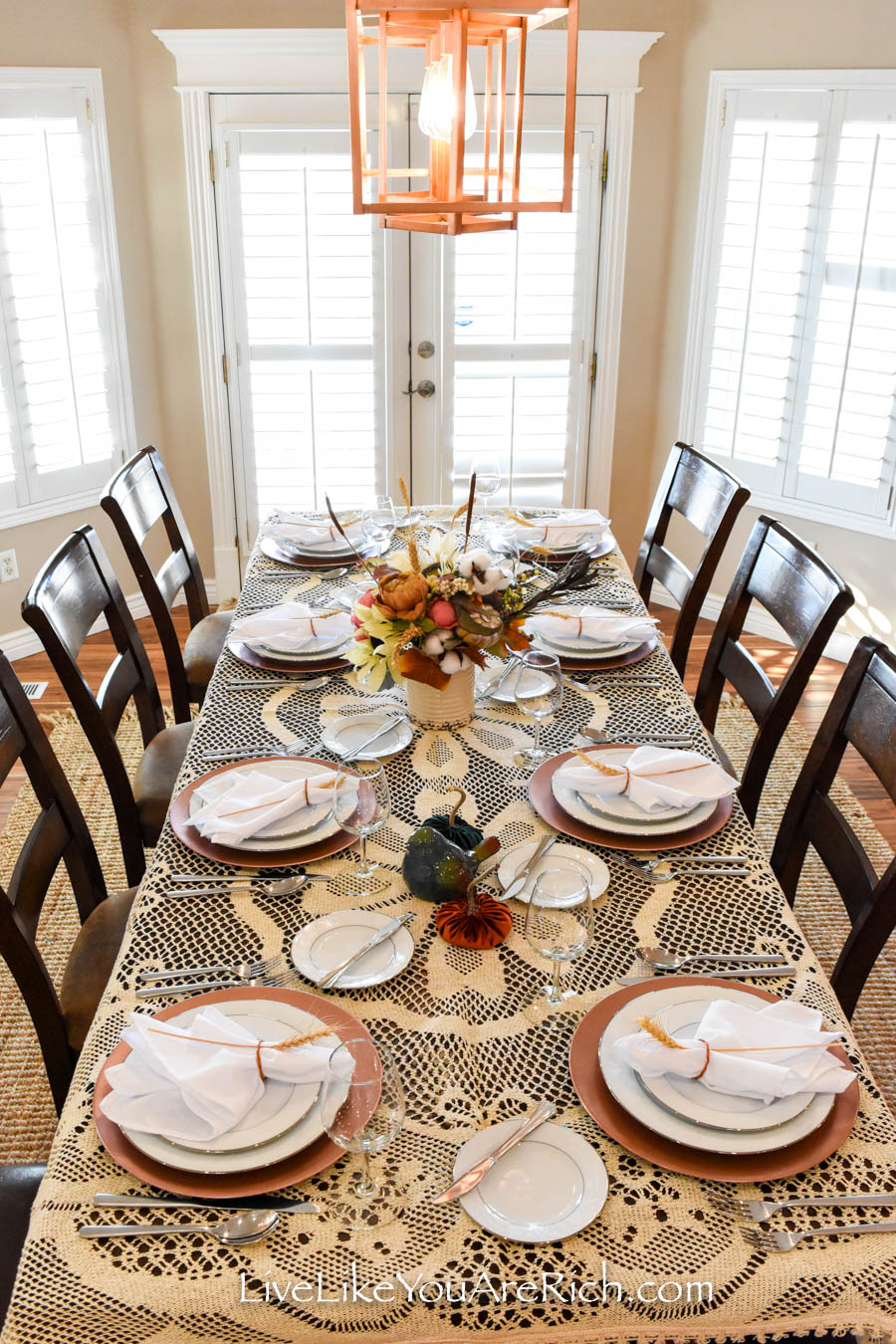 Supplies List: Vintage Modern Fall Tablescape
How about you? Do you like Vintage Modern looks? Yes or no, let me know why below.

For other 'rich living' and D.I.Y. decor tips please subscribe, like me on Facebook, and follow me on Pinterest and Instagram.