Candle Thanksgiving Mantel.
This is how I decorated my mantel for Thanksgiving this year (2023).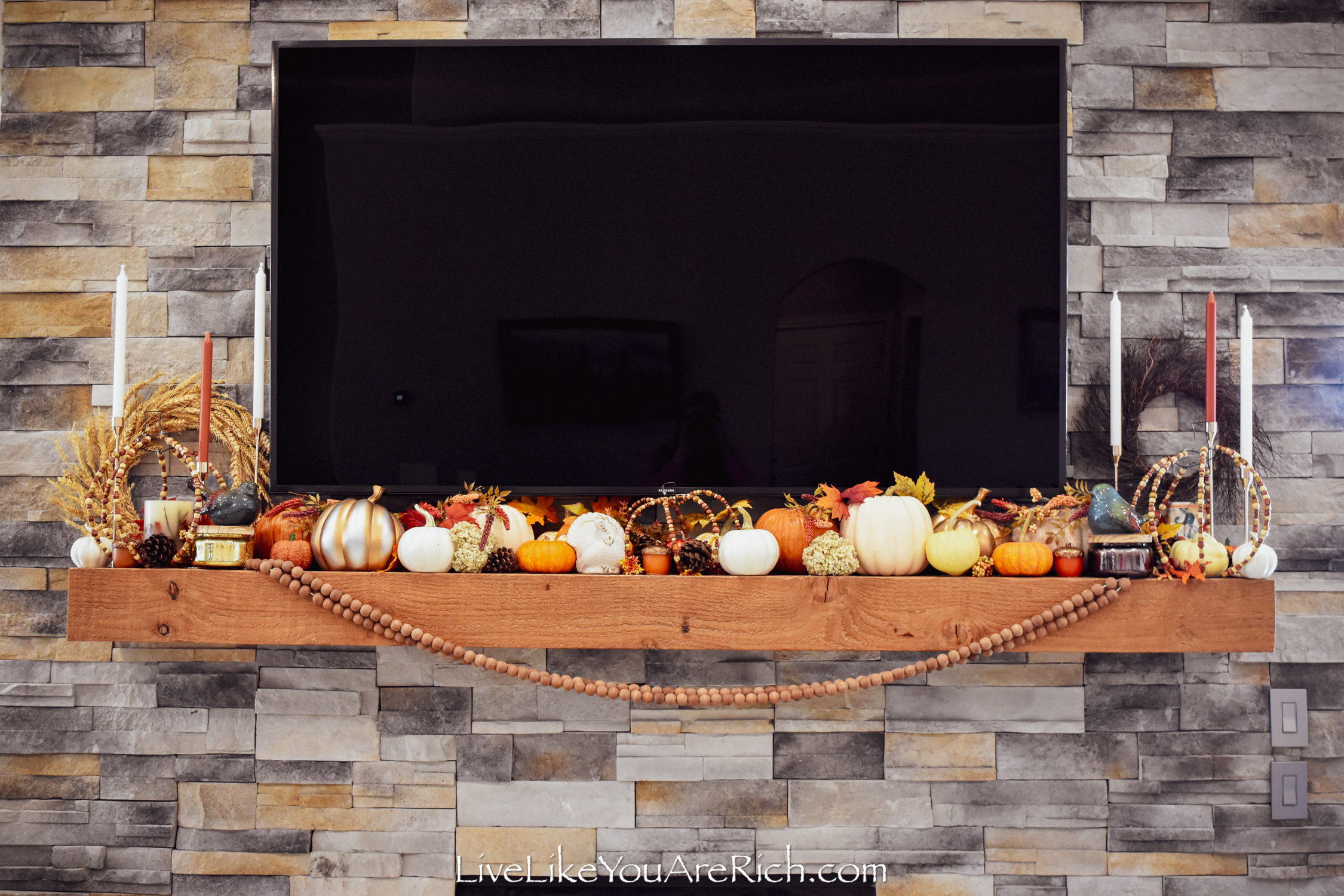 I love decorating for holidays however, I didn't use to.
For many years I'd decorate by putting the same item in the same area every year. I started to get burned out and bored of decorating. Then I decided I would make decorating more interesting.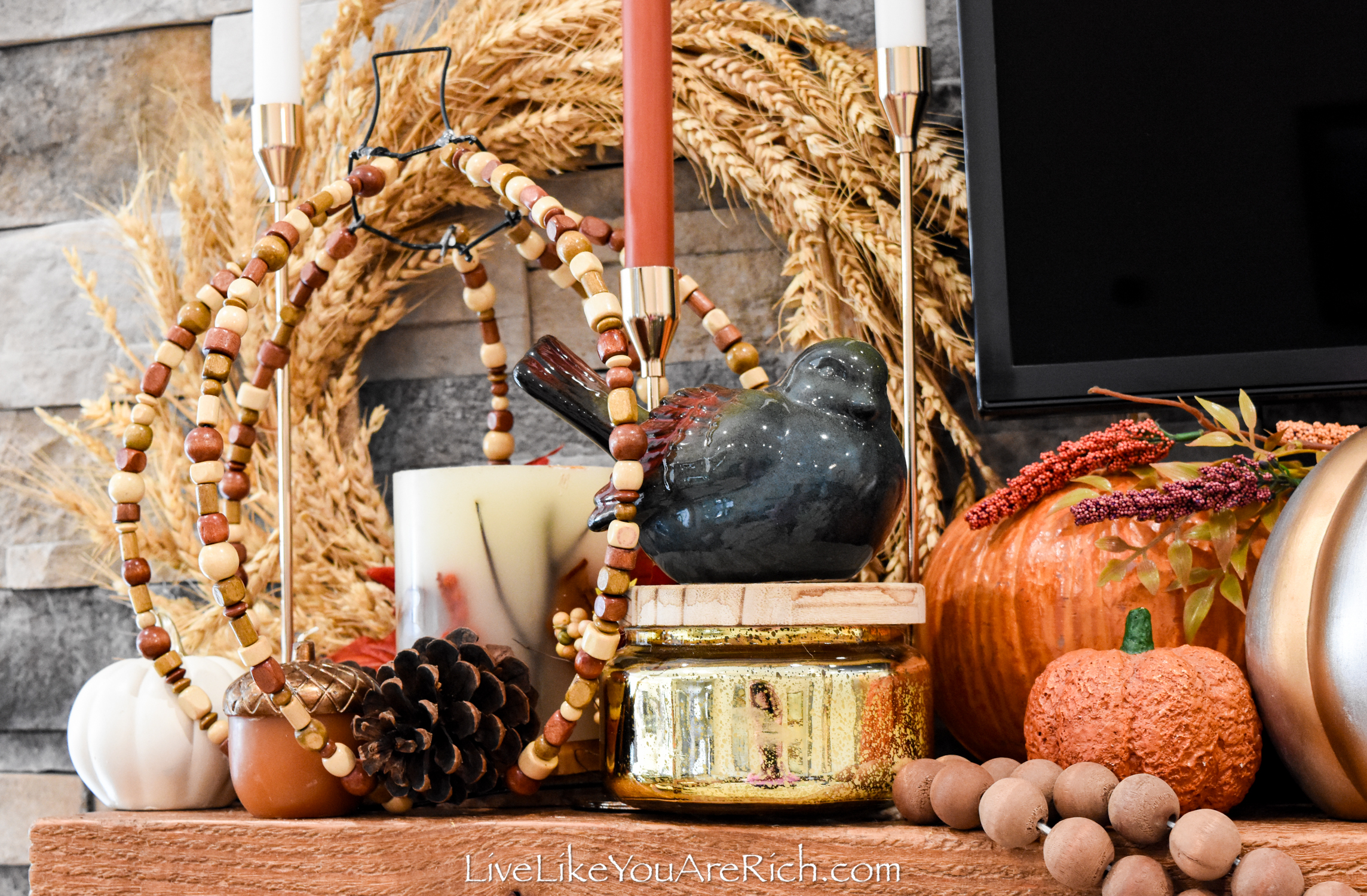 I decided I'd challenge myself to try to make a completely different mantel design each year. My rules were that I had to use most of the same decor items that I already had on hand. I've found that it has sparked my creativity and made me more excited to decorate. For example, for Halloween, I used much of the same decor for this witch mantel, this spider mantel, and this ghost mante— yet each mantel looked completely different. It has been fun!
For Thanksgiving this year I did the same thing. I did not buy anything for this candle Thanksgiving mantel design—everything on it was found in my decor bins and around my home.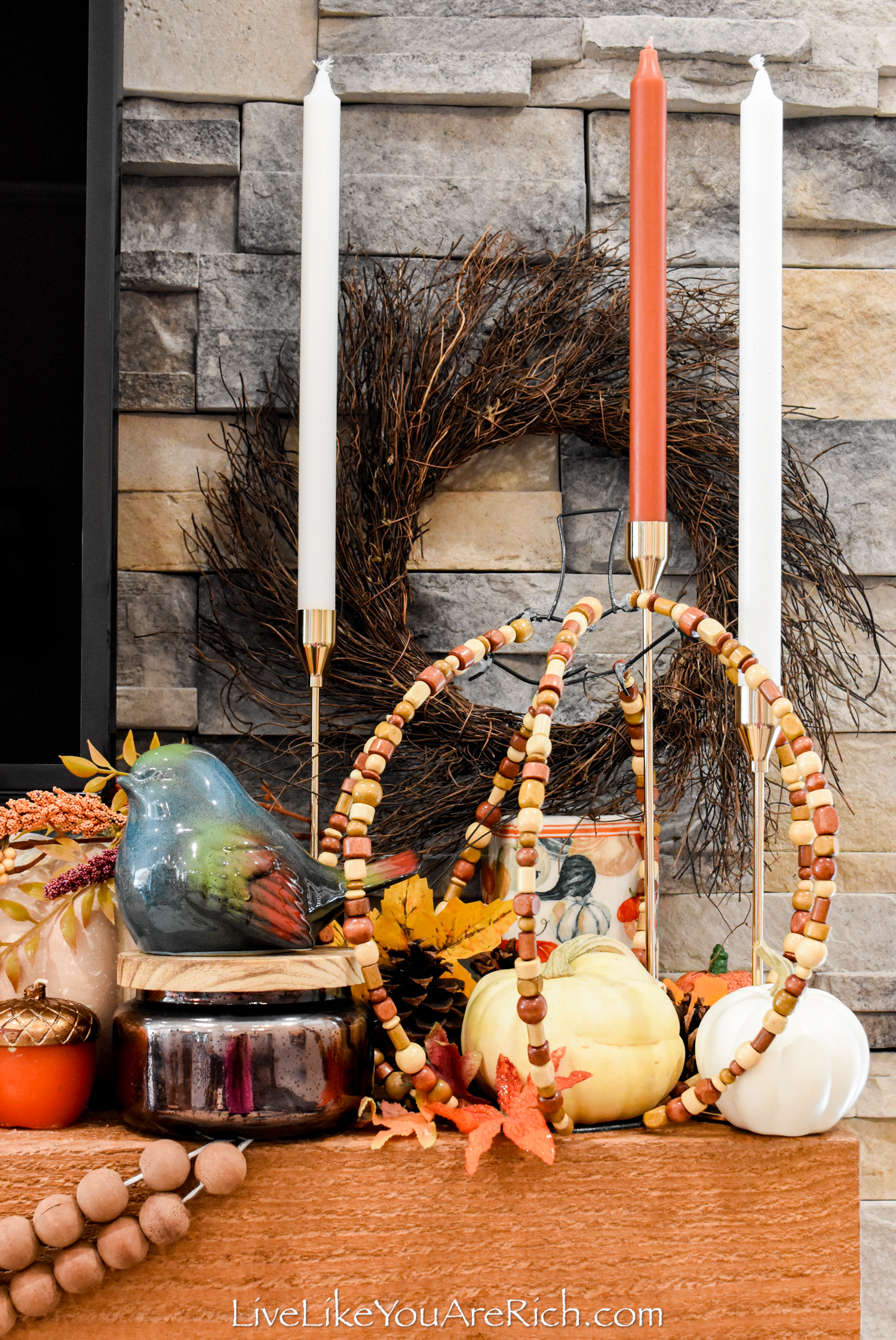 Reusing items makes me feel creative, challenged, and happy.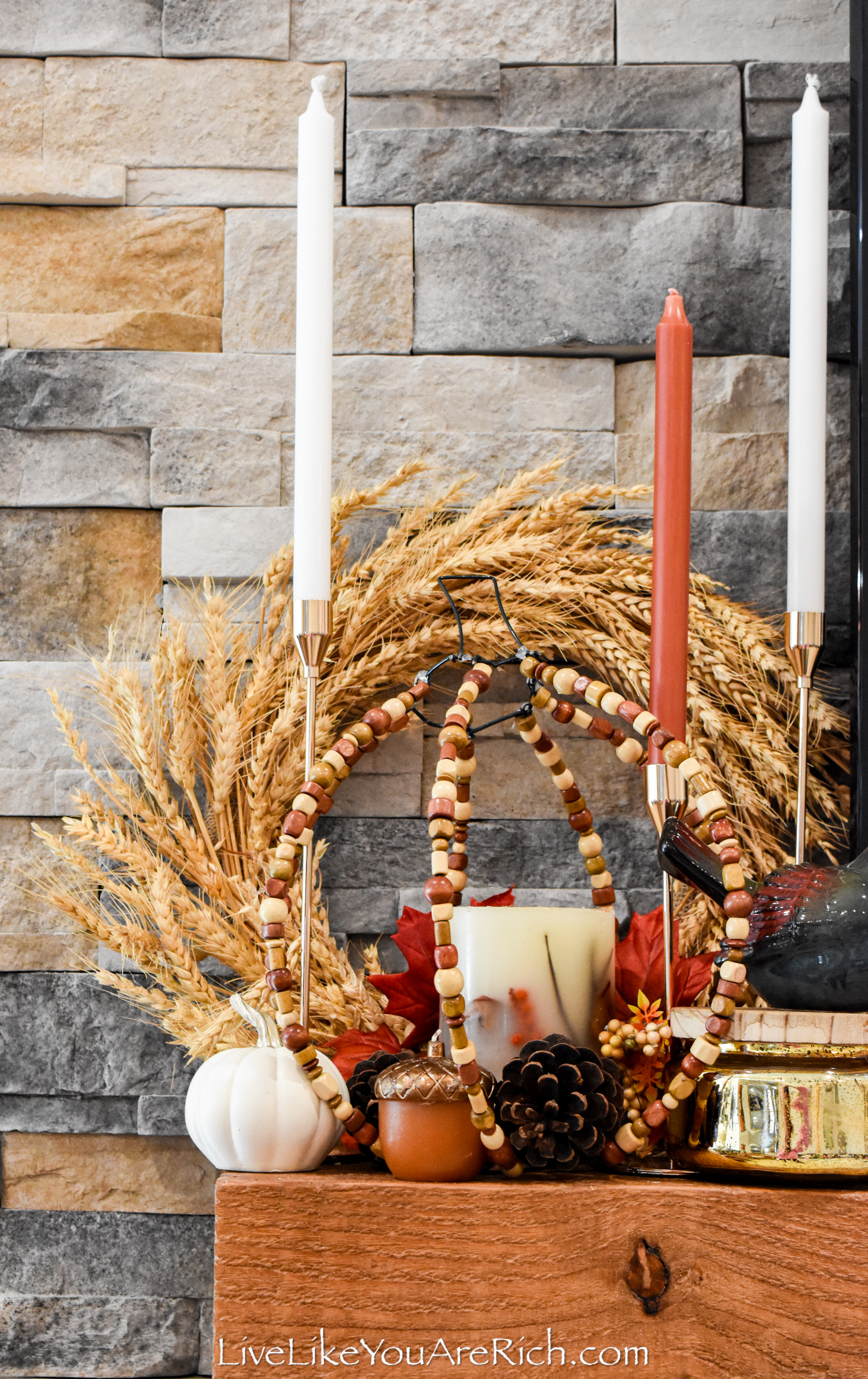 That said, I usually make items/crafts each year, and often I get a few items at a deep discount right after the holidays. So, I do add to my collection each year, but usually, I'm only spending very little each year to add to it.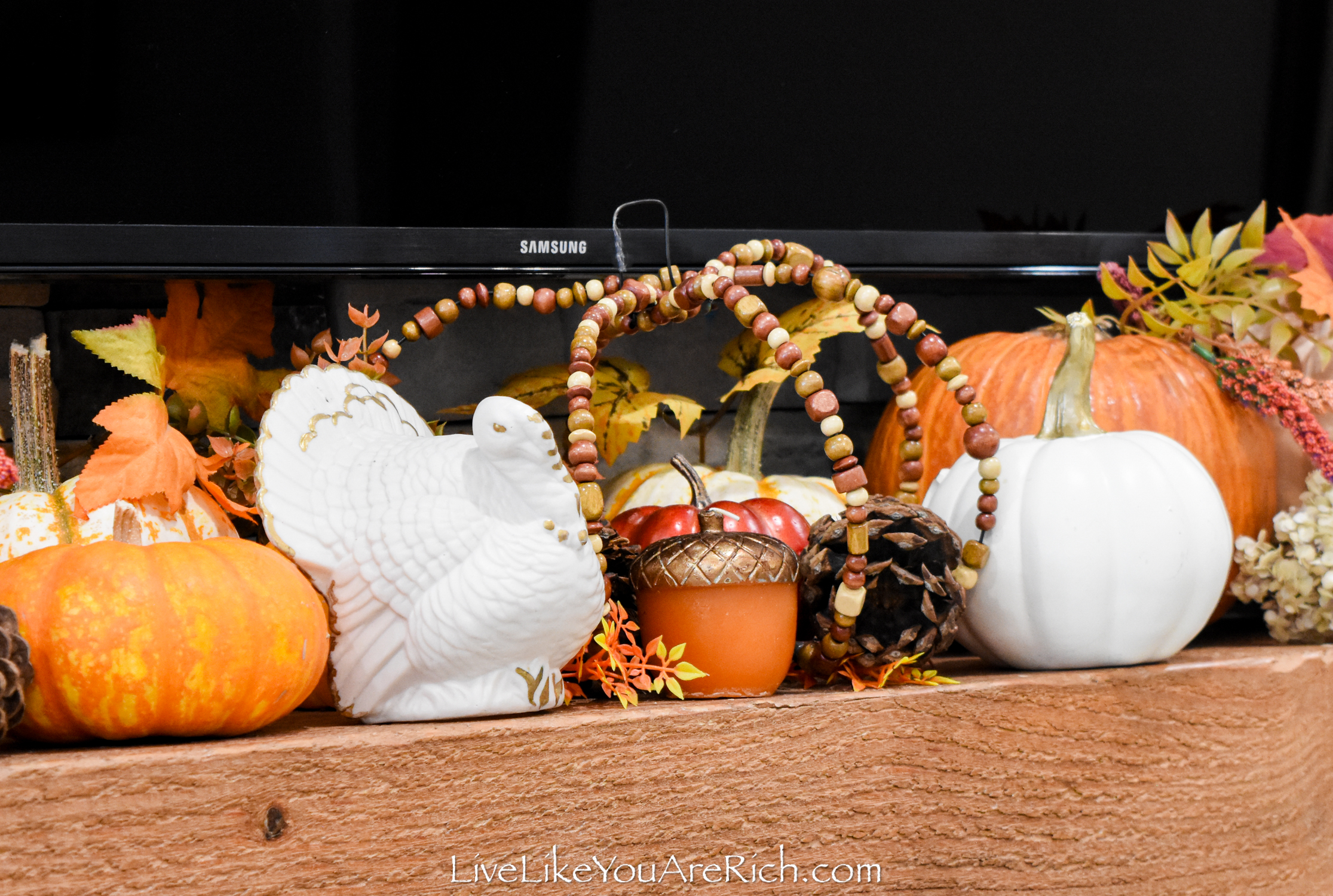 Supply List for this Candle Thanksgiving Mantel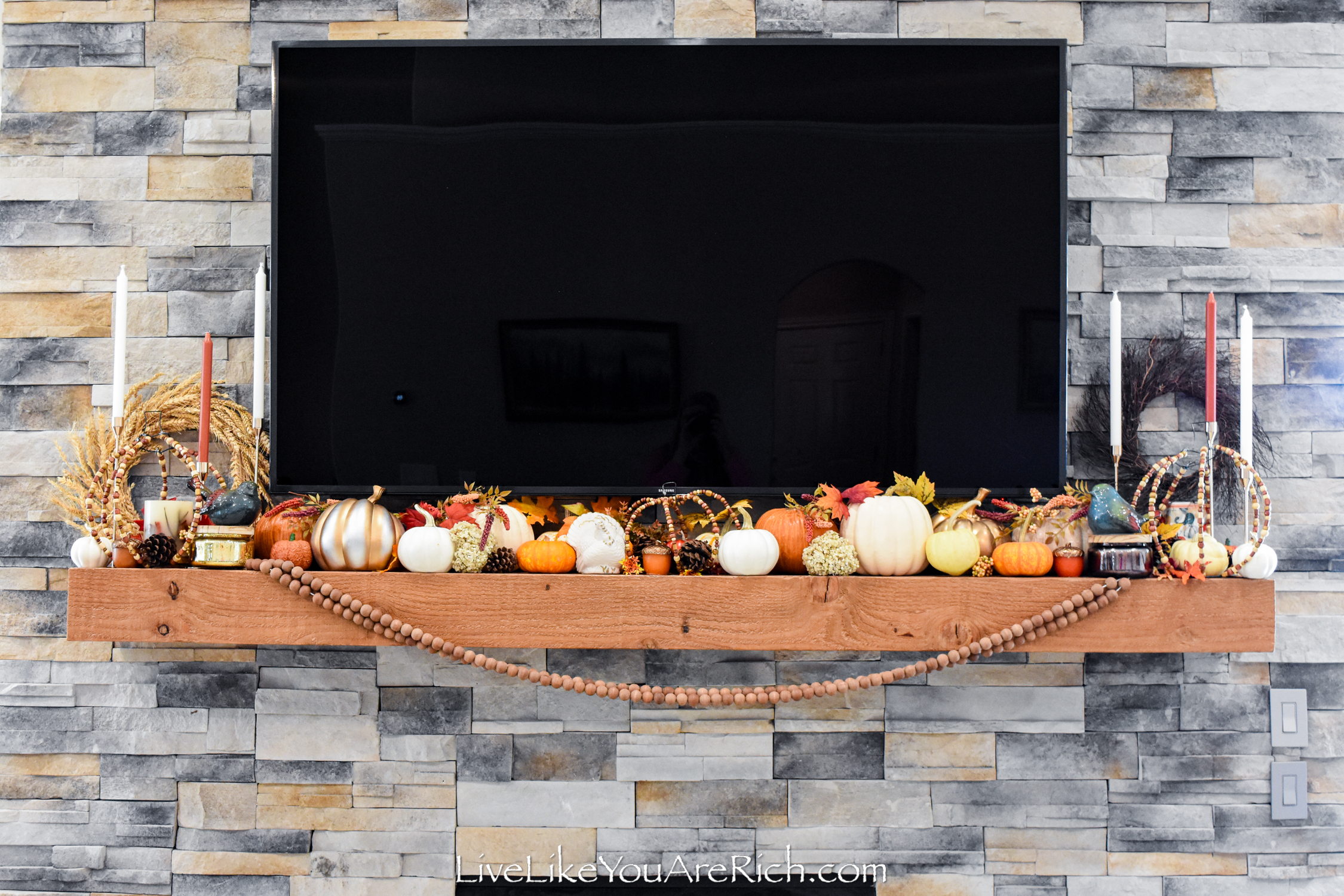 grapevine wreath with spray/sunburst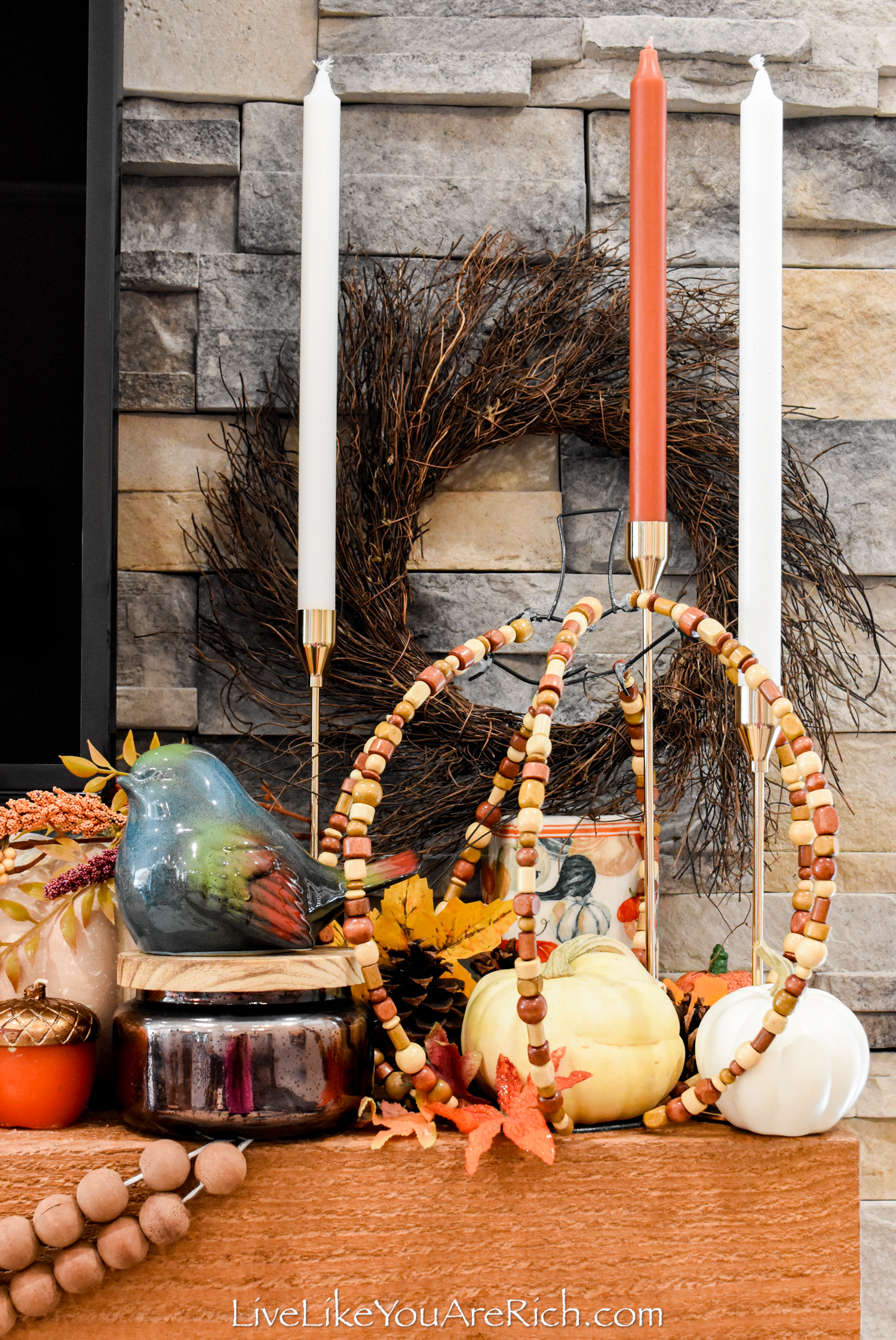 large wooden bead garlands (the exact ones are sold out or similar here—I believe these are 1″ in diameter)

white and terracotta large taper candles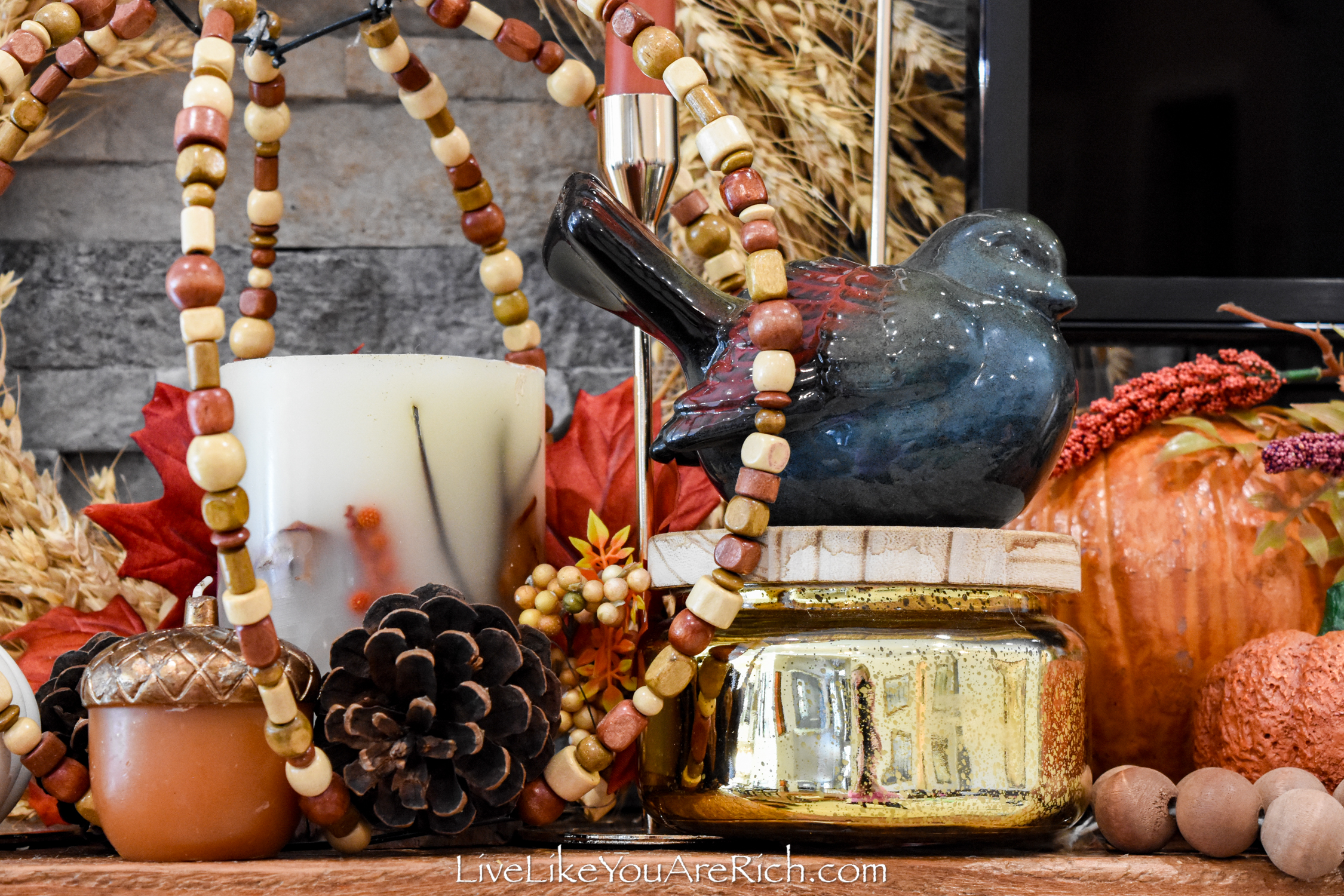 mercury glass candles with wood tops
candle with fall items melted inside
pine cones (found them in my yard)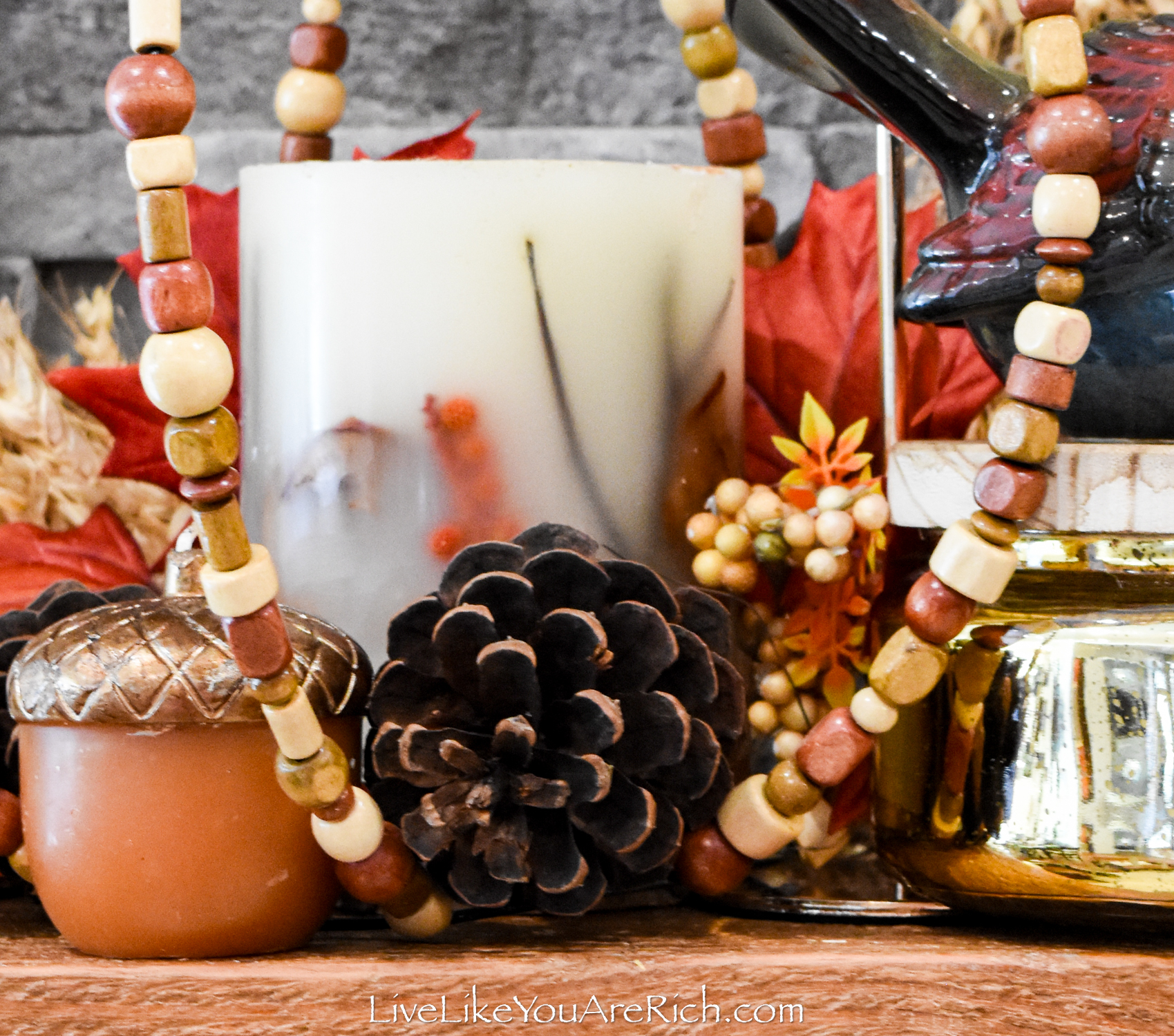 acorn candles Bauer is the brand I bought. You may be able to find them on eBay, Mercari, etc.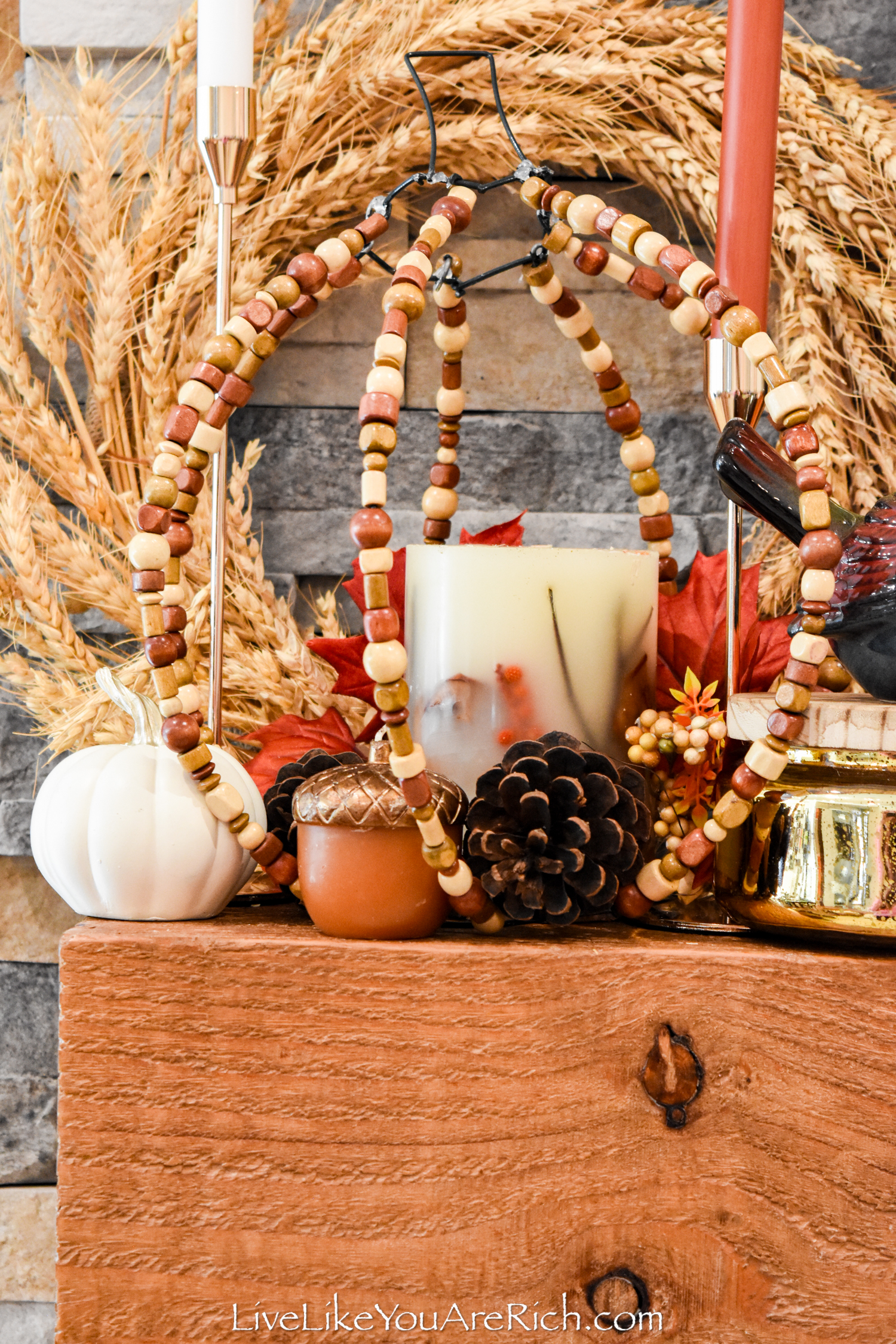 decorative pumpkins (gold, silver, white, brown, orange) or here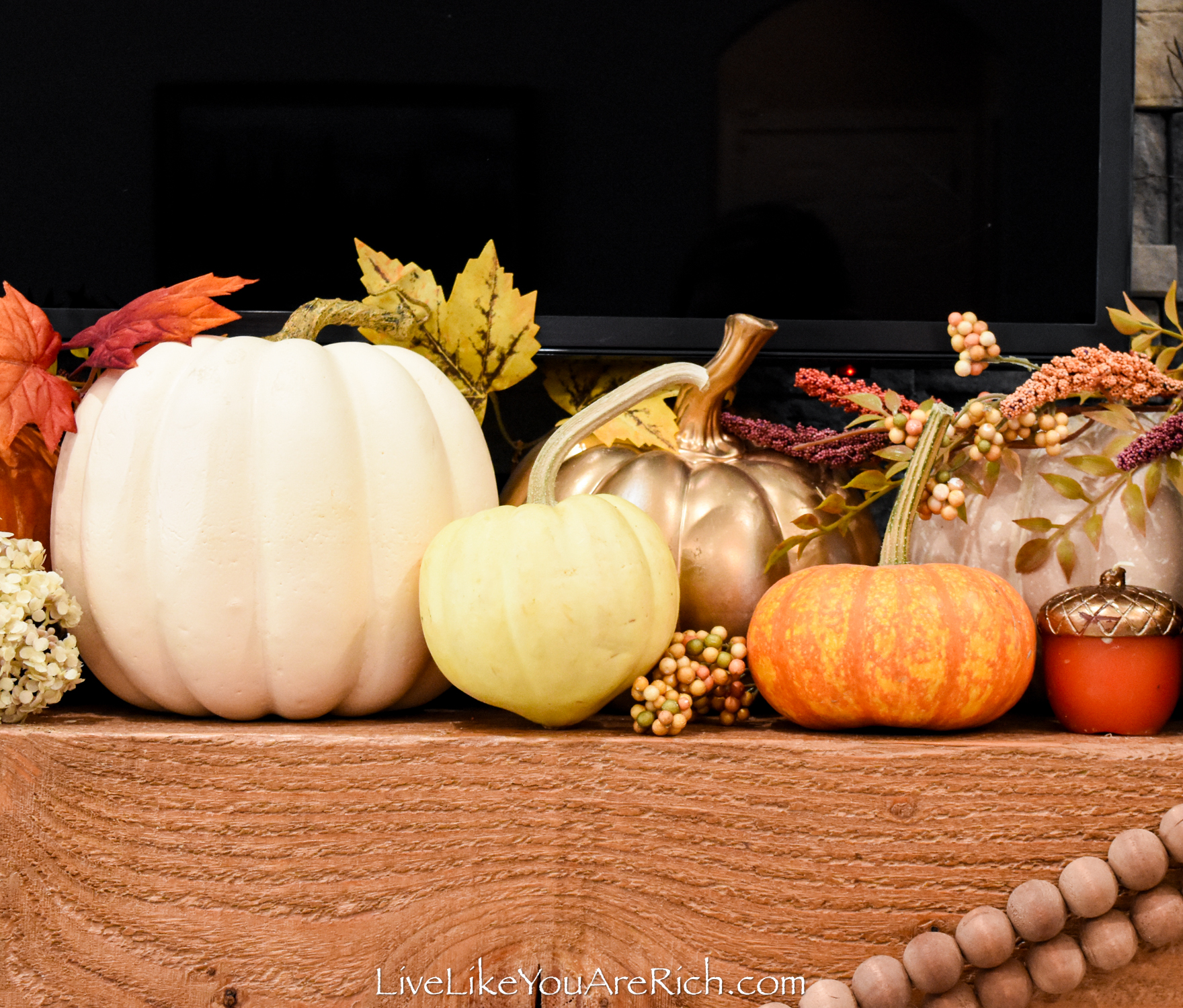 real pumpkins (store)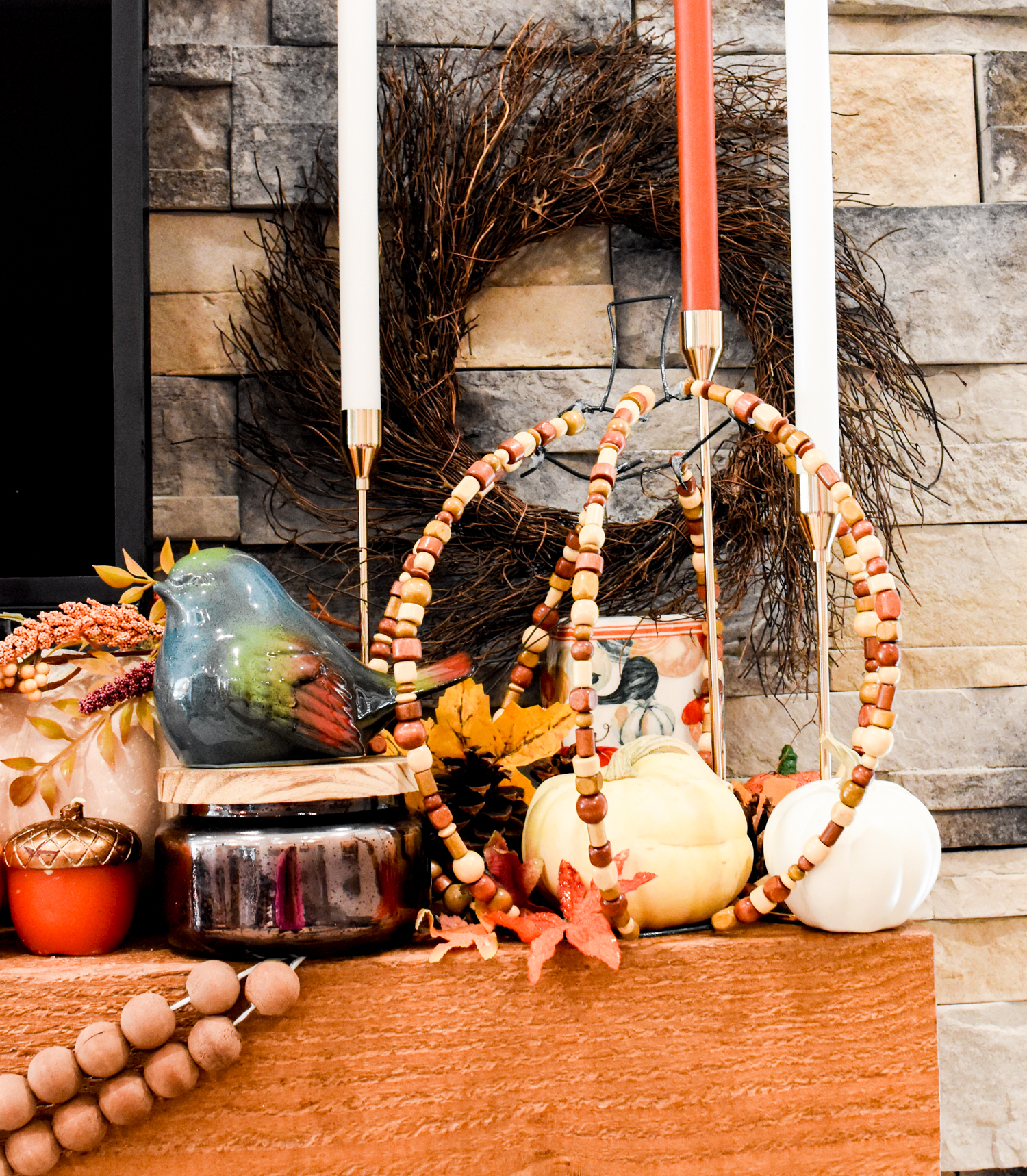 Porcelain turkey (thrift store)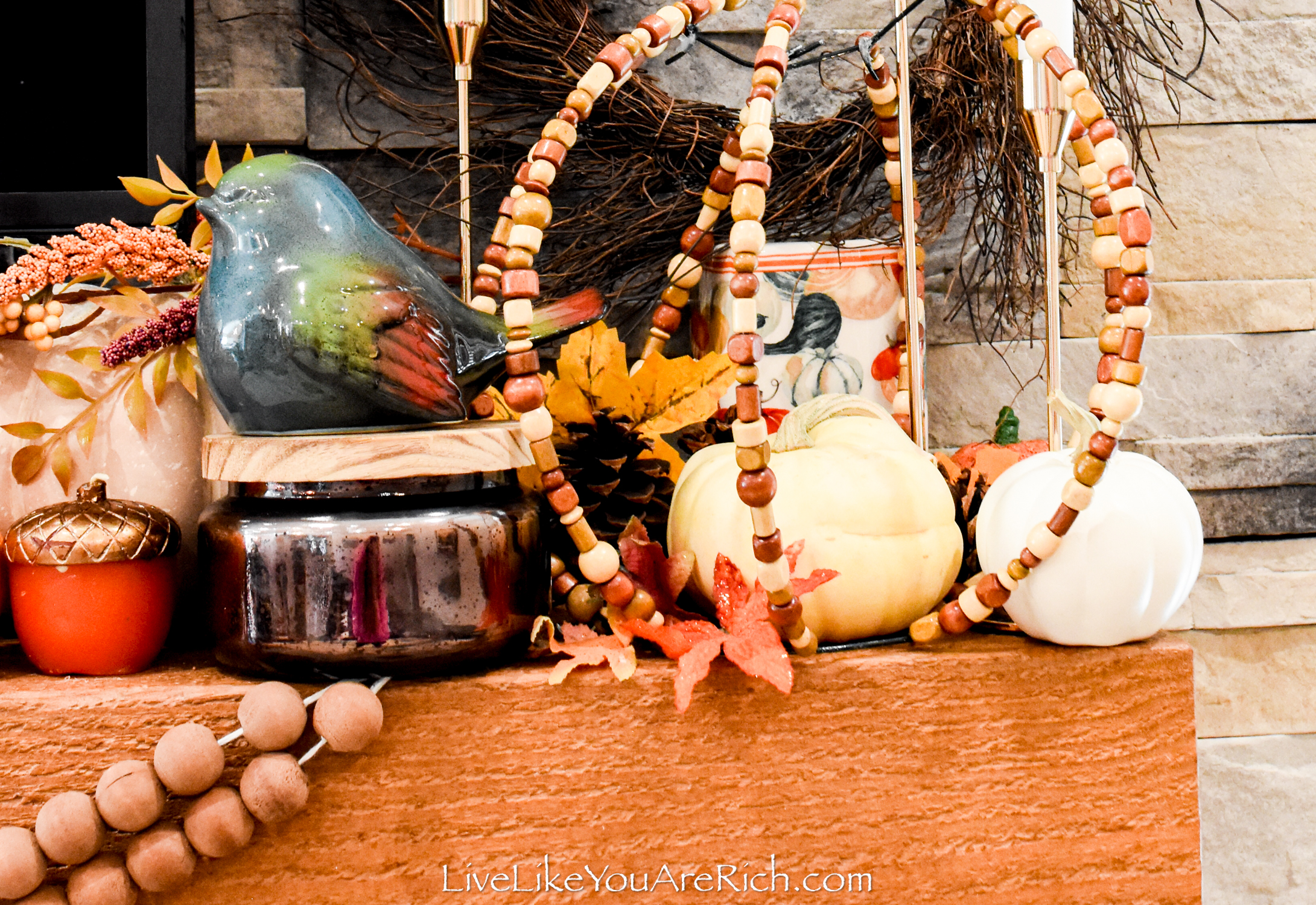 How to put together this Candle Thanksgiving Mantel
To make this mantel I started with wreaths on both sides. I had a grape twine wreath and a wheat stalk wreath that I made.
Next, I placed the wooden bead pumpkins I made on both sides and one small one in the middle for the centerpiece.
I placed the wooden bead garland on the mantel using packaging tape and a lot of hand friction for the tape to hold it, then I placed something heavy on the packaging tape.
Next, I did many of the outlined steps that I use in my post on tips on how to put mantels together. Basically, I just followed the steps outlined in that post to create this mantel. I'd highly recommend checking out that post if you'd like tips on how to decorate a mantel like this.
Finally, I placed faux fall floral strands here and there to add color and fill in gaps.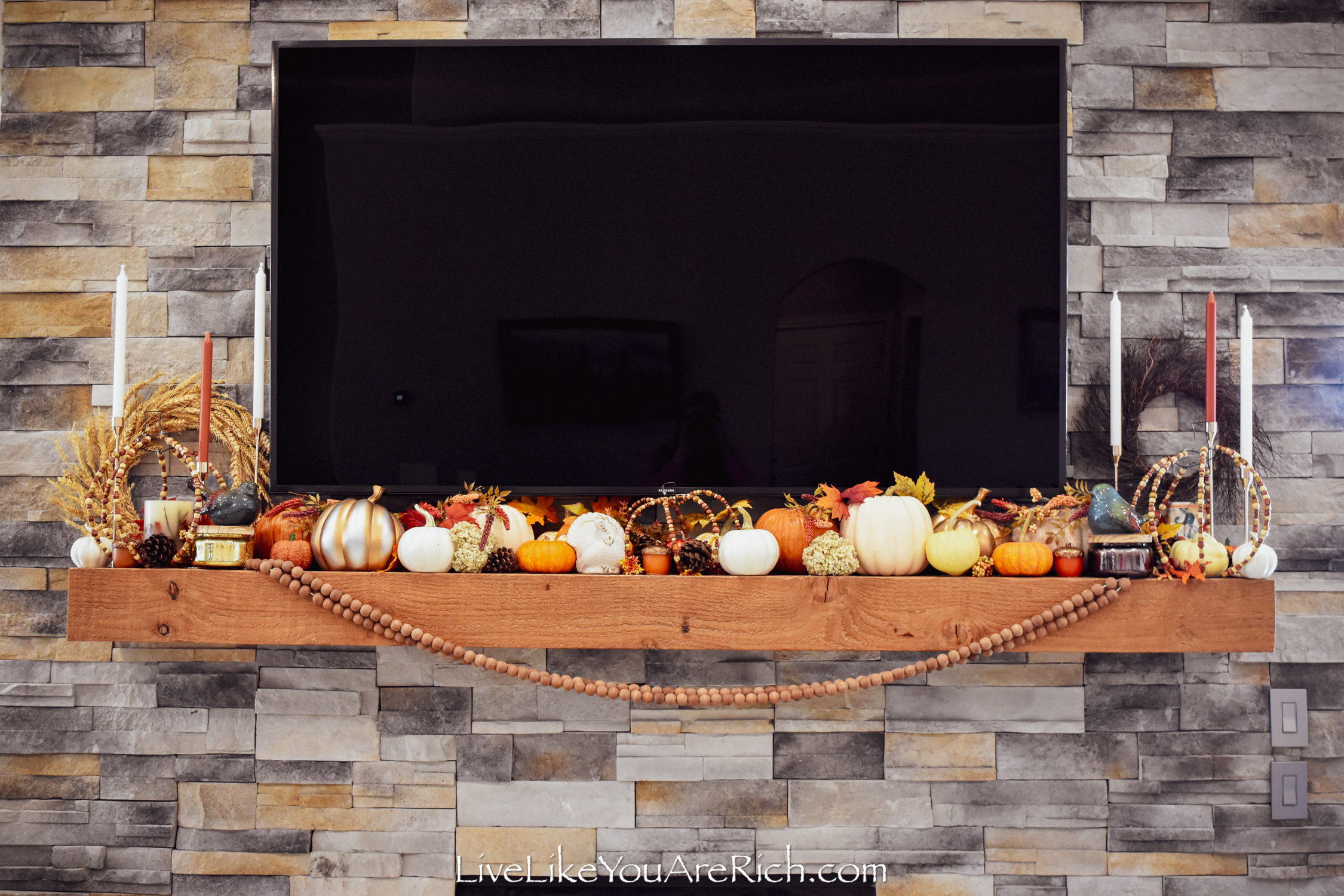 Total Cost of this Candle Thanksgiving Mantel
I did not spend anything on this mantel.
Obviously, I did purchase these items or made them or was gifted them at one time.
So, if you are trying to put something like this together my recommendation is to go to thrift stores, and garage sales, look on eBay, Mercari, Temu, and Amazon to save on similar items.
Also, if you are flexible and just want something like this for next year. Go shopping the day after Thanksgiving and go to the holiday decoration sections to stock up on Thanksgiving decor at usually about 70-90% off. Some stores may even discount the decor the day before Thanksgiving so check if you are out and about.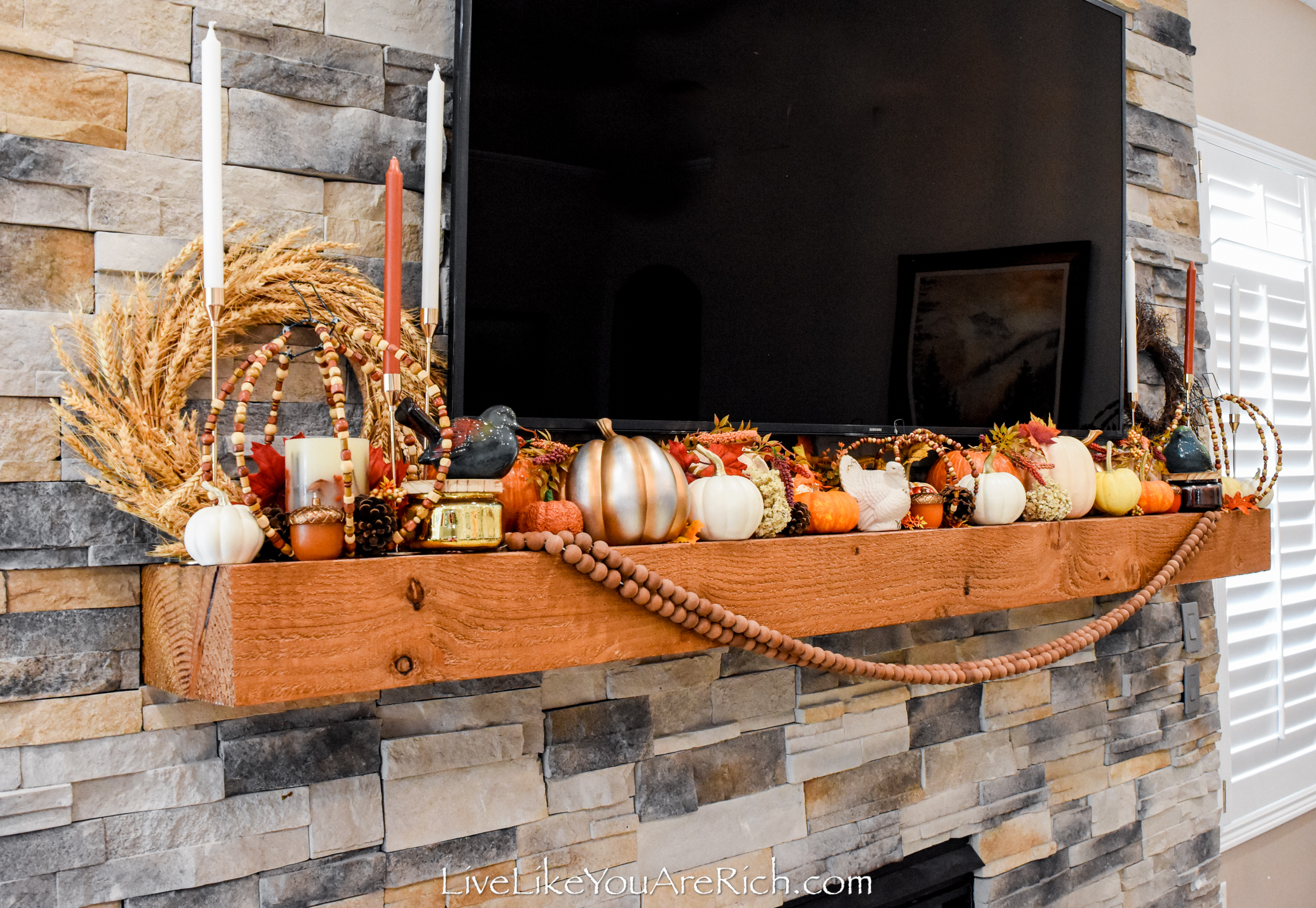 I love the way it turned out and have enjoyed looking at this mantel for the past few weeks.
Happy Thanksgiving!
You may be interested in:
Modern Rustic Thanksgiving Mantel
Thanksgiving Sisal Animal Mantel
For other 'rich living tips' please Subscribe Here for my weekly email or connect with me on these other platforms: