Easter Floral Front Door Decor.
Almost every holiday I like to redo the decorations for my front porch.
I usually use as many items that I already have to save money.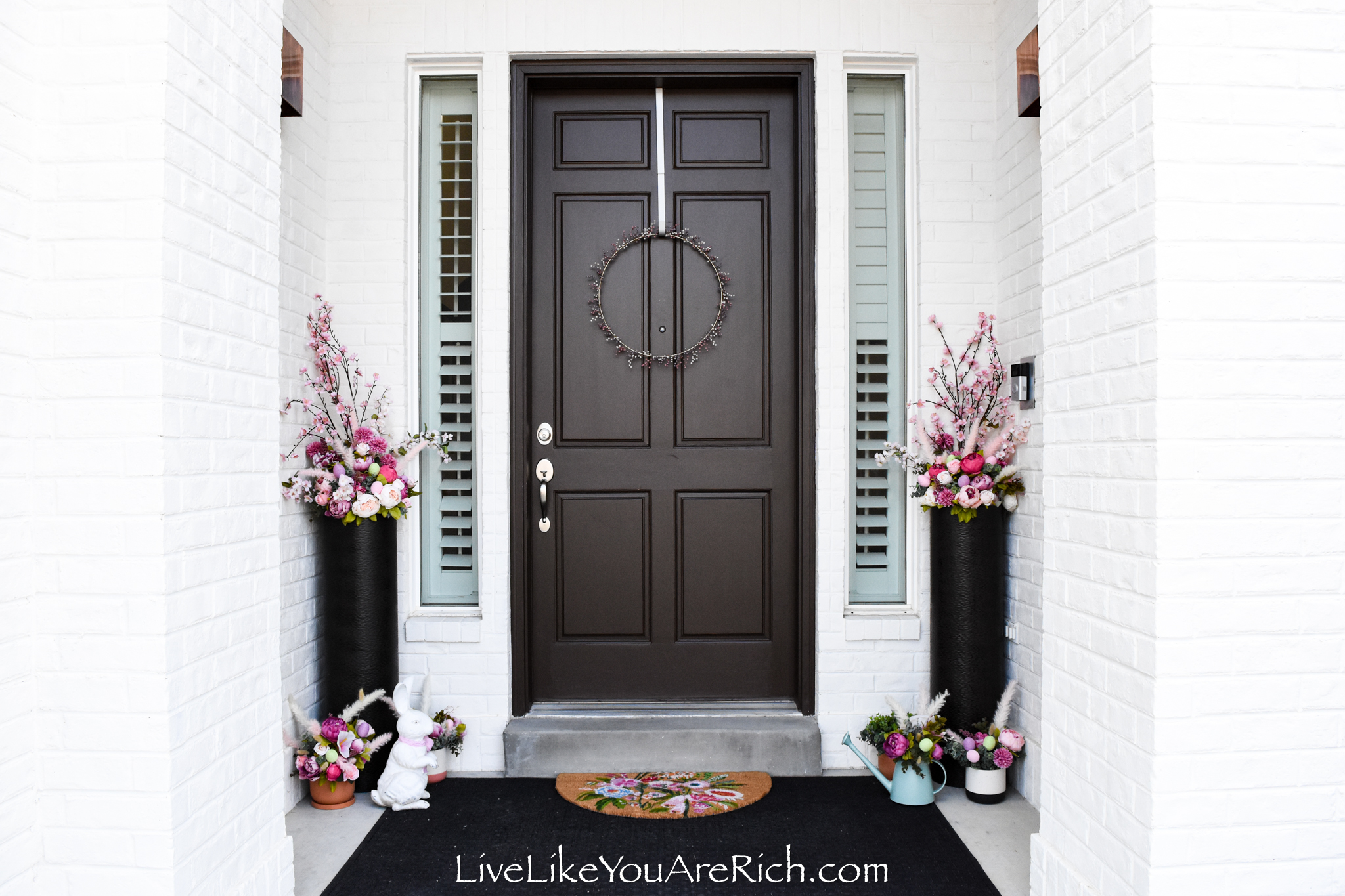 I like to make wreaths and door mats and possibly buy an item or two to compliment the decor. I try to do things inexpensively because it's always nice to create something that doesn't cost a lot!
I found this coir floral door mat at Target on sale this winter for $9.00. I fell in love with it and based the rest of the decoration around it.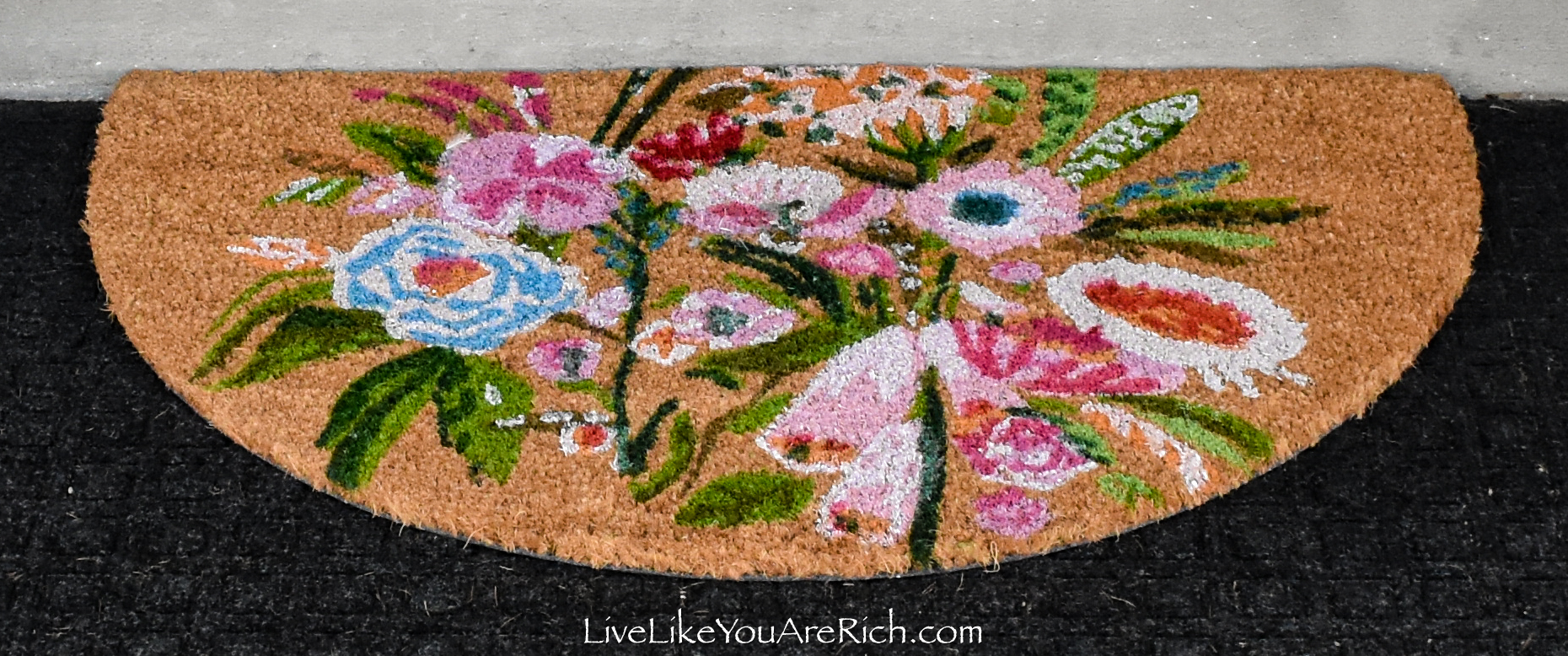 Due to the rug, I ended up choosing to decoration in an Easter floral theme.
I have a bunch of faux flowers that I was able to re-use to create a few floral arrangements.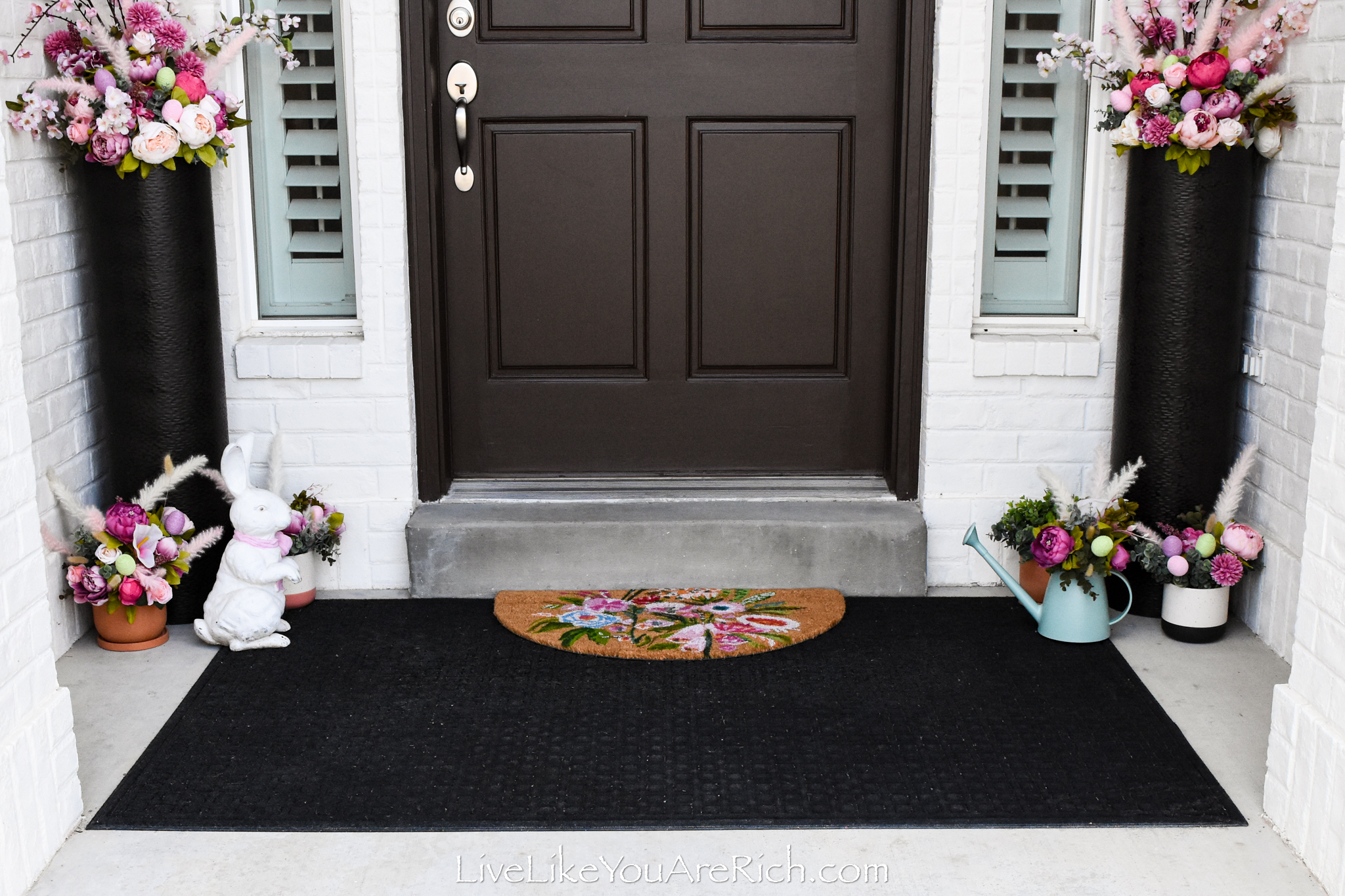 The peonies, roses and eucalyptus came from these floral arrangements for this British Afternoon Tea.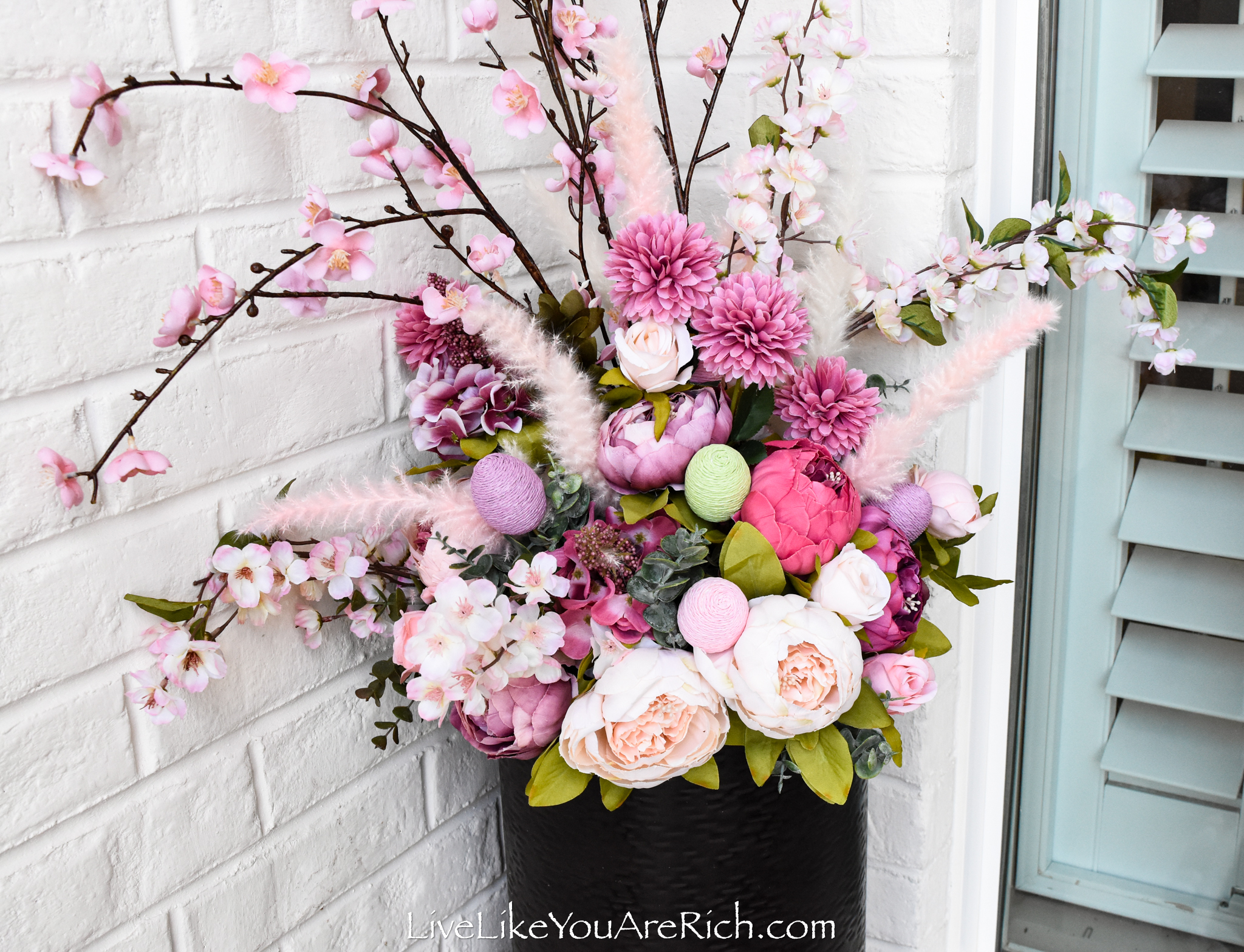 The cherry blossoms and pink mums were used for my daughter's Encanto birthday party.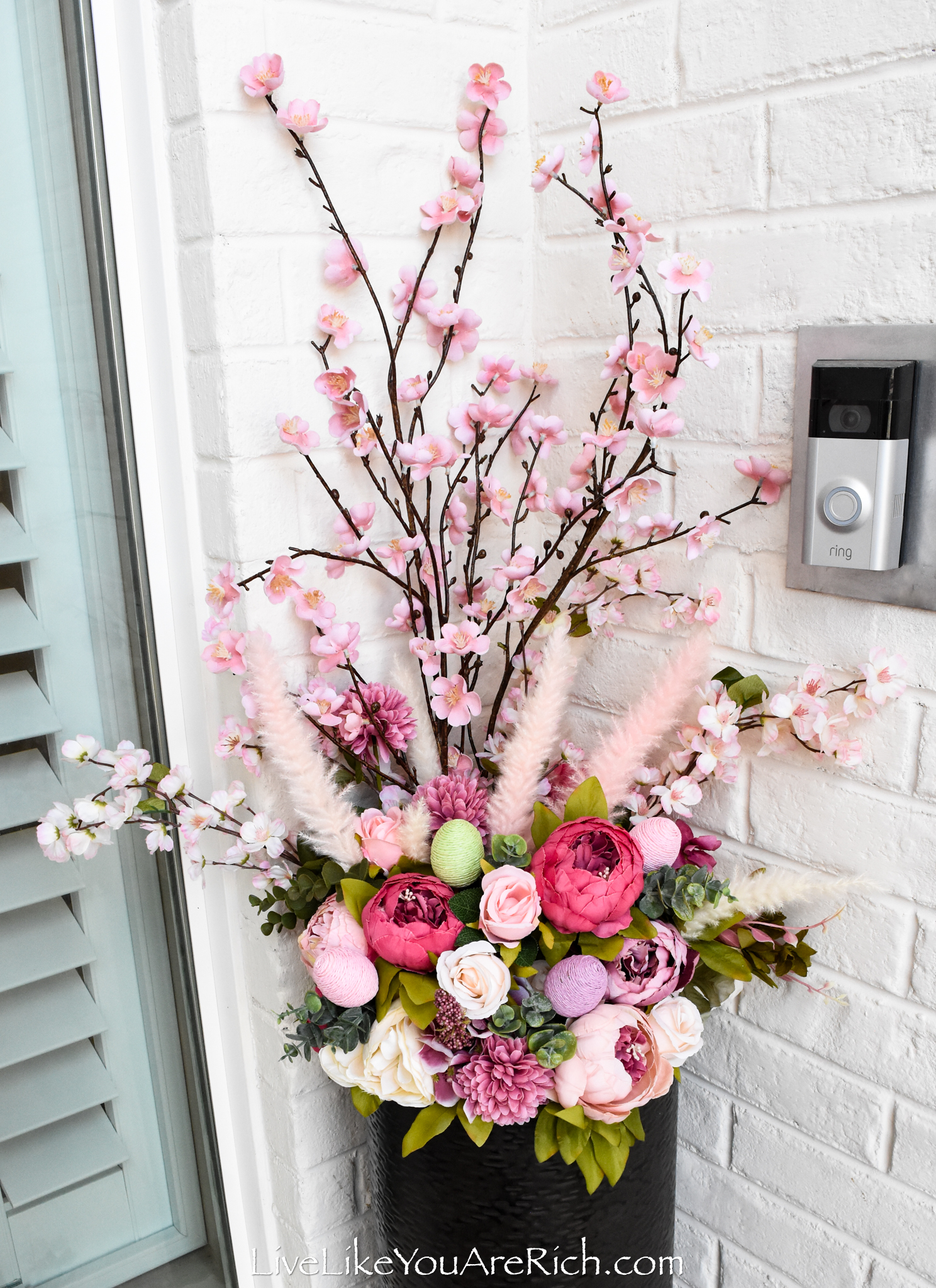 And the pampas grass was purchased to make these Valentine's Day wreaths.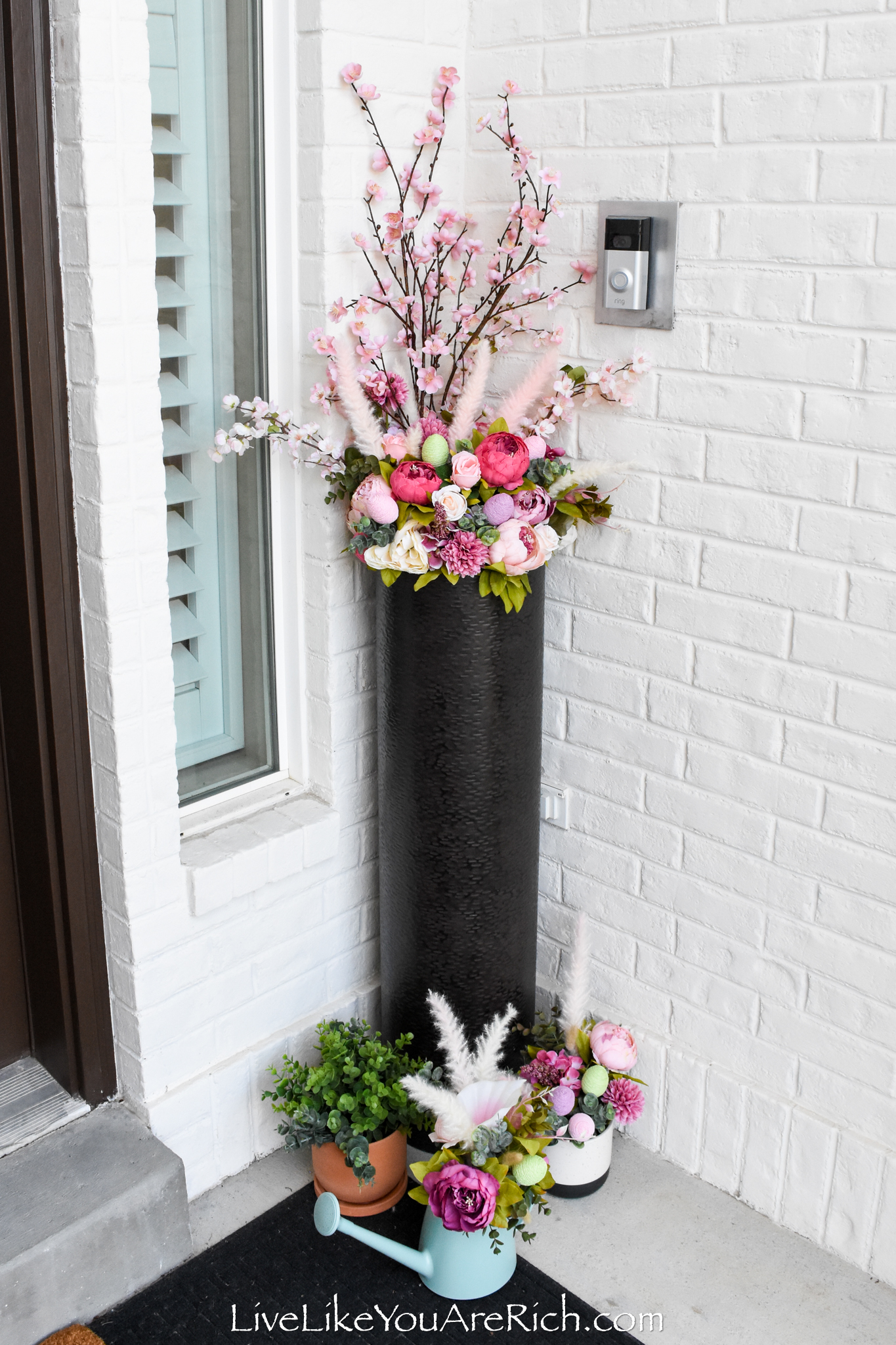 I made this simple wood beaded garland hoop wreath for the front door. I wanted it to be a minimal simple wreath due to the floral arrangements on either side of the door.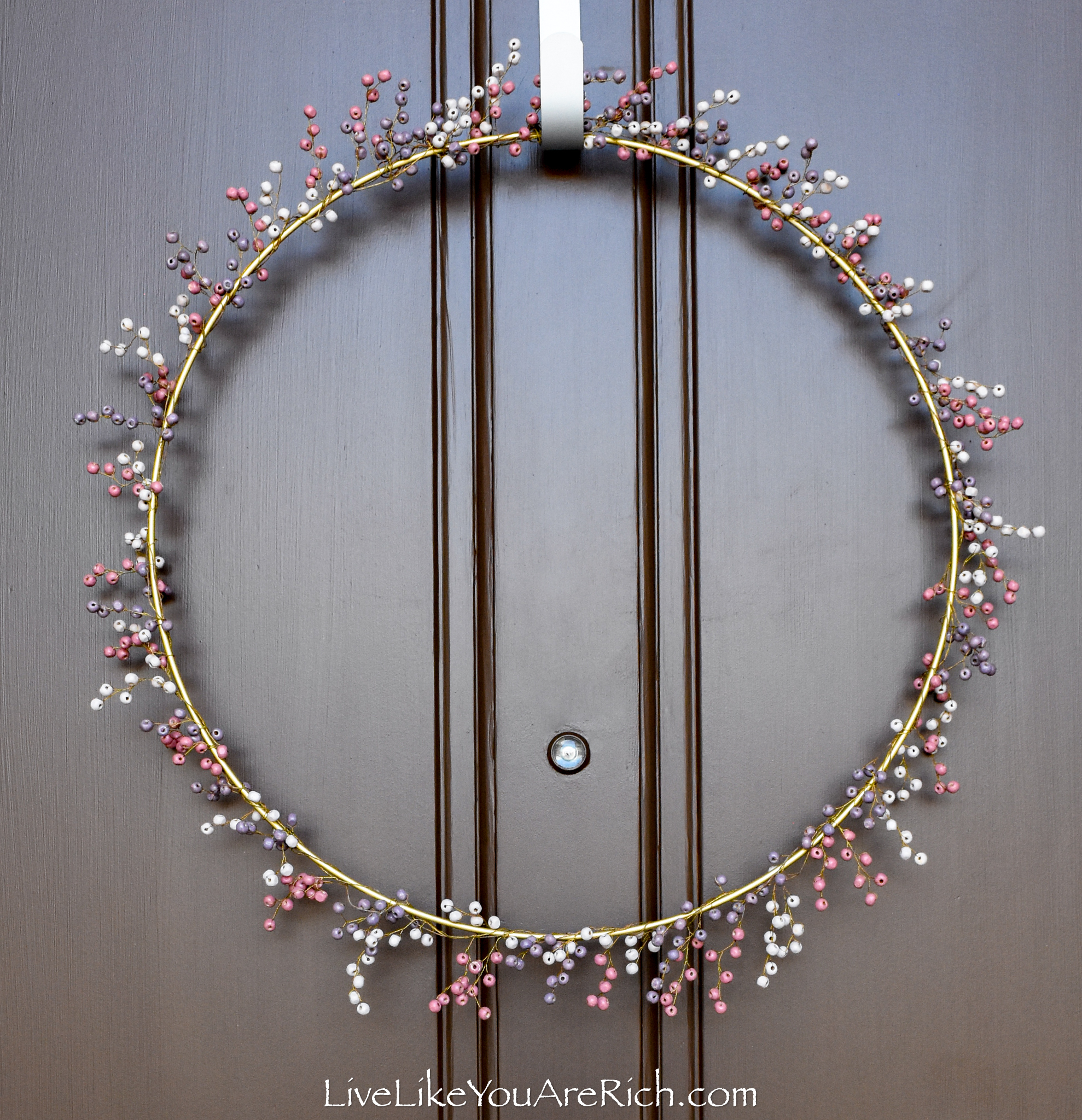 I'll upload a video showing how I made the wreath on a separate post this week.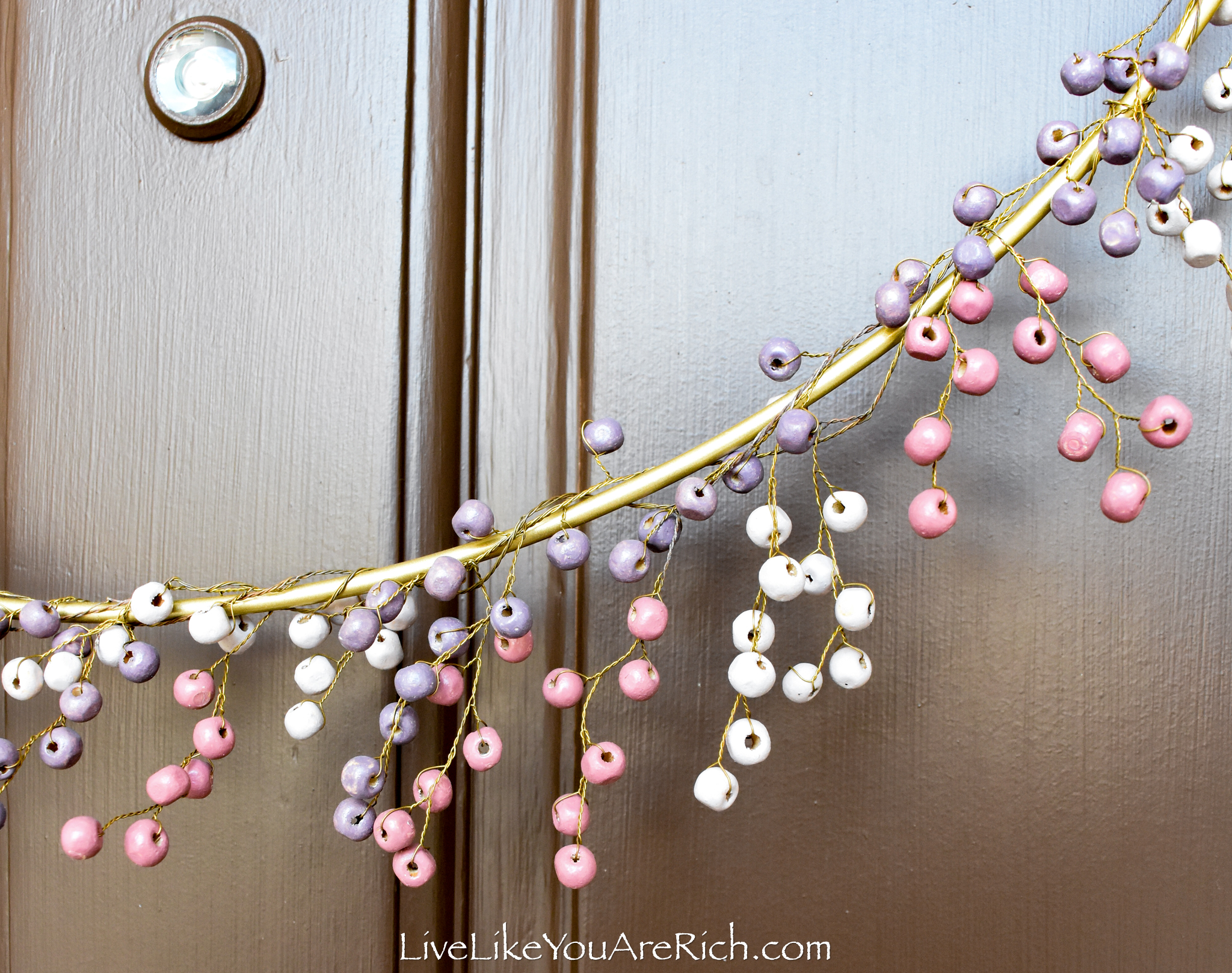 The tall planters were bought on used on local classifieds. I purchased them for $15.00 each.
I will be posting a tutorial on how I arranged these planters this week.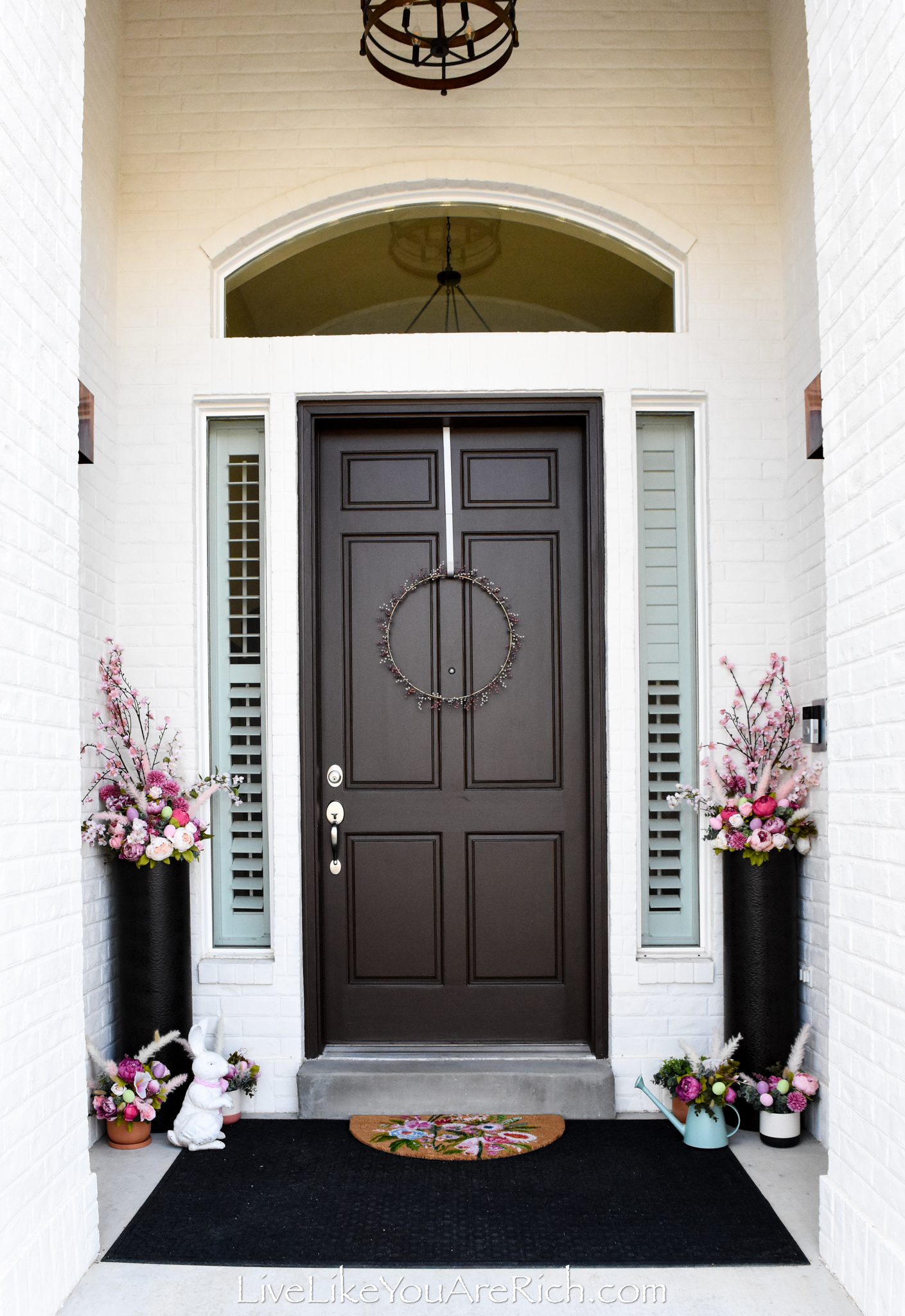 I bought this bunny statue on local classifieds for about $5 as well.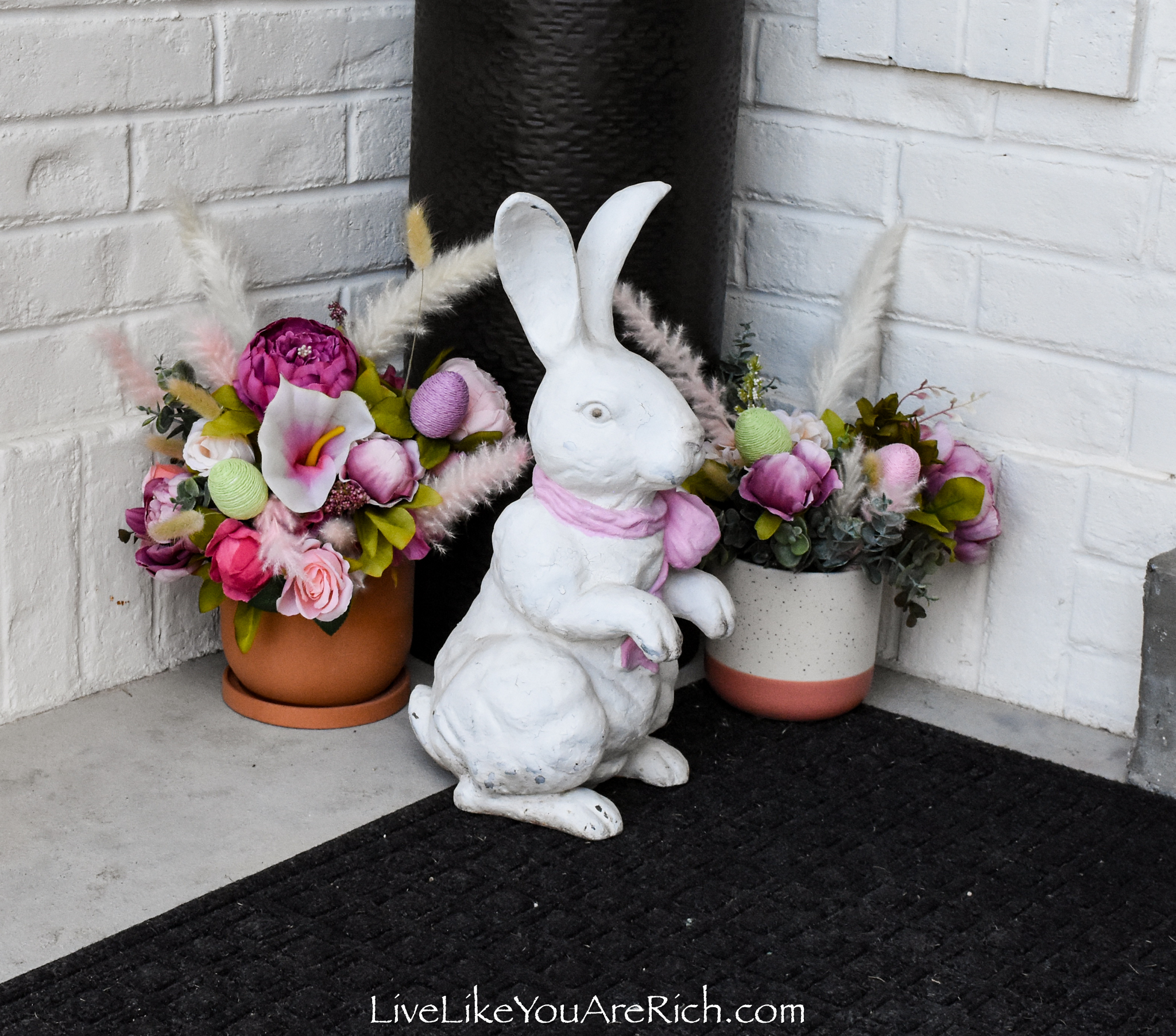 The flower pots came from Target and were $3.00-$5.00 each.
I found them in the dollar bins at Target.
I used the two white ones with color bottoms for this Minimal Easter tablescape which were filled with eggs.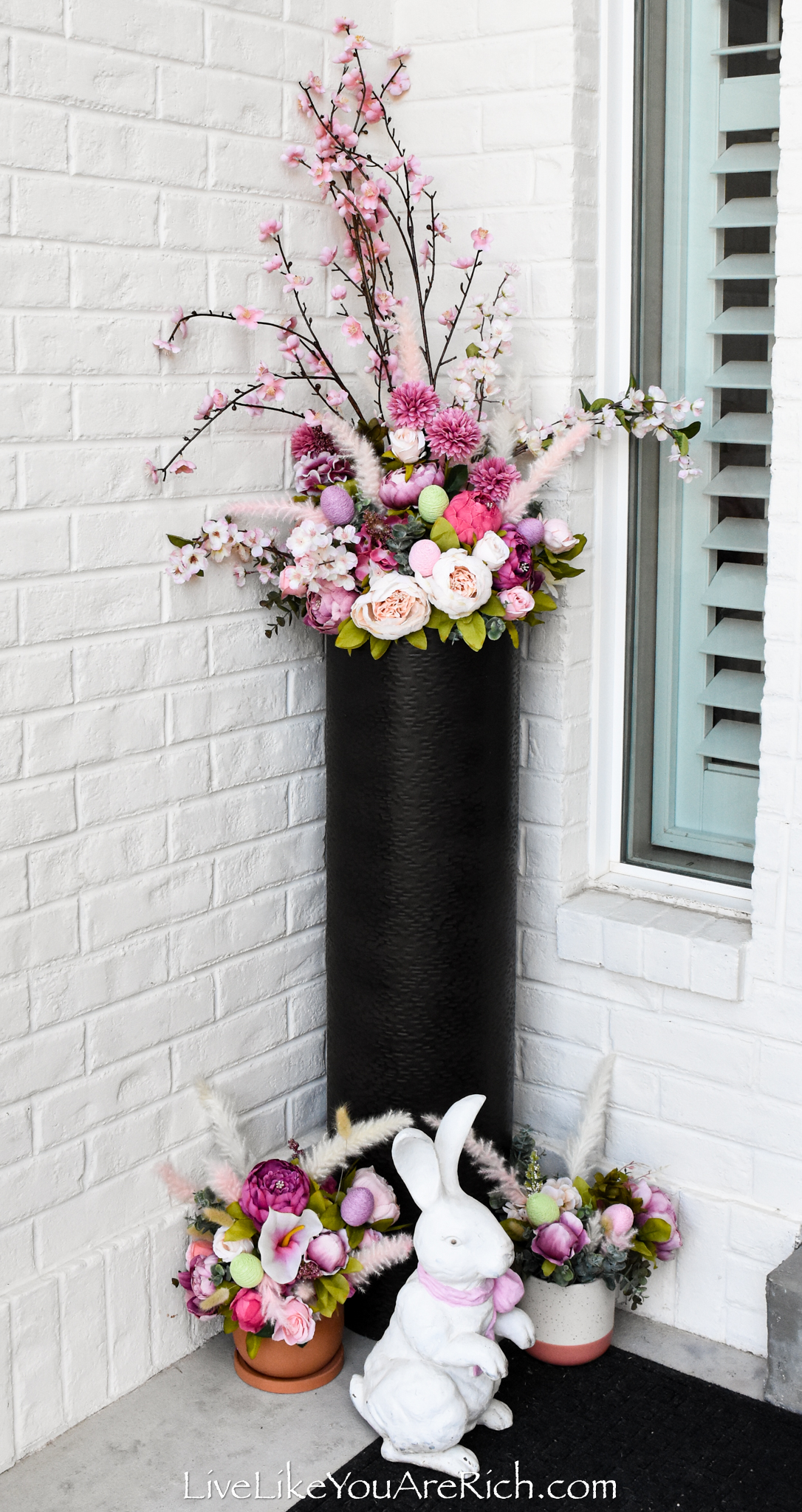 The cute aqua watering can was purchased on Amazon for $11.00. I use it to water my house plants.
I thought it would be a cute addition to the decorations and would balance the right side because of the bunny statue on the left.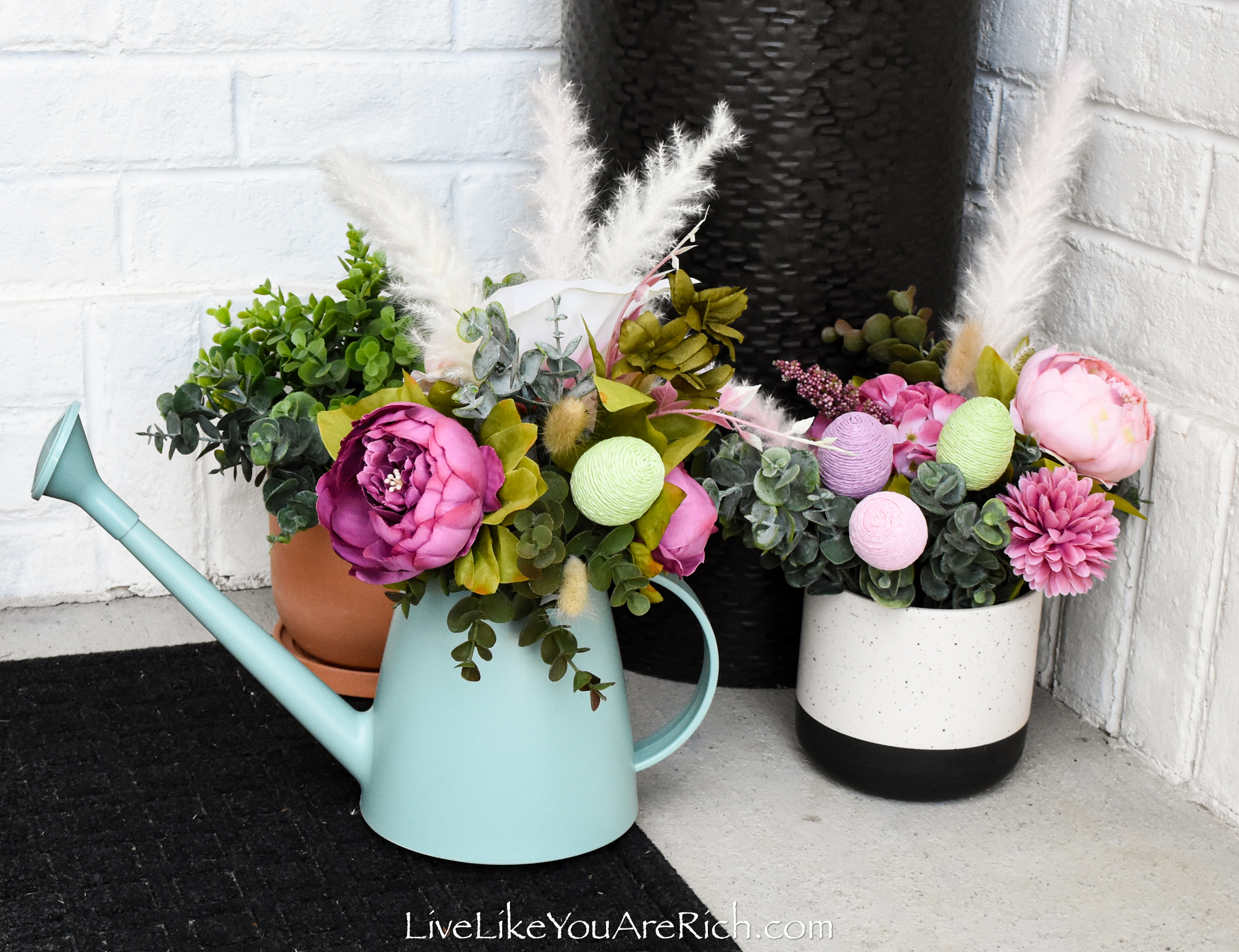 The egg flower stems that I put into the floral arrangements were purchased at Dollar Tree for this Kids' Easter Tablescape. They've been so great to have because they are so cute and versatile! I also used some for this Easter Entry table.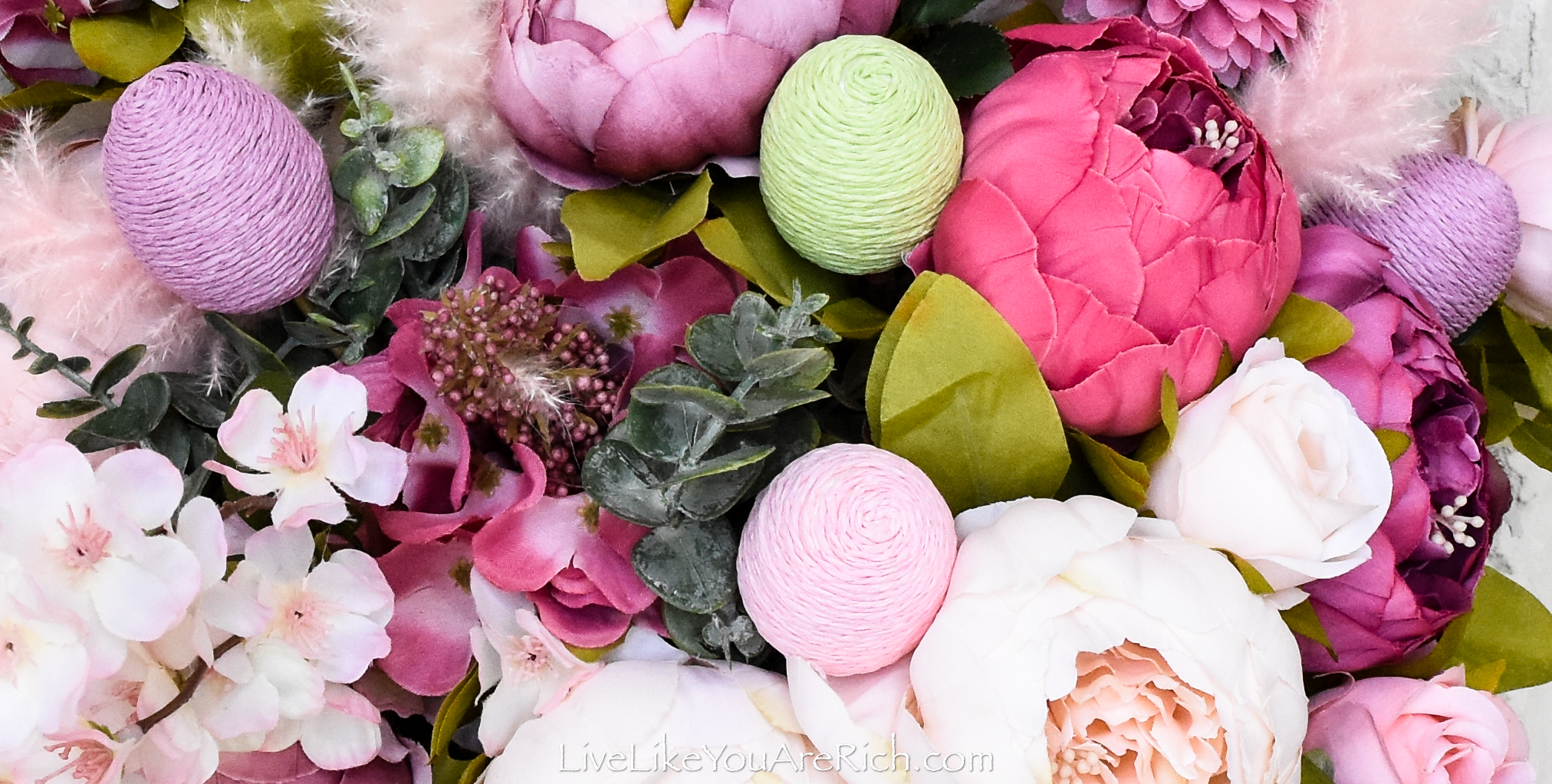 The industrial black mat was free from a neighbor. I usually keep it on my front porch. It adds a nice contrast to a lot of my decorations and helps keep shoes clean on entrance to our home.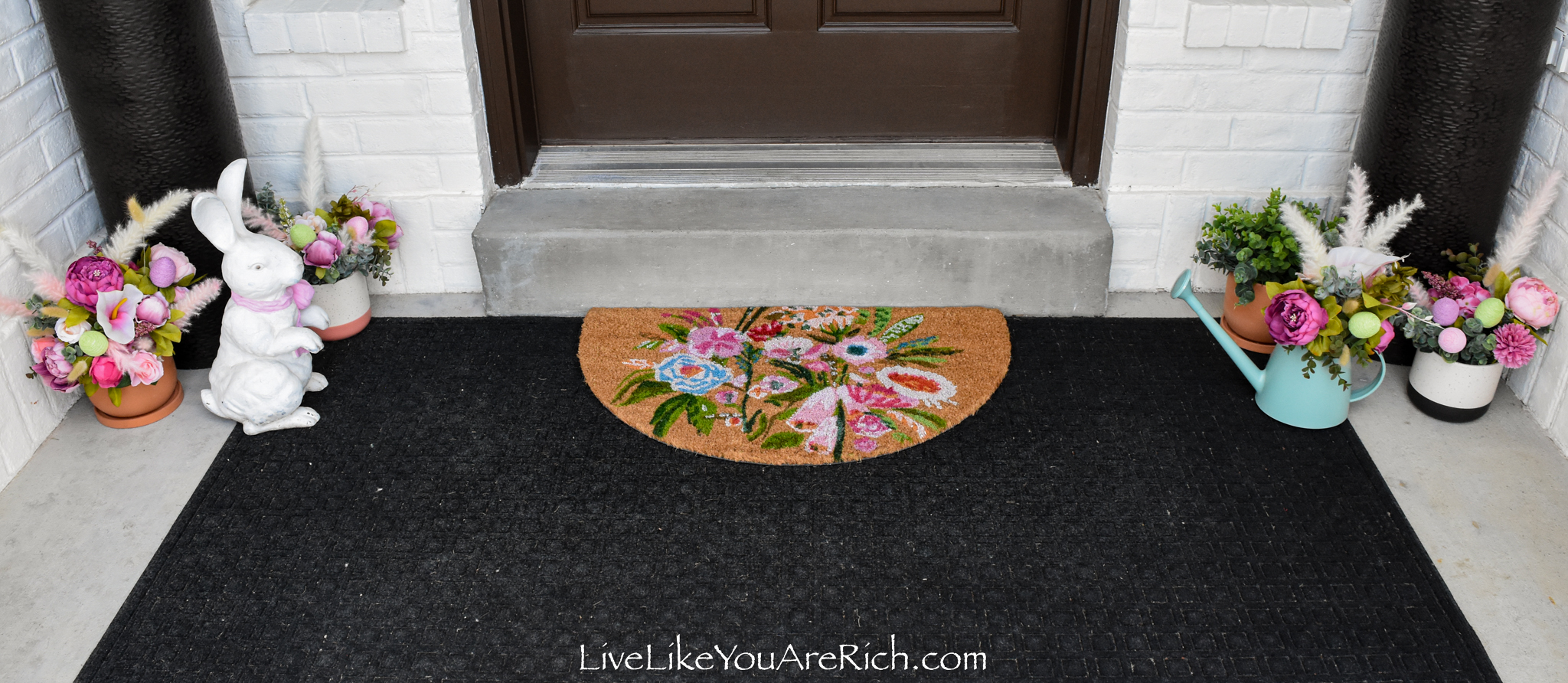 I really like the way everything came together.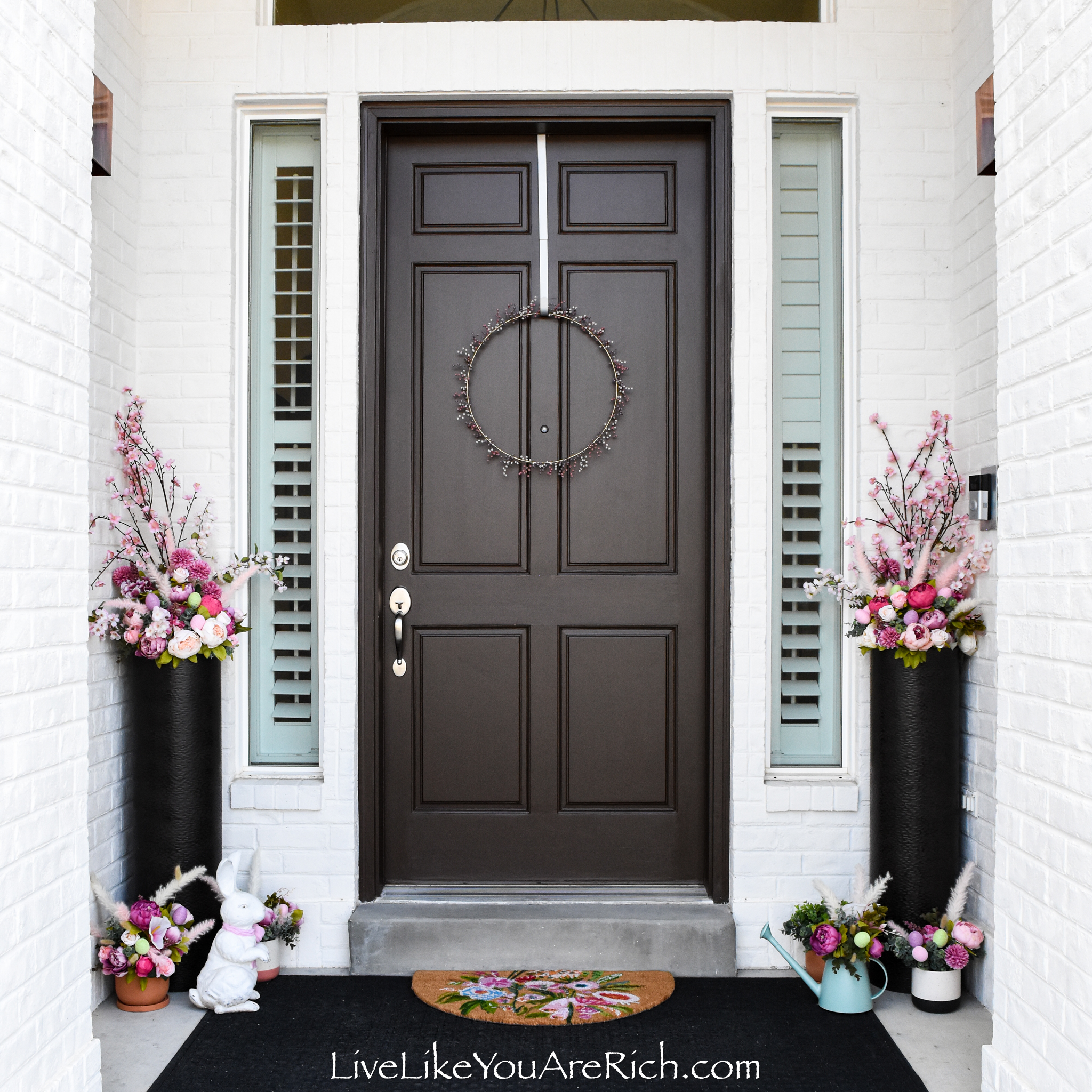 Supply List for this Easter Floral Front Door Decor
2 bi-colored pots (Target)
Wood bead hoop wreath. I will be posting a video and tutorial on a separate post on how I put the wreath together this week.
Floral Arrangements. I will be posting a video and tutorial on a separate post on how I put these arrangements together this week.
2 tall metal planters (classifieds, but I linked to similar).
Duovlo Fake Flowers Vintage Artificial Peony Silk Flowers
Eucalyptus Leaves Artificial Greenery brand Supla Qty: 3 packs of 3
Artificial Roses Brand Cewor Qty: 1 (a pack of 24- 12 Pink and 12 Champagne)
Floral Dry Foam I used 5 of these foam bricks cut in half.
Pampas Grass (pink and white + bunny tails).
How much did this Easter Floral Front Door Decor cost?
I save a lot of money by reusing faux flowers and filler. I also re-use floral foam, metal hoop wreaths, pots, etc.
So, when I tally up how much something cost me to create, I don't include items I already had and am just re-using.
This is the list of what I bought specifically for the front door decor this year: bunny, terracotta pots, wreath, and doormat…bringing the total to ~ $45.00.
I'll be able to use all of these items for other crafting projects or decoration in the future, so it was well worth it.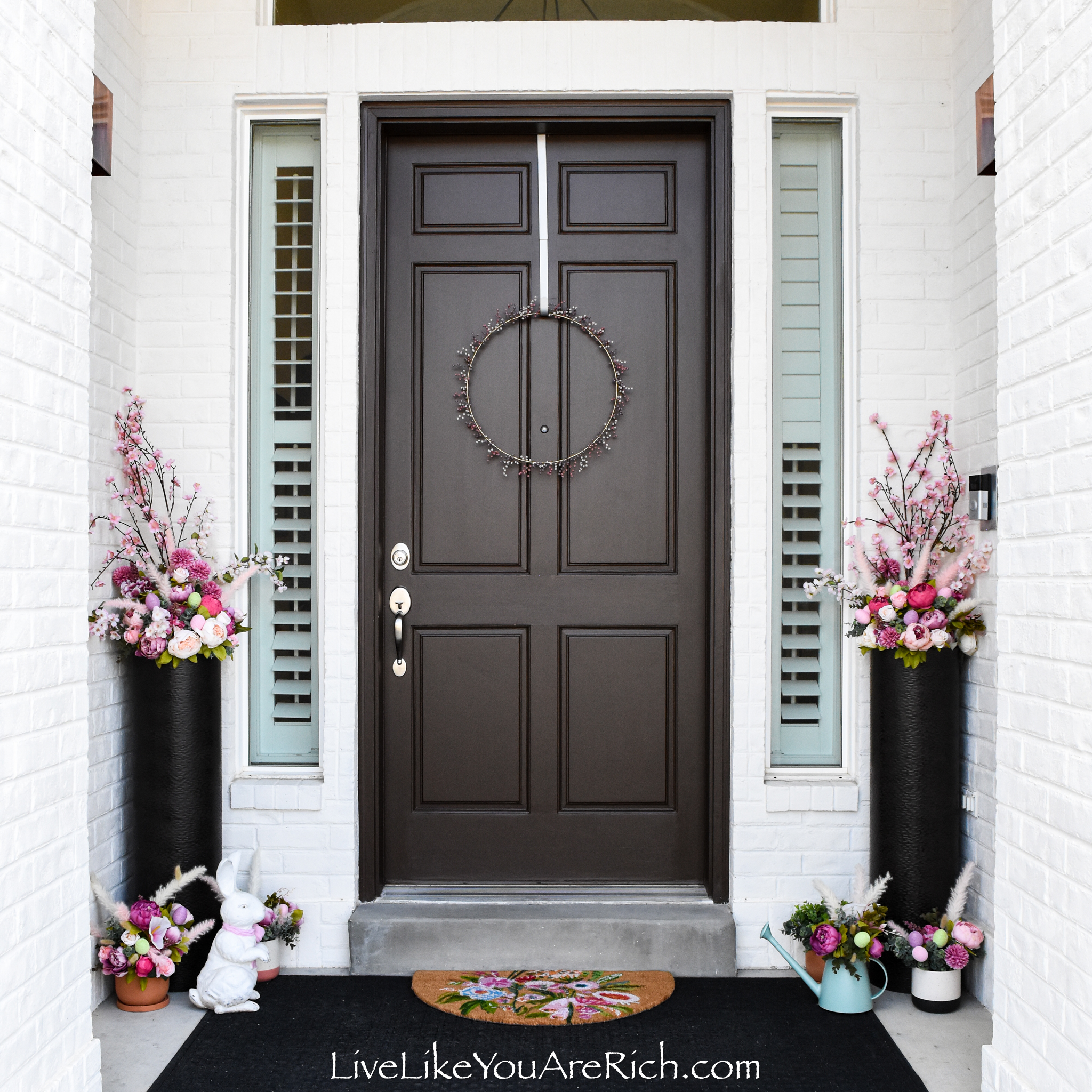 I hope this Easter Floral Front Door Decor inspires your creativity this spring.
Happy Easter!


For other 'rich living' and D.I.Y. decor tips please subscribe, like me on Facebook, and follow me on Pinterest and Instagram.
If you have any questions about this project, please let me know in the comments below.